Why UK House prices continue to rise !
Housing-Market
/
UK Housing
Oct 14, 2006 - 07:52 PM GMT

For how many years have the market commentators been predicting a UK housing crash ? 1 year, 2 years, 5 years ? Yes in some cases even 5 years ago market pundits have been calling a crash, but in the meantime house prices, to this very day continue to rise ever higher !
Why ?
Here are four reasons as to why house prices in the UK continue to rise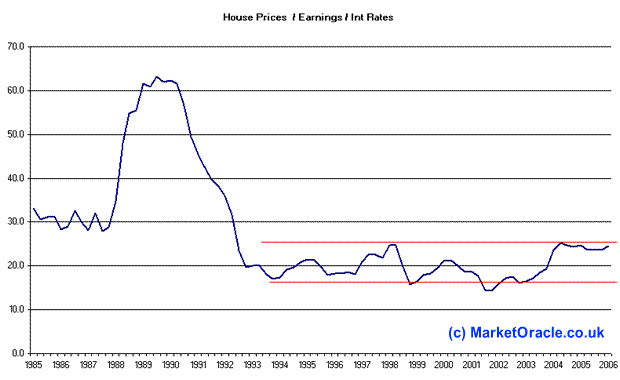 1. Average Earnings / House prices & Interest Rates
Traditionally, average earnings and house prices have been taken together to produce an affordability ratio, this ratio has clearly in recent years shown itself to be flawed ! Fundamentally flawed. In that the ratio ignored historically low interest rates as a function of earnings and house prices. A more accurate indicator would need to include interest rates, and therefore MarketOracle has constructed a new house price to earnings ratio which includes interest rates.
The indicator accurately shows why house prices have continued to rise, as they are no where near the un affordability of the early 1990's, off course the index could be extended to include other variables, such as the level of new build construction, growth in households, employment levels etc. So as to fine-tune the trend. But basically in a simple 3 variable chart the MarketOracle House price ratio is able to explain that house prices ARE still affordable and thus the primary reason why they continue to increase.
The chart shows why 2001 was a great time to buy as world interest rates plummet, whilst IN 2001 there were countless economists suggesting that UK house prices were over valued and expensive ! When infract they were at their most affordable level in a generation, and sparked a surge in house price growth.
Presently house prices are at the upper end of the range, which does suggest slower house price growth in the forseable future unless interest rates fall.
An interest rate rise to say 5.25% would put the index at 28, which would take house prices beyond the recent range, but still this is far lower than the high of the early 1990's
2. UK Money Supply
With the UK money supply running at the rate of 13%, its no wonder the housing market continues to defy gravity and chug along the highs. This excess supply of money is causing inflation , its called house price inflation and effectively devaluing the value of your £.
The worlds ultimate hedge against inflation is Gold, and in gold terms the price of Houses have actually fallen over he last few years as inflation reappears onto the scene. In Jan 2005 the price of an average house was £150,000 the price of gold in sterling was £204. Therefore average houses were valued in 735 ounces of gold. Today with gold at £317 and average house prices at £170000, the average house is worth 536 ounces of gold, a fall of 28% !!! So far this fact has had no effect on the UK consumer.
3. The UK Economy
Is a significant factor in the continuing uptrend in UK house prices, the strength of the UK economy which continues to deliver year on year economic growth and wealth, this is an important contributing factor to the growth in house prices as the money earned is invariably plowed back into the housing market.
4.Immigration
As a consequence of recent EU expansion, strong economy and liberal employment laws. There has been a large influx of migrant Labour in excess of 600,000 from the Accession States, this has supported the continuing demand for properties in the buy to let market.
Conclusion
House prices will continue to be supported along the highs and maybe drift higher as long as the situation remains positive with regards all of the four above factors. Even a rise in interest rates to 5.25% is unlikely to effect the situation significantly. It would require an interest rate hike to above 6% before we are likely to witness a significant house price decline, as that would put the index far above the current range.
Nadeem Walayat
(c) MarketOracle.co.uk 2005-2006
Disclaimer - This Analysis / Forecast / Trade Scenerio is provided for general information purposes only and not a solicitation or recommendation to enter into any market position, and you are reminded to seek independent professional advice before entering into any investments or trading positions.
The Market Oracle is a FREE Financial Markets Forecasting & Analysis online publication. We aim to cut through the noise cluttering traditional sources of market analysis and get to the key points of where the markets are at and where they are expected to move to next ! http://www.marketoracle.co.uk
This article maybe reproduced if reprinted in its entirety with links to http://www.marketoracle.co.uk
© 2005-2019 http://www.MarketOracle.co.uk - The Market Oracle is a FREE Daily Financial Markets Analysis & Forecasting online publication.
Comments

30 Oct 06, 03:29
Re: Why UK House prices continue to rise !
What about the £trillion of debt ?

UK unemployment, inflation, mortgage interest rates and and consumer debt are increasing. Other countries that had similar house price explosions haven't recovered from the burst in their bubble (Holland, Japan, Australia).

The crash was already supposed to happen. It's been delayed because:

- UK opened it's immigration doors to the rest of Europe causing skilled middle-upper class professionals to come to London.

- Way too many buy to let amateurs on the market driving up prices at unsunstainable levels. It's only when these amateurs exit the market (as a result of realising there is no more money to be made, and would be better off investing in other asset classes, ie stocks) that the house crash will be triggered.

- Money has been cheap for far too long. People in our generation can only relate to interest rates being in the 4-6 % region. Your parents will be able to tell you how interest rates used to be closer to 20% in their time. Well, interest rates are on the rise.

You can only delay the inevitable for so long

Chethan
11 Aug 08, 01:53
Market Realisation


Hi,

How does this housing market crash can effect on the profesional students from respectable University in their job terms.

Does not the boom(expected)commercial sector balance the UK Real Estate market.

Does not this effect other complementary industries like Steel, Cement, Granite etc

Is Government looking for any remedies to recover from this crisis

I believe the solution for this would be encouraging the hiring of professional students who are from reputed universities who can pool new ideas and thoughts and companies should support the ideas by executing them.




Only logged in users are allowed to post comments.
Register/ Log in