A Bleak U.S. Stock Market Picture, Especially for Foreign Investors!
Stock-Markets
/
US Stock Markets
Apr 20, 2007 - 01:28 PM GMT

Mike Larson writes Picture this: You're a U.K. fund manager sitting in an office tower in the "City," London's equivalent of Wall Street. It's 3:00 p.m. on Friday, another gloomy April afternoon that's not cold enough for snow and not warm enough to signal that summer's right around the corner.
You're sitting in your cube, staring at your portfolio of Dow stocks. You could really use a pint right about now. "Will the weekend ever get started?" you wonder aloud.
Sure, your U.S. stocks have been doing okay lately. But you bought them with British pounds, which keep rising in value relative to the buck. If you tried to cash out right now, your gains would be almost completely wiped out by the lousy exchange rate!
You suppose it could be worse, though. Your buddy across the aisle trades U.S. Treasury bonds — quite possibly one of the least attractive investments on the planet. After all, the Federal Reserve is refusing to raise the federal funds rate despite high inflation. Longer-term bonds, like the 30-year, are yielding squat considering the elevated inflation risk out there.
Suddenly, a cheer goes up at the other end of the trading floor. That's where the guys who specialize in European stocks work. You check your news feed. Apparently there's just been another mega-merger. This time, three of the biggest banks in the Netherlands, Spain, and Italy have decided to get together. Could the day get any worse?
As you sit there stewing, a woman who trades Asian and South American equities walks by with a big smile on her face. Man, that eats at you! Her stocks have been going absolutely bonkers. She'll probably pull in more bonus money this year than all the salary you've earned since 2002!
When you started with the firm, a job focusing on the U.S. markets was considered cushy. It put you on the fast track to the top floor and a sweet corner office. These days, it's like getting demoted to the mail room.
As you look out the rain-sodden window, you wonder if maybe it's time to polish up that resume …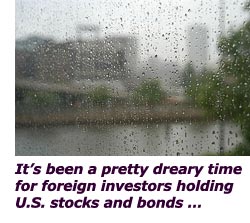 The U.S. Economy, the U.S. Dollar, And U.S. Returns Are Lagging Badly
Martin has been telling you how U.S. markets have gotten trounced by foreign ones. Case in point: We ranked 56 th in terms of 2006 performance! He's also been keeping you up to date on the dramatic economic boom in Brazil, a country he called home for many years.
Meanwhile, Sean has updated you every step of the way about the astounding developments in resource-rich countries like Canada and Australia.
And Tony and Larry have shed light on the dynamic growth occurring in Bangkok, Beijing, Dubai, and other far-flung locales.
Me? I feel a little like that gloomy British fund manager because I've been left with the task of chronicling the moribund U.S. economy. And things aren't pretty.
In a nutshell, inflation is running high, but growth is slowing due to the slumping housing market. Gold is at $680 an ounce and rising … oil is $62 a barrel and climbing … gas is $3 a gallon … and prices for everything from eggs to airline tickets are soaring. I'd argue we're facing a case of "Stagflation Lite."
And as I showed you above, it's even worse if you're a foreign investor trying to play U.S. markets. Reason: The U.S. dollar is falling apart.
For years, the greenback was the envy of the world. Our vibrant, innovative, extremely productive economy attracted foreign investors in droves. They couldn't get their hands on enough of our currency.
Today, it's a whole different ballgame:
The dollar has slumped to a two-year low against the euro. If it loses just one more cent, it will be at an all-time low against the currency, which debuted in January 1999.
The British pound is simply crushing everything in its path. It just breached the two-dollars-for-every-one-pound mark this week. Then it briefly traded at its highest level in more than a quarter-century before pulling back a bit.
Other currencies are following suit. The Australian dollar is at its highest level against the buck since 1990 … and the New Zealand dollar is trading right around its highest since 1982!
Heck, even former laughingstocks of the currency world, like the Brazilian real, are making mincemeat of the greenback.
As With Any Event Like This, There Are Consequences and Opportunities
Let's look at the effects of all this:
First, the U.S. is losing its status as the center of the financial world.
Consider this: Back in 2001, our major stock exchanges accounted for 57% of all initial public offerings worth $1 billion or more. That market share plunged to 16% in 2006. At the same time, Europe's share almost doubled from 33% to 63%.
No wonder financial employment in the "City" climbed 4.3% between 2002 and 2005, while New York's financial workforce shrunk 0.7%.
Second, foreign central bankers are no longer plowing their money mindlessly into dollar-based investments.
A just-released International Monetary Fund report said only 64.7% of global foreign exchange reserves were invested in the dollar as of the fourth quarter of 2006. That's down from 65.8% a quarter earlier. It's also the lowest dollar share in at least eight years!
Third, there's a terrible impact on global investors, like our long-suffering London-based fund manager.
A dollar decline boosts the value of foreign stocks and bonds held by U.S. investors. But it cuts the value of U.S. stocks and bonds for anyone investing currencies that are soaring against the dollar.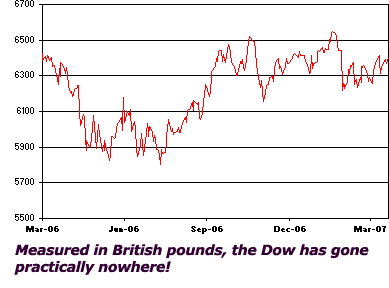 The Dow rose 18% between January 3, 2006 and yesterday. That's a decent gain for a U.S. investor. But during that same time, the pound surged by about 15% against the dollar. In other words, our British manager eked out a paltry 3% gain. He could have made that sticking his pounds in a British bank account!
Fourth, as I alluded to earlier, many foreign markets are vastly outperforming U.S. investments. While you might be making money in the Dow, you could be making a heck of a lot more elsewhere!
No wonder both U.S. investors and foreign investors are seeking opportunities elsewhere … and U.S. stocks are lagging so badly.
The good news is that there are still plenty of great opportunities whether you're sitting in a London office or an easy chair in Kansas.
You can employ any number of the strategies we've been telling you about here in Money and Markets :
Buy gold or other natural resource investments.
Seek out mutual funds that hold short-term foreign debt.
Invest in foreign stocks directly on foreign exchanges.
Buy American Depository Receipts (ADRs), which track foreign stocks but trade here on the New York Stock Exchange.
Purchase international exchange trade funds (ETFs) that track the performance of foreign markets.
Bottom line: It's a great big world out there. If our Fed is going to screw things up … and our politicians are going to let the dollar plunge … then we have every right to send our money elsewhere, just like the professionals are doing.
Because, let's face it, it's far better to be giving high-fives at the end of the trading day than drowning your sorrows in a pint and a plate of bangers and mash.
Until next time,
By Mike Larson
This investment news is brought to you by Money and Markets. Money and Markets is a free daily investment newsletter from Martin D. Weiss and Weiss Research analysts offering the latest investing news and financial insights for the stock market, including tips and advice on investing in gold, energy and oil. Dr. Weiss is a leader in the fields of investing, interest rates, financial safety and economic forecasting. To view archives or subscribe, visit http://www.MoneyandMarkets.com
© 2005-2019 http://www.MarketOracle.co.uk - The Market Oracle is a FREE Daily Financial Markets Analysis & Forecasting online publication.

Only logged in users are allowed to post comments.
Register/ Log in