Economic Forecast 2009: Deflation, Deleveraging, and Recession
Economics
/
Recession 2008 - 2010
Jan 10, 2009 - 01:55 PM GMT

Forecast 2009: Deflation, Deleveraging, and the Stimulus Effect
Muddle Through on Hold
Lies, Damned Lies, and Government Unemployment Numbers
Central Bankers of the World, Unite!
Predictions 2009
Where are we headed in 2009? We will explore that in detail over the next few issues of Thoughts from the Frontline, but today we will start with some of the larger forces which will have a major impact on the economies of the world, and I will end with my usual attempt to forecast the various markets. We will look at deflation, deleveraging, the fallout from the stimulus plans (note plural), housing, consumer spending, unemployment, and a lot more. There is a lot to cover. But first two quick announcements.
Along with my partners Altegris Investments I will be co-hosting our 6th annual Strategic Investment Conference in La Jolla, California, April 2-4. I have invited some of the top economic minds in the country to come and address us, giving us their views on what seem to be a continuing crisis. It will be a mix of economic theory and practical investment advice. Already committed to speak are Martin Barnes, Woody Brock, Dennis Gartman, Louis Gave, George Friedman (of Stratfor), and Paul McCulley. I anticipate adding another stellar name or two. This is as strong a lineup as we have ever had, and on par with any conference I know of anywhere.
Due to securities regulations, attendance is limited to qualified high-net-worth investors and/or institutional investors. Early registrants will get a discount. Last year we had to close registration, and I anticipate we will run out of room again, so I would not procrastinate. Simply click on the link below, give us your name and email, and you will be sent a form next week to register.https://hedge-fund-conference.com/2009/interest.aspx?m=t
I should note that most attendees say this conference is the best investment conference they have ever been to. One of the benefits is being with several hundred very nice people in a relaxed setting. We do it up right.
Second, I and some of my fellow newsletter writers (Bill Bonner and Dennis Gartman, among others, are slated to be there) are going to be hosting a special tribute dinner to honor Richard Russell for his outstanding contribution of over 50 years to not only the craft of investment writing but also to the lives and investment portfolios of his readers. He is one of my personal heroes as well as a good friend. At 84, his writing today is better than ever, and now he writes every day, not just once a month! Richard is an institution in the investment writing world, and after talking with his wife Faye he has said he will let us plan the dinner.
Richard has some of the most loyal readers anywhere. I have personally talked to people who have been reading Dow Theory Letters almost since the beginning (1956), and their enthusiasm for all things Richard has not waned. We have a long list of people who want to attend.
Based on the response so far, we believe we can get a large roomful of Richard's friends, writing colleagues, and fans who have benefitted from his wisdom over the years, to honor him for a life well-lived and a true servant's spirit, as well as being a guide not just in the markets but in life. The dinner will be Saturday evening, April 4, 2009 in San Diego. In order to know how many people we should plan for, please send an email to russelltribute@2000wave.com indicating how many tickets you would like. If you have already responded, you will get an email with a link next week for you to register. If you have not and want to come, I suggest you do so quickly, as again we anticipate a packed room. The tickets will be $195, with any money left over going to Richard's favorite charity.
(Note: If you register for my conference, you must register separately for the Russell Tribute Dinner, which will be held at a different venue, after the close of my conference on Saturday. Thanks!)
And for new readers and those who get this letter forwarded to them, you can get a free subscription of your own just by going to www.frontlinethoughts.com. And now to our regular letter.
Muddle Through on Hold
First, a quick look back at how I did in my 2008 forecast issue. In general, it was not a bad year in terms of getting the direction right on many of the markets, including gold, oil, the dollar (especially against the pound sterling), and stocks. Some predictions were on target, like a second-half rebound in the dollar.
But I missed the economy. I noted then that I believed we were already in recession (which we have now found out that we were), and I wrote that a recovery would begin by the end of the year, but that it would be a very weak one for a long time -- my basic Muddle Through scenario. Obviously, the recession is a lot worse than I thought it would be at the time. Looking to the end of this letter, I now think we will be in recession through at least 2009 before we begin a recovery, which will again be a rather anemic Muddle Through period of maybe two years, for a variety of reasons, some of which I cover today and others over the next few weeks.
And I should note that it was not long into the year before I began to get decidedly more gloomy, as many of you noted. And I expect that this year will bring a few surprises that will cause me to change my opinions yet again. When the facts change, I will try and change with them.
Forecast 2009: Deflation, Deleveraging, and the Stimulus Effect
For a very long time, I have been adamant that deflation is in our future. In the next few pages I outline how inflation might come back, but I doubt it will be this year. For now, deflation is the economic factor that the Fed and central banks will be battling. And believe me, it will be a very large and controversial battle.
We had a brief period last summer where inflation (as measured by the Consumer Price Index or CPI) was over 5%, and the trend was clearly up. The increase was almost entirely due to food and energy costs. Core inflation (less food and energy) was around 2%. Many commentators noted that real people actually bought gas and food and we should look at overall CPI and not just core. Now, with the drop in food and energy costs, their impact has vanished.
For the three months ending last November, the compound annual rate for the CPI was a negative(!) -10.2%, reflecting the almost 70% drop in energy. Annualized core CPI for the last three months ending November was a very low 0.4%. November CPI was a flat 0.0%. It has been falling steadily for the last five months.
December is likely to be negative. There is a trend here, and if you are a central banker it is not one you like. And that trend is being manifested in every part of the developed and much of the developing world. It is a global problem.
Given how high inflation was last summer, how could I credibly maintain that deflation was in our future? For reasons that I wrote about extensively then. Briefly, we were in a recession. Recessions are almost by definition deflationary. We had two massive bubbles bursting: the very visible housing bubble which was massively destroying wealth, and the less visible but even more powerful bursting of the credit bubble, which was accompanied by profound deleveraging and the destruction of what Paul McCulley termed the Shadow Banking System.
It would be a strange, strange world indeed if inflation could get any real traction in such an environment, and it didn't.
But now we have a structural problem in that deflation has the potential to get some very real traction going forward. Why? Because not just in the US, but all over the world, we built too much of almost everything. Too many houses, too many manufacturing plants, too many retail stores -- and just too much stuff.
In the US, capacity utilization is falling rapidly. Typically, if we produce "stuff" (cars, food, lumber, etc.) in the range of 80% of potential capacity, that is considered to be a good economy. Capacity utilization has been dropping for some time and is down below 75% for all industries, but in many industries is close to 70%. And the clear trend when looking at ISM manufacturing statistics is that it has a lot further to fall.
That means industries have no pricing power, as they can make a lot more "stuff" than they can sell. And when demand due to the recession drops as well, prices fall as producers try to stay in business.
As a very visible example, global output capacity for automobiles is 92 million cars, but sales will probably be around 60 million. Output in the US will be around 12 million, but right now sales are only about ten million. The average American household has 2.2 cars. Evidently, consumers are reducing the number of cars they own, buying used cars, and making their current vehicles last an average of 6 months longer -- all in just the last year.
Many auto plants, both in the US and abroad, are simply going to have to be closed. "Super-efficient Toyota expects its first operating loss in 70 years in the fiscal year ending March 31. Weak sales in China will probably force many of her 80 automakers to merge. Russian sales dropped 15% in November and 25% in Brazil from a year earlier." (Gary Shilling)
Just as there are too many auto dealers and too much auto manufacturing capacity, there are too many stores for a country whose consumers are in retreat. Consumer spending could easily drop 7% as the saving rate heads back up to 5% (or even more). It is estimated that over 70,000 retail stores will go out of business in the next six months. That would be in line with the 140,000 that closed doors last year. The economy and its businesses have to adjust to a new level of spending that will be the first serious consumer recession in 26 years.
Looking at Federal Reserve data, both total household debt and mortgage debt outstanding dropped in the third quarter, for the largest drop in 40 years. As I wrote almost two years ago, the disappearance of Mortgage Equity Withdrawals is having a negative impact of about 3% on US GDP. Evidence shows that this is also happening in Great Britain and other parts of Europe where there was a housing bubble.
Lies, Damned Lies, and Government Unemployment Numbers
There are some who see a ray of hope in the recent jobless claims reports, which have dropped back to "only" 467,000 in initial unemployment claims, down from 491,000 for the last week, after being over 500,000 for several weeks. Those numbers are seasonally adjusted. That hope disappears if you look at the actual numbers. For the current reporting week ending January 3, 2009, the advance number of initial claims came in at 726,420. Last week's advance number was 717,000. We have been above 600,000 new initial claims every week since the third week of November. Continuing claims jumped massively, by 744,000 to 5,316,124.
No conspiracy here. This is what happens when you try to smooth a volatile trend by using seasonal adjustments. If you use past performance as the tool by which you smooth the trend, when the trend changes, the seasonally adjusted numbers will be either too large or too small. Thus, the data understated the growth of jobs in 2003 because recent past performance had been bad, and it is now understating the number of unemployment claims and actual unemployment.
In December, the number of unemployed persons increased by a seasonally adjusted 632,000 to 11.1 million and the unemployment rate rose to 7.2%. Since the start of the recession in December 2007, the number of unemployed persons has grown by 3.6 million, and the unemployment rate has risen by 2.3% and is now at 7.2%.
I happened to be watching CNBC at the time of the release of the data, and several commentators remarked how much better the number was than they thought it would be. I wish they were right, but again, the actual numbers showed a loss of 954,000 jobs, over 50% more than the headline number reported in the press release. And that assumes that new businesses created 72,000 jobs from the birth/death model that I so frequently write about. It is possible that almost 1 million jobs were lost in December. I doubt the market would have liked that number.
I should note that the Bureau of Labor Statistics does not hide that number. You can find it if you dig for it. But most analysts seem to prefer just to take the press release and go with it. And most of the time that is fine. But in times like this, when trends are changing, you miss the bigger picture and get misleading data.
Unemployment could rise to 9-10% or more this year and on into 2010. That means we could easily see another 3 million lost jobs over the next year. That is going to put a lot of negative pressure on consumer spending. It also means that wages are not likely to rise, and we have already hard evidence of wages falling in many industries as companies try to find ways to remain solvent.
And that 9% will be the headline number. If you add people who have part-time jobs but would like a full-time job, and what are called marginally attached workers, the current rate is already 13.5%.
Average hours worked dropped to the lowest level since they began collecting data in 1964, as did hourly income. Given the increasing difficulty for consumers to borrow money and with income dropping, plus increased savings on the part of consumers, it is difficult to see how pricing power is going to come back any time soon.
This problem is multiplied throughout the developed world. The developing world, which sells products and goods to the US and European consumers, is starting to feel the pinch. Chinese and other Asian exports are dropping (more on that in future letters, but the data is ugly).
Overcapacity, rising unemployment, imploding leverage, lack of borrowing and/or lending, a serious retreat by consumers, and increased savings are all the conditions needed to bring about deflation. Left unchecked, we could soon see something like what Japan has experienced, and even potentially worse, as they started with a savings rate of 13%.
But deflation is not going to be left unchecked. It will be fought by central banks everywhere with low rates and the printing press, as well as government spending. And so, let's turn our attention to that process.
Central Bankers of the World, Unite!
There are many people who believe that the Fed and the Treasury increasing the money supply will bring about uncomfortably high inflation. And it is indeed their intention to "reflate" the economy. They are well aware of the problems that would develop if the US (and Europe!) caught "Japanese disease" or a prolonged bout of deflation. Bernanke has made it clear that "it" (as he called deflation in his 2002 speech) would not be allowe to happen on his watch.
And we have already seen a rather large growth in the monetary base. But as I wrote a few weeks ago, the velocity factor of money is slowing rapidly, creating the ability -- or dare I say it? -- the actual need to expand the money supply (you can read that at http://www.2000wave.com/article.asp?id=mwo120508) . But is it having an effect?
Good friend Gary Shilling raises some doubts (emphasis mine):
"Central banks around the world continue to cut their target rates, although in today's frozen credit market, that won't ever get the horse up on his feet, let alone to the water and drinking. The distrust of banks for even loans to other banks is shown by the still wide spread between LIBOR and the Treasury bills they covet.
"The M2 money supply is 60 times bank reserves, so normally when the Fed gives the bank another dollar in reserves, M2 rises by $60. But between August and November of last year, the $577 billion rise in reserves resulted in a mere $264 billion growth in M2, less than one half!"
See the chart below (the red, smooth line is M2, the dotted line is the adjusted reserves).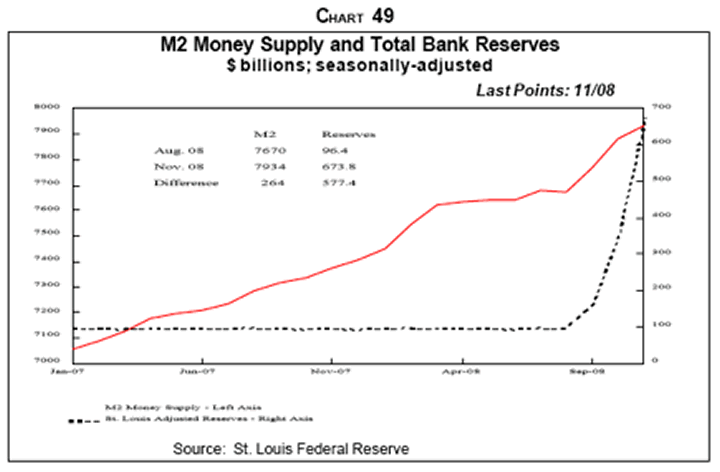 The Fed is aggressively expanding its balance sheet. They have made clear that they intend to purchase mortgage securities, consumer loans, and credit card securities. Corporate loans are on the table, as well as other forms of debt. (Finland is getting ready to purchase corporate debt. The list of countries that do so will rise very quickly.) This will be direct infusion of money into the system. As Bernanke said in 2002, he knows where the keys are to the room that has the printing press. And they are going to use it.
Obama and his advisors have signaled they intend to run a deficit of at least a trillion dollars. Right now, as I add it up, it is more like $1.3 trillion (the stimulus number keeps moving), and given that tax receipts are going to drop and unemployment benefits will rise (care to bet that unemployment benefits won't be extended to 52 weeks instead of the current 26?), it could be closer to $1.7-2 trillion. That would be almost 15% of GDP!
Let's get this straight. The only difference between the Treasury and the Fed under an Obama administration and the Bush administration is that Obama will be even more willing to spend (although Bush certainly showed little restraint). Incoming Treasury Secretary Tim Geithner has worked at Treasury and is now president of the New York Fed. There will be little difference between his policies (and those of Larry Summers, Obama's economic advisor) and those of Bernanke and Paulson. And like Paulson, he is going to have to make up the play book as he goes.
The Fed and the new administration are "all in," as they say in Texas hold 'em poker, in the fight to defeat deflation and get the economy growing. And eventually England and Europe will get it and join the fight (both the European Central Bank [especially!] and the Bank of England are behind the curve).
But there is a problem.
Lowering rates isn't enough to get consumers to spend when they have seen their wealth erode from losses in the value of their houses and investment portfolios and retirement accounts. The stimulus last summer was largely saved or used to pay down debt. What was an annualized stimulus of 3% of GDP in the second quarter, which is quite large, only kept GDP growth positive for one quarter.
Obama talks about creating 3 million jobs. If he can do it, that would only partially offset the job losses that will happen in his first year in office. But it will take a long time for much of the stimulus he is talking about to make its way into the economy. You can't turn on infrastructure projects in one quarter. It takes a lot of time to plan. New green power plants? Wonderful. I'm all for it. But they take years to authorize and build. Tax cuts? Again, much of it will be saved or used for debt.
The reality is that the US and much of the world are going to see their economies shrink for at least another year. And when that new, lower level is reached, the economy will slowly start to grow again. Remember those 71,000 retail stores closing? That means that those left standing will get more business and will be able to expand and grow and hire people. That is how recessions work. Excess capacity is worked through. Businesses cut back until they can get positive cash flow.
In 1978, in the midst of high inflation, bear markets, and malaise about all our jobs going overseas, the correct answer to the question "Where will all the needed new jobs come from?" was "I don't know, but they will." That is the correct answer today. That is what free markets and capitalism do. They find a way to make new paths and new businesses where none existed before. And it will happen again. Just with a little lag this time.
In the meantime, there is a lot of pain. An Obama administration is going to do what it can to help relieve that pain, even at the cost of trillion-dollar deficits for several years.
This you can take to the bank: If the Fed buys $500 billion in assets of various kinds and if the US government spends an extra trillion dollars and deflation is still a concern, they are going to double down and do it again. And yet again if they think it is necessary. They are not going to stop until the nominal economy is growing and inflation is above at least 1%.
How much will that number finally be? No one really knows. This has never been attempted. Maybe the initial stimulus package and Fed debt purchases will be enough. My bet is that it won't be, but that is just a guess. We are in uncharted waters. But the captains of the boats are all Keynesians. They are going to fight a recession and deflation with old-fashioned stimulus. And that means we had better adjust our portfolios and businesses for that reality.
Just to give you a picture of what economists think about the effect of the stimulus, let's turn to the Levy Economics Institute of Bard College, which is one of my favorite sources for original economic insight (http://www.levy.org/). They are a rather conservative lot. The graph below shows what two different levels of government stimulus will mean to the economy. They graph unemployment at no stimulus (top black line) and at two levels of "shock" or stimulus. Shock 1 is about $380 billion and shock 2 is about $760 billion. The dotted lines are what is known as "output gap," or the measure of the difference between the actual output (actual GDP) of an economy and what it could produce at its most efficient (potential GDP).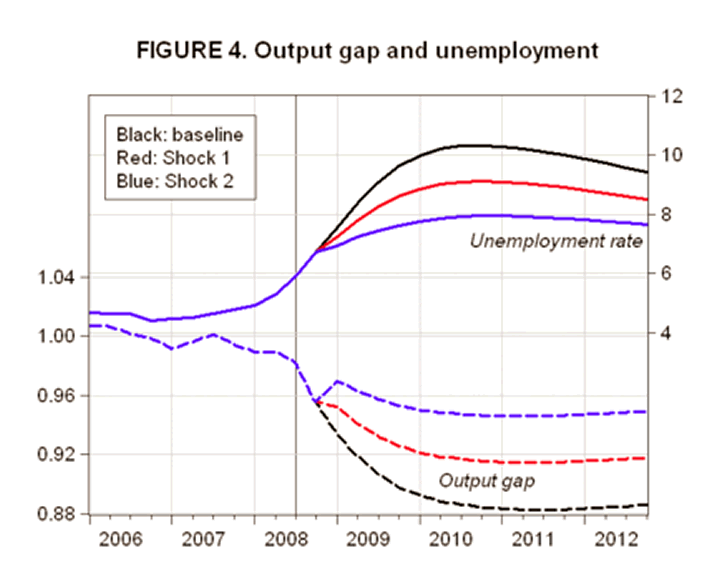 "The implication of these projections is that, even with the application of almost unbelievably large fiscal stimuli, output will not increase enough to prevent unemployment from continuing to rise through the next two years.
"It seems to us unlikely that U.S. budget deficits on the order of 8--10 percent through the next two years could be tolerated for purely political reasons, given the strong and widespread belief that the budget should normally be balanced. But looking at the matter more rationally, we are bound to accept that nothing like the configuration of balances and other variables displayed in Figures 3 and 4 could possibly be sustained over any long period of time. The budget deficits imply that the public debt relative to GDP would rise permanently to about 80 percent, while GDP would remain below trend, with unemployment above 6 percent.
"Fiscal policy alone cannot, therefore, resolve the current crisis. A large enough stimulus will help counter the drop in private expenditure, reducing unemployment, but it will bring back a large and growing external imbalance, which will keep world growth on an unsustainable path.
"… At the moment, the recovery plans under consideration by the United States and many other countries seem to be concentrated on the possibility of using expansionary fiscal and monetary policies.
"But, however well coordinated, this approach will not be sufficient.
"What must come to pass, perhaps obviously, is a worldwide recovery of output, combined with sustainable balances in international trade."
Let me wrap up with a quick note about housing. The economy is going to have a rough time getting back to trend growth with the housing market in the tank. New home sales fell 2.9% in November, while the median price declined 11.5%. Unsold inventories stood at a rate of 11.5-month supply. Housing starts fell nearly 19% in November, while the number of building permits was down 15.6%. Sales of existing homes in November fell more than 8%. The S&P/Case-Shiller 20-city housing index showed an 18% drop in prices in October from a year earlier, while the 10-city index declined 19.1%. Prices in the 20-city index have fallen more than 23% since their July 2006 peak, while the 10-city index is down 25% since its top in June 2006.
It will be 2011 before we work through the excess supply of homes, especially as we are seeing more and more come onto the market because of foreclosures. Prices are likely to drop another 10%. There will be more wealth destruction and more pressure on consumers. 10% of all mortgages are either delinquent or in foreclosure.
Predictions 2009
Let's close with some predictions. Ten out of ten analysts in the recent Barron's forecast saw stock prices rising 10-20% this year. For reasons I outlined last week, I think we could see a tradable rally in the next few months, but at the very least test the lows this summer, if not set new lows. Earnings are going to be far worse than any analyst's projections I have seen. And earnings drive stock prices.
Further, this recession is going to be the longest in anyone's memory. It is going to seem like it is never going to end (it will, I promise), and more and more investors are just going to give up on stocks. The buy and hold for the long run mantra is wearing thin. In inflation-adjusted terms, the stock market is about where it was in 1973! If you reinvested dividends, that gets you to 1991 (again, inflation-adjusted). It takes a lot of buying to make a bull market. It only takes an absence of buying to make a bear market.
Could we get a rally after the summer or fall lows? Sure. And it could be a good one. A lot depends on how fast the stimulus kicks in and whether it really has an effect. Will the Fed really buy large-cap corporate debt? I hope we can see something like a 1974 bottom in stocks develop.
I think the correlation between the US stock market, other developed markets, and emerging markets is close to one. I prefer to stand aside until the US economy has a clear direction and we can see whether the stimulus actually works. And then we can look at the world economy. I won't embarrass them by naming names, but those who argued for "decoupling" between the US and the rest of the world are not looking good. Someday, but not this decade.
I would be a buyer of quality bonds, both corporate and municipal. The key is to have a bond analyst who knows what they are doing and not just looking at ratings. There are some real values in the bond market today.
I would not be a buyer of US government debt. Treasuries, if not in a mini-bubble, have little upside potential and just don't yield enough. Why would I hold a ten-year treasury for 2.39%? I like TIPS at these prices. TIPS are pricing in deflation for ten years and, as I outlined above, I don't think the Fed will allow deflation to take hold.
With all the massive printing of money, you would think I expect the dollar to crash. I don't. The question is, what will it fall against? The euro? Really? The pound is better valued, but England and Europe are going to have to cut rates and apply massive stimulus as well. Every developed country will have problems. I can see holding Canadian, Australian, and other commodity-country currencies, but the leverage needed to make it a reasonable investment potential is too risky for individuals.
I can't see the Japanese letting the yen get too much stronger. China seems to want to halt the rise of the yuan, and the rest of Asia will devalue their currencies to maintain whatever they think of as a competitive advantage. Longer term, I like Asian currencies.
After a year of bouncing around, gold may be poised to rise against all major currencies. We could easily see new highs in the next year.
I think oil is going lower (and maybe much lower -- can you say $1-a-gallon gas?) in the near term. As I have written about before, oil is now in the steepest contango on record. That means oil is cheap today and more expensive in a few months. That is not normal. Oil is bidding for storage. You can make 20-25% on your money in a few months if you can buy oil and find somewhere to store it. At least 25 supertankers have been leased to store oil, and sources say another ten are being bid for. It remains to be seen if OPEC can really cut enough to make a difference in the near term.
As for the other metals, I think it is quite likely copper and its industrial allies will fall in price at least for the near term, until production can be cut and demand in Asia begin to rise again. I would not be a buyer of long-only commodity funds for the near term. Someday the bull market in commodities will return, but not until Asian demand picks up.
The risks to my forecasts are quite clear. The stimulus could happen quicker and be more effective than I think, and the economy and the markets could surprise to the upside. On the other hand, and more scarily, the Fed could be pushing on a string in a liquidity trap and the economy and markets could get hit harder, along with most assets.
Briefly, if you would like to look at a range of money managers I think have the potential to navigate the current market successfully, let me suggest you contact some of my partners around the world. If you are an accredited investor (net worth $1.5 million) and would like to look at a group of hedge funds and especially commodity funds in the US, go to www.accreditedinvestor.ws and fill out the form, and my partners at Altegris Investments will get in touch with you. If you are in Europe, use the same link and I will get you in touch with Absolute Return Partners in London. In South Africa, my partner is Plexus Asset Management. We will soon be announcing new partners in Canada and in Latin America.
If your net worth is less than $1.5 million, my US partners at CMG have a platform of managers and traders that take direct-managed accounts with minimums of $100,000. These are liquid and fully transparent accounts with managers with long-term track records. You really should check it out. The link is http://www.cmgfunds.net/public/mauldin_questionnaire.asp.
And if you are an advisor or broker and would like to see the managers on the Altegris or CMG platforms and how you can access them for your clients, sign up and note on the form you are in the business. It might actually be fun to make a client call with a recommendation for a fund or manager that was up in 2008.
La Jolla, Bermuda, and Europe
Tiffani and I head out to La Jolla Monday to meet with Jon Sundt and his partners at Altegris Investments. There have been a lot of positive developments of late, including new managers, and of course we will be talking about the upcoming conference. And I will get to have a quick happy hour with Richard Russell and his son. The Tribute dinner is going to be so much fun.
On Wednesday, I am hosting a dinner at my new home for a small group of family office heads, hedge fund managers, and local businessmen. We are calling it an "Idea Dinner" and will throw out thoughts on how to invest in the coming year. I will report anything interesting.
I will be in Bermuda January 28-31 for a speech and some time away from the office to write on the book Tiffani and I are doing on millionaires. It is a fun project. And I have to have it finished by the end of February so I can get to London and Europe and New York in March.
I am always optimistic at the beginning of the year. Even though I see a serious recession, I am working, like every businessman in the world, on making my business grow in spite of problems in the economy. Free markets with motivated entrepreneurs will be what really creates a growing economy.
It is time to hit the send button. There is a fire in the family room, and it is time to relax. Enjoy your week. I know I will.
Your more optimistic than this letter implies analyst,
By John Mauldin
John Mauldin, Best-Selling author and recognized financial expert, is also editor of the free Thoughts From the Frontline that goes to over 1 million readers each week. For more information on John or his FREE weekly economic letter go to: http://www.frontlinethoughts.com/learnmore

To subscribe to John Mauldin's E-Letter please click here:http://www.frontlinethoughts.com/subscribe.asp
Copyright 2009 John Mauldin. All Rights Reserved
John Mauldin is president of Millennium Wave Advisors, LLC, a registered investment advisor. All material presented herein is believed to be reliable but we cannot attest to its accuracy. Investment recommendations may change and readers are urged to check with their investment counselors before making any investment decisions. Opinions expressed in these reports may change without prior notice. John Mauldin and/or the staff at Millennium Wave Advisors, LLC may or may not have investments in any funds cited above. Mauldin can be reached at 800-829-7273.
Disclaimer PAST RESULTS ARE NOT INDICATIVE OF FUTURE RESULTS. THERE IS RISK OF LOSS AS WELL AS THE OPPORTUNITY FOR GAIN WHEN INVESTING IN MANAGED FUNDS. WHEN CONSIDERING ALTERNATIVE INVESTMENTS, INCLUDING HEDGE FUNDS, YOU SHOULD CONSIDER VARIOUS RISKS INCLUDING THE FACT THAT SOME PRODUCTS: OFTEN ENGAGE IN LEVERAGING AND OTHER SPECULATIVE INVESTMENT PRACTICES THAT MAY INCREASE THE RISK OF INVESTMENT LOSS, CAN BE ILLIQUID, ARE NOT REQUIRED TO PROVIDE PERIODIC PRICING OR VALUATION INFORMATION TO INVESTORS, MAY INVOLVE COMPLEX TAX STRUCTURES AND DELAYS IN DISTRIBUTING IMPORTANT TAX INFORMATION, ARE NOT SUBJECT TO THE SAME REGULATORY REQUIREMENTS AS MUTUAL FUNDS, OFTEN CHARGE HIGH FEES, AND IN MANY CASES THE UNDERLYING INVESTMENTS ARE NOT TRANSPARENT AND ARE KNOWN ONLY TO THE INVESTMENT MANAGER.
© 2005-2019 http://www.MarketOracle.co.uk - The Market Oracle is a FREE Daily Financial Markets Analysis & Forecasting online publication.
Comments
GLOBAL ALLIANCE
07 Feb 09, 18:55
global economic reality and forecast


GLOBAL ALLIANCE AGAINST IGNORANCE

globalallianceagainstignorance@gmail.com

THE GLOBAL CRISIS - THE FACTS

During the last 60 years the humans have conducted the most criminally damaging assault on the global life support system/ecology that comprises the

Natural Habitat/Primary Forests/Biodiversity/Foodchain/Air/Soil/Water and Ozone Layer.

This self-destructive relentless assault/wastelaying of the planet was and continues to be financed with debt reminiscent of the murderous crusades and colonial holocausts.

It led to the drug inspired out of control growth spiral of the Casino economics that saw

gambling as an end in itself.

When the cash calls came nobody could pay up.

When the banks said we have exhausted our already over-extended leverage and it was realised that that meant bankruptcy because the purported assets that had been marked up commensurately with the debt inspired gambling valuations were illiquid if not worthless - they called on their political cronies for so-called bail-us-out Stimulus packages to save their babylonian tower empires.

Nobody sane would bail out debt riddled compulsive addicted gamblers who like drug addicts want only one thing: MONEY FOR MORE OF THE SAME OR WORSE.

Unfortunately the gamblers/drug addicts threatened their cronies if you don't bail us out we'll bring you down with us.

It was now a question of whether to save the global life support system for the next generation

and do away with the gamblers/drug addicts whose overproliferation/obsession of debt financed planet destruction activities over the last 60 years based on selfish greed/avarice/megalomania/vanity and ignorance had caused more environmental destruction/pollution/wastelaying than all human activity since the times of Homo Erectus.

The political cronies chose the latter and instructed their senile central bankers to start reducing interest rates towards zero to restart the engines of the planet destruction bandwagon because the next generation isn't going to vote them out for a long time to come and the present generation has been misled/deceived/mesmerised/indoctrinated with false propaganda into a

permanent state of stupor.

So that today when everybody knows that the global mass-consumption quantum that fuels the global mass-production/trade/services quantum constitutes the root-cause of the environmental planet destruction scenario/climate change you have the French IMF Fuehrer command/dictate that nations must increase consumption to reignite economic growth.

The financial salvation of those who have caused the global environmental holocaust has thus been enacted instead of the preservation/conservation and restoration of the global life support system.

1. The global out of control economic growth mania/acceleration over the last 60 years that was supposed to eradicate hunger, poverty and socio-economic injustice; reduce environmental planet destruction and produce a healthy, clean and prosperous/equitable life support system for all turned out to be a gigantic avalanche/tsunami of precisely the opposite:

2. It encouraged the most fraudulent concoction of false and dishonest business plans by the racketeers who saw themselves as the new messiahs of hardware/software/construction and services that would make them billionaires and trillionaires by growing their empires on massive debt mountains and cover the planet with rubbish and toxic and radioactive waste.

3. The staggering global leveraged debt capacity that the colluding banking fraternity made available to the crooks made them too paper millionaires/billionaires that fed right through the corrupt system - so that even smalltime bankers would hand out debt in exchange for the usual brown envelope knowing that overall all debt would never be repaid other than through more debt so why worry because the gravy train was secured by the politicans/bureaucrats most of whom see luxury suites/positions waiting if and when their state careers come to an end.

(Merrill Lynch CEO redecorates his office for 1,2 million USD; UBS on a USD 60 billion lifeline after mismanaging its own business is paying 2000 million USD in bonuses to the staff that caused the debacle and yet UBS is today again lead advisor to many governments and corporate racketeers)

4. The banks therefore expected the politicians/bureaucrats to bail them out when they ran out of debt - knowing that governments can and will print any amount of money to keep the gravy train rolling. They call it stimulus packages - intended to encourage bankers to throw money again at every crook, swindler, fraudster to keep their PONZI business going on the basis of "don't worry when the money's gone we'll be there for more of the same".

5. The political/bureaucratic charlatans have it all worked out. The debt managed state that drives the debt managed economy can at least retain the jobs in the faltering rackets that were promised during the last election. To keep the media sweet and conniving in the PONZI fraud the state conveniently spends massive amounts of debt financed advertising from no-smoking campaigns (while encouraging the tobacco producers/manufacturers to expand) to health care provisions that only exist on paper (other than the endless queues in surgeries/health centers and hospitals). Most countries of course have no health service at all other than private quacks/drugpushers who rip off the desperate who must pay the extortionate fees modelled on the legal system on the basis we'll keep you alive as long as you pay. Today it means that 4000 million humans have never seen a doctor or dentist in their life and they don't all live in Asia. It's futile anyway because there's no known medicine against pollution and the effects of climate change.

6. The media thus financially encouraged presents the stimulus packages as a godsend salvation of mankind spiked with the usual lies and disinformation that they get backed up by nasty little "experts" who will say anything commensurate with the pay off they get. Presently the biggest lies presented is that more debt will save the global economy when in reality it will refuel the insane inflationary growth that has caused the bubble in the first place. That there is deflation as everything appears to be cheaper despite the fact that literally all food products have risen by an average of more than 30% over the last year and will continue to rise as currencies collapse under the growing stimulus debt mountains because 75% of all countries are food import dependent and there is an existing global shortage of food that is getting worse as ever more humans are forced to eat mass-produced cheap and nasty chemicalised, hormone and anti-biotics poisoned meat/fastfood instead of pesticide/agri-chemicals laden fruit and vegetables...

7. The debt financed global trade bubble that led to the most excessive mass-over-production and consequential market over-saturation was built on cheap debt and cheap labour. Labour will of course continue to be cheap because there is too much of it on a worldwide basis. Media lies include the absurd falsehood that some 40 to 50 million humans have no jobs in the world. The unequivocal fact is that there are today over 2500 million humans over the age of 15

- out of a total world population of some 6750 million -

who have no work contract or regular income of any kind. They rely on hawking, begging, illegal logging, stealing, sexual prostitution and whatever comes along. No stimulus package in the world will ever employ these 2500 million people who are growing at more than 80 million more per year.

2500 million was the entire world population of 1950 that today is eceeded by more than 100 million by India and China together.

(Overpopulation is consistently falsified by the news stations: Euronews states China's population as 1000 million. In fact it has grown to 1350 million despite its courageous one child policy that the internationally operating religious/human rights racketeers want to abolish; claiming it is an infringement of the right for humans to breed victims that can then easily be indoctrinated into the religious business rackets as compliant shopping zombies that sustain the economic growth insanity that's destroying the global life support system that causes the fears that drives the ignorant masses into the open arms of the religious charlatans.)

8. The racketeers told the banking fraternity we'll turn these people into shopping zombies as long as you fork out enough cheap debt to finance the rackets - knowing that ever more people on the planet means in reality ever less jobs as automated, robotised, computerised mass-production and mass-marketing replaces ever more humans.

That's the basis of the global economic growth ideology.

The political charlatans then conspired to force the central bankers to lower interest rates towards zero to enable this insane crooked economic growth bubble that will literally wipe out what's left of the planet's ecology. As the environment/natural habitat/biodiversity is a non voting entity the politicians saw no problem for their cunning save my lot PONZI scheme that will have to paid for by the next generation.

It's no longer a question of money but of environmental survival.

Even a trillion dollar won't buy a glass of drinkable water in a desert or a flood covered swamp.

9. In 1950 the 2500 million humans constituted a possible sustainable quantum impact on the environment at their rate of consumption. What's happened since is nothing other than criminal planet destruction facilitated by cheap debt.

10. Of course nobody will be brought to justice because the justice system itself is part of the global economic growth ideology that is victimising the next generation who will pay for the deception with their lives.

11. The underlying inflation that the trillions of debt/stimulus packages create is totally ignored. The short-term deflationary aspect of falling property values and oil is totally outweighed by the gigantic spending power that the growing debt mountains facilitate. Not so long ago football TV broadcasting rights in Britain cost some 100 million euros; now it is more than 1000 million euros. Global Municipal and Government debt has increased by more than 10000% over the last 60 years.

That is where the real inflation hides that the political charlatans deny because it is divided by the growing per capita numbers that are fostered/fuelled with every kind of government handout on the basis that even unemployed humans/victims can be turned into valuable shopping zombies to keep the worldwide mass-production/mass-consumption economic growth ideology in the business that destroys/pollutes/wastelays the environment which in turn provides yet another splendid business opportunity for more of the same until the planet is an absolute totalitarian human made wasteland when no doubt they will call on their various gods to bring back Nature.

President OBAMA's reference to the "weakened economy" must now be reinforced by a blunt message of whether humans want to continue to destroy the planet through growth of the global PONZI fraud debtocracy whereby today's generation incurs the debts that the next generation will have to pay or whether they want to accept an environmentally beneficial ongoing consecutive weakening of the insane bubble economy until a sustainable no growth balance between humans, their activities and the planet's life support system has been re-established: The PONZI fraud debtocracy economy of the last 60 years has done nothing for ordinary people other than causing sickness and deaths from pollution and environmental destruction that has caused global infrastructure collapse, a psychopathic violence driven society and systemic poverty, hunger and unemployment for billions of humans and unforeseeable consequences of climate change.

Leadership rather than servile vote catching is now needed everywhere.

THE LOW INTEREST MADNESS THAT WILL REIGNITE IT ALL

THE REALITY OF THE PLANET'S BIGGEST PONZI FRAUD

That makes the alleged Madoff 50 billion scam a minor petty cash incident

The 60 trillion USD of global national debt that have been accumulated by the spendthrift/overspending governments to pay for their planet destruction economic growth/job creation swindles have in fact been used to pay off the debts incurred by the previous environment destructive racketeers that have defrauded/over-saturated/flooded the markets:

This gigantic debt mountain is the benchmark for the similarly gigantic municipal and private debt mountains that have been fostered/fuelled by the governments and banks to sustain the planet destructive mass-production/mass-consumption shopping zombies growth economy that has wiped out 95% of the global natural habitat and its biodiversity (IUCN) and left the overpopulating humans in unilateral control of a dying planet where even socalled protected habitats have been invaded, occupied, polluted and turned into construction/tourist slums all over the devastated planet.

As governments spend ever more money on IVF/reproduction methods while denying free abortion and contraception to those who want/need them most they are effectively creating the victims of the future who must pay for the debts of the previous generation and commensurately suffer the dire consequences of the environmental holocaust that was unleashed.

In an insane contradiction the humans continue to spend trillions on arms to defend themselves against themselves while killing/violating everything around them.

While Madoff's copycat Ponzi scheme will likely land him behind bars -

the indebted governments are congratulating themselves and are being lauded for having lumbered the next generation with the debt mountains that they have incurred for the present generation in what is the world's most cunning, officially sanctioned/instigated Ponzi fraud so far.

G20 - the new mafia - to reward their sponsors/racketeers and restore planet destructive economic Growth

Some politicians now want to change "Capitalism" and prevent "speculation"

(why did they not say this this before to prevent the global socio-economic-environmental-financial crisis that is now invoking them to make such statements? -

Because they and their political/religious allegiance underpin the ugly face of the global Casino capitalism and gambling speculation that thrives under their policies of

low interest; unlimited leveraged debt mountains and letting one's currency collapse!

Thousands of missionaries are out there in the poor countries to breed/convert more humans to this roulette socio-economic-environmental-financial planet destruction ideology.

The phenomenal growth of debt-financed government/local authority/municipality/state expenditures where everything is muddled/duplicated/squandered in an endless papershuffling scenario

- while the overall dog shit covered infrastructure is falling apart - despite ever higher underlying taxation and state enterprise extortion rackets that are covered up with PR tricks like 1000 dollars tax rebate for every family that has just been forced to contribute 20,000 dollars in "stimulus" packages to bail out the politicians favourite racketeers -

that despite employing millions of totally superfluous bureaucrats/chieftains to supervise the inefficiency;

management consultants to concoct additional job opportunities despite the fact that every additional job in the world has a direct commensurate planet destructive quantum impact;

computer programmers to compound the existing system mess;

experts who request more experts as "expertise" becomes ever more narrow;

accountants to assist in cooking the debtladen books;

lawyers to invent ever more rules, regulations and laws that contradict existing ones:

yet all this madness has failed to reduce local/national and global unemployment that continues rising.

An intelligent socio-economic-environmental-financial order would be based on first principles that would automatically prevent the chaos and disasters the world is facing.

This of course would expose the charlatans who thrive under the cloak of chaos and disasters that are used to hoodwink and disinform the masses who are being kept entirely ignorant about the law of first principle in collusion with the religions who base their belief systems on thousands of years of concealment of facts/reality and infantile idolatry that resembles drug addiction.

In A French newspaper it is suggested that the relatively cold weather in Europe that is still much milder than it was even a generation ago confirms that therefore there is no global warming. Such simpleton propaganda is now disseminated by the media in total ignorance that the massive icesheets that have detached themselves from the Antarctic - as a direct consequence of human activities - are having a cooling effect on Europe that will be made worse with ever more global warming from the insane "stimulus" packages, low interest debt financed economic growth=inflation and breeding incentives that the politicial charlatans dream up.

INFLATION HAS CAUSED THE GLOBAL ENVIRONMENTAL PLANET DESTRUCTION HOLOCAUST

1. Demographic inflation

WORLD POPULATION 1925 - 1750 million humans : TODAY - 6750 million humans

Population 2050 (from www.geohive.com)

India

1,807,878,574

China

1,424,161,948

USA

420,080,587

Indonesia

313,020,847

Pakistan

295,224,598

Bangladesh

279,955,405

Ethiopia

278,283,137

Nigeria

264,262,405

Brazil

260,692,493

Congo, DR.

189,310,849

World

9,538,988,263

AMAZONAS RAINFOREST 1925 - 730,000 square miles : TODAY - there's not one square mile of Amazonas Rainforest that has not been invaded/polluted by humans be it for illegal logging; cattle ranching; soya bean or bio-fuel growing; small agriculture; mining; roads; dams; eco-tourism; "scientific" expeditions etc. and ever more landless farmers

- in the countries of the Spanish/Portuguese introduced insane Roman church that prohibits contraception/abortion under the "right to life" banner -

a lunatic policy that causes 50,000 to die from malnutrition every day

(in 1972 it was 12,000 a day)

flood into the amazonas and move from one slash and burn site to another to feed their growing families often comprising ten or more children=victims.

No unmolested intact rain forests exist now anywhere.

Violence, crime, hooliganism and wars are spreading everywhere as the have nothing to lose fight for resources that no longer exist: Take Israel in 1945 "Palestine" had some 500,000 inhabitants that have increased within Israel and Gaza and the West Bank to well over 10 million and growing while resources are declining. The Palestinians rely entirely on food aid to survive because there is no land to grow food. This situation can never be resolved and is getting worse with rising population inflation. More than 50 years of violence have done nothing other than to worsen the plight of the growing number of victims. The unacceptable bombing of densely overpopulated areas is a clear sign of impotence in the face of intractable odds that reflect a microcosm of what is to come on a worldwide basis where local resources are insufficient for a decent standard of living as a result of overpopulation.

2. Stock Market Inflation

In 1925 the Dow Jones stood at around 100 compared to 14,000 in 2007 and 9,000 today and rising back up again - financing more global economic growth=inflation=climate change/natural habitat destruction/biodiversity extinction with more mass-overproduction and more mass-overconsumption.

3. Money/Debt Supply Inflation

Considering that the United States Gross Domestic Product in 1925 was less than 100 billion USD - today it is over 13 trillion USD; today's money supply has exponentially increased into so many trillions that the FED has unilaterally decided to make it a secret by refusing to publish M3 anymore.

Global debt is estimated at some 60 trillion USD today (updated from the CIA factbook) that equals the market value of all publicly traded shares in the world. Per Capita debt in the USA has risen from 5000 USD in 1985 to about 50K USD today. All countries have similar or higher per capita debt level percentage increases and that is yet another reason why every country seeks to increase its overpopulation to reduce the per capita indebtedness while the debt itself is rising. It is also another reason why inflation is tolerated if not welcomed/engineered as it literally helps to reduce debt in real terms. All of this criminal financial engineering fuels the global environmental planet destruction quantum that is causing climate change/the destruction of the natural environment and biodiversity extermination.

4. Ordinary day to day Inflation

This is reflected in the food items that have increased commensurately with the global money supply explosion; the global demographic explosion and the global stock market explosion because more money means more spending driving up prices; more humans means less land for growing food and the stock market inflation creates staggering debt mountains that can only be covered up with balance sheet inflation that feeds into everything.

5. Livestock/feedlots and motor vehicle (cars/trucks/buses) inflation

The rising dead body chewing habits of the human killer species has increased

a) global beef cattle to 1300 million

b) global sheep and goats to 1800 million

c) pigs to 2000 million

d) chicken incl. cocks to 140,000 million

(some of the more unscrupulous meat producers/traders call livestock/feedlots "biodiversity")

causing altogether even more damaging/planet destructive greenhouse gas/acid rain/resource consumption than motor vehicles that increased from about 70 million in 1950 to a staggering 700 million by 1996 and are now totalling in excess of 1000 million.

6. Poverty Inflation

The systemic poverty of the 4000 million have nots in the world is solidified by the global economic growth=inflation policies that are affecting ever more humans that have real jobs and real incomes.

One cunning political trick is to incite the "little people/retired" (i.e. the ones that do not have access to millions/billions in leveraged debt finance to manipulate markets) to save by offering "high" interest rates and safety. A few months later the government via its Central Bank lackeys drops interest rates to assist the racketeers who have taken on vast debt mountains to sustain their debt inspired lifestyles/megalomania which not only means reduced income for the little people/retired but also a massive loss of capital in international terms as the currency collapses commensurately with the low interest rates. The EURO, USD and the Pound Sterling are prime examples of how ongoing exchange rate manipulation makes the poor poorer and assist the rich in getting richer.

Hence the charlatans who currently talk about falling inflation obviously never go shopping while relying on the shortsellers who have been driving down the oil price - until they go long again when oil could easily breach the 200 USD a barrel level by 2010.

Already Russia has made it clear the cheap gas days are over.

THOSE WHO DO NOT WANT TO RECEIVE OR REFUSE THIS GLOBAL PLANET DESTRUCTION REPORT ARE THE SAME TYPES OF HUMANS WHO CONNIVED/COLLUDED WITH THE FASCISTS, THE FALANGISTS, THE NAZIS AND ALL THE OTHER PLANET DESTRUCTION IDEOLOGIES THAT WERE CONCOCTED TO PROMOTE NATIONALISM/RACISM/SEXISM AND ECONOMIC GROWTH BASED ON THE MAD RELIGION THAT THE PLANET BELONGS EXCLUSIVELY TO HUMANS AND THEIR INSATIABLE STATE FOSTERED MASS CONSUMPTION/REPRODUCTION/OVERPOPULATION HABITS THAT CAUSED THE MURDEROUS COLONIAL HOLOCAUSTS FOR LEBENSRAUM AND RESOURCES

There's already 1 kilo of deadly radioactive plutonium waste for everyone of the 6750 million humans and nobody knows where to safely stash it away since they've decided not to dump it anymore in the oceans.

Apart from that the humans have more than 50,000 nuclear weapons -

enough to wipe the planet clean of all life a thousand times over.

Now why would these decent, law and order abiding, god believing, possibly even church going, family minded, honest and upright human citizens want to blow everything up?

All this freedom, free trade, civil liberties etc. is organised under the corrupt two party democracy pretence whereby the political charlatans gain power on the ever larger voting ticket of expecting shopping zombies that they then use to further the vested planet destruction interests whose deep-seated systemic scratch my back I'll scratch yours corruption has resulted in the global financial crisis where trillions of debt dollars that should never have been issued in the first place have financed the global planet destruction/environmental holocaust ranging from acid rain to toxic/radioactive wastelaying whereby the natural habitat/biodiversity/clean air has been wiped out/exchanged for the biggest construction/mass-production/mass-consumption madness/pollution of all times that has caused climate change.

the planet destruction criminals will do everything to prevent you from reading this global plain language report

don't let the academic charlatans continue to befuddle facts with their usual cornucopia of convoluted language invented to hold sponsors and society to ransom for more of the same

THE PLANET WOULD NOT NEED SO-CALLED ENVIRONMENTAL AGREEMENTS IF THE GLOBAL HUMAN QUANTUM IMPACT WAS KEPT WITHIN THE NATURAL LIMITS OF CO-EXISTENTIAL BALANCE WITH THE ECO/LIFE SUPPORT SYSTEM/RESOURCES AND BIODIVERSITY.

INSTEAD THE PSYCHOTIC HUMAN QUANTUM MASS PREFER TO OPEN THEIR ECONOMIC GROWTH/STIMULUS PACKAGE SEWERS AND PRESENT IT AS YET ANOTHER CLEVER INNOVATION FOR MILLIONS OF JOB AND BUSINESS OPPORTUNITIES TO COMPOUND THE PLANET DESTRUCTIVE MESS FOR MORE OF THE SAME.

Covering the planet in wind turbines/solar panels is not going to feed the billions that go hungry every day.

Hence it comes as no surprise that the ecologically defunct

- unlike the leader of the 2000 year old freak/hat show-business

(famous for its widely promoted anti-contraception/anti-abortion/anti-sex before marriage antics that has caused the human environmental holocaust/deforestation/climate change over-population quantum impact that is killing families which he pretends to cherish - based on the socio-economic-religious precept that all crimes will be forgiven if a wafer is swallowed at Sunday mass that has created the international planet destruction mafia and their supporting cast/protection racket of sponsored economists, crooked lawyers and compliant politicians)

better known as Pope who has now publicly stated that it is as important to save the Rainforests as it is to save "mankind" from transvestite and trans-sexual "behaviour". The Pope has thus instructed the millions of sterile - when they're not abusing children - transvestites that form the nucleus of his global brocade costume circus act to discard their female frocks for male trousers.

He himself has allegedly ordered some BOSS suits for himself -

a church for hooligans/barbarians that still feeds on the meat served up from

public torture of animals officially approved by their fellow EU butchers

(what they do with the ears and tail that are handed to the local priest is anybody's guess

After centuries of poisoning the minds of the cretins and easily manipulated with their hallucinogenic rituals - the religions that are nothing other than gigantic business cartels with their insane breeding/multiplying gospel that has overpopulated the planet - are now reluctantly acknowledging that the human is not the only species on the planet after having wiped out 95% of the planet's natural habitat and fellow mammals.

Having invented god as the ultimate fall guy they refused to accept the reality of the bio-ecological co-existential balance between humans and fellow species that is necessary to sustain the planet's life support system.

French Chief of the IMF - wallowing in ignorance - pushes the debtocracy governments to sling billions - that were made or must be made from planet destructive activities - in stimulus packages in all directions to bring back/sustain the beloved economic growth=inflation insanity that has caused the financial crisis and climate change and that is wiping out the global life support system.

The so-called financial crisis is nothing other than a predictable consequence of the global low interest debt spiral that caused the "get rich quick" ideology that attracted every crook, swindler and fraudster to invent the "no capital/no savings needed" global debt financed rackets such as the buy to let racket whereby massive multi-million mortgages were accumulated to buy property apparently for letting. However in many cases the mortgage was split between the crooked mass-construction racketeer and the pretended buyer who simply walked away from the building with the mortgage cash. At the height of the low interest debt bubble such properties could be sold many times over with new mortgage frauds. In an immense show of greed the banks then purchased these non-performing, over-mortgaged construction dynosaurs in subprime packs amounting to billions only to flog them again to unsuspecting clients.

The other low interest debt frauds that are yet to unfold will be corporate debt based on fraudulent business plans; the junk bond debacle; and the credit card frauds that induce the debt junkies and crooks to sustain the politically welcomed mass-consumption shopping zombie buying frenzy that sustains what they call economic growth which in reality is nothing other than underlying inflation.

The insanity is that the debt financed economic growth ideology has created the globalised chain reaction that has wiped out millions of small businesses and created commensurate unemployment that the political/institutional charlatans want to stem with their multi trillion "stimulus" packages for the globalised dynosaurs that will simply create more market saturation and oversupply.

What is a shopping zombie? The political survival of the charlatans is based on the intellectually brain dead humans who need to make up externally what they lack in intellect: that means ever more cars, perfumes, clothing, food, "beauty" creams, and ever larger TV screens etc. that are an integral part of the idiotic advertising spam diet served up by the TV/Internet/Cell phone rackets.

The shopping zombie is also distinguished by a multilateral herd identity/mentality - aping/parrotting anything that the media prechew.

In the hillbilly land where guns are needed to express meaning - the socalled media regurgitated economic/financial crisis has totally eradicated any public concern about the environment or climate change.

The shopping zombies addiction has been nurtured by government enacted destruction of the natural environment that has culminated in France with the construction of massive polluting concrete bunker cities loaded with plastic furniture in the Alps to accommodate ever larger quantities of catatonic apres ski zombies.

In France destruction of the environment is seen as progress, innovation and a god given right.

The shopping zombies lust for planet destruction is exacerbated in their psychopathic admiration for freakshows such as the Guiness World Records where demented morons are incited to become "world champions" in hacking down Pine Trees or breaking baseball bats with one leg and similar acts of violent destruction of resources that are nothing other than applied insanity.

THE BIG RECKONING AFTER MORE THAN 60 YEARS OF

SOCIO-ECONOMIC-ENVIRONMENTAL MISMANAGEMENT/LEADERSHIP/POLICY FAILURE THAT CAUSED THE ENVIRONMENTAL HOLOCAUST/CLIMATE CHANGE BASED ON LOW INTEREST DEBT FINANCED ECONOMIC GROWTH WHICH IS NOTHING OTHER THAN INFLATION

Democracies are now corrupted totalitarian state-financed Debtogracies/empty slogan societies - other than violence - that compete/fight against each other in the global economic growth=inflation=planet destruction war ideology

THE WORLD HAS BEEN TURNED INTO A GIGANTIC THIEVES PARADISE - DEBT IS THEFT

Of course that does not include ordinary home mortgages or temporary small business bridging loans.

AND LEVERAGED DEBT IS DEFRAUDING SAVERS

LOW INTEREST RATES FUEL THE DEBT IDEOLOGY THAT CAUSE THE CRIMINAL

ECONOMIC GROWTH/OVER-PRODUCTION/MARKET SATURATION/FINANCIAL CASINO GAMBLING

THAT FUEL PLANET DESTRUCTION/CLIMATE CHANGE AND THAT ULTIMATELY CAUSE RECESSION

About Casino gambling: take the oil price or any commodity as an example: first the long traders drove it up to 145 USD from around 50 USD and now the short traders are pushing it down to where the gambling started or lower. As long as you have gamblers who can access leveraged debt finance ad infinitum to place long or short bets you have extreme market manipulation. It has absolutely nothing to do with supply and demand despite the media having been instructed to repeat the contrary ad nauseam.

Now the criminals who run the global planet destruction rackets are doing the same with pollution trading scams that the infiltrated/corrupted environmental charlatans invented to justify their own rackets.

THE GLOBAL FOOTPRINT OF THE 80 MILLION ENVIRONMENTAL ORGS EXCEEDS THE TOTAL FOOTPRINT OF THE ENTIRE WORLD POPULATION OF 2500 MILLION IN 1950.

The global environment is being destroyed by debt that finances the economic growth mirage that is nothing other than inflation.

The socalled EU 2020 environmental agreement is just another Kyoto, Montreal, Basel etc. heap of environmental phantasmagoria designed to deceive the gullible media and those who read/watch/listen to it.

It is also a memorable piece of deception in that it pretends that certain greenhouse gas reductions which are unlikely to be achieved due to the growth in shopping zombies and their addicted mass consumption habits but which in any case cannot undo the damage already caused.

Of course true to their religious affinity the restoration of the totally wiped out natural habitat and biodiversity in Europe has been totally ignored so as not to upset the gravy train of economic growth=inflation that has just been stimulated with 200 billion of money that was made from environmental destruction/pollution/wastelaying and that was put in place by the political charlatans to sustain the same planet destructive quantum activities that produced the money in the first place and thus will finance an ever greater quantum attack on the global ecology; quantum attack that is decimating the global life support system.

THE PLANET WOULD NOT NEED SO-CALLED ENVIRONMENTAL AGREEMENTS IF THE GLOBAL HUMAN QUANTUM IMPACT WAS KEPT WITHIN THE NATURAL LIMITS OF CO-EXISTENTIAL BALANCE WITH THE ECO/LIFE SUPPORT SYSTEM/RESOURCES AND BIODIVERSITY.

INSTEAD THE PSYCHOTIC HUMAN QUANTUM MASS PREFER TO OPEN THEIR SEWERS AND PRESENT IT AS YET ANOTHER CLEVER INNOVATION FOR MILLIONS OF JOB AND BUSINESS OPPORTUNITIES TO COMPOUND THE MESS FOR MORE OF THE SAME.

As long as there is population growth there is economic growth with the usual intervals due to oversupply, market saturation AND THE USUAL DEBT DEFAULTS/FRAUDS caused by the low interest debt financed globalised mass-production/service/development rackets; and as long as there is economic growth there is ongoing pollution/natural habitat destruction, biodiversity extermination and wastelaying of the planet that is causing climate change. Hence as long as the political/institutional/bureaucratic/educational etc. charlatans and their corporate mafia bosses/lackeys/associates promote economic growth which in reality is nothing other than inflation the planet is doomed.

The political/institutional/bureaucratic charlatans totally ignore that ever more money/debt means ever less food/natural habitat/biodiversity/quality of life

The only comparison to the overcrowded/polluted/toxic/radioactive waste riddled/traffic jammed/infernal/dust-smoke-particle laden bunker city slums that are now "habitat" to more than half the 6750 million humans are the concentration camps/prisons aka Zoos that humans invented to exhibit fellow species for amusement and the usual "scientific" experiments.

During the last 60 years of ongoing boom/bust economic mismanagement/growth=inflation financed with ever larger low interest debt mountains/stimulus packages the global human footprint has produced the greatest environmental holocaust/natural habitat destruction/biodiversity extermination/pollution/acid rain/ozone layer depletion/desertification/deforestation as much as growing hunger/poverty amongst the overproliferating/overpopulating humans

- that the corporate racketeers and their political lackeys want to turn into compulsive shopping zombies -

most of whom now subsist on systemically poisoned fastfood/TV spam

- 75% of grains feed the dead body gnawing habits of those who want to resemble what they chew - the rest they now want to go on biofuels for all those SUVs that clog the gridlocked roads -

subsisting like rats in gigantic cell divided bunkers in slum cities surrounded by pesticide poisoned agri-factories and nuclear power stations while 50,000 die every day from malnutrition up from 12,000 a day in 1970.

There's already 1 kilo of deadly radioactive plutonium waste for everyone of the 6750 million humans and nobody knows where to safely stash it away since they've decided not to dump it anymore in the oceans.

Apart from that the humans have more than 50,000 nuclear weapons -

enough to wipe the planet clean of all life a thousand times over.

Now why would these decent, law and order abiding, god believing, possibly even church going, family minded, honest and upright human citizens want to blow everything up?

As the planet is getting ever more overcrowded the infrastructure is disintegrating everywhere - don't believe the publicity stunts on the media that show clean roads, smart hospitals, empty waiting rooms, attentive doctors or helpful bureaucrats - the fact is everywhere the dirt and waste riddled roads and pavements are uneven potholed danger tracks carved up by the gigantic traffic streams; zebra crossings have not been repainted for years and now constitute the most perilous crossing of any road; health centers, clinics and hospitals are not only overcrowded but also the easiest way of catching infectious diseases; parking spaces are more difficult to find than a needle in a haystack - sometimes there is one for sale at the cost of a studio apartment; at government departments queueing for hours and endless form filling has been created to employ the millions of otherwise unemployed.

60 years ago some 1000 million out of then 2000 million humans on the planet were hunger/poverty stricken.

Today the criminally insane breeding/anti-contraception/anti-abortion policies of the global Hitlerites has driven human overpopulation to more than 6750 million- increasing at more than 80 million a year - out of which more than 4000 million subsist on less than a dollar a day.

That's an inflation of poverty of more than 400% in only 60 years that the charlatans have caused with their "make poverty history/development/greening the planet etc" sales promotion rackets trying to unleash the catatonic throw away plasticized/chemicalised/artificial fibre/fastfood shopping zombie religion

- 2000 years of religious hypocrisy have created nothing but the world's biggest shopping zombie festivals like Drinkmas/Meatmas and Feaster - onto ever more victims to further their own money grabbing culture that's caused climate change.

Following some 2000 years of racial/national/religious inbreeding that has created the planet's most violent/murderous/crooked/dishonest/doubletalking/doublefaced/self-righteous/hypocritical/self-serving/self-congatulating/self-adulating planet-destructive species of all times enshrined in deceptive/dishonest slogans like "human capital", "sustainable development", "environmental governance" or cynically "the international community".

There is of course the international community of vested interests: the international racketeers, billionaires and trillionaires who fuel/sponsor the global planet destruction ideology and their servile political/institutional/bureaucratic lackeys.

How the USA and its imitators are turning into debt-riddled Banana republics/Debtocracies

A Banana republic is a debt financed state where the government is entirely controlled by the vested interests/racketeers - in whose slipstream thousands of swindlers, crooks, fraudsters have set up businesses entirely financed with debt that they will never be able nor willing to repay knowing that their political lackeys will serve up the demanded no questions asked "stimulus packages" to keep the crooks in the comfort of their debt inspired lifestyles. This has led to the global play it again Sam/Marianne debt for more debt scenario on the basis that what you borrow today will be peanuts in ten years or less as the underlying global financial inflation of business "values" is exploding that the colluding Central bankers facilitate with ever lower interest rates.

A criminal corruption of financial rectitude/ethics by the debt junkies and their dealers that is defrauding savers.

From hundreds of thousands of small time crime outfits/fraudsters like SA CHEZ FRANCE (a PONZI scheme with shareholders like BNP PARIBAS and OSEO/Caisse des Depots who say it's none of their business how the Directors cook the books) set up with no cash capital at all that have obtained millions in debt from French state organisations to the big corporate borrowers nobody knows how much backhanders have facilitated this corrupt bonanza that has made France the most systemically debt riddled country outside of the USA that is an investors nightmare and an environmental bombshell as its nuclear waste over-proliferation and agri-chemical/pesticide infested produce/cheeses and wines poison the planet. SA CHEZ FRANCE is symptomatic of the French debtocracy, a company set up purely to defraud the French taxpayers knowing that there is no retribution in what is the most bureaucratised country in Europe. SA CHEZ FRANCE epitomises the French tourism industry nesting themselves into hotels under false pretences without paying rents, insurances and taxes while ripping off the unsuspecting tourists who are innocently financing the fraud. France has the highest number of crooked lawyers in the world who specialise in running elaborate protection/conspiracy rackets for the fraudsters by abusing the Courts with endless false and fraudulent paperwork and thus helping the fraudsters continue stealing the victims money and property. It's all part of the French way of doing business. You can sue them and they can drag it through the courts while continuing to pocket the money. In France you cannot recover costs; that's why it's a thieves paradise highly advertised by its President:

http://www.youtube.com/watch?v=_Vq_1xt6vuY

as a special thanks for being stupid enough to invest in Europe's most insular, xenophobic, racist debtocracy your local tax office will double your property tax.

The aptly named French Casino supermarket group - also known as Al Campo - sells 4 estaciones salad in two packs. The small pack containing 250 grams of salad sells for 75 centimos. The large pack containing 450 grams should sell for less than 1.50 Euros as it is 50 grams short of two times the small pack. Knowing that the Spanish are weak in arithmetic the cunning French rip them off for 1.79 euros for the large pack. Or take Kikkoman Soya Sauce that today sells for more than 6 Euros while until recently it was sold for 4.50 Euros.

Not that the Spanish need any lessons in ripping off tourists/foreigners….

Remember total GDP of the USA in 1940 was less than 100 billion….Today it is more than 13 trillion: That's an indication of the exponential planet destructive inflation to come.

The political charlatans are too busy attending photo calls and trying to decipher the endless slogans their speech writers serve up for public consumption.

the fact is that the debt criminals/thieves have taken over the planet and are holding everybody else to ransom via their crooked lawyers who have corrupted and perverted the global judicial system in collusion with the faceless bureaucrats that are overproliferating the planet now deceptively referred to as Customer Service representatives.

In France the official Tribunal/Courts Administrators website is nothing other than sales outlet for French businesses that are advertised under the heading "enterprises".

In Britain the adversarial legal system has been corrupted by certain crooked lawyers operating in collusion with equally crooked "counsel" and judges who conspire to pervert the course of justice all under the protection racket of the Law Society and the socalled Bar Council. The Yellow Pages are stuffed with advertising from the aptly named "solicitors" who specialise in furthering the "rights" of crooks, thieves, fraudsters, perjurers and just about any delinquent whereby the solicitors and counsel deceive the Court and mislead the judges based on false witness and evidence that nobody has verified. Corrupt court officials collude and connive with crooked solicitors to delay communications or letting documents disappear to pervert the course of justice.

In Britain this practice of abusing the Courts has exploded during the last ten years of the "easy money" debt boom bubble that was unleashed by the Blair Government and which is now in ashes.

The corruption is evidenced by the fact that what were formerly described as wanted Terrorists such as Kenyatta or Mandela or Gaddafi were subsequently either received on official State Visits or embraced and kissed like long missed lovers.

In 2008 Blair walks up to Gaddafi and to Gaddafi's surprise embraces and kisses him on both cheeks.

As Britain's oil and gas reserves are running low - no doubt Blair was asked to kiss this oil/gas rich supplier to show that Britain did not want to initiate another Iraq style massacre.

The only question is when will Blair who is still secretly running Britain kiss the Russian Leaders.

There are now some 4000 million surplus humans on the planet who have nothing to lose.

All of them born during the last 60 years. In India alone some 1000 million out of 1400 million Indians subsist on less than one dollar a day.

This will no doubt be news to footballers like the Real Madrid or Unicef sponsored Barcelona players who earn

a basic salary of 7 million Euros p.a.

They have never heard of CNN, BBC Worldservice or Euronews and similar propaganda stations

- manned by people who are paid for every word they say by the respective commercial/corporate sponsors - they repeat everything endlessly knowing that only morons watch their half-baked exchanges of allusions, innuendo and allegations that can be denied or reaffirmed in the next show according to sponsor's wishes…the poor don't give a damn about what happens to the wealthy folks who can afford to stay at the 400-4000 dollars a night Taj Mahal or to the Indian billionaire who built himself the world's first 1000 million dollar home right in the middle of Bombay.

CNN - one of the original mass-consumption shopping zombie promoters - in their latest sales promotion feature "PLANET IN PERIL" - smugly inserted between the planet destructive advertising spots for the usual growth industries that accelerate climate change - is sponsored by the polluting aluminium/steel/concrete industry that wants to cover the planet in infernal/soil-sea polluting/bird killing wind turbines to provide the energy for more of the same planet destructive growth.

The fact is the have-nots are now a massive majority on the planet and this fact is compounded by the growing unemployment in the "industrialised" countries including the USA and Europe compounded by the fact that every year more than 80 million more humans want jobs.

The planet destructive impact of jobs has of course never been calculated but looking back over the last 60 years during which the planet's human population tripled and seeing that planet in peril fuelled by ever more economic growth=inflation that has caused climate change, the destruction of all major rainforests, the decimation of all major natural habitat and the commensurate extermination of biodiversity speaks for itself.

Knowing that easy to get low interest debt has always attracted the crooks who set up fraudulent businesses that create a few jobs the politicians still cling to this society damaging concept because it also keeps millions of crooked lawyers and an ever larger judiciary in convenient, well paid jobs.

In France debt financed state organisations like OSEO, Caisse des Depots, Avenir Tourisme and myriads of subsidiaries dish out hundreds of billions in debt to the criminals that they know will never be repaid.

In fact nobody in France knows how indebted the country is and nobody wants to know either in the secure knowledge that there is always more debt being printed to throw after the bad. When one small time trader lost 5,000 million Euros for Societe Generale the frog leg chewing French were proud that they could now match the "Anglo-Saxons" in the cocaine inspired upper echelons of international high finance.

Prior to joining the EU France was of course world champion in devaluing its rubber currency;

Today Britain has taken over this proud economic expediency by letting the pound collapse by more than 30% against the Euro in less than 6 months -

now dutifully continued by the EU Central Bank with ever lower interest rates which is defrauding savers

while rewarding the insatiable debt junkies for their environment destructive growth mania.

Whenever and wherever the political charlatans meet they talk about more trade in an exemplary display of nazi/fascist/jap style low interest debt financed inflation growth economics. At the time the nazis/fascists/japs made war for possession of resources; today they have all joined together to make war against the whole planet to scrape up the remaining resources like a cancer that grows for only one reason:

to destroy and kill its host which is the planet Earth Ecological life support system;

accompanied by cynical/empty/deceptive slogans like "International Year of the Planet" concocted by the slick cocktail party crowd that makes up the United Nations to justify more than 100,000 annual seminars, conferences, meetings in 5 star locations all paid for with the money made from planet destruction. The EU wipes out virgin forests that are replaced with ecologically damaging cash crop timbers by translating its gigantic paper mountains into 27 languages in effect multiplying the environmentally destructive quantum impact by 2700% ever year. With the usual insolence of bureaucrats they deceive the masses with the usual tripe about carbon offsetting and similar falsehoods and deceptions like pollution trading.

THE PLANET WOULD NOT NEED SO-CALLED ENVIRONMENTAL AGREEMENTS IF THE GLOBAL HUMAN QUANTUM IMPACT WAS KEPT WITHIN THE NATURAL LIMITS OF CO-EXISTENTIAL BALANCE WITH THE ECO/LIFE SUPPORT SYSTEM/RESOURCES AND BIODIVERSITY.

INSTEAD THE PSYCHOTIC HUMAN QUANTUM MASS PREFER TO OPEN THEIR SEWERS AND PRESENT IT AS YET ANOTHER CLEVER INNOVATION FOR MILLIONS OF JOB AND BUSINESS OPPORTUNITIES TO COMPOUND THE MESS FOR MORE OF THE SAME.

According to the Yale Economic Review Economics can be learned from video games;

In reality the last 60 years of Economics has been nothing other than throwing ever more low interest debt on a non-stop spinning roulette table

WHY NOTHING SHOULD BE VALUED ABOVE ITS SUSTAINABILITY SUBSTANCE

At best at net asset value but who can predict asset values on a climate change affected planet on which New York, London, Bombay, Rio de Janeiro, Sao Paulo, Tokyo, Sydney and other major cities may all be submerged from the rising seas and changing weather patterns creating massive new migrations, habits and lifestyles.

The political charlatans evidently believe that they are conforming nicely to the diktats of the global corporate crime bosses by "investing" hundreds of billions of bailout gambling chips into the stimulus packaged Casino markets all of which eventually debt financed with worthless junk bonds or tax screws that will cause a massive trail of real inflation.

why anything that contributes to economic growth=inflation must be devalued until it is eliminated

why the global Casino gambling mentality must be eradicated

NYSE and NASDAQ better known as the Wall Street Casino jumped because Fed Chief who sank more than 150 billion into bankrupt AIG is to become Treasury Secretary;

and they jumped again when the taxpayers are proudly told that they will guarantee an initial 360 billion USD in gambling debts of Citigroup.

UBS got a 60 billion bailout plus 6 billion in cash from the Swiss Government. Switzerland has a annual GDP of around 300 billion. If one bank allegedly run by highly educated banking professionals supposedly known for their prudence, thriftyness and compliance necessitates more than 20% of its country's GDP what's going to happen when the others follow in the slipstream? Virtually every day we hear of billions thrown around like monopoly money

(don't worry the UBS golf tournaments and lavish client entertainment are now secured; the Swiss taxpayers are footing the bills) It's strange that a bank that has for decades run number accounts for clients that have never been identified should continue to attract government business; Germany has asked UBS to advise on merger of German banks; Britain too is passing merger business of TV stations to UBS and cynically some "Earth" environmental outfit is doing some melting Antacrtic glacier "research" with UBS when it is the trillions of the world's biggest "wealth" manager that cause global warming in making the fortunes that are then "invested" in more environmental planet destruction ventures that melt what's left of the glaciers everywhere:

This is the systemic global corruption effect

The bailout/stimulus packages will lead to the greatest debt bonanza of all times that will turn the most indebted countries in the world, i.e. the USA and its imitators into just another overleveraged Lehman Brothers/Banana Republic/Debtogracy.....remember LB went from over 125 USD to 3 cents unlike the

trillions of bailout/stimulus packages debts that will be replaced with more debts in a gigantic inflation scenario and

a heap of non-performing/unrealisable/worthless paper collateral/junk bonds and raised taxes;

that's why the low interest debt ideology must be terminated

why the environment must come before the economy even for low IQ people that continue to pursue Keynesian economics - knowing that all money/debt originates from and fuels planet destructive activities. Hence throwing ever more money/debt into the economy with one hand and preaching environmental governance with the other is nothing other than deception and fraud.

The rapacious planet destructive criminals who see the global ecology as an infinite moneyspinner are now controlling everything and nothing more so than the advertising/sales and marketing industry and related stockmarket/trading Casinos that have turned all professionals from Professors to Doctors, Dentists, Economists, Pharmacists, Lawyers, Accountants etc. into sponsored liars/sales gumps who will do/sell/buy anything for more money either as prostitutes or pimps whichever is the more profitable.

To avoid any backlash they have instituted their own Al Capone style protection rackets aka professional associations; in France they have for example the socalled Batonniers protecting the lawyers, in Britain the Medical Council protecting the doctors, in the USA the CPA protecting accountants, consumers are supposed to be protected by the socalled Consumer Associations which are just simply another form of sales promotion agencies for the Dairy/Pharma/Chemical/Auto etc. Industries, the Meat Council, the Health rackets etc. The reality is that the global totalitarian sales/buying frenzy culture that has corrupted and perverted human society into a herd of mindless shopping zombies is entirely financed with low interest debt that feeds the underlying oversupply, market saturation and inflation that is known as economic growth=inflation that the colluding, conniving central bankers sustain with ever lower interest rates. That all sales growth has a direct planet destructive environmental quantum impact is totally ignored. In 40 C degrees Abu Dhabi (in the shade) they now want to build an entire "environmentally friendly" town as if the planet's environment needs more towns. This resource depleting growth mania is the root cause of climate change. The finance behind these schemes is of course straight off the Casino monopoly tables that will be empty when the oil has finally run out. But why think of the future if you can have a good time dreaming up gigantic construction schemes that will give short term employment to thousands of have-nots and turn them into envious radicals when the "pay days" are over.

The French stimulus package includes debt financing more than 100,000 homes while the Germans are calling for more road construction in the tradition of Hitler growth economics that culminated in a war that could have been prevented by getting rid of its cause in the same sense as today's war against the environment could be stopped by applying universal limits instead of multilateral growth.

This self-destructive quantum scenario which no other species would be criminal enough to impose on the planet's life support system has produced the global hell of systemic soot, dust and particle pollution; the systemic poisoning of the foodchain and the falsification of product descriptions. Puro Aloe Vera or Puro Glycerina means there is less than 1% of the ingredient amongst 99% of poisonous chemicals; harina integral means there is less than 10 or 20% the rest is just the usual refined flour amongst a host of chemicalised junk. In fact there are now no natural products available anywhere. Everything is part of a gigantic systemic debt financed global fraud that feeds economic growth=inflation that feeds planet destruction and climate change.

It's the way the most ignorant of all the fast breeding morons on the planet are being indoctrinated to buy ever more rubbish based on glossy slogans/lies because they are used to believe anything according to their 2000 year old religious fantasy world that sees the planet as an unlimited playground for more of the same ad infinitum.

THE PLANET WOULD NOT NEED SO-CALLED ENVIRONMENTAL AGREEMENTS IF THE GLOBAL HUMAN QUANTUM IMPACT WAS KEPT WITHIN THE NATURAL LIMITS OF CO-EXISTENTIAL BALANCE WITH THE ECO/LIFE SUPPORT SYSTEM/RESOURCES AND BIODIVERSITY.

INSTEAD THE PSYCHOTIC HUMAN QUANTUM MASS PREFER TO OPEN THEIR SEWERS AND PRESENT IT AS YET ANOTHER CLEVER INNOVATION FOR MILLIONS OF JOB AND BUSINESS OPPORTUNITIES TO COMPOUND THE MESS FOR MORE OF THE SAME.

Now they are all shrieking for a bailout of the car industry to "save 3 million jobs". The fact is that the car industry has failed to produce and sell its products at a price that covers its costs. Lunatic marketing/advertising/management overheads have failed to sell the vehicles that are in massive oversupply. Now why would anyone believe that throwing an initial 25 billion at the carmakers will save them when they will just simply carry on making losses? The problem is that we have a global economy that is entirely constructed on low interest debt, waste, inefficiency, massive management/marketing overheads sustained by an even bigger local/central government bureaucracy on the basis that you simply retire old debt with a much bigger new debt and carry on the mismanagement that boosts inflation and totally unnecessary/superfluous jobs that wipe out ever more natural habitat. Only some 30 years ago you could buy a Jaguar for about 2000 pounds that today would cost you in excess of 60,000 pounds.

Jaguar cars like literally every other "modern" vehicle easily exceed speed limits in another display of political charlatanerie.

With one hand the bureaucrats are told to impose limits with the other the politicians facilitate the debt economy that incites the mass-production and mass-consumption of products that are designed to flout the limits.

Jaguar went bust all the same and its latest owner Ford had to give company away for peanuts to the Indian TaTa Corporation who still make the Oxford Morris 1950 model which gives a thoroughly comfortable ride within the speed limits.

Nicotine which is more addictive than heroin is now subject to smoking bans virtually everywhere other than in Amsterdam and idiot films but the manufacture of cigarettes etc. is still legal largely for export to the banana republics that brings valuable trade revenues and tax for the louche/self-righteous governments which is just another form of pimping.

Aspartame, Sorbitol etc. are known carcinogenic artificial sweeteners that are dumped into just about every junk food, junk medicine and vitamine pills while alzheimer causing aluminium dust known as fluoride is poisoning water and toothpastes

all on corrupt/colluding government instructions to fuel more economic growth=inflation.

Governments of course know that the shopping zombies are morons because they voted them into power.

The heavily promoted meat and dairy industry causes more deaths from cancer and similar diseases than any other and just like the global environmental fallout from pollution it is seen as a perfect business opportunity for remedial products that provide a cornucopia of side-effects that are seen as yet another business opportunity from drugs to infernal wind turbines, solar panels and hydrogen or biofuel powered vehicles. The melting Antartica and glaciers are also welcomed as providing new shipping lanes etc. as everything is perverted by the criminals to serve the holy debt financed economic growth=inflation madness that thrives on low interest rates.

The environmental footprint of the 80 million "environmental organisations" that have sprung up in the last 60 years is greater than the entire quantum impact of the 2500 million humans that were alive in pre-pesticide, pre-plasticised, pre-fastfood 1950.

IN MARCH 2003 - ONLY 5 1/2 YEARS AGO - "INVESTORS" WERE HAPPY BECAUSE

STOCKMARKETS WERE AT ALL TIME HIGHS;

TODAY THE SAME "INVESTORS" ARE MISERABLE - BEGGING GOVERNMENTS TO THROW TRILLIONS OF MONOPOLY STYLE DEBT-FINANCED "STIMULUS PACKAGES" INTO THE "ECONOMY" BECAUSE THE STOCKMARKETS ARE AGAIN AT THEIR MARCH 2003 ALL TIME HIGHS.

Since March 2003 the S & P increased by about 7 trillion USD that's about the same amount as the entire Gross Domestic Product of Japan and Germany together. You do not have to be an Einstein to imagine the negative quantum impact 7 trillion USD have on the global environment!

WE CALL IT INFLATION BECAUSE THAT IS WHAT INFLATION IS!

in 1940 the United States of America Gross Domestic Product was less than 100 billion USD

- that compares to bankrupt Lehman Brothers 1 trillion USD liabilities in 2008 -

Today the USA GDP is more than 13 Trillion USD

WE CALL IT INFLATION BECAUSE THAT IS WHAT INFLATION IS!

And what is behind this inflation: a low interest debt bubble economy that the charlatans have reignited forgetting all about Japan's zero interest policy that sank the Nikkei from 30,000 to a much more realistic 8000.

It's the addictive growth insanity of the insatiable human monolith that constantly wants to outgrow its excesses like a malignant cancer that wants to destroy its host. The host of the humans is of course the planet Earth. But like all addicts they constantly need more to achieve the same effect and they don't give a damn about the end result even though it's self-destructive.

If you have flooding because the tap was left open by idiots - it would be the height of stupidity to see it as a job creation opportunity to employ ever more people to clean up the planet destructive mess that the morons call economic growth=inflation, progress and success that causes climate change; natural habitat destruction; biodiversity extermination; systemic pollution and poisoning of the foodchain now that the planet is an infernal toxic/radioactive rubbish dump while refusing to get ri




Only logged in users are allowed to post comments.
Register/ Log in