Exploding Gold Demand as Governments Print Money
Commodities
/
Gold & Silver 2009
Jan 29, 2009 - 08:59 AM GMT

Larry Edelson writes:

I haven't always been bullish on it. In fact, for about 20 years between 1980 and 2000, I was mostly bearish on this investment.
I believed the end of the Cold War had largely done it in from a geo-political perspective. I also believed that a new wave of technological innovation and stock market performance was going to give way to a slew of IPOs and a stock market boom in just about every asset but this one.
And then there was real estate, which at the time was also looking good.
So I thought, why put money in this investment, whose chart action supported my bearish forecast and whose price kept falling?
But then, around 2000, I could see that the 20-year bear market in this asset was coming to an end. And just when no one else wanted to invest in this baby, I told everyone I could to buy, buy, BUY.
Yes, I turned out to be right as rain on two counts:
This investment's 1980-2000 bear market,
AND its subsequent explosion into a raging bull market.
What investment am I talking about?
Gold!
Why do I still like it? Let me put it this way: What's not to like about gold?
After all …
Gold is the World's Only Real Money.
And …

Its supply is limited. All the gold that's ever been mined in the history of the world can fit into two Olympic-size swimming pools.
That's right. Hard to believe, but it's true. Moreover, gold production is falling, having dropped from 2,573 metric tonnes in 2000 to less than 2,400 at the end of 2008.

Meanwhile, governments around the world can print unlimited supplies of paper currency.
You don't have that problem with gold, as I just explained. All the gold in the world can easily be bought up and withdrawn from the market.
Demand for gold is exploding! Try getting your hands on gold bullion coins or even small gold ingots or bars. It's almost impossible!
In fact, that's already happening. Try getting your hands on gold bullion coins or even small gold ingots or bars. It's almost impossible!
It's even difficult to get your hands on kilo bars — or 1,000 grams, which is equal to 32.15 ounces of gold and worth $29,131 as I write this. Even 400 ounce bars, worth almost $362,000 EACH, are hard to get.
Why? Because demand for gold is exploding! That's no surprise. While the supply of gold is strictly limited, there's no limit on the amount of money, credit, debt, bonds, derivatives and paper fiat currency that governments can create.
At the end of last year, the total paper money and IOUs of the entire globe totaled more than $600 trillion. Gold, at its 2008 year-end price of $869.75 an ounce, equals just $831 billion — less than 1% of the total outstanding paper in the world.
Meanwhile
The Supply of Fiat Money is Bound to Increase Dramatically Because …

The U.S. banking system is toast. It's bankrupt in every sense of the word and in every number you can imagine.
Don't kid yourself. Citibank, Bank of America, Washington Mutual, you name the bank — are broke. Insolvent! The entire U.S. banking system — dead broke.
That's why authorities in Washington are panicking, creating money out of thin air. Mind you, it's the only thing they can do!
But be aware of the consequences: Eventually, the purchasing power of the dollar — indeed all currencies — is going to fall dramatically.
Even more so because …

The U.S. Government is also broke. I'm constantly amazed at how so few people … so few analysts ask the question, "Where is all the money going to come from to bail out the banking system and the economy?"
Simple — Washington and the Federal Reserve can create UNLIMITED amounts of money and credit.
There's no limit on the amount of paper fiat currency that governments can create to circulate in the economy.
But again, think of the implications of creating more debt to pay off existing debt … printing more paper money to circulate in the economy … spending trillions of previously non-existent dollars to try and stimulate the economy.
Then printing still trillions more to save the banking system … to pay off eventual Social Security obligations as they come due … to pay Medicare liabilities … to fund failing pensions … and more.
Either way — compared to an asset whose supply is strictly limited, like gold — the value of current money must and will decline. There's no question about it.
Think other economies are worse off than the U.S.? Indeed, many are in worse shape. But the responsibility of trying to save the global economy is largely going to fall on America's shoulders.
At the same time …

The giant government bond market is now also collapsing. In just the past six weeks, the prices of long-term U.S. Treasury bonds have plunged more than 12 full points — wiping out almost six years of interest income for investors holding bonds.
Why? Because investors who panicked and flocked to the relative safety of long-term government bonds are now beginning to realize that bonds are about the worst investment one can make right now — for all the reasons I just cited.
The long-term bond market is a disaster in the making. And it's not just the U.S. bond market, but the sovereign bond market of just about every country out there that's collapsing.
So I repeat my warnings: Steer completely clear of the bond markets!
In addition to all of the above, the real estate market is still in shambles … and stocks are not yet out of the woods either.
So what's left?
Cash and Gold —
My opinion: Everyone should have most (at least 75%) of their liquid net worth in cash, tucked away in short-term Treasury-bill only funds. Yes, the yield is lousy. But the government is not likely to default on its short-term, less-than-one-year obligations.
Plus short-term treasuries, with a maturity of one year or less, give you peace-of-mind and the liquidity you need to get through this crisis.
But, remember, your cash is at risk of losing its purchasing power. That's true whether we're talking about the dollar, the British pound, the euro, or any other currency.
So I suggest you hold some gold — "the ultimate currency." I suggest an allocation of up to 25% of your liquid net worth. More on that in a moment. First, I want to show you what gold looks like when a currency is collapsing.
Take a look at this chart of gold in terms of British pounds. Because the pound is collapsing, the price of gold is soaring to new highs for British investors.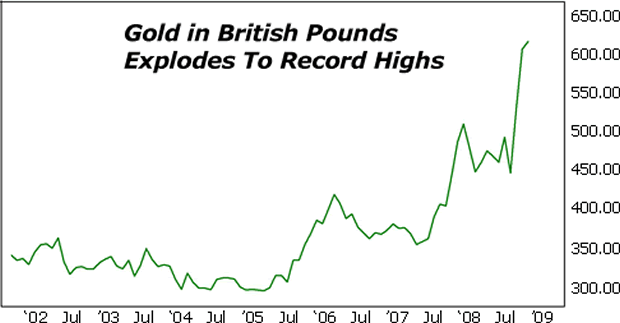 That would be an anomaly if the price of gold was merely rising in pounds. But it's not. Indeed, the price of gold is now exploding higher in every major currency, except the Japanese yen.
Now here's a chart of gold in terms of all currencies, courtesy of my friends at The Chart Store. It essentially shows what the international price of gold is doing.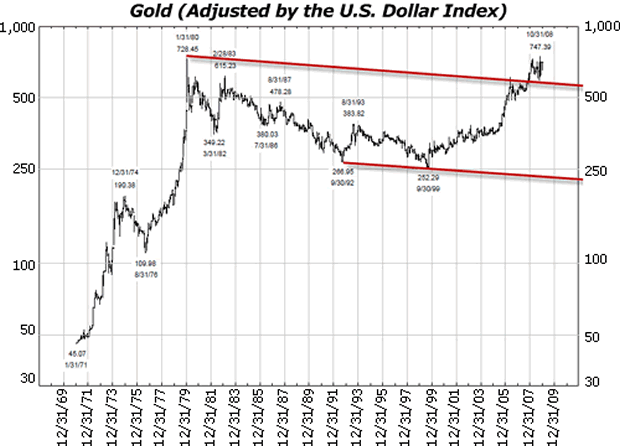 Gold has now closed above the important $879 level. Its next important level is $929.
Once gold closes above $929 — new record highs will be forthcoming.
Now I ask you again, "What's not to like about gold?!"
Best,
Larry
P.S. For my latest core gold and natural resource recommendations, including how to invest the recommended 25% gold allocation … see my gala 2009 Real Wealth Report Forecast issue. And note: With an annual membership to Real Wealth Report , you get monthly hard-hitting, unbiased analysis … all of my buy and sell signals … and flash alerts. Click here to join!
This investment news is brought to you by Money and Markets . Money and Markets is a free daily investment newsletter from Martin D. Weiss and Weiss Research analysts offering the latest investing news and financial insights for the stock market, including tips and advice on investing in gold, energy and oil. Dr. Weiss is a leader in the fields of investing, interest rates, financial safety and economic forecasting. To view archives or subscribe, visit http://www.moneyandmarkets.com .
© 2005-2019 http://www.MarketOracle.co.uk - The Market Oracle is a FREE Daily Financial Markets Analysis & Forecasting online publication.

Only logged in users are allowed to post comments.
Register/ Log in