The State of the Global Markets Online Conference
News_Letter
/
Financial Markets 2013
Mar 04, 2013 - 12:34 PM GMT

The Market Oracle Newsletter
February 13th , 2013 Issue # 5 Vol. 7


The Market Oracle Newsletter
February 13th , 2013 Issue # 5 Vol. 7

The State of the Global Markets Online Conference
Dear Reader
This is your exclusive invitation to attend Elliott Wave Internationals first-ever online video conference for free.
Your free invitation to attend The State of the Global Markets Online Conference is a weeklong event hosted by the authors of EWI's new 40-page report, The State of the Global Markets -- 2013 Edition. Learn more about the event and download the 40-page report now -- both are free >>
Consider yourself warned.
The global market outlook is far less rosy than world leaders would have you believe.
Global stocks are near multi-decade, technical price junctures.
Regional economies recently said to be "recovering" are now slipping back into recession.
Despite a multi-year rally in stocks, the AP reported on Dec. 27 that mainstream investors are selling shares at breakneck pace. "It's the first time ordinary folks have sold during a sustained bull market since relevant records were first kept during World War II."
In their speeches, proclamations and world economic summits, politicians and central bankers reassure investors that the credit crisis of 2007-2009 will turn out to be nothing more than a footnote in market history -- despite the compelling evidence that it never truly ended.
Meanwhile, US Congress is once again facing a dangerous deadline for solving its gargantuan budget woes, Europe remains in turmoil, and Asian-Pacific regions and emerging markets are charting surprising courses of their own.
ASK YOURSELF:
As the year 2013 goes forward, do I have the means to prepare for tomorrow's news today?
Elliott Wave International's top analysts have already gone on the record -- with the cameras rolling, literally -- to discuss markets from oil to stocks to bonds, in the US, Asia-Pacific, and Europe.
From now until Feb. 20, you can watch and listen to their commentary, free, via this exclusive invitation to attend EWI's first-ever State of the Global Markets Online Conference.
Presentations include:
Understanding the Extraordinary Value of the Wave Principle (Robert Prechter, Feb. 9)
Buy & Hold or Sell and Fold? Where Are the US Markets Headed in 2013? (Hochberg, Feb. 13)
Europe: Is it as Bad as it Looks? Or is it Worse? (Whitmer, Feb. 14)
And more, including a 40-minute keynote from Robert Prechter on Feb. 17 and a Q&A video presentation Feb. 19.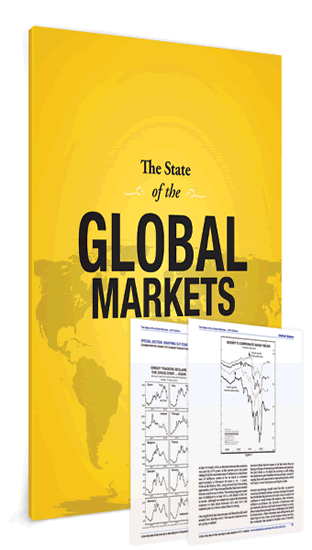 To get ahead of the markets in 2013, you must think independently. This weeklong online conference -- in addition to the 40-page report -- gives you the tools and direction you need to gain a competitive edge.
Don't miss out on dozens of independent global market insights that will prepare you to survive and prosper in 2013 and beyond.
>> Follow this link to download your free 40-page report, The State of the Global Markets -- 2013 Edition, now.
With our best wishes for a prosperous New Year,
P.S. The online conference ends 5 p.m. Eastern time, Wednesday, Feb. 20. And the report is available to you for free for a limited time. Enjoy these exclusive free resources now while their valuable year-in-preview advice can help your portfolio in the New Year. Learn more about the conference and download the 40-page report now.
About the Publisher, Elliott Wave International
Founded in 1979 by Robert R. Prechter Jr., Elliott Wave International (EWI) is the world's largest market forecasting firm. Its staff of full-time analysts provides 24-hour-a-day market analysis to institutional and private investors around the world.
You're receiving this Email because you've registered with our website.
How to Subscribe
Click here to register and get our FREE Newsletter
To access the Newsletter archive this link
Forward a Message to Someone [FORWARD]
To update your preferences [PREFERENCES]
How to Unsubscribe - [UNSUBSCRIBE]
About: The Market Oracle Newsletter
The Market Oracle is a FREE Financial Markets Forecasting & Analysis Newsletter and online publication.
(c) 2005-2013 MarketOracle.co.uk (Market Oracle Ltd) - The Market Oracle asserts copyright on all articles authored by our editorial team. Any and all information provided within this newsletter is for general information purposes only and Market Oracle do not warrant the accuracy, timeliness or suitability of any information provided in this newsletter. nor is or shall be deemed to constitute, financial or any other advice or recommendation by us. and are also not meant to be investment advice or solicitation or recommendation to establish market positions. We recommend that independent professional advice is obtained before you make any investment or trading decisions. ( Market Oracle Ltd , Registered in England and Wales, Company no 6387055. Registered office: International House, 124 Cromwell Road, Kensington, London, SW7 4ET, UK )
Copyright 2013 MarketOracle.co.uk
© 2005-2019 http://www.MarketOracle.co.uk - The Market Oracle is a FREE Daily Financial Markets Analysis & Forecasting online publication.

Only logged in users are allowed to post comments.
Register/ Log in