Stock Market Knocking On The Door Of 875 S&P 500...
Stock-Markets
/
Stock Index Trading
Apr 26, 2009 - 08:13 PM GMT


And the knocking is getting louder and louder. Friday we basically made our second try at this very difficult level of resistance, getting up to 871 before some strong selling came in as the bears desperately tried to defend it. We then came back up some and closed only nine points away at 866. Good solid overall action by the bulls in their efforts to get through and move towards Sp 900/940. We started out with a move higher in the morning as Ford (F) shocked the street with less losses, beating the consensus number by 48 cents. They also spoke of things improving quite a bit of late and that they see this trend remaining in effect going forward.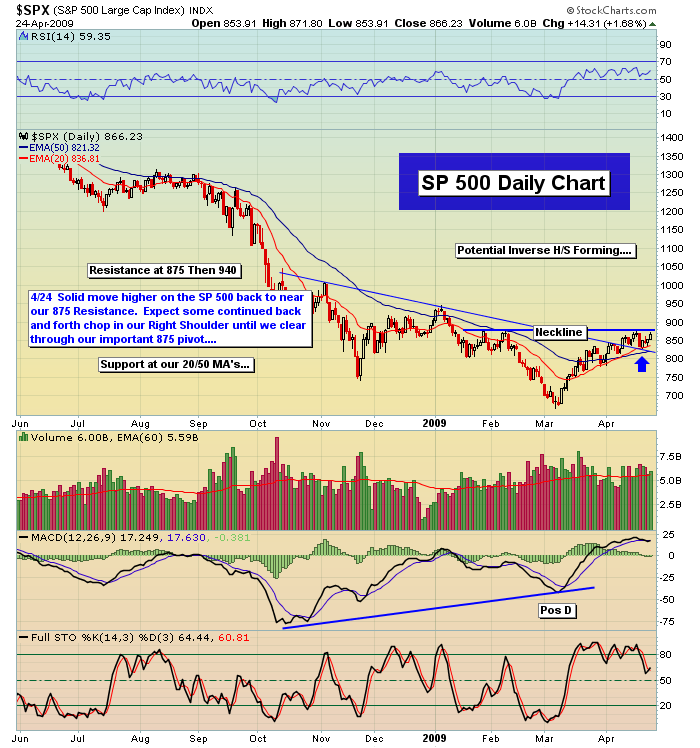 The Street loved it and even a fairly weak durable goods report couldn't take away from what F was reporting. We slowly but gradually started an up trend once things stabilized after the open. Before you knew it the market was rocking higher and 875 was on the radar screen yet again. With the indexes all showing strong gains for the day, the market is setting itself up to do what few think possible here and that's to plow on through 875 on the Sp. It will not be easy and who knows how many attempts in may take but it seems more and more likely that we will get that job done in time before any significant breakdown occurs. The bears just haven't been able to take the market down for any appreciable amount of time. All pullbacks are being gobbled such as we saw in the last five minutes of action. In the end, the market had a very positive day in terms of setting it up to making it through 875 some day soon. The set up is taking place quietly and I feel the odds are increasing we will get the move before too long.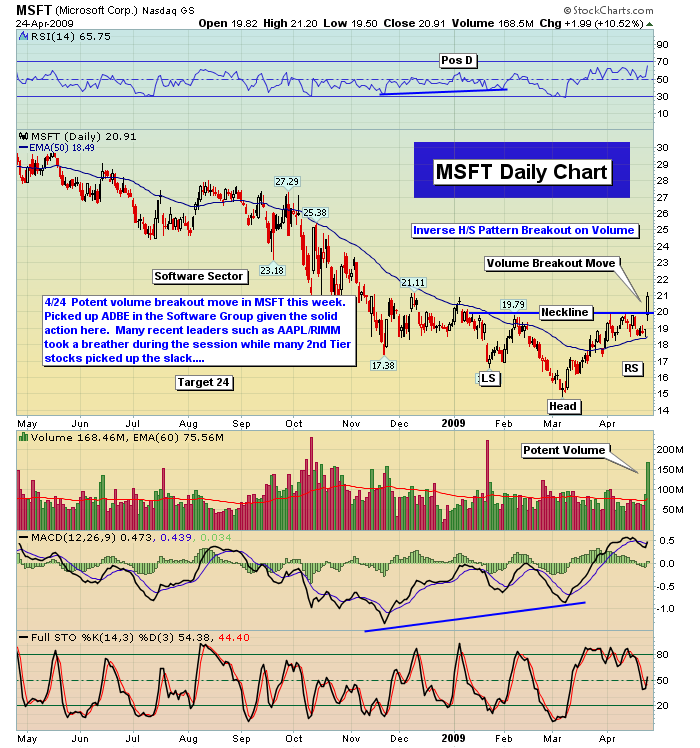 When markets are behaving well we need to turn to see that the leading sectors are holding breakouts on their retests or that their patterns are set up bullish. That usually entails a long basing period in a bull flag pattern or hanging tough on in a falling wedge pattern. We have many sectors looking just like that, most basing in bull flags below important resistance but not falling hard and using important moving averages just underneath as support. Where once they had regularly fallen through that moving average, they are now using that level to base just below their critical breakout point. This normally resolves in a bullish fashion although of course there are no guarantees. No matter where you turn you see it. Most important sectors are following this path and thus it's one reason among others to be discussed as to why it's still very hard to be bearish, even with the amount of upside we've already experienced in this bear market rally. You give the patterns the benefit of the doubt until they break against their primary trend. That trend is bullish for the short term.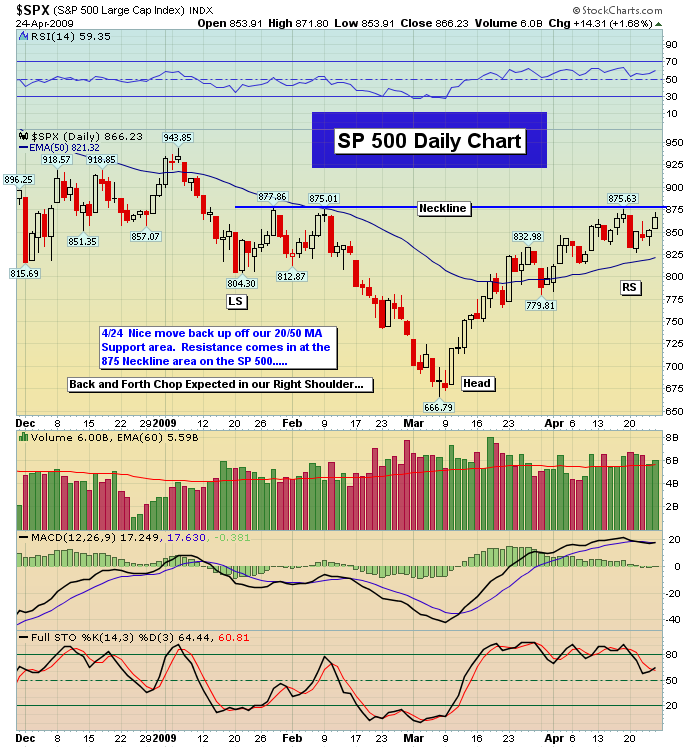 There is another reason for believing this rally will continue higher still. The earnings reports from the leaders are stronger than expected. Don't argue with me that they're not very good please. It's not what we think, it's what the market thinks. Many of these firms set the bar very low for this quarters report and they are beating the numbers with ease and being rewarded on heavier than normal volume. It is what it is and we have to respect the markets reaction and ignore our emotional response to what we think it should be. That's a waste of our time. It accomplishes nothing but financial and emotional loss. If those stocks, which are weighted heavily in the averages, are holding up then it'll be increasingly difficult short term to get this market down with any force. Always bouts of good selling but getting things down to the old lows or anywhere even close will be quite difficult for now. I'm not saying that can't happen if circumstances change down the road but for now it will be quite hard for the bears to make powerful strides to get this market back down to where they believe it should be.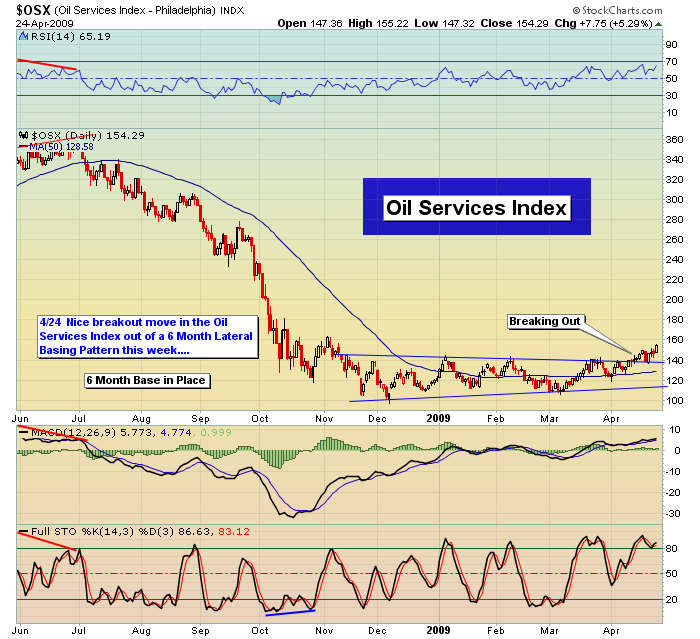 There's yet another story that took place on Friday that leans more bullish for this market short term. The leaders took the day off. they are tired after running up huge over the past many weeks. Stocks that normally explode were either red or up below the percentage of the markets move higher. The secondary issues that were sitting in bases while the leaders ran made their moves today. The market allowed the ones that hadn't participated as much to join the party and thus keep the markets moving higher. Very bullish action for if the market were ready to just die off the secondary stocks would be held down in their bases and not allowed to make the breaks out of them. Even stocks that wouldn't be considered the second tier players were allowed to run up. This allows the leaders to pause for some time and unwind their very overbought conditions. Once unwound they can being their next move up. Again, to many this process may not seem right but you never argue with the market and if this is what's being allowed to take place, it's best you agree with it until it stops. Simple as that.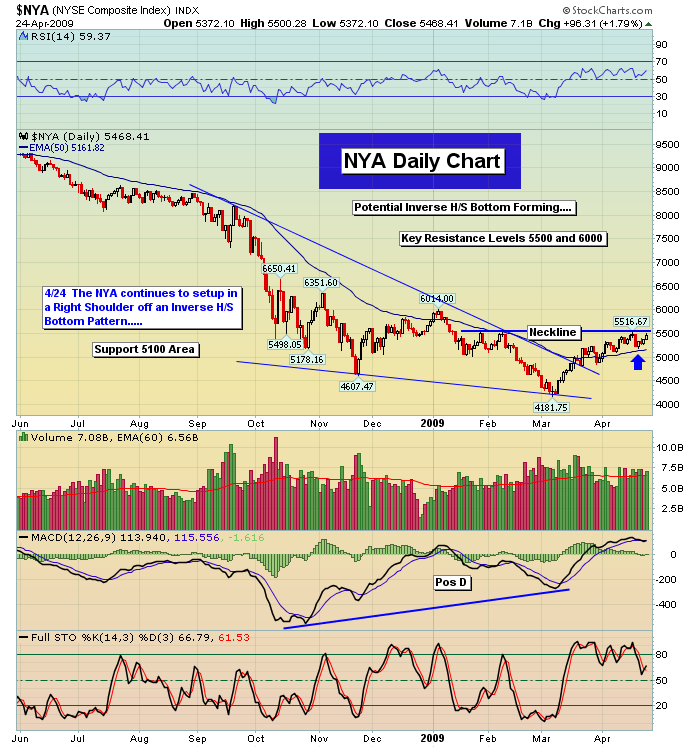 The financials continue to hold their bid overall. In that process there are the weaker stocks that are struggling to get their next leg up going but there are a large number of stocks that are breaking out in the sector and others setting up for their next move higher. Positive action overall. The Ultra Financial ProShares (UYG) hit critical support at 2.70 but is now approaching 4.00. It held where it had to and didn't just churn around waiting for the eventual breakdown. It held and blasted and this can not be argued as anything other than bullish short term. Again, I am not talking long term here. I am simply speaking about the moment and what the message seems to be. If the financial stocks are holding well it'll be harder for the bears to take this market appreciably lower. This goes hand in hand with some of the other points listed in this letter.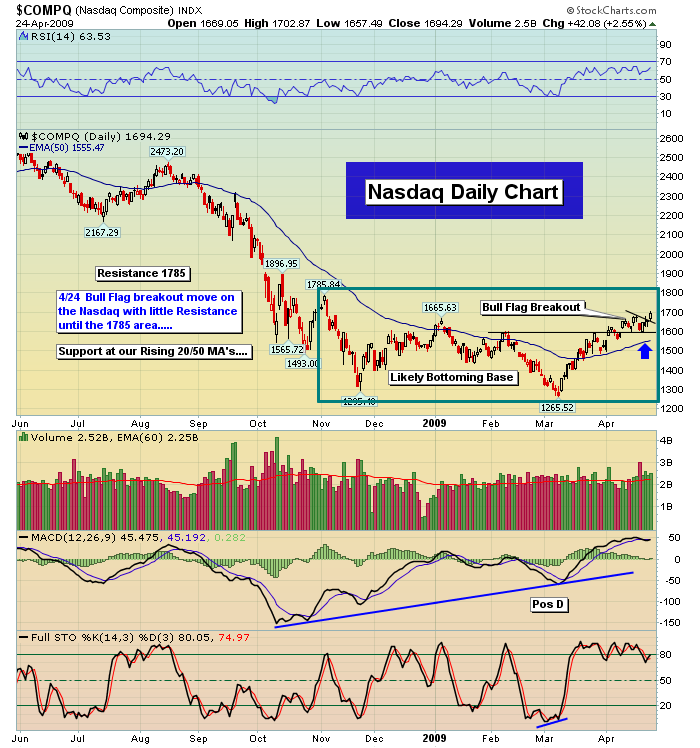 For now we continue to respect the message being sent as the oscillators overall can support what we are seeing. They tell us the Sp can ultimately break through 875 but it won't be easy. We have now had two attempts to move through 875 but both efforts have been rejected. It can take three or more try's thus it's not bad that the bulls have failed twice so far. It's part of a process. Let me be clear, however, that until we take out 875 cleanly meaning we hold that level in to the close, you can not get too much more excited from here. I think the odds are increasingly positive that the move will be made but see it first before getting even more aggressive than we have been.

Have a great weekend and please tell someone about us.

Peace,
Jack
By Jack Steiman
Jack Steiman is author of SwingTradeOnline.com ( www.swingtradeonline.com ). Former columnist for TheStreet.com, Jack is renowned for calling major shifts in the market, including the market bottom in mid-2002 and the market top in October 2007.
Sign up for a Free 30-Day Trial to SwingTradeOnline.com!
© 2009 SwingTradeOnline.com
Mr. Steiman's commentaries and index analysis represent his own opinions and should not be relied upon for purposes of effecting securities transactions or other investing strategies, nor should they be construed as an offer or solicitation of an offer to sell or buy any security. You should not interpret Mr. Steiman's opinions as constituting investment advice. Trades mentioned on the site are hypothetical, not actual, positions.
© 2005-2019 http://www.MarketOracle.co.uk - The Market Oracle is a FREE Daily Financial Markets Analysis & Forecasting online publication.

Only logged in users are allowed to post comments.
Register/ Log in