China Stock Market Crash Update: The Real Story ...
Stock-Markets
/
Chinese Stock Market
May 30, 2007 - 03:18 PM GMT

Chinese Government officials got real worried when the Shanghai continued its parabolic rise and blew through its 12 year Major resistance level.
This morning, their markets dropped over 6% after the government increased the stamp tax on Security transactions. The news media are making a "big deal" out of the tax increase by running headlines that say, "China China's CSI 300 Drops After Transaction Tax Tripled ".
Tripling any tax sounds like something terrible being inflicted on Chinese investors, but that is not the real story. The real story is that the stamp tax was initiated in the early 90's at 0.6%. That's six tenths of 1% ... not much of a tax rate by any standards. Over time, they lowered the tax rate to 0.1% to promote investing in their stock market. Yes, today they tripled it, but that only took it to 0.3% or one half of what it was when it started .
When was the last time the Chinese government raised the tax and what happened afterwards? It was in May of 1997, and the tax was increased from 0.3% to 0.5% . The next day, the Shanghai Composite rose 2.3%. And then, slowly over the next 10 weeks, the Shanghai dropped just under 30%.
At 0.3%, the tax may not be high enough to get the desired effect the government wants ... here is why:
From February 7 of this year to May 29th., the Shanghai Composite rose 70.6% or about 1.18% per day . A 0.30% tax can be paid off from the first 99.43 minutes of the average trading day in China. This big "Tripling tax rates" that the media is touting is peanuts compared to the average daily return. See the chart below for the calculations.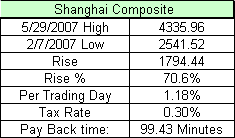 This morning's reaction was a knee-jerk reaction that still left the Shanghai Composite Index above its support line as seen in our chart below. If it breaks through the support level tomorrow morning, then it could drop 500 points for another 12% drop. There is a good probability that it would rebound back up from there forcing the Chinese government to initiate another tax increase. It is more likely that the second increase to around 0.5% would get the desired action that the government wants.
China had a bear market from 2001 to 2005. At that time, their key index fell from 2,300 to under 1,000 points while their economy grew by about 10 percent per year. The World Bank just raised its forecast of China's economic growth this year to 10.4 %, from the previous 9.6 % projection.
A 20% drop on the Shanghai would cause a modest impact on their economy according to J.P. Morgan. A 50% drop would do significant damage to their citizens and economy with a strong likelihood that the Chinese would protest with public demonstrations and civil disorder. The current sentiment of many Chinese investors is that they shouldn't sell because only then would they have a "real loss". I announced early in the year that China would have a stock market crash sometime this year. I don't feel that this is it right now, but it is the beginning of a process where a China crash will unfold from.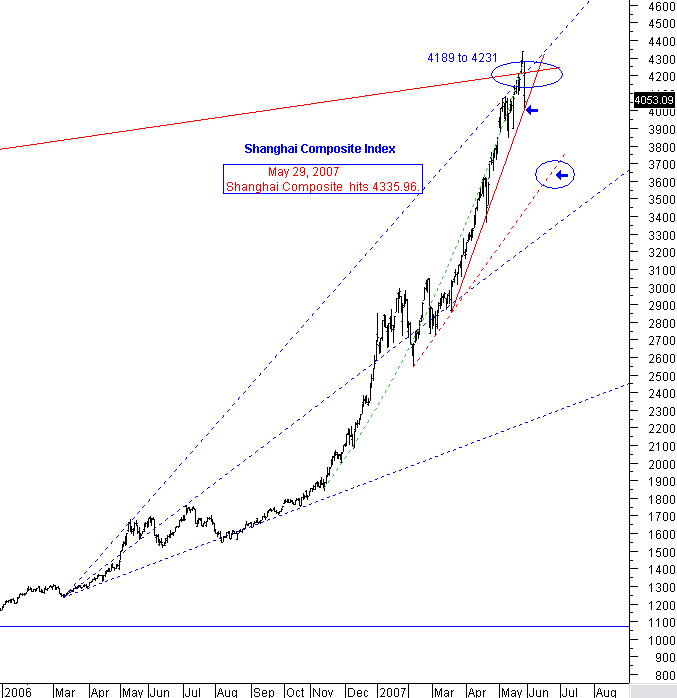 The links for all our previous China Stories, Analyses, and updates are below:
By Marty Chenard
http://www.stocktiming.com/
Please Note: We do not issue Buy or Sell timing recommendations on these Free daily update pages . I hope you understand, that in fairness, our Buy/Sell recommendations and advanced market Models are only available to our paid subscribers on a password required basis. Membership information
Marty Chenard is the Author and Teacher of two Seminar Courses on "Advanced Technical Analysis Investing", Mr. Chenard has been investing for over 30 years. In 2001 when the NASDAQ dropped 24.5%, his personal investment performance for the year was a gain of 57.428%. He is an Advanced Stock Market Technical Analyst that has developed his own proprietary analytical tools. As a result, he was out of the market two weeks before the 1987 Crash in the most recent Bear Market he faxed his Members in March 2000 telling them all to SELL. He is an advanced technical analyst and not an investment advisor, nor a securities broker.
© 2005-2019 http://www.MarketOracle.co.uk - The Market Oracle is a FREE Daily Financial Markets Analysis & Forecasting online publication.
Comments
Tim
31 May 07, 03:39
Housing Crash in Australia


We are worried down here in Oz. Australia is in the midst of it's biggest housing slump and we are paranoid that when the Chinese market goes we will follow. Australia makes most of it's money from Chinese commodity exports. This would pretty much compound our problems.




Only logged in users are allowed to post comments.
Register/ Log in