US Dollar is SInking - Wake Up Call for Gold Investment Era
Commodities
/
Gold & Silver
Jun 13, 2007 - 03:34 PM GMT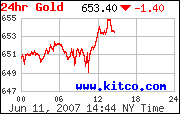 It continues to amaze me how many people still do not get it. Their eyes are merely focused on the barometer, gold, and not the real culprit, the US dollar. And what presently is occurring with the ole' dollar? "The U.S. dollar is sinking." Click
And do you witnessing gold crashing through 600? Gold may battle within these ranges for a year or so, but long term the momentum is still there and building power and steam.
It's really a simple equation. As the US dollar falls gold will strengthen. These are events that are occurring slowly because we will see in the headline occasionally that the US dollar is rallying. Kind of like a sinking ship that slows its rate of decent before the next downward plunge.
"Thus our deficits and cumulative debt must continue to grow and thus the US dollar will continue to fall in value." "As the dollar falls interest rates will rise…" Doug Tjaden, Traditions of Men
Did we just read that the cost to borrow money is rising?
"So-called cheap money is getting more expensive on Wall Street, and that could spell trouble for investors, home buyers and dealmakers." "Even longtime bond bull Bill Gross of Pimco has turned bearish on Treasuries after concluding that strong economic growth around the world and a mild up tick in inflation is likely to continue for years." Click
Did you catch the reference above about loans for home buyers getting more expensive? This just adds further weight to a weakening economy. The US dollar is sinking and the cost to borrow money is rising. And, truthfully, how goes the US housing market?
"…in the past year home sales have tumbled 30%, prices have fallen 13% and there's a one-year supply of homes for sale." "In many markets across the country, the glamour of the go-go days — when investors bought homes sight-unseen and lenders didn't require down payments — are gone. " "For many of today's agents, this is the first housing downturn they've ever seen…" Click
It's important to realize the importance of higher rates and a sinking housing market. For the past five years homes have been a source for raising money. First, this was necessary because the crash of 2,000 wiped out so many 401 (K) portfolios.
"...rapidly rising home prices were looked at as a substitution for a depleted stock portfolio. After all if their 401(K) was down $50,000 their house probably went up in value by that much or more." Doug Tjaden, Traditions of Men
So what is going to happen as this source of easy money dries up? There are no more magic bullets. The easy money made in the housing market was the last significant catalyst to drive the economy forward and higher.
"Every year or two, as interest rates continued to drop, lucky homeowners could refinance and "withdraw" another $10,000 or $20,000 from this ATM and maintain the same monthly payment. Eureka ! They found they could use this "free" money …" "It cost them nothing! No new payments, but new stuff!" Doug Tjaden, Traditions of Men
Still don't believe me about a sinking dollar? It's reported every day and is a fact that cannot be hidden. Are you watching the gold price? That's easy to do but best be watching the direction of the US dollar. Before you try to attempt to imagine gold's fate and direction ask yourself your feelings about the US dollar. If you really believe the US dollar has quit falling and is beginning to stabilize then throw gold off your radar screen.
"About one trillion U.S. dollars a year are flowing out into the world, as the U.S. buys about one trillion dollars more abroad that it sells to others. As U.S. dollar spending abroad goes up faster than the demand for these dollars, its price — the dollar foreign exchange rate — falls." Click
But it is the direction of the US dollar that will not only determine the ultimate direction of gold but also our standard of living. What is the economy doing? Where are interest rates heading? How goes the dollar? These are the questions that need to be poised on your tongue before you even consider what gold is doing.
"As the U.S. dollar falls, people get scared it will fall some more…" "Without a plan to stabilize the dollar against the Euro, interest rates will have to go up in the U.S. to make holding dollars more attractive. Holding up the U.S. dollar through interest hikes will provoke a recession in the U.S. , and hurt Canada ." Bankers and financiers are used to a world led by the U.S. Dollar. Weakness signals both that the Euro is a much stronger currency and that the U.S. is no longer in a position to lead on the issues that matter to the world. The Bush dollar represents reduced status for the U.S…" "…the age of unilateral American leadership in world affairs is about to end, poorly." Click
Always remember gold is merely a barometer and a tool. Study the economy and estimate where you truly believe it is heading. Ever been to hell? Ever think about going there to visit? We'll see a taste of hell as we continue to witness the US dollar deteriorating and inflation rising and our standard of living fleeing. Whether you choose to believe it or not our economy is heading to a climactic downfall that we will witness probably in our life time. It will not be a straight path to hell as there will be momentary rallies of the dollar. But make no mistake that the direction for our currency is down, down, down. Hell is a dirty, stinking pit filled with sulphur and flames. Kind of describes our world at times, huh? It is this knowledge that causes us to take steps in preparation for when these things will come to pass. Are you worried about the end of the gold bull? I simply look at the direction of the US dollar to tell where gold is eventually headed.
"Through two years of study it became evident that there is a convergence of global events that will have profound implications for our world. The effects of the convergence are just now beginning to manifest themselves in our country." Doug Tjaden, Traditions of Men
Recognizing that we are in a new investment era that is changing the way we invest Gold Letter, Inc. reviews undervalued gold, silver, uranium and other resource stocks under valued and poised to rise in this time of increased demand for all resources. Gold Letter's 10 best performing stocks are up over 2,000% and GL's top 55 performing stocks are up over 500%. GL charts are computer generated and updated every hour while markets are open.
Click here to order Gold Letter
Send me an email.
By David Vaughn
Gold Letter, Inc.
Click here to order Gold Letter
The publisher and its affiliates, officers, directors and owner may actively trade in investments discussed in this newsletter. They may have positions in the securities recommended and may increase or decrease such positions without notice. The publisher is not a registered investment advisor. Subscribers should not view this publication as offering personalized legal, tax, accounting or investment-related advice. The news and editorial viewpoints, and other information on the investments discussed herein are obtained from sources deemed reliable, but their accuracy is not guaranteed. © Copyright 2007, Gold Letter Inc.
© 2005-2019 http://www.MarketOracle.co.uk - The Market Oracle is a FREE Daily Financial Markets Analysis & Forecasting online publication.

Only logged in users are allowed to post comments.
Register/ Log in