Agricultural Food Production and Arable Land and Water Trends
Commodities
/
Agricultural Commodities
Dec 17, 2009 - 03:13 PM GMT


"If you can tell me something else where the fundamentals are so attractive…I'd be happy to put my money there, but I don't know of any other place" – JIM ROGERS ON AGRICULTURE
In part one, I spoke a bit about the increasing demand for agriculture due to increasing population over time, and how this is expected to continue. I also mentioned that stockpiles are diminishing and in some markets are making historical lows.
So, in order to meet these challenges we will have to figure a way to increase production, but that may not be so easy.
Among other conditions, a country needs ample water supplies and arable land mass. However, in some countries this seems to be a problem. For example, China used to be one of the largest exporters of soybeans, but now, China is the largest importer of soybeans. I would guess that the culprits here are increasing demand, deteriorating arable land mass and poor water supplies. See the chart below from Agora Financial that shows China and India well below the world's average for water supplies. Ironically, these are the very countries where the populations are expected to grow the fastest.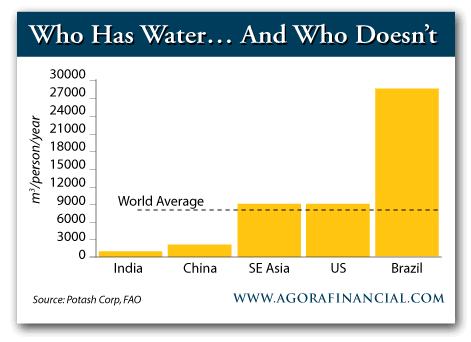 As Chris Mayer from the Daily Reckoning points out, "This chart is telling. Who has lots of water? Brazil. So it is no surprise to discover that the increase in demand for soybeans from China has largely been met by increasing soybean acreage planted in Brazil. (Brazil is the second largest exporter of soybeans in the world, behind the US and ahead of Argentina and Paraguay.) The easiest way for China to get around its water shortage is to import soybeans. By importing soybeans, Passport calculates that China is effectively importing 14% of its water needs."
"It looks likes this trend will continue for quite some time. When you look across the world, arable land per person is in decline. (Arable land simply means land that can be used for farming; it doesn't mean that it is currently used for farming.) But one nation has more potential for converting arable land into producing farmland than anybody else, by a country mile. It's Brazil again."
"Brazil has a large tropical savanna known as the cerrado. You can think of it as the world's arable land bank. It's an area of about 250 million acres – about as big an area as all of the arable land in the US. It gets plenty of rainfall and sunshine. The soil is very old and runs deep. But there is a problem: The soil is nutrient poor. You need to add a lot of potash and phosphate – two key nutrients – to grow soybeans there."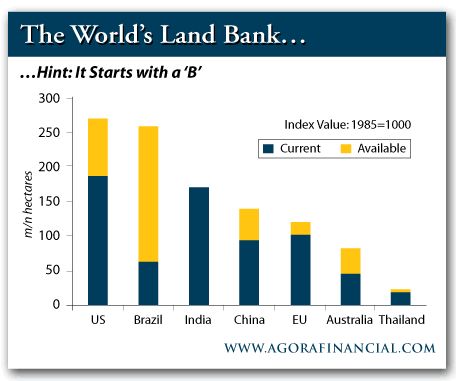 According to estimates by SLC Agricola and Morgan Stanley, the average new acre of farmland in the cerrado requires 14 times the amount of phosphate and three times the amount of potash of a typical American acre. So, even though Brazil is one of the few countries that have the water and the land mass, there is still the cost to shape it into good farm land (building roads and rail access etc.) It also makes it very expensive to farm the land once it's in good condition. This means that you would need relatively high grain prices to make this worthwhile.
As Chris goes on to say, "Now we are in a position to connect some dots on this story. China's increasing population and affluence will drive its soybean imports. These imports will come mainly from Brazil. And Brazil, as it converts more arable land to producing farmland, will need a lot more potash and phosphate. What is true of soybeans is also true of wheat and corn and rice and other agricultural commodities. All of them face the same challenges for water and land. All of them require lots of fertilizer."
Of course there is always the risk of technological advancements or unforeseen "black swan" events which could increase production, or slow down population growth, but all things being equal, it seems like higher grain prices down the road.
Population is growing, production is slow, inventories are down and prices are well off their highs, especially adjusted for inflation. Finally, the ability for some major countries to help reverse these conditions are being challenged by the cost to do so.
As Jim Rogers said in the opening quote, "If you can tell me something else where the fundamentals are so attractive…I'd be happy to put my money there, but I don't know of any other place."
Enjoy this article? Like to receive more like it each day? Simply click here and enter your email address in the box below to join them.

Email addresses are only used for mailing articles, and you may unsubscribe any time by clicking the link provided in the footer of each email.
Charles Maley
www.viewpointsofacommoditytrader.com
Charles has been in the financial arena since 1980. Charles is a Partner of Angus Jackson Partners, Inc. where he is currently building a track record trading the concepts that has taken thirty years to learn. He uses multiple trading systems to trade over 65 markets with multiple risk management strategies. More importantly he manages the programs in the "Real World", adjusting for the surprises of inevitable change and random events. Charles keeps a Blog on the concepts, observations, and intuitions that can help all traders become better traders.
© 2005-2019 http://www.MarketOracle.co.uk - The Market Oracle is a FREE Daily Financial Markets Analysis & Forecasting online publication.
Comments
toni
07 Jan 10, 15:05
brazil farming ??? what about the rainforest


what a crock, brazil is the lungs of the planet, we should not farm that !!! we need more tree not less. What are we doing to this world. The politicians are liars and cheats, which i expect they would find a compliment.

sigh !! i believe we can sustain any number of people on this wonderful world if it were not for the greed of the elite, stealing from us and undermining our industry and farms.




Only logged in users are allowed to post comments.
Register/ Log in