Six critical market forecasts for 2007 !
Commodities
/
Forecasts & Technical Analysis
Dec 15, 2006 - 09:56 PM GMT

With the new year just about two weeks away, I think now is a good time to take stock of where we've been, where we are, and where the markets are going next year. Despite recent gyrations, especially in natural resources prices, the positions in my Real Wealth Report continue to pay off handsomely overall. And the best news is that I expect greater gains next year! Reason: All my models point to 2007 as the point in time when all the powerful forces I've been telling you about converge into some major explosions! So, without further ado, here are my six forecasts for next year ...

Forecast #1:
Washington will hammer China on currency and trade issues, but our deficits will continue to soar to new highs. Treasury Secretary Paulson and Fed Chairman Bernanke are in Beijing right now, trying to get China to strengthen its currency. Mark my words: They will not prevail. China has no reason to strengthen its currency. It will not take any drastic measures to do so — just small baby steps at the very most.
The yuan is a cash cow for China. And the country needs every competitive advantage it can get its hands on to keep boosting its economy and bringing 1.3 billion people into the 21st century. Beijing is not going to jeopardize that ... period.
So don't expect the yuan to appreciate much.


Another thing: Don't expect our trade deficit, now the largest in the world, to shrink much. If anything, the trade deficit might widen to well past the $1 trillion mark in 2007, as U.S. consumers continue to buy products from abroad. And it's not just the trade deficit that could explode higher in 2007. Right now, Washington says the budget deficit is narrowing. But don't fall for it! Deficits, at the right time and place, can be a good thing. But not now, when war, terrorism, rising interest rates, and inflation are also part and parcel of the current economic cycle.
Forecast #2:
The dollar will plunge like there's no tomorrow! All year long, I've been one of the lone analysts saying that the small rally in the dollar would give way to a steep decline by the end of 2006. And that's exactly what's happened.
Look, other central banks around the world are raising interest rates, which means the differences between their rates and ours are narrowing. Add that to the deficit situation I just told you about, and you can see why the dollar is doomed . I think the dollar could easily lose 20% of its value in 2007, setting off a financial crisis the likes of which have not been seen since at least 1987.
Forecast #3:
Naturally, inflation will accelerate higher.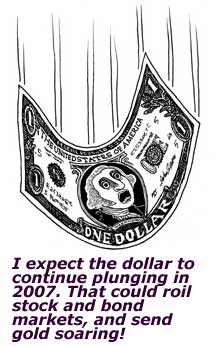 Washington and Wall Street keep trying to convince us that inflation is "benign." But who are they kidding? If any of you reading this think that inflation is running at a mere 3%, please let me know. From shopping at the grocery store, buying clothing, and paying for my kid's education expenses, I'd say inflation is running more like 6% or 7% already. Heck, prices are rising for just about everything except perhaps electronics goods.
The problem is that the government doesn't want you to think that. So they keep touting their manipulated Consumer Price Index (CPI) — the one that leaves out how much it costs you to drive your car, buy groceries, and basically live everyday. They use this pathetic measure of inflation because so many benefits are tied into it. The lower they can keep the CPI, the better, from their perspective. It means they don't have to raise government benefits like Social Security, Medicare, and other pension payouts. Plus, they hope that by brainwashing people into believing inflation is low, they can create a self-fulfilling prophecy.
Problem is, you can fool some of the people some of the time, but you can't fool all of the people all of the time. When the masses wake up to the real level of inflation, pandemonium will strike and we'll see ...
A complete loss of investor confidence in Washington ... More inflation as consumers start to buy things to avoid even higher prices down the road ...And another plunge in the value of the dollar, setting off a vicious cycle of even higher inflation. Bottom line: Expect more inflation in 2007. Not only here in the U.S., but also around the world, as virtually all central bankers and politicians work the money presses overtime.
Forecast #4:
China and India will exercise ever greater influence on the global economy. I've been saying this since 2003. And it's such a no-brainer that it baffles me why Wall Street still doesn't get it. Maybe I see things clearer because I frequently travel to the Far East. I spend months checking things out firsthand, rather than poking around for bits of info on the Internet.
When I travel to Asia, I talk face to face with local merchants and the customers in their shops. I elbow my way through the crowds of shoppers in the packed marketplaces. I visit modern, well-stocked shopping centers just like in the ones you have in your community. I've seen with my own eyes, and heard with my own ears, what's going on. And let me tell you, the factories in Asia are still humming … the shops are still buzzing … and the consumers are still buying.
In my opinion, this is the beginning. For most countries in Asia, the consumer-driven market is just developing. Up until now, these countries have largely been export-driven, with not much in the way of domestic demand or consumption. But that's changing now ... rapidly. Citibank and Bank of America are set to flood Asian economies with credit cards and revolving debt on everything from homes and autos to computer purchases. Remember, credit is relatively new to Asia, and this switch will help drive domestic demand. The new consumer classes in Asia — rich and getting richer every day — will go bonkers, pushing their economies though the roof.
What that means for investors is that Asia-related stocks (and virtually all natural resources) will move to new record highs yet again.
Forecast #5:
Gold is headed past $740. Gold got as high as $733 an ounce in May, missing my target for this year by a minor $7. What's next for gold?
My answer: The bull market in gold is not over ... not by a long shot. How can I be so sure? Well, we have the aforementioned deficit issues, the declining dollar, rising inflation, and soaring economies in Asia. Those are all convincing arguments by themselves. But there's much more ...
At $620 an ounce, gold's current price is dirt-cheap. It has not yet adjusted for the loss of purchasing power in the dollar over the last 20 years, let alone the current plunge.In 2007, I think we will see gold trading close to $1,000 an ounce. And before the yellow metal's bull market is over, we could even see prices at $2,150 an ounce. After all, that's its true-inflation adjusted high from 1980.
Forecast #6:
Oil will hit $100 per barrel!
You have not seen the end of the bull market in oil prices, either. Ditto for oil and gas shares. In fact, many oil and gas companies are trading as if oil prices were still at $40 a barrel. I consider these stocks to be some of the best bargains out there. My view: The price of oil will hit $100 in 2007 because of even more severe supply and demand issues, plus problems with Iran, North Korea, and more.
Now Is the Time to Start Preparing for 2007 ...
There are several steps you should consider taking to prepare your portfolio for 2007. I suggest getting ready now, rather than tomorrow or next week ...
First, absolutely minimize your exposure to the stock market. With the exceptions of the gold and natural resource stocks recommended in my Real Wealth Report , consider getting out of all other stocks now! I wouldn't try to hold on until 2007 to defer taxes on gains you might have. It's not worth the risk. It's always better to pay Uncle Sam his take rather than risk losing hard-earned gains.
Second, continue to keep the bulk of your money in safe, liquid, short-term investments such as money markets. You can get near 5% a year ... even a tad higher in some cases. And by all means, stay out of all long-term bonds, U.S. government or corporate.
Third, if you don't own any gold, I think you're making a huge mistake. In my view, the best way to get a stake in gold is through the streetTRACKS Gold Fund (GLD). Each share represents 1/10 of an ounce of gold. The fund eliminates storage and shipping worries because the gold is held in trust for you. Or, if you'd rather buy a gold stock mutual fund, my two favorites are DWS Gold and Precious Metal (SCGDX) and Tocqueville Gold (TGLDX). As an alternative, look at the Market Vectors Gold Miners ETF (AMEX: GDX). This single investment holds ten of the largest gold miners in the world.
Stay safe and cautious,
By Larry Edelson
P.S. If you want more specific recommendations, take out a subscription to my Real Wealth Report for a modest $99 a year . You'll get a hard-hitting issue every month, plus flash alerts, advance notice of special situations, and more.
This investment news is brought to you by Money and Markets. Money and Markets is a free daily investment newsletter from Martin D. Weiss and Weiss Research analysts offering the latest investing news and financial insights for the stock market, including tips and advice on investing in gold, energy and oil. Dr. Weiss is a leader in the fields of investing, interest rates, financial safety and economic forecasting. To view archives or subscribe, visit http://www.MoneyandMarkets.com
© 2005-2019 http://www.MarketOracle.co.uk - The Market Oracle is a FREE Daily Financial Markets Analysis & Forecasting online publication.

Only logged in users are allowed to post comments.
Register/ Log in