Goodbye Gold Bears!
Commodities
/
Gold & Silver
Jul 30, 2007 - 09:11 AM GMT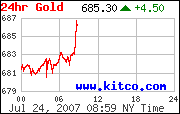 Our little friend is just racing to prove itself. And prove itself it will and in a very big way. This little friend of ours is a powerful little friend. This little friend eventually is heading much, much higher. Which means our gold stock profits are going to climb and make many wealthy.
A crisis is occurring before us. Gold is rising and getting ever closer to its present ceiling of 700 an ounce. I know for a fact there are many who worship the gold price and the major tenet in their religion is that gold must fall back to 50 dollars an ounce. How bitterly disappointed and shell shocked these fervent gold bear soldiers must be to continue to watch gold strengthen.
While I am being facetious here it is a fact I receive the most ridiculous emails regularly from those gold bears who are already celebrating gold's long anticipated decline. I have bad news for these guys though. Gold will go significantly higher before it goes lower again. How do you like those apples? Huh?
"US dollar at record low against Euro" "The dollar fell to a record low against the Euro today and a six-week low against the yen amid worries about the US sub-prime mortgage sector." Click
And what presently is propelling the gold price mightily forward? Looked at the US dollar lately? We'll be lucky not to see our humble little wee US buck not crash to oblivion. The end is quickly racing for the US dollar. Down, down, down – unfortunately.
Dave: "I've been reading you for a few months now and really appreciate your knack for teaching. You always draw a reader in with insightful leads and carry him through your position with opinions supported by quotes from brilliant sources. You have a rare gift for spotting trends and presenting your findings clearly and convincingly. Thank you for sharing your observations." Spider R.
Gold is moving higher now. Why? Because the US dollar is toast. There are probably half a dozen fundamentals that have a direct and powerful impact on the gold price, but right now the sinking of the US dollar is taking central stage.
"The US dollar was lower against other major currencies early in Asian trading hours Monday as the sell-off that began Friday continued. This week, currency markets are likely to watch for further trouble in the US housing market and for US corporate earnings reports that might show a more widespread slowdown in the US economy." Click
Well, where does the dollar price of gold go from here? Actually anywhere it wishes to go. The US dollar is toast. Or would the better comparison be a piece of toast that has been dipped into a steaming morning hot cup of coffee?
"Gold was firm on Monday, holding near 10-week highs as the dollar hit record lows…" Click
The fundamentals for gold only become riper and riper. So ripe they are falling off the vine. And the most powerful acting fundamental at the moment is our US dollar saturated in a wet cup of coffee.
Sam Kirtley – "The US Dollar: On the Edge of the Abyss" "We are literally about half a point from seeing the US Dollar break its single most important support level. Here, eighty is the magic number, watch the USD fall below 80 and you have witnessed the beginning of the end of the dollar and the dawn of a terrific run in gold prices that will take the yellow metal to an all time high in a surprisingly short period of time." "…now is the time to buy gold and silver and gold stocks and silver stocks." Click
The dollar is going down, down, down. And gold will correspondingly go up, up, up. End of story. Period. Can't happen any other way unless a golden meteorite drops in the middle of Manhattan .
I am going to make no illusion or play with the truth here. Now is the time to be accumulating gold and silver shares and select base metal and resource related shares. You snooze you lose.
"The Diving Dollar Enters Unchartered Territory " "The buck has entered recently uncharted territory at under 81 on the U.S. Dollar Index…" "The five-year picture surely looks dangerous to you if you are a practitioner of technical analysis." "Like gold as it neared multi-decade highs last year, traders don't know what to do when they run out of historical comparisons - apparently their computer algorithms can't deal with crashing through a 15-year old support level and then all hell breaks loose. Is that what's about to happen to the dollar?" Click
A great deal of money is lining itself up on the table. But you have to be sitting at the card table to make your killing. Right now what is pushing the almighty dollar is the fact that fewer and fewer foreign countries want it any longer. It continues to fall in value. Bad investment.
Dave, "I've been an investor/trader in both stocks and commodities for over 30 years. The most IMPORTANT thing to know about your investment no matter what it might be in is whether it is in a BULL or BEAR market. It is not as difficult as it might seem if you know what to look for. One thing to do is forget about the daily price fluctuations and noise in the markets when looking for a potential investment." Regards Ed P
The following below is an interesting and thought provoking email I received.
Dave, "OK David....I DO agree with you that Gold is in a LONG-TERM BULL. But I am just trying to tell you it should be DRAMATICALLY higher right now. Look at oil. Look at the Euro. It simply does not Rise as it should. And I am not one that is stupid enough to think it will go up in a straight line." Thanks for listening and Thanks for all you do. With respect,
Brad B.
And…
Brad, "What can I say Brad? It is obvious to me your concern is following the gold price and not individual quality gold and/or silver stocks. Quality gold and silver companies will rise regardless of what gold is doing. But you are not concerned about the investment market in gold equities are you? I am watching through thick and thin quality gold and silver shares rising often several fold. But that is not what is important, right? Sorry Brad. In my estimation this game is about making money not watching the price of a commodity fluctuate up and or down." "And yes, there are gold and silver stocks presently rising and making their investors money…a lot of money." Dave
And poor China ? Sitting on over 1,200,000,000 of these bad boys. That is "trillion" with a "t." We are sitting at a turning point in history. We are watching finally in our life time the US dollar slowly and gradually begin to lose its vaunted position as the world's reserve currency. All these factors will only be very positive for gold. The good dollar giveth and the good dollar takes away. Right now the dollar is taking away.
Hi David, "We are living in the last day." The last days of what?" Ted
Good bye gold bears!
We are living in the last days. Recognizing these events and challenges Gold Letter, Inc. reviews undervalued gold, silver, uranium and other resource stocks under valued and poised to rise in this time of increased demand for all resources. Natural resources, such as gold and uranium, will only escalate in value as the world continues to experience unprecedented growth. Gold Letter's 10 best performing stocks are up over 2,000% and GL's top 55 performing stocks are up over 500%. Close to 90% of all Gold Letter's recommendations since inception in January, 2003 are up over 250%. GL charts are computer generated and updated every hour while markets are open.
Click here to order Gold Letter
Send me an email!
By David Vaughn
Gold Letter, Inc.
David4054@charter.net
The publisher and its affiliates, officers, directors and owner may actively trade in investments discussed in this newsletter. They may have positions in the securities recommended and may increase or decrease such positions without notice. The publisher is not a registered investment advisor. Subscribers should not view this publication as offering personalized legal, tax, accounting or investment-related advice. The news and editorial viewpoints, and other information on the investments discussed herein are obtained from sources deemed reliable, but their accuracy is not guaranteed. © Copyright 2007, Gold Letter Inc.
© 2005-2019 http://www.MarketOracle.co.uk - The Market Oracle is a FREE Daily Financial Markets Analysis & Forecasting online publication.

Only logged in users are allowed to post comments.
Register/ Log in