Stocks Up As Gold Hits a Record High
Stock-Markets
/
Financial Markets 2010
May 12, 2010 - 11:11 AM GMT


U.S. stocks retreated, led by commodity producers, as oil and copper slumped on growing skepticism that an almost $1 trillion European loan package will halt the region's debt crisis. Occidental Petroleum , Alcoa. and Goldman Sachs lead the market down as the US energy, raw materials and financial sectors that were under most pressure.
Another potential source of pressure is a WSJ article on US federal prosecutors' investigating yet another Wall Street firm (this time Morgan Stanley) over having misled investors about mortgage derivatives it helped design & bet against. The stock is down 5% pre-market today & may pressure fellow investment banks
Yesterday investors in most markets backtracked a bit on the euphoric reaction to the EU rescue plan the previous day. Firstly this should just be seen as a correction on Monday's 'too' forceful/enthusiastic reaction. In addition, investors had still a lot of analysis to do on the consequences of this plan. In the financial press and newswires the debate between believers and non-believers continued. The credibility of the EU plan depends on the ability of the European fiscal authorities to return to fiscal orthodoxy at some point in a not too distant future. This is of course a huge task. In the mean time, the ECB is offering 'some' relief.
Which Way Wednesday ?
Today European movements were driven by futures trading early on, with size selling of the Eurstoxx before the open which cause Europe to open down ~1%. The Spanish Prime Minister's budget policy U-turn in which public wages are to be cut 5% this year (see below) caught the early sellers off guard and accounts looked to cover, taking the markets higher and triggering S&P futures stops in the process. The Euro has been strong on the Spanish announcement this morning as well as in line German, French and Spanish GDP numbers.
Mervyn King's comments, coming as the BoE released its inflation report, on the UK's budget reduction plan (downside UK growth risks have increased somewhat; UK budget cuts may need to be more demanding; 'imperative' UK fiscal issues tackled sooner than later) saw Sterling trade weaker. Sterling had initially rallied this morning as the political situation became clearer. George Osborne, tipped as the next Chancellor, is expected to release an emergency budget that will set out $9bn of cuts. King is 'very pleased' with the deficit plans.
In Europe it is companies with good earnings out this morning that have led the markets higher; Maersk, ING, Allianz, Deutsche Telekom, Compass Group, and RWE are all outperforming. Big Oil has lagged the market today despite oil trading stronger. Investors continue to sell BP as they continue to face technical difficulties in stemming and cleaning up the GoM spill while Royal Dutch Shell sees profit taking after a good run.
UK: BoE Inflation report:
In today's press conference the Governor clarified that the Inflation Report (which went to press on Monday). He suggested that the new plans reduced the downside risks to the growth outlook somewhat (the line of argument here seeming to be that the new fiscal plans would reduce the chance of an adverse market reaction. He described the Conservative/Liberal Democrat plans as a very strong and powerful agreement to reduce the deficit. On banking supervision Governor King said the agreement does suggest that the Bank of England will be asked to be responsible for macro prudential regulation and it will have an oversight role in micro prudential regulation.".
The BofE have revised up their inflation forecasts in the near-term and it looks like, as a central case, they would anticipate a somewhat shallower trough and a higher probability of inflation being above target over the next twelve months or so (compared to February). However, the broad picture (of high inflation declining below target over the next twelve months then gradually rising back towards target and being a touch below target at the end of the forecast horizon on a central case) looks the same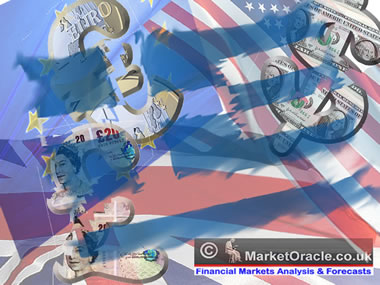 Market Moving Stories
•Gold Hits Record High: The other big news is that Gold futures have topped $1,240 an ounce as investors increasingly worried about the staggering levels of government indebtedness are flocking to the traditional safe haven.
•Robbing Fritz to Pay Stelios: Greece officially requested the first installment from the eurozone rescue package, worth €14.5bn in loans, Kathimerini reports. Greece also receives €5.5bn from the IMF this week. The total of €20bn will be used to refinance a 10y bond of €8.5bn which expires on May 19. Interest rate payments will amount to 643.5m to the EU governments and 121.5m to the IMF
•More Pain in Spain: The embattled EUR has been helped today by news of Spain's new budget. It was a lot more aggressive than expected and shows that the EU/IMF wants countries to cut deeply if they are to enjoy the protection of the aid package. Some of the measures listed:
-Estimate an additional saving of 1.2 billion euros from the regional governments
-Civil service jobs to be cut by 13,000 this year
-Civil service wage cuts by an average of 5 pct in 2010 and freeze them in 2011
-Eliminate the 2,500 euros birth grant from Jan 1 2011."
-Cut 6.045 bln euros off public investment in 2010 and 2011."
-Suspend index-linking pensions from 2011, excluding the minimum pensions.
-Cuts to save additional EUR15bln in 2010, 2011

These measures are quite extraordinary – there has not been apublic sector wage cut in Spain since the civil war (at least) and there are doubts over the legality of such a step. How the unions and other MPs respond to the measures is the key short-term issue – the cabinet will vote on it this Friday. Spain's public finances (according to the spring forecasts) were set to deteriorate sharply, with debt/GDP projected to soar to 70% according to the European Commission's spring forecasts. Note though, that this budget is highly deflationary and tighter household budgets will mean government revenues will fall as well.
•What Does €750bn Buy These Days? Handelsblatt reports that German chancellor A Merkel approved the €750bn euro support package last Sunday under the condition that Bundesbank president A Weber would become successor of ECB President J-C Trichet next year. The agreement made is so far not of a legal or official character, though, the paper writes.

Company / Equity News
•Stocks on the move today include ITV which is up 5.5% on news that the shares of the company will be added to the MSCI indexes on May 26th (asset managers that follow these indices will now have to buy it). Catering group Compass is ahead by 4.5% today after announcing a 17% rise in profits. Shipping giant Maersk is better by nearly 8% after posting a 13% jump in sales. Vivendi has gained 3.5% after they reported a 13% rise in Q1 profits beating analysts estimates while Old Mutual has rallied 5% on chat that Standard Chartered have made a bid for Nedbank which is controlled by Old Mutual. The deal could be worth around $9bn
•Dutch bancassurer ING Wednesday said it swung to a better-than-expected first-quarter net profit, helped by declining impairments and bad debt charges, and boosted by capital gains on two divestments, but said that the recovery might prove fragile. Amsterdam-based ING posted a net profit of EUR1.33 billion for the three months ended March 31, compared with a year-earlier net loss of EUR793 million. Six analysts polled by Dow Jones Newswires forecast net profit of EUR930 million.
•Staying in the Netherlands Dutch life insurance and pension giant Aegon Wednesday said they made a better than expected net profit in the first quarter, helped by improved financial markets and cost saving measures. Also KBC, a leading Belgian bank and insurer, delivered a better-than-expected net profit for the first quarter.
•UniCredit , Italy's biggest bank, said first-quarter net income declined to 520 million euros from 447 million euros a year earlier. That beat the 364 million euro median estimate of 15 analysts surveyed by Bloomberg.
•Deutsche Telekom returned to profit in the first-quarter after a loss a year earlier (when they wrote down the value of its T- Mobile U.K. unit by 1.8 billion euros). Net income was 767 million euros compared with a loss of 1.12 billion euros in the year-earlier period. Other European operators, including Telecom Italia SpA, France Telekom SA and Royal KPN NV, have reporteddeclining sales amid the economic slowdown and tariff cuts.
•In tech news Google. is in talks with Verizon Wireless to develop a tablet computer that would compete with Apple Inc.'s hit iPad. The tablet will run on Google's Android operating system, Marquett Smith, a spokesman for Verizon, said today in a phone interview.
•Microsoft expects customers to adopt the new version of Office at the fastest pace in the software's 20-year history, helping reverse a sales slump and fend off competition from Google Inc.'s Web based programs. The software has been tested by 7.5 million users, three times as many as any previous version, signalling that adoption will be quick.
•German steelmaker ThyssenKrupp Wednesday reported a second quarter net profit that was above forecasts and said the recovery in the steel market continued during the period.
•AIB's stake in M&T may be placed with institutional investors according to the Irish Independent this morning. The 22% stake is worth $2.3bn, and potentially will unlock capital of €900m for the bank, should the sale proceed at current market prices. With a funding target of €7.4bn, the US, Polish and UK interests of the bank are all under consideration for sale. AIB is expected to see a 18% stake transferred to the Irish State tomorrow should it, as expected, fail to pay a cash coupon of €280m, due to the EU "dividend stopper"
•Bloxham's comments on Tullow IMS this morning indicate that the group has continued to perform very strongly in 2010. There were no major surprises in this morning's statement and investors shall continue to wait on further announcements in relation to Uganda. Goldman Sach's has just slapped a "buy" rating on Tullow
•After the bell last night Electronic Arts dropped 4%. The despite the second-largest video-game publisher reaffirming its first- quarter and full year outlook for fiscal 2011, but this seemingly disappointed some investors who had expected a boost. Walt Disney shed 3% after hours after the world's largest media company posted operating income of $1.18 billion from the cable division, trailing the $1.21 billion estimated by JPMorgan Chase & Co.
Disclosures = None
By The Mole
PaddyPowerTrader.com
The Mole is a man in the know. I don't trade for a living, but instead work for a well-known Irish institution, heading a desk that regularly trades over €100 million a day. I aim to provide top quality, up-to-date and relevant market news and data, so that traders can make more informed decisions".© 2010 Copyright PaddyPowerTrader - All Rights Reserved

Disclaimer: The above is a matter of opinion provided for general information purposes only and is not intended as investment advice. Information and analysis above are derived from sources and utilising methods believed to be reliable, but we cannot accept responsibility for any losses you may incur as a result of this analysis. Individuals should consult with their personal financial advisors.
© 2005-2019 http://www.MarketOracle.co.uk - The Market Oracle is a FREE Daily Financial Markets Analysis & Forecasting online publication.

Only logged in users are allowed to post comments.
Register/ Log in