Gold Reaction Period But Not a New Long Term Bear
Commodities
/
Gold and Silver 2010
May 22, 2010 - 02:28 PM GMT


A slight up day on Monday and then downhill for the rest of the week. Gold is having one of those reaction periods. For now it looks only like a reaction and not a new long term bear.
GOLD : LONG TERM
From a long term standpoint gold has a long way to drop before the P&F chart issues a bearish reversal. At the present time that would be the $1065 level but no doubt in the process additional activity will take place on the chart to possibly change that.
A few weeks back (Commentary for 30 Apr 2010) I showed a very long term chart of gold along with a very long term momentum indicator. That momentum indicator has been showing a continuing weakening in the upside action of gold. A cautionary note was included to keep a watch on this weakening activity. It's more so important in this somewhat negative period.
As for my normal simple indicators, well the long term is still looking okay. Gold remains above its long term positive sloping moving average line. The momentum indicator remains in its positive zone although it has dropped below its trigger line and the trigger has turned downward. The volume indicator remains quite positive although it is heading lower with the price action. It remains, however, above its positive trigger line. The long term rating remains BULLISH although we are getting some minor weakness creeping into the indicators.
INTERMEDIATE TERM
This week's action took gold down to its intermediate term moving average line from where it seems to be in the process of performing a slight bounce. The price remains above the line and the line continues to point in an upward direction. As for the intermediate term momentum indicator, it remains above its neutral line but heading down towards the line fast. It has dropped below its trigger line and the trigger has turned downward. The volume indicator is starting to show weakness and has dropped below its trigger line. The trigger, for now, is still sloping upward. All in all the intermediate term rating remains BULLISH but is weakening fast and could reverse with a few more days of negative activity.
SHORT TERM
Last week I showed the topping situation with the Stochastic Oscillator already below its overbought line and the price just about to break below that third FAN trend line. Well, on Monday the SO broke through its up trend line for confirmation of the SO reversal while the price was toying with the third trend line. On Tuesday the price closed below the third trend line for confirmation of a short term (or possibly intermediate term) reversal of trend. At the same time the close was below three previous closing prices for another one of those technical indicators technicians often look for to confirm a trend reversal. Well, after Tuesday the price dropped like a rock and although it seemed to recover a little at the Friday close it was still lower on the day. So, what now?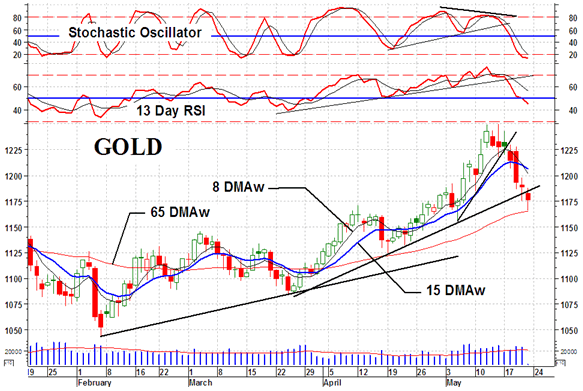 From the short term perspective everything is going bananas. The price is below its negative sloping moving average line. The momentum indicator has entered its negative zone and is moving lower below its negative trigger line. The daily volume activity remains pretty high while the price moves lower. From the short term point of view the rating is BEARISH. This is further confirmed by the very short term moving average line moving below the short term line.
What now to expect for the next few days? Well, the SO is now in its oversold zone and we can see a little turning process suggesting it might want to turn around but it's yet too early to call it a reversal. The very short term direction of motion was confirmed on the down side on Tuesday and is still some distance from an upside turn. I think gold might take a breather for a day or two but the world does not seem to stand still for long and who knows what might transpire over the next couple of days to move gold.
SILVER
It was a bad week for silver with double the percentage decline versus gold. Unlike gold, silver has dropped below its intermediate term moving average line and the line has turned downward. The intermediate term momentum indicator is sitting right on top of its neutral line and it would only take a very minor decline in the price of silver for the momentum to go negative. While gold is bouncing off its intermediate term moving average line silver is sitting on top of its long term moving average. Although as a technician I usually do not worry as to WHY a move is occurring, only that it is. However, it seems that speculators are looking more at silver's industrial use and thinking the globe's economies may be going belly up shortly and dumping silver. If the industrial base for silver collapses it would have a far greater effect than would the monetary aspect of silver. Whatever the cause, silver seems to be a metal not on speculator's wish list for now. It should come back but it would be better to wait for it to reverse than to assume it will momentarily. The risk of a major decline is just too great right now.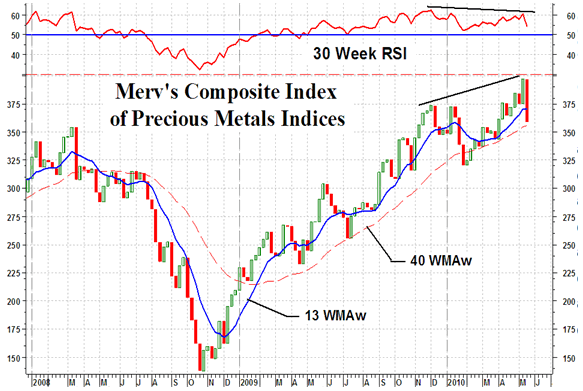 PRECIOUS METAL STOCKS
Shown this week is the Merv's Composite Index of Precious Metals Indices. This Index represents an Index of all components of the Merv's Precious Metals Indices Table shown at the end of these commentaries each week. It's interesting when compared to the PHLX Gold/Silver Sector Index shown here last week. The Composite Index is coming down from an all time high where the PHLX wasn't able to reach an all time high yet, in fact it couldn't even exceed its late 2009 high. We see here the negative divergence in the momentum indicator versus the Index which is always a warning signal of danger ahead. I'm not sure if I would read too much into this Index. Too many individual stocks are components of too many of the various Indices that make up this Composite Index. I'm more interested in viewing the separate Indices themselves. However, I just thought it would be interesting to show this Index composed from the component Indices in the Table which is presented here each week.
COMMENTS WELCOME
I'm often not sure if anyone really reads these weekly technical commentaries and if they are useful. I welcome comments, especially if they might lead to making these commentaries better understood and a greater benefit to readers by your suggestions and critiques. Comments and critiques are welcome at mervburak@gmail.com.
Merv's Precious Metals Indices Table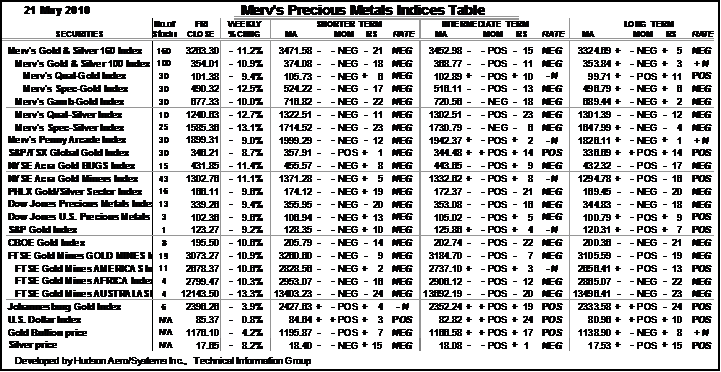 Well, I think I'll call it another day.
By Merv Burak, CMT
Hudson Aero/Systems Inc.
Technical Information Group
for Merv's Precious Metals Central
For DAILY Uranium stock commentary and WEEKLY Uranium market update check out my new Technically Uranium with Merv blog at http://techuranium.blogspot.com .
During the day Merv practices his engineering profession as a Consulting Aerospace Engineer. Once the sun goes down and night descends upon the earth Merv dons his other hat as a Chartered Market Technician ( CMT ) and tries to decipher what's going on in the securities markets. As an underground surveyor in the gold mines of Canada 's Northwest Territories in his youth, Merv has a soft spot for the gold industry and has developed several Gold Indices reflecting different aspects of the industry. As a basically lazy individual Merv's driving focus is to KEEP IT SIMPLE .
To find out more about Merv's various Gold Indices and component stocks, please visit http://preciousmetalscentral.com . There you will find samples of the Indices and their component stocks plus other publications of interest to gold investors.
Before you invest, Always check your market timing with a Qualified Professional Market Technician
© 2005-2019 http://www.MarketOracle.co.uk - The Market Oracle is a FREE Daily Financial Markets Analysis & Forecasting online publication.

Only logged in users are allowed to post comments.
Register/ Log in