Cheap Natural Gas Becomes the Fuel of Choice for Power Stations
Commodities
/
Natural Gas
Jun 20, 2010 - 06:02 AM GMT


I think it's time to talk about Natural Gas again. A few months ago I wrote on the possibility that Natural gas was nearing a bottom in spite of the record supplies. On April 1st I wrote:
"Everyone hates natural gas right now and rightfully so. It has been in an extended down move for a long time. On the other hand, it has fallen below the critical $4.00, which has triggered buying on previous occasions, lending an underlying support to further declines. We are approaching (or have arrived) at the "its déjà vu all over again," buy zone."
Today, natural gas has once again held in the "buy zone," and rallied out to around the 4.80 zone (Basis August). This lends more credibility to a longer term bottom and perhaps a very important bottom considering what is going on fundamentally.
I have mentioned before where Natural gas is the "natural" alternative to some of our energy problems, especially when one considers the BP spill and its influence on future deep water drilling in America. Perhaps the BP blunder does not stop us from drilling, but I would think it will certainly slow it down dramatically. Look what happened to nuclear growth after the Three Mile Island incident. It virtually stopped dead.
Now, I don't think drilling stops dead, I think NG will be taken more seriously for transportation energy, especially when one considers that natural gas burns cleaner than oil. In the power generation world, NG emits 60% less CO2 than coal to create the same amount of electricity. Gas also emits far less of other pollutants such as sulfur dioxide and mercury.
In addition, America has an abundant supply of natural gas and it works with the existing electrical grid. This makes it the fuel of choice for electricity generators looking to build new capacity amid uncertainty over carbon and environmental regulation. The boom in natural gas will require more pipelines, processing, and storage facilities which will be supported by government loan guarantees.
I also mentioned in the April post that some of the Majors are recognizing NG as a good investment for the future. For example, ExxonMobil invested in a $41 billion acquisition of XTO Energy at the end of last year. I thought that "this kind of commitment is a major bet on the future of natural gas and could set the stage for a raft of future acquisitions by energy majors in the next few years."
"In 1970, we imported 24% of our oil. Today, it's more than 65% and growing. We consume 25% of the world's oil with 4% of the world's population and if that's not bad enough we depend on countries that hate us for two thirds of it. We send between $400 to $500 billion dollars a year to foreign nations, that we are in desperate need of right here".
At the end of the day there are two major fuels that power our electrical grid. One is coal and natural gas is the other. Most power plants can switch the fuels it burns to generate electricity depending on price. Right now natural gas fuels around 23% of the electricity generation in the U.S. and Coal supplies 45%. (Nuclear, hydro, and alternative-fuel plants supply the rest.).
According to Platt's, which tracks the coal industry, "power plants began to switch from coal to gas in 2009 when gas fell to less than $5.50 per MMBTU (million British thermal units). The government places tons of restrictions on burning coal (and more are on the way). Coal soot is full of harmful stuff – sulfur, nitrogen compounds, and metals (like mercury and lead). The EPA strictly limits these compounds. So power plants face three choices to limit that pollution – install an expensive filter to capture the pollutants before they leave the smoke stack, burn cleaner (but less efficient) coal, or use natural gas".
The potential for plants to move from coal to natural gas can also be seen in the NG to Coal Ratio.
According to istockanalysyst.com, "The coal-to-gas ratio measures the price of each fuel per MMBTU. So when the ratio is 1, the amount of coal needed to generate one MMBTU costs the same as the amount of natural gas needed to generate one MMBTU. When the ratio is below 1, burning gas costs more than burning coal. When the ratio exceeds 1, coal is more expensive. Typically, gas is too expensive relative to coal to justify the switch. From 1993 to 2002, the ratio bounced between 0.3 and 0.8. From September 2002 to October 2008, it stayed below 0.5. Then, in late 2008, the price of coal began to rise just as the price of natural gas tanked. You can see the big spike in the ratio in the chart below."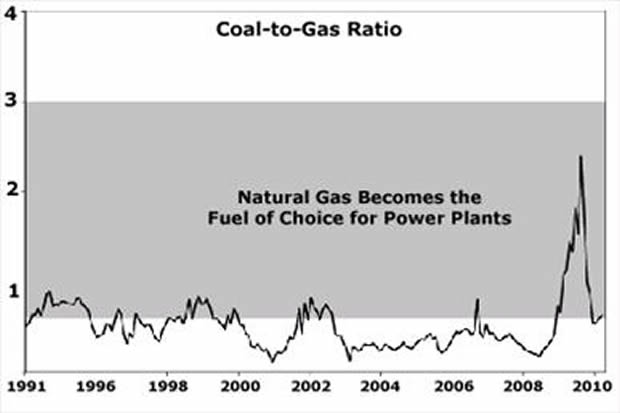 Even though we have backed off of the highs of last year we are relatively cheap to coal, something to keep an eye on. This evidence may not be enough to see NG prices rise sharply, but it certainly lends support to the price floor underneath.
Other signs of a bottom can also be seen in the dynamics between the oil and natural gas markets. Gas producers are now switching to oil exploration as the ratio of natural gas to oil prices is at a near high of 21 to 1. This is simple economics. Producers make way more money exploring for oil these days, and the shift to explore for oil instead of NG will be seen in the NG supplies in the future.
Natural gas giant Chesapeake Energy for instance has recently leased 700,000 acres in the Rocky Mountains to drill for oil. "The economics just compel you to look for oil rather than natural gas right now," said Chesapeake CEO Aubrey McClendon. Also gas producer SandRidge Energy announced a $1.5 billion takeover of oil producer Arena Resources. SandRidge CEO Tom Ward recently told analysts at a major energy conference that producers can make "10 times more money" drilling for oil compared to natural gas.
So, keep your eye on the new developments in the NG market. Increased demand, Competitive pricing compared to oil and coal, a cleaner abundant alternative to oil and coal, and possible lower supplies due to less exploration may very well lead to a good investment.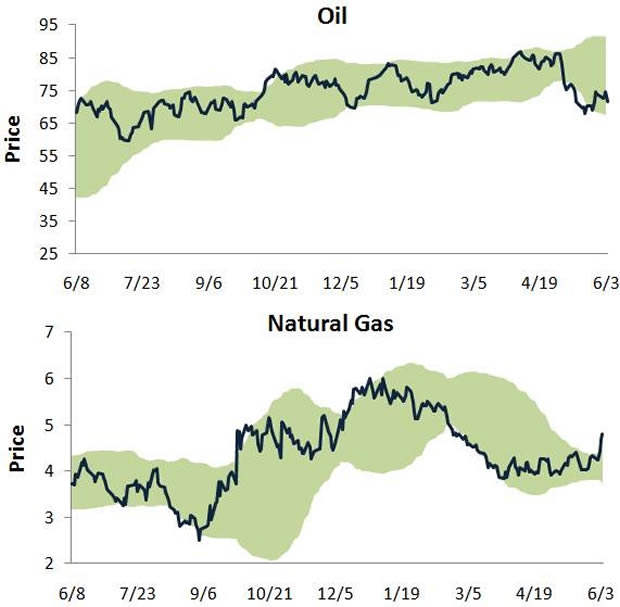 Enjoy this article? Like to receive more like it each day? Simply click here and enter your email address in the box below to join them. Email addresses are only used for mailing articles, and you may unsubscribe any time by clicking the link provided in the footer of each email.
Charles Maley www.viewpointsofacommoditytrader.com Charles has been in the financial arena since 1980. Charles is a Partner of Angus Jackson Partners, Inc. where he is currently building a track record trading the concepts that has taken thirty years to learn. He uses multiple trading systems to trade over 65 markets with multiple risk management strategies. More importantly he manages the programs in the "Real World", adjusting for the surprises of inevitable change and random events. Charles keeps a Blog on the concepts, observations, and intuitions that can help all traders become better traders.
© 2010 Copyright Charles Maley - All Rights Reserved Disclaimer: The above is a matter of opinion provided for general information purposes only and is not intended as investment advice. Information and analysis above are derived from sources and utilising methods believed to be reliable, but we cannot accept responsibility for any losses you may incur as a result of this analysis. Individuals should consult with their personal financial advisors.
© 2005-2019 http://www.MarketOracle.co.uk - The Market Oracle is a FREE Daily Financial Markets Analysis & Forecasting online publication.

Only logged in users are allowed to post comments.
Register/ Log in