Where Next for Gold?
Commodities
/
Gold & Silver
Sep 12, 2007 - 09:23 AM GMT

Look at that gold price? What happened to 650 an ounce? I believe we are witnessing a new floor price for gold being established.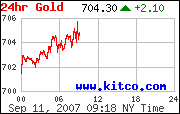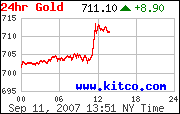 And what happens when that ole' spring is pushed too hard?
Well, gold has finally closed above 700 and I believe this to be more than a short term rally. Now 700 has become the floor for gold where as before 700 was the ceiling. What does this mean? Before, gold was attempting to climb above an imaginary Maginot line of 700. Now 700 has become the floor and imaginary base from which gold will call home.
Have you ever really wondered what you're sitting around waiting for? For the price of a stupid commodity to rise to a certain level? Makes you wonder if all of us really need to get out and get a life. The object of the game should be making money in quality gold stocks but rarely is this the case for the majority. Most subscribers who read their monthly newsletter only read the entertainment section and bypass the articles covering particular gold stocks. It's more fun watching the price of gold go up and down on a Kitco chart.
If you will notice now you will see that as gold touches 700 there is a spring effect and it bounces right back up. Even if gold were to drop momentarily under 700 the power of the spring would be such that it has to coil back even higher and more forcefully above 700. That is what we mean now when we call 700 the floor price.
Where will gold go from here? As I always say, the short term gold price is impossible to predict. There is still a great deal of fear in the gold market. Everyone is still expecting gold to crash back down to 650. Will it? I really don't know but I feel like gold is rising to a higher long term plateau.
I really appreciated Mark's statement below. The last thing I want is to come across as a serious, stuffy bore.
"David, if you want to be taken seriously, don't start off a seemingly serious commentary by calling those with a differing point of view "idiots." The time to have called people "idiots" were when they weren't buying gold at $250. You want to know what an "idiot" is? It's someone who begins to buy gold as a result of your article. When gold begins to take off, like maybe now, the intelligent begin to sell a little. It amazes me how some "contrarians" only start to bray when their pet investment is on an uptrend. Don't take this as an insult, your piece is essentially sound and well received the problem is-what if YOU are wrong? You follow? Best, Mark S."
Mark, I did "bray" when gold was at 255. I brayed a lot. Oh, how I did bray. Back in those days it seemed gold was never even going to break 290. I brayed and I brayed for the day gold would begin to seriously climb again. "Bray" – I like that word. Thank you, Mark, for your comment! By the way Mark, I believe I am correct when I state that gold is establishing itself at a higher rate now.
Oh. Did you notice the Lipper Mutual Fund Index this last week? Thursday, the Lipper Gold Index was at 1.4% and Friday it had jumped to 6.2%. I am sure the majority of buyers were professional fund managers filling up their coffers with gold stocks. The professional money managers believe gold has entered a new higher longer term price trend.
"As investors begin the new trading week kicking around prospects for rate relief from the Federal Reserve, gold is holding its own as a safe-haven status on Monday after a big rally last week. Bullion has traded in London at $704 ( U.S. ) an ounce, up from $698 late Friday. "The move has been impressive and we might see some profit taking, but the market is definitely aiming for $720 as the next target," Frederic Panizzutti, metals analyst at MKS Finance, told Reuters." Click
I am receiving a lot of email concerning gold passing 700. The overall consensus is that no one believes it is real. Everyone believes this to be but a short term rally as gold prepares to crash back down to 610. Well, who really knows?
I can't swear on a stack of Bibles really where the price will go. But what is my personal opinion? For what little it is worth I believe gold is very much attempting to make 700 the FLOOR price. Now can I prove this? No, but I feel it in my bones. Of course what I feel in my bones may be cancer or old age. Never the less…I am excited because I believe gold to be establishing a new price range which will carry it over 700. We shall see. We shall see.
"Gold May Climb for Fourth Week on Demand for Dollar Alternative" "Gold may rise for a fourth week, near the highest price since 1980, on speculation the dollar will extend its decline against the euro, boosting demand for the precious metal as an alternative investment. Fifteen of 26 traders, investors and analysts surveyed by Bloomberg from Sydney to Chicago on Sept. 6 and Sept. 7 advised buying gold, which rose 4.1 percent last week to $709.70 an ounce in New York." Click
Just got through reading the Gartman Report. Dennis Gartman believes we presently are already in recession mode. Dennis Gartman I trust and respect. And with his message was the statement that the precious metals prices are firm. Well, you can believe what you want to believe, but I believe gold is establishing 700 now as a floor. Weep now before tomorrow if you are selling your gold stocks. Wise investors will buy them.
Gold Letter, Inc. reviews gold and other resource stocks under valued and poised to rise in this time of increased demand. Natural resources and related contrarian stocks will only escalate in value as the world continues to experience unprecedented population growth.
Gold Letter's 10 best performing stocks are up over 2,000% and GL's top 55 performing stocks are over 400%. Close to 90% of all Gold Letter's recommendations since inception in January, 2003 are close to 200%. GL charts are computer generated and updated every hour while markets are open.
Click here to order Gold Letter
"The Worldwatch Institute, an organization that focuses on environmental, social and economic trends, says the current rate of global demand for resources is unsustainable." Click
Send me an email! Tell me what you personally feel about this subprime mess.
By David Vaughn
Gold Letter, Inc.
David4054@charter.net
The publisher and its affiliates, officers, directors and owner may actively trade in investments discussed in this newsletter. They may have positions in the securities recommended and may increase or decrease such positions without notice. The publisher is not a registered investment advisor. Subscribers should not view this publication as offering personalized legal, tax, accounting or investment-related advice. The news and editorial viewpoints, and other information on the investments discussed herein are obtained from sources deemed reliable, but their accuracy is not guaranteed. © Copyright 2007, Gold Letter Inc.
© 2005-2019 http://www.MarketOracle.co.uk - The Market Oracle is a FREE Daily Financial Markets Analysis & Forecasting online publication.

Only logged in users are allowed to post comments.
Register/ Log in