European Stock Markets Pause After 6 Up Days
Stock-Markets
/
Stock Markets 2010
Jul 14, 2010 - 08:49 AM GMT


U.S. stocks surged again on Tuesday, extending the longest rally for the S&P 500 in three months, as improving outlooks from companies such as Alcoa and Novellus bolstered confidence. Aluminium producer Alcoa, the first company in the Dow to report second quarter results, gained a further 1.2% as sales and profit exceeded analysts' estimates and the company forecast stronger global demand. Novellus rose 5.8%. Infact all four S&P 500 companies that reported results between market's close yesterday and the start of trading this morning topped the average analyst estimate for per-share profits.
Noteworthy I thought were the numbers from Expeditors International (a company that provides air and ocean cargo services) who pre released earnings that were well ahead of expectations after the US market closed. The company also signalled that it had experienced a 'very' significant year over year volume increases in both air freight and ocean freight business.
With Intel and Expeditors both cyclical in nature adding to BMW's rise in earnings guidance yesterday I take all results as a positive read for the global economic picture. The results should provide comfort to investors that we are not facing the double dip that has gained so much coverage lately.
Which Way Wednesday
Many thought today that computer chip bellwether Intel's rousing report (their best quarterly result in their history) would provide just the jolt the European stock markets needed to open higher. But, after 6 straight days of gains, profit taking in automakers (BMW & Renault off 2.1% & 1.2% respectively) & banking shares (Unicredit on news of a bond issue & Credit Suisse on German raids on 13 branches probing tax evasion) have trumped gains for European tech stocks and there has been no follow through buying.
Stocks on the move today include ICAP, the biggest broker of transactions between banks, which has fallen 5% + after CEO Michael Spencer said activity slowed in June. "Our customers' and end investors' risk appetites reduced." Spencer said.
Burberry is down 2.8% after Deutsche Bank downgraded the stock to "hold" from "buy."
And ITV has shed 4.7% after BofA- Merrill Lynch said the shares are "too expensive."
Bloomberg is reporting that the EU Commission have approved Bank of Ireland's restructuring plan which will see it sell New Ireland Assurance, BIAM & ICS Building Society. A formal announcement is expected Thursday at noon.
Stress Tests Nearing Completion
•The Ecofin meeting generated more comments about the stress tests on Tuesday. Belgian Finance Minister Reynders confirmed that consolidated bank stress test results would be published on July 23, while bank-by-bank details would be released two weeks later.
•EU Commissioner Olli Rehn stated "the EC will not prejudge the results of the upcoming tests but we are confident that overall the European banking system is strong and resilient. Nevertheless, in case of any elements of vulnerability are identified, systems are in place to deal with them swiftly and properly."
•European Financial Stability Facility head Regling said it expected AAA rating on the €440bn SPV, the reasons being over-collateralisation as member countries will guarantee 20% more than their share. A cash reserve of around 15% would also be kept, if and when the EFSF issues a bond to lend the proceeds to a Euro member in need.
UK Economy
•The Independent picks up on ONS data that draws together the "off-balance-sheet" liabilities that have been accumulated by the state. The debt, which primarily consists of the cost of public sector and state pensions, and of payments promised to private contractors under private finance initiatives, totals almost GBP 4 Trn which contrasts with the largest current estimate for 'official' debt which is GBP 903 Bn. Nothing really new in this – these issues have been know about and talked about for a long time. I've even seen the figure of GBP 4 trn mentioned once or twice before. This is only for the brave …
•The UK Nationwide consumer confidence index dropped to 63 in June from 66 in May. Nationwide's spending index – which measures sentiment about buying household goods and big ticket items – fell five points to 95, the lowest since January 2009. The expectations index also fell to 88 from 94 in May – the lowest since May 2009.
•Better UK jobs data in the latest numbers released this morning with the claimant count down 20,000 in June and the ILO unemployment rate edging lower to 7.8% from 8.0%. Average earnings growth (excluding bonuses) dipped to 1.8% from 1.9%, so where is the wage inflation? Mr Sentance (Bank of England Monetary Policy Committee Member) is banging on again about the need for higher interest rates but, as you know, I think this is unnecessary as the economy and the housing market (plenty of bearish stories in last weekend's press) are not strong enough to withstand a dose of higher borrowing costs combined with draconian budget cuts. Sterling doesn't mind though, and is above 1.52 against the US dollar this morning.
•Interesting Der Spiegel article on consequences of BP for UK. It says the 10k British jobs BP provides isn't the only issue. BP pays out nearly €7 billion each year in taxes and fees to the British state. Also a significant chunk of British pensions depend on BP's well-being. For the moment, it remains unclear whether British taxpayers will have to leap into the breach or whether BP will be able to rescue itself with the help of sovereign wealth funds. Article suggests a partial nationalization could be on the cards. Says next week, Cameron will be flying to Washington to discuss BP crisis. http://www.spiegel.de/international/world/0,1518,705978,00.html

The Rain In Spain
A third of Spain's city councils are in dire straits and may be forced to suspend payments by the end of the year, replicating the woes in the US, where many states are bearing the brunt of fiscal tightening. The body has called for a moratorium until 2012 on debts to central government, which is itself slashing wages by 5pc as a quid pro quo for backing from the
EU's €750bn (£626bn) rescue.
Quote of the day, from UK Daily Telegraph, citing Spanish newspaper El Economista (see bullet point above): 'I am deeply ashamed to know that I won't be able to pay our staff. They have got mortgages, children. What am I supposed to do?" said Jesus Manuel Ampero, mayor of Cenicientos, near Madrid. "We were not able to cover our payroll in June. Neither I nor our councillors have received anything for two years. I've had two heart attacks. My health is cracking. If we cannot solve this, I'm resigning.'
Asia
If you want to know where the action is, it is in Asia. The latest GDP data out of Singapore highlighted an annualised growth rate of 26% in Q2. Exports are booming and are expected to run at 17-19% this year. China publishes its GDP data tomorrow and it would be a surprise if growth dropped much below 10%. China and Asia have acted as the growth 'locomotives' for the world economy over the past year and we need them to keep steaming along otherwise we are all in trouble.
RUMOUR, HOT OF THE PRESS: Chinese due data tonight has been leaked:
CPI (inflation) 2.9% vs consensus estimate 3.3% and Industrial Production 13.6 vs est 15.1
Hardly good news for mining & basic materials names but looks more like a soft landing
FOMC Minutes Due This Evening. There are two interesting articles in the WSJ. The articles are bursting with direct quotations (which I love to see, as no room for being taken out of context). Well worth a read. In the first one Fed's Rosengren says "There are several policy options if we think the economy is weaker than we would like. Reinvesting [proceeds from maturing mortgage bonds] is one option. Purchasing more [securities] outright is another option. Keeping rates low for a more extended period of time than others were anticipating would be another option." So Rosengren becomes the latest policymaker to suggest Fed thinking about contingency plans in case more stimulus is required. The second article says today's Fed minutes today are likely to reveal a cut in Fed growth outlook, for H2 especially. If true, likely to be USD negative.
Intel Results
The WSJ reports that Intel Corp. provided dramatic proof that businesses have joined consumers in snapping up new computers, as the chip maker posted the strongest quarterly results in its 42-year history. The Silicon Valley giant swung
to a second-quarter profit of nearly $3 billion–compared with a loss in the year-earlier period because of an antitrust fine–on a 34% revenue jump that easily topped projections by the company and Wall Street analysts. Intel's profit margins hit an all-time record, surpassing what was considered an optimistic prediction in April. Shares of the company surged 8.2% to $22.73 in after-hours trading following the news. Intel shares had gained 44 cents to $21.01 at 4 p.m. on the Nasdaq Stock Market.
12 Stocks Ready To Rip After Intel's Huge Earnings?
But the WSJ is today reporting that:
"The Obama administration has frozen $3 billion in technology spending and is re-examining billions of dollars in other federal computer projects, jarring companies such as Accenture PLC, International Business Machines Corp. and Oracle Corp. that count federal agencies among their major clients.
The freeze, initiated in late June, is part of a broader effort by White House officials to review troubled information-technology projects and institute new policies that will require agencies to split projects into smaller, more manageable chunks.
Company / Equity News
•Glanbia has this morning reported that the group is on track for a very strong first half performance compared to the same period last year. The group's strong H1 performance benefited from a return to profitability in Irish Dairy Ingredients and a satisfactory first half performance in Agribusiness. Consumer Products did, however, have a tough first half, due to a competitive environment and pressure on operating margins. Overall, this morning's trading statement highlights that Glanbia continues to trade in line with expectations
•Daimler intends to sign a contract for a joint venture with Chinese
maker of heavy trucks Beiqi Foton Motor Co. Ltd during Chancellor Angela Merkel's upcoming trip to China, a high-ranking German government official told Dow Jones Newswires Tuesday. According to the official, Daimler wants to invest EUR800 million in joint production of heavy trucks. Daimler declined to confirm the official's comments.
•BP has delayed closing the leaking Macondo well with the new cap installed on Monday on the advice of the US government in order to carry out more tests on measuring pressure levels within the cap. It is still unclear when they plan to seal the well, although even if it doesn't completely seal off the well, the new cap should still enable BP to collect most of the leaking oil, so this delay is only a very minor setback.
•Separately Sheikh Mohammed bin Zayed Al Nahyan, Abu Dhabi's crown prince and a board member of the Mubadala sovereign wealth fund, said in an interview in Abu Dhabi that Mubadala is considering an investment in BP, which will further support BP equity.
•UK house builder Barratt has guided that operating profits will be at least £85m for the 12 months to the end of June (£34m last year), which compares to Bloomberg consensus of circa £75m. This is on the back of completions of 11,377 (6,324 of which were in H2), a 11% increase in average selling price (helped by mix changes) and margins of at least 4% (5.5% in H2). On the outlook, management notes that markets will remain challenging, however, it still expects completions to increase by 5-10% in FY11.
•Nokia Siemens Networks is in negotiations to purchase Motorola's telecommunications- equipment business, the Wall Street Journal reported, citing unidentified people familiar with the situation. The deal, which may come in the next few weeks, may be worth $1.1 billion to $1.3 billion, the newspaper said. The business, which mostly makes older equipment, would give Nokia Siemens access to Motorola's customers in the U.S. such as Verizon Wireless and Sprint Nextel , according to the report.

For Bastille Day … Ten Witty, Outrageous and Light Hearted Quotations About France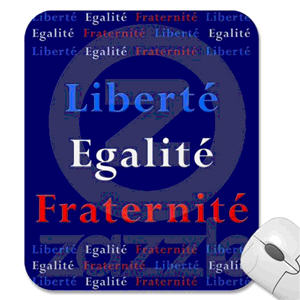 1.How many Frenchmen does it take to change a light bulb? One. He holds the bulb and all of Europe revolves around him.
2.The French are a smallish, monkey-looking bunch and not dressed any better, on average, than the citizens of Baltimore. True, you can sit outside in Paris and drink little cups of coffee, but why this is more stylish than sitting inside and drinking large glasses of whiskey I don't know. – P.J O'Rourke
3.France has neither winter nor summer nor morals. Apart from these drawbacks it is a fine country. France has usually been governed by prostitutes." – Mark Twain
4.I would rather have a German division in front of me than a French one behind me. – General George S. Patton
5.Going to war without France is like going deer hunting without your accordion. – Norman Schwartzkopf
6.We can stand here like the French, or we can do something about it. – Marge Simpson
7.The only way the French are going in is if we tell them we found truffles in Iraq. – Dennis Miller
8.The only time France wants us to go to war is when the German Army is sitting in Paris sipping coffee. – Regis Philbin
9.As far as I'm concerned, war always means failure. -Jacques Chirac, former President of France. Rush Limbaugh: As far as France is concerned, you're right.
10.You know, the French remind me a little bit of an aging actress of the 1940's who was still trying to dine out on her looks but doesn't have the face for it. – John McCain, US Senator from Arizona.
Worth a read:
Pressure from the US may have pushed China to unpeg its currency from the dollar. But how did that peg work in the first place? Paddy Hirsch explains.

By The Mole
PaddyPowerTrader.com
The Mole is a man in the know. I don't trade for a living, but instead work for a well-known Irish institution, heading a desk that regularly trades over €100 million a day. I aim to provide top quality, up-to-date and relevant market news and data, so that traders can make more informed decisions".© 2010 Copyright PaddyPowerTrader - All Rights Reserved

Disclaimer: The above is a matter of opinion provided for general information purposes only and is not intended as investment advice. Information and analysis above are derived from sources and utilising methods believed to be reliable, but we cannot accept responsibility for any losses you may incur as a result of this analysis. Individuals should consult with their personal financial advisors.
© 2005-2019 http://www.MarketOracle.co.uk - The Market Oracle is a FREE Daily Financial Markets Analysis & Forecasting online publication.

Only logged in users are allowed to post comments.
Register/ Log in