Russian Wildfires Highlight the Global Population Growth-Food Supply Crisis
Commodities
/
Food Crisis
Aug 15, 2010 - 06:50 AM GMT

Matthew Weinschenk writes: … And a great fire shall consume the land. The crops shall fail. Many acres will lay fallow – and hunger will spread.
That's not a 2012 end-of-days prophecy. It's the situation in Russia right now, as the country faces a crisis of biblical proportions.
In the wake of record high temperatures and drought, over 1,000 square miles of wildfires are currently raging. At least 50 people have died.
The disaster comes at a particularly bad time. Canada has already lost an estimated $3 billion worth of crops to flooding, while Australia is expecting a troublesome plague of locusts to hatch soon.
And for Russia's agriculture sector, the fires are crippling wheat production, with the crop yield expected to plummet by over 80%. As a result, Prime Minister Putin has banned all exports of Russian grain through the end of the year to protect the country's food supply. And that poses a serious global problem, as Russia is the world's third-largest wheat exporter…
Wheat prices have already jumped 55% since June – the biggest rise in 37 years, with the price now sitting at a 22-month high. Corn and soybean prices have also risen by 16% and 14%, respectively.
This latest disaster has underlined a larger trend: a global crisis where we won't be able to provide enough food for a growing population.
That mammoth problem will obviously have ramifications across the global economy and investing world. Let me explain what I mean – and how you can position yourself…
The Global Population Explosion and The Malthusian Trap
Over the first 200,000 years of man's existence, the global population remained relatively stable… as did the standard of living.
This relates to an economic theory called the "Malthusian Trap," which Gregory Clark describes best in A Farewell to Alms…

The Malthusian Trap
Whenever man made a technological breakthrough – the wheel, fire, agricultural innovation, etc – it had the domino effect of creating more resources to go around. In turn, we had more children, which meant those resources had to be divided among a greater number of people. That kept our standard of living at subsistence levels.
Man finally broke out of the "trap," thanks to the Industrial Revolution, which spurred greater efficiency and speed in manufacturing. Technology progressed so quickly that population growth couldn't immediately keep up.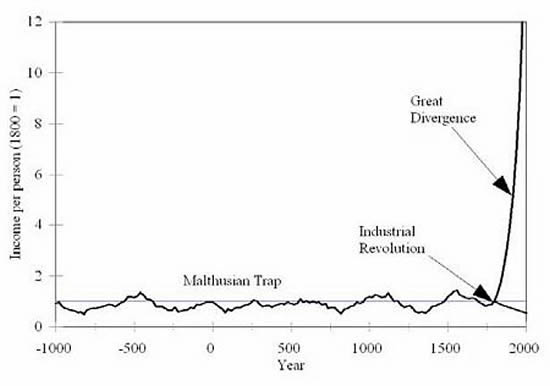 But with the Industrial Revolution, the numbers started to climb with greater speed from the 1600s onwards. For example…
It took 123 years for the world to go from one billion people to two billion (achieved in 1930).
It took only 12 years to go from five billion to six billion people (in 1999).
It's expected that by 2050, the global population will hit nine billion.
The following chart illustrates the global population explosion…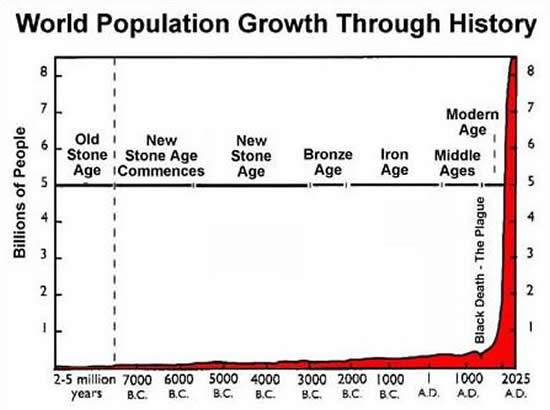 With more people, it means we'll need to produce more food in the next 50 years than we've produced in the past 10,000 years combined.
This wouldn't be a problem if we could actually keep producing more food. But there is a limit…
Land Limitations Trigger Global Food Shortage?
Today, modern science has taken us almost as far as it can. For example, if a theoretical corn plant were to perfectly capture each photon from the sun and turn it into energy, it would produce 23,200 pounds of corn per acre.
And farmers have already pushed corn plants to produce 19,376 pounds per acre, as the winner of the 2009 National Corn Yield Contest did. So as you can see, there isn't much room for improvement.
Don't look for new land to plant, either. Of the total land covering the globe, 81.98% is of no use for growing, while 4.71% currently has crops.
In fact, just 13.31% is considered arable land. But even that's optimistic, as 40% is rated "seriously degraded," due to over-harvesting, erosion and climate change.
So with less land and more mouths to feed, what's the solution?
The Answer to the Imminent Food Shortage Problem
It may seem crass to profit from what may be a major global crisis, but the truth is this: Innovative businesses offer the only answer to the food shortage problems.
The hottest commodity right now is farmland itself. Virtually all institutions, from investment banks to hedge funds, have opened agriculture divisions to snatch up all available land.
You can't blame them. Research firm Agcapita claims that U.S. farmland investments have returned 11.2% a year since 1992 – with no down years.
For example, Blackrock raised over $500 million to invest in farmland. And wealthy investors in the Middle East and East Asia control nearly eight million hectares of overseas land.
Now imagine the returns on even cheaper, more fertile, African farmland that hasn't had modern farming techniques applied to it.
That's why most purchases are taking place in Africa. For instance, hedge fund Jarch Capital has amassed a collection of African farmland the size of Dubai.
Fortunately, you don't have to strike a deal with an African warlord to earn your share…
Taking Advantage of the Jim Rogers' Prophecy
Legendary investor and commodity guru Jim Rogers recently stated: "The fundamentals [for agriculture] have gotten better. The inventories are now at the lowest they've been in decades, not years. Sometime in the next few years, we're going to have very serious shortages of food everywhere in the world and prices are going to go through the roof."
To take advantage of Jim Rogers' prophecy, you can take a couple of different approaches…
Broad Commodity Diversification
If you're looking for a simple short-term play on agricultural commodities directly, the PowerShares DB Agriculture Fund (NYSE: DBA) could be one of the best.
The ETF tracks 11 different commodities through the futures market, including wheat, corn, soybeans, coffee, live cattle and hogs. It passively tracks the Deutsche Bank Liquid Commodity Index and charges only 0.85% in expense fees.
Direct Agriculture Investments
Over the long-term, businesses that can increase farm yields should attract more and more attention.
In this regard, consider Lindsay Corporation (NYSE: LNN). The firm makes movable, computer-controlled irrigation systems that can selectively irrigate the areas that need it most. The company's growth opportunities are widespread – both from farmland that has no irrigation, farmland with inferior drip-irrigation systems, plus upkeep on existing farms that already have center-pivot irrigation systems.
Over the past five years, Lindsay has doubled its sales and more than tripled its earnings. Most of the growth comes from its fledgling international divisions like Europe, Africa, Australia, and the Middle East division, which has grown by an average of 33% over two years. It's Mexico and Latin American division has also swelled by 41%. Yet Lindsay shares are still available at 9.7 times free cash flow.
Also, check out Potash Corporation of Saskatchewan (NYSE: POT). Based in Saskatoon, Canada, Potash produces fertilizers and feed equipment. In times when food supply is struggling to keep pace with demand, the easiest way to increase crop yields is to load them with fertilizer. If fertilizer prices surge in response to this need, Potash shares could reap the benefit.
While a global food shortage certainly isn't welcome, current trends suggest it could become a widespread problem, so it's not a bad idea to position yourself accordingly.
Good investing,
Matthew Weinschenk
P.S: By the way, if you're interested in more about the world's over-population problem – and ways to combat it – Hans Rosling addresses it very well in this TED Talk video. Born in Sweden, Rosling is Professor of International Health at Stockholm's world-renowned Karolinska Institute.
P.P.S: And if you'd like to find out how to profit from innovative companies and businesses on a regular basis, take a look at The White Cap Report. In it, my colleagues Louis Basenese, Robert Williams and I profile the dynamic, under-the-radar firms that are breaking new ground by making unique, in-demand products/services. Often, these companies have markets all to themselves, which opens the door to extraordinary profits for early investors.
Copyright © 1999 - 2010 by The Oxford Club, L.L.C All Rights Reserved. Protected by copyright laws of the United States and international treaties. Any reproduction, copying, or redistribution (electronic or otherwise, including on the world wide web), of content from this website, in whole or in part, is strictly prohibited without the express written permission of Investment U, Attn: Member Services , 105 West Monument Street, Baltimore, MD 21201 Email: CustomerService@InvestmentU.com
Disclaimer: Investment U Disclaimer: Nothing published by Investment U should be considered personalized investment advice. Although our employees may answer your general customer service questions, they are not licensed under securities laws to address your particular investment situation. No communication by our employees to you should be deemed as personalized investment advice. We expressly forbid our writers from having a financial interest in any security recommended to our readers. All of our employees and agents must wait 24 hours after on-line publication or 72 hours after the mailing of printed-only publication prior to following an initial recommendation. Any investments recommended by Investment U should be made only after consulting with your investment advisor and only after reviewing the prospectus or financial statements of the company.
© 2005-2019 http://www.MarketOracle.co.uk - The Market Oracle is a FREE Daily Financial Markets Analysis & Forecasting online publication.

Only logged in users are allowed to post comments.
Register/ Log in