Canadian Natural Gas 2011 Outlook
Commodities
/
Natural Gas
Nov 25, 2010 - 05:09 PM GMT


Western Canadian gas exports to the United States could be completely displaced into Northern California by
1. Abundant, low cost US natural gas production, and
2. By several new gas pipelines in the US…


Says a new market study by Bentek, a US energy analysis company.
Overall, Canadian gas exports to the US will drop 2 bcf/d over the next few years – almost 30% – and this impending loss of the northern California market builds upon the loss that western Canadian gas has in lower exports to the US northeast.

Increased Canadian demand and declining Canadian supply will pick up some of the slack, but it won't be enough to offset a significant loss of exports to the US market in the near term, they add.

Bentek's report, titled "The Big Squeeze," is a report that also outlines how fast growing production from the Marcellus shale in Pennsylvania is displacing Canadian gas to the lucrative Northeast US market, and how new pipeline capacity carrying low cost gas out of the Rocky Mountains is now set to displace much of Canadian gas to the US Midwest and lucrative California markets.

"What we outlined in our study was complete displacement of Canadian gas into Northern California by the summer of 2014," says Jack Weixel, Director of Energy Analysis for Bentek.

Last summer I wrote about how the new $6 billion Rockies Express pipeline, or REX, going from Colorado to Ohio, was displacing western Canadian gas production by almost 10%. Lately, US natural gas production from the Marcellus shale has also been displacing Canadian gas to the US Northeast. Canadian suppliers have been able to send more natural gas into the Midwest and Western US to help make up for that drop.
But Bentek says even that market is at risk – and Canadians could see this market get curtailed within the next two weeks, in early December 2010.

That's when low cost Rockies gas supply will start flowing east on the newly installed Bison Pipeline. This will give Rockies producers an additional 0.5 Bcf/d (billion cubic feet per day) of capacity out of the Powder River basin in Wyoming. The Bison connects into the Northern Border Pipeline, which moves mostly western Canadian supply.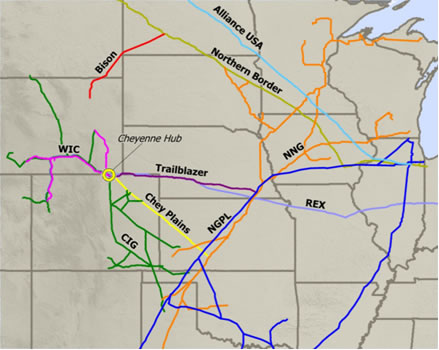 Image provided by BENTEK (bentekenergy.com)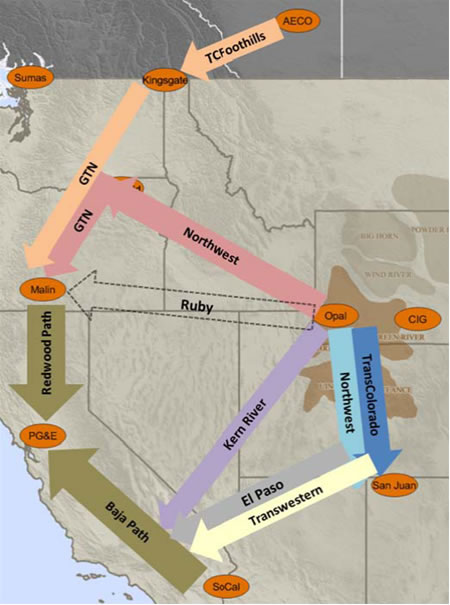 Image provided by BENTEK (bentekenergy.com)

Weixel expects the Bison Pipeline to create stiff competition for Canadian gas. He says Canadian gas has to get cheaper to stay competitive.

"They (Canadian gas producers) need to drop 14 cents (an mcf). Let's say Rockies gas is $3.50/mcf – that means that AECO (the Canadian natural gas benchmark price out of Edmonton) needs to be priced $3.36 to be competitive in northern California," says Weixel, adding that the breakeven price for certain Rockies gas producers in the Pinedale and Jonah tight sands plays is "well below $3 per mcf."

Weixel expects net Canadian exports to drop 2 bcf/d through 2015 – out of a total of 6.9 bcf/d now. But it's not all gloomy for producers – and their shareholde"At the same time exports are declining, you've got Canadian demand growing, primarily from oilsands in the west and coal retirements in the east," he says. "You've also got production slipping from conventional gas plays in Alberta. So there is a tightening supply-demand balance.

"Traditionally that would lend itself to gas prices getting stronger. But we believe that due to the drop in exports, that there will be just as much gas on hand in Canada as there is now. So if production drops 1.5 bcf/d but exports drop 2 bcf/d, they're up half a "b" a day.

Canadian gas production is actually going up because of the unconventional plays in BC (read: MONTNEY), but Weixel says the gas rig count in Alberta dropped off a cliff this September, and is about half the number it was last year and about one quarter what it was in 2008.

What's surprising to me is how little both the industry and investors appear to be concerned about this issue. The Calgary Herald ran a small story on this, and The Daily Oil Bulletin, which is ready by the industry only, ran a story (masthead, or lead story). There are thousands of high paying jobs at stake – mostly in Alberta but also in northern B.C.

NEXT STORY – HOW DOES THIS AFFECT THE PIPELINE COMPANIES?
About Oil & Gas Investments Bulletin
Keith Schaefer, Editor and Publisher of Oil & Gas Investments Bulletin, writes on oil and natural gas markets - and stocks - in a simple, easy to read manner. He uses research reports and trade magazines, interviews industry experts and executives to identify trends in the oil and gas industry - and writes about them in a public blog. He then finds investments that make money based on that information. Company information is shared only with Oil & Gas Investments subscribers in the Bulletin - they see what he's buying, when he buys it, and why.
The Oil & Gas Investments Bulletin subscription service finds, researches and profiles growing oil and gas companies. The Oil and Gas Investments Bulletin is a completely independent service, written to build subscriber loyalty. Companies do not pay in any way to be profiled. For more information about the Bulletin or to subscribe, please visit: www.oilandgas-investments.com.
Legal Disclaimer: Under no circumstances should any Oil and Gas Investments Bulletin material be construed as an offering of securities or investment advice. Readers should consult with his/her professional investment advisor regarding investments in securities referred to herein. It is our opinion that junior public oil and gas companies should be evaluated as speculative investments. The companies on which we focus are typically smaller, early stage, oil and gas producers. Such companies by nature carry a high level of risk. Keith Schaefer is not a registered investment dealer or advisor. No statement or expression of opinion, or any other matter herein, directly or indirectly, is an offer to buy or sell the securities mentioned, or the giving of investment advice. Oil and Gas Investments is a commercial enterprise whose revenue is solely derived from subscription fees. It has been designed to serve as a research portal for subscribers, who must rely on themselves or their investment advisors in determining the suitability of any investment decisions they wish to make. Keith Schaefer does not receive fees directly or indirectly in connection with any comments or opinions expressed in his reports. He bases his investment decisions based on his research, and will state in each instance the shares held by him in each company. The copyright in all material on this site is held or used by permission by us. The contents of this site are provided for informational purposes only and may not, in any form or by any means, be copied or reproduced, summarized, distributed, modified, transmitted, revised or commercially exploited without our prior written permission.
© 2010, Oil & Gas Investments Bulletin
Contact Us:

Email: nichola@oilandgas-investments.com

Customer Service: 1-877-844-8606

www.oilandgas-investments.com
© 2005-2019 http://www.MarketOracle.co.uk - The Market Oracle is a FREE Daily Financial Markets Analysis & Forecasting online publication.

Only logged in users are allowed to post comments.
Register/ Log in