With the Apple iPhone Coming, Is Verizon a Mobile Phone Stock to Buy?
Companies
/
Tech Stocks
Jan 13, 2011 - 08:16 AM GMT


By the time many of you read my notes, chances are good that Verizon (VZ:NYSE) and Apple (AAPL:NASDAQ) have formally announced the new Apple iPhone offering on the Verizon network. As we learn more, rest assured that I will offer updated commentary on the deal. (I started my writing late Monday night.)
There are so many considerations surrounding this deal. It's actually not just about Verizon or even Apple, for that matter.
Before we even get into these two companies, one must back up a minute and look at the evolution of the mobile device and how the "smart phone" is changing the world that we are living in.
Flash Back to 2001
Just 10 years ago, if you were a techie who wanted to stay "plugged in" and mobile you probably needed to own and/or carry the following items:
1.Mobile phone and or pager -- $499 for phone/$99 for basic pager
a.Mobile phone service -- $199+ for unlimited back in 2001
b.Data service -- no unlimited data plans (good luck browsing the web)
2.Camera -- $399
3.GPS -- $249
4.Digital organizer (pocket PC) -- $499.99
5.Laptop -- $1,699
6.Video Camera/Recorder -- $449
7.Broadband connection -- $75 per month
All told, your tech tab was close to $4,000 in hardware costs alone. That's not including the per minute and gigabyte voice and data charges you had to pay a wireless carrier if you wanted to communicate off a landline and browse the web on the go (which was next to impossible back then).
Flash-forward to 2011 and you'll find that the Apple iPhone (and a few of its competitors, including select Android, BlackBerry and even Microsoft phones) offers you the consumer more than the equivalent of all of the devices listed above.
You can currently buy a brand-new Apple iPhone 3GS for $49 (with a two-year contract) from AT&T (T:NYSE). The iPhone 4 will set you back $199.
Those price points, which are similar among many of the competing phones as well, make the smart phone a "no brainer" choice for most people (techie or not) around the world. You can try to resist all you want, but the reality is that if you can pick up an Apple iPhone for $49, with all those capabilities, it becomes really hard to say no.
The global smart phone penetration is somewhere around 14-18% (I am estimating based off a Goldman Sachs report from last year). This means that there is still much upside to be had in this sector, but it's most likely not going to be for the carriers themselves and here is why.
(Investing doesn't have to be complicated. Sign up for Smart Investing Daily and let me and my fellow editor Sara Nunnally simplify the stock market for you with our easy-to-understand investment articles.)
Mobile Phone Subsidies, Service and Competition
What many of us don't realize is that carriers like AT&T, Verizon and Sprint subsidize the cost of the phone. They purchase the phone from Apple, Google, Samsung, etc. for, say, $499 and then sell it to you for $99, hopefully making the difference back in monthly usage fees and early termination costs if you try to leave.
We all know that our mobile phone bills and plans (especially in the U.S.) can be pricey and complicated, and it seems like those phone companies should be making money hand over fist, but the reality is that customer retention is tough and because many service areas overlap, there is always stiff competition. Plus, they are usually handling most of the front-end customer service and tech support calls and maintaining these complex networks, towers, technology, etc.
The phone companies are much less nimble and typically have lower profit margins than the phone makers themselves.
Since the first Apple iPhone went on sale June 29, 2007, AT&T stock is down 28% (in red), while Apple is up about 185%; where would you put your money?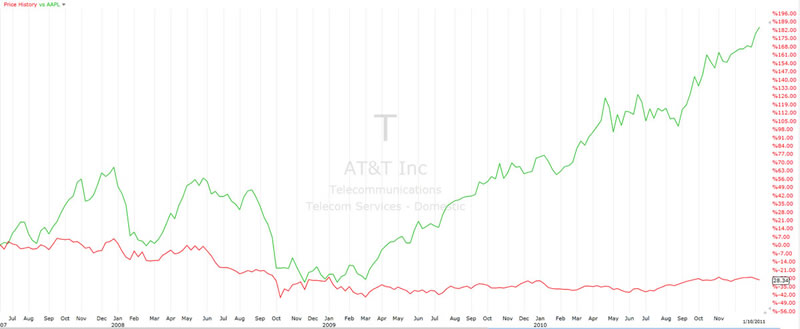 Invest With the Leaders in a Growing Mobile Phone Industry
In my humble opinion, forget Verizon, AT&T and even Sprint; the smart phone revolution is not just an American fad! As the world grows and wants to connect, the smart phone is an inexpensive way for many to get several gadgets all rolled into one seamless, useful product.
Competition is fierce and there are dozens of mobile phone carriers around the world; here is a list of the largest. You will notice that Verizon and AT&T are 16th and 17th respectively. There are about six smart phone companies that produce the lion's share of phones globally.
The Bottom Line for Mobile Phone Stocks
The iPhone launch at Verizon should be another big win for Apple, but that doesn't mean you can't make money with these other companies in 2011:
Google (GOOG:NASDAQ) -- The spread of Android-based phones and Google's continued position as leader of search and all things online give it exposure to the smart phone revolution. Expect it to use its massive cash reserves to grow its presence as well.
Research in Motion (RIMM:NASDAQ) -- While this company has lagged, its product line is still very stable and widely accepted and growing. It also held several spots on Amazon's top-10-selling smart phones in 2010. The stock is well valued at its current levels.
Motorola Mobility (MMI:NYSE) -- This is the recent spinoff of Motorola's mobile unit. The stock has not traded long, but is focusing its high-quality pedigree and history on creating some really exciting new products that could make this an interesting company to watch. Management spent the past year getting in touch with the global consumer, according to the chief market officer at the CES show last week. Sanjay Jha (who definitely doesn't have Steve Jobs' delivery) discussed the new product pipeline here, including the new Atrix 4G, which is being billed as the world's most powerful smart phone to date (it's pretty awesome and runs Android and Flash, which the iPhone doesn't).
When investing in anything, don't just look at the sector and buy any stock within -- find those stocks that have not only the best growth potential, but the flexibility to keep up with the ever-changing times that we live, work and play in.

Don't forget to follow us on Facebook and Twitter for the latest in financial market news, investment commentary and exclusive special promotions.
Source : http://www.taipanpublishinggroup.com/tpg/smart-investing-daily/smart-investing-011111.html
By Jared Levy
http://www.taipanpublishinggroup.com/
Jared Levy is Co-Editor of Smart Investing Daily, a free e-letter dedicated to guiding investors through the world of finance in order to make smart investing decisions. His passion is teaching the public how to successfully trade and invest while keeping risk low.
Jared has spent the past 15 years of his career in the finance and options industry, working as a retail money manager, a floor specialist for Fortune 1000 companies, and most recently a senior derivatives strategist. He was one of the Philadelphia Stock Exchange's youngest-ever members to become a market maker on three major U.S. exchanges.
He has been featured in several industry publications and won an Emmy for his daily video "Trader Cast." Jared serves as a CNBC Fast Money contributor and has appeared on Bloomberg, Fox Business, CNN Radio, Wall Street Journal radio and is regularly quoted by Reuters, The Wall Street Journal and Yahoo! Finance, among other publications.
Copyright © 2011, Taipan Publishing Group
© 2005-2019 http://www.MarketOracle.co.uk - The Market Oracle is a FREE Daily Financial Markets Analysis & Forecasting online publication.

Only logged in users are allowed to post comments.
Register/ Log in