The Stop-Start Auto Boom is Here
Stock-Markets
/
US Auto's
Feb 11, 2011 - 05:05 PM GMT


A new boom has been born. It has everything we look for in an emerging trend.
Its benefits significantly outweigh its costs to users.

It's already proven. It works and the technology has already established a beachhead in some rapidly recovering market.


It's not controlled by a start-up which has to have a lot of stars align to work out. The big industry leaders have already deemed it the future.
It will only benefit from the big megatrends including high and rising energy prices, dollar devaluation, and stagnating consumer spending.
It's poised to grow 47% per year over the next five years regardless of overall economic growth.
Finally, its growth has been practically mandated by governments around the world.
Sounds like it has it all right? Well, it does have everything we look for at the
Prosperity Dispatch
. And the time to jump on board is now.
The Stop-Start Evolution Begins Now
The automotive industry is poised for a monumental change. We're calling it the Stop-Start Evolution.
Stop-start technology is really simple. It automatically shuts down a car's engine when a car is stopped. Whether a driver is stuck in stop-and-go traffic, a red light, or for whatever reason, the car automatically shuts down. Then when the driver presses the accelerator, the engine starts and the car begins to move.
Stop-start is different from hybrid cars like the Toyota Prius. Stop-start capable vehicles are not powered by their batteries when they're driven slowly. The engines just stops when the vehicle stops and starts when the vehicle is moving.
The most attractive feature of stop-start technology is the economics.
The chart below shows the difference in up-front costs consumers have to pay for types of fuel-efficient autos: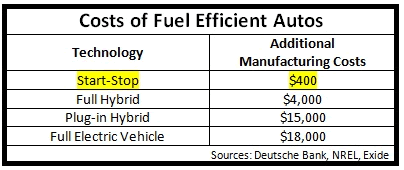 As you can see, stop-start costs a fraction of what its competitors do. Stop-start only gets more impressive when the installations costs are compared to the fuel efficiency.

Stop-start technology reduces fuel consumption by 15% to 20%. The average U.S. driver spends $1500 per year on fuel. That puts the annual savings from stop-start at between $200 and $300 per year and the payback period (the time between initial outlay and the point at which initial costs are fully recouped) at between 15 and 24 months.

Compare that to a plug-in hybrid electric vehicle (PHEV). Argonne National Laboratory, the leading government research facility on battery technologies, estimates PHEVs reduce fuel consumption by 40% and 60%. That works out to annual savings between $600 and $900 per PHEV and the payback period at between 16 years and 25 years.

Which is more likely succeed, the technology which pays for itself in less than two years to pay for itself or the one that takes two decades?

Stop-start is exceptionally better than its more fuel efficient, yet much costlier competitors. That's why it has already met the other critical precursor to growth which has prevented the widespread use of so many seemingly-superior technologies in the past – it works.

The Right Technology at the Right Time

Stop-start technology is not new. It has been utilized in U.S. built light-duty trucks for nearly a decade.

In Europe, where taxes put the average gas price between $5 and $8 per gallon, stop-start is the standard. Nearly half of autos produced in Europe next year will have stop-start capability.

Frank Frister, a product manager with auto parts maker Bosch North America and in position to see what technologies the big automakers are adopting, sees North America reaching the point at which 50% of all autos sold in the North America are stop-start capable. He recently said, "North America will reach that figure in 2016."

This level of growth is the critical difference between success and failure in technology and innovation.

Technologies take time to be widely accepted, if ever. History shows it takes a long time for even the most beneficial technologies to hit the critical 50 million user mark: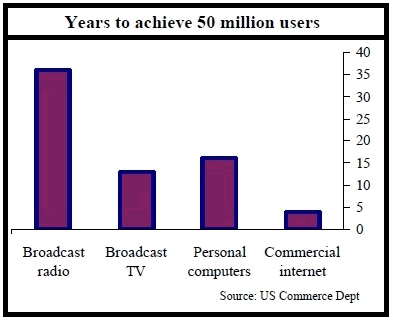 This is the only kind of growth which can allow the companies involved the new boom to generate sharp earnings, revenue, and margin growth for the companies involved to get the market really excited.

Inevitable Growth

There are a few more factors virtually guaranteeing stop-start's rapid growth.

One is the recovery in the auto market. Auto and light truck sales grew 11.5% in 2010.Leading that growth has been mid-size SUVs with 42.3% growth in sales. Luxury SUVs weren't far behind with 26.3% growth. Overall, car sales grew 5% last year and trucks (including SUVs, crossovers, etc.) grew at a 17.9% rate.

The vehicles most in demand now are the ones most likely to deliver the greatest cost savings and shortest payback periods from stop-start. The larger the vehicle, the more it benefits from stop-start capability and the more likely it's going to be installed.

The other key is government fuel efficiency mandates.

Vehicles can't get much smaller. Many American consumers don't want or need small cars.

Also, for years a lot of increased fuel efficiency has come from making cars lighter. They can't get much lighter. The marginal reductions in weight from this point are much more costly. In other words, the low-hanging fruit of weight reduction has been picked.

And with more than 10 million autos sold each year, sales of a few hundred thousand hybrids, PHEVs and completely electric cars may get the big headlines, but they are not going to meet the fuel efficiency standards required by law.

Millions of stop-start capable vehicles can and will.

The Final Hurdle

If there's one thing we've learned, technological innovation is never seamless. Stop-start is no different.

Stop-start has lot going for it, but it's not perfect.

HowStuffWorks.com pinpoints the main problem with stop-start technology:

The battery in a mild hybrid [a vehicle equipped with start-stop capability] is still very important. Its main purpose is as a part of the start-stop system that shuts off the gasoline engine when a mild hybrid is at rest, coasting or slowing down. For instance, a stop at a red light at an intersection will cause the engine to cut off. When the car is idle, no gas will burn inside the engine. Once the light turns green and the driver applies pressure to the gas pedal, the engine should switch back on seamlessly, as though it hadn't been turned off at all.

The problem with start-stop is that it places a huge demand on batteries.

Starting a car puts a tremendous strain on the battery. Normally a car battery is used two or three times a day to start the car. A start-stop enabled car will be required to start a car dozens of times each and every day.

The standard lead-acid battery, which hasn't changed much in over 100 years, is not able to stand up to the demands of stop-start.

This problem, however, has already been solved. And the solution is creating a whole new boom in batteries.

Problem Solved

Stop-start does not require a new type of battery like the lithium-ion batteries and others used in hybrid and electric vehicles. It just requires a stepped-up version of the traditional lead-acid battery.

The early leader in the start-stop battery boom is an advanced lead-acid battery called Absorbed Glass Mat Lead-Acid (the industry abbreviates it as "AGM").

This is where the opportunity lies. Batterystuff.com states, "The [AGM] construction allows the electrolyte to be suspended in close proximity with the plates active material. In theory, this enhances both the discharge and recharge efficiency."

AGM batteries are already the standard in marine, RV, audio, and stand-by power applications. Notice these are applications which require a battery to start a motor many times a day just like stop-start will require.

Simply put, AGM batteries are stronger, more durable, and are designed for the stresses of starting and restarting an engine many times throughout the day.

Best of all, AGM batteries only cost about $40 to $80 more than a regular car battery.

40 Million New Customers

Everything is in place for a genuine boom in stop-start technology.

It's a proven technology. The economics are far superior to all of the competition in fuel efficient autos. The leading manufacturers including Ford, GM, BMW, Audi, and every other major automaker are on board. The government has practically mandated its widespread use. The big impediment with its widespread use has been solved. It has it all.

Perhaps most importantly from an investment perspective, there just aren't too many other areas growing at a 47% annual clip.

At that growth rate, there will be more than 40 million new batteries able to support stop-start technology by the end of the decade. And as a result, there will be 40 million new customers requiring the AGM batteries just to drive to and from work every day.

The Stop-Start Evolution has begun and it's going to be big.

Good investing,
Andrew Mickey

Chief Investment Strategist, Q1 Publishing
Disclosure: Author currently holds a long position in Silvercorp Metals (SVM), physical silver, and no position in any of the other companies mentioned.
Q1 Publishing is committed to providing investors with well-researched, level-headed, no-nonsense, analysis and investment advice that will allow you to secure enduring wealth and independence.
© 2011 Copyright Q1 Publishing - All Rights Reserved

Disclaimer: The above is a matter of opinion provided for general information purposes only and is not intended as investment advice. Information and analysis above are derived from sources and utilising methods believed to be reliable, but we cannot accept responsibility for any losses you may incur as a result of this analysis. Individuals should consult with their personal financial advisors.
© 2005-2019 http://www.MarketOracle.co.uk - The Market Oracle is a FREE Daily Financial Markets Analysis & Forecasting online publication.

Only logged in users are allowed to post comments.
Register/ Log in