Rhodium Trading, Undervalued and Moving Towards Buying Point
Commodities
/
Rhodium
Feb 15, 2011 - 12:24 PM GMT


RHODIUM TRADING THOUGHTS is about timely and profitable trading of precious metals. We do not believe every turn in the market can be called. Our goal is that our recommendations should be profitable. Profits are the goals, not trades. Do not expect all recommendations to be profitable. No system can achieve that lofty goal. Our goal is simply to state whether conditions for a metal are favorable or not. Buy signals are issued when appropriate. These signals are generally speaking for day they are issued. If price remains below signal price, buying can be done. Do Not Buy signals are given when market is over bought, and buying is unwise. Blue triangles indicate an over bought condition. These would not be good times to buy, so they are labeled Do Not Buy. Software is not showing complete legend, for some reason.
Good news on Rhodium this past month was that no news continues as the norm. With wild and nonsensical fantasies of how Egypt throwing off a despot would bring immediate wealth to those owning Silver and junior mining stocks.
That Rhodium is not written about regularly is one of attractive features of the metal. It might, therefore, be inefficiently priced, providing an opportunity for investors. Further, little of the demand for Rhodium is investor driven. That means the price is likely closer to under valuation than would be the case with high levels of speculative interest.
As chart to the right indicates, Rhodium had been stuck at $2,450 for some time. That had pushed oscillator, red line, to over bought, and pegged it there. That situation is always untenable, and suggests a step back for price is likely. That happened this week with price moving down to $2,430. Oscillator should now move lower setting up for another buy signal.
The Next chart is of ratio of price of Rh to Au. When rising, Rh is performing better. After a long slide in that ratio as Gold was propelled upward in a speculative bubble, ratio moved into a long horizontal pattern. That chart development generally is resolved in an extremely positive manner.
When the lateral pattern is exited to the upside, we can generally expect a further upward movement. In short, the weak hands have exited the Rh market, and it is now held in strong hands. That ratio is a measure of relative strength. Positive relative strength usually precedes positive absolute price movement.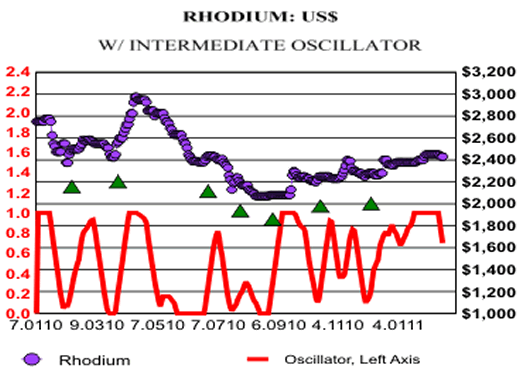 Under valuation, positive relative strength, and an over sold condition likely to develop all suggest a timely set of events that should provide an excellent opportunity to add to Rhodium holdings.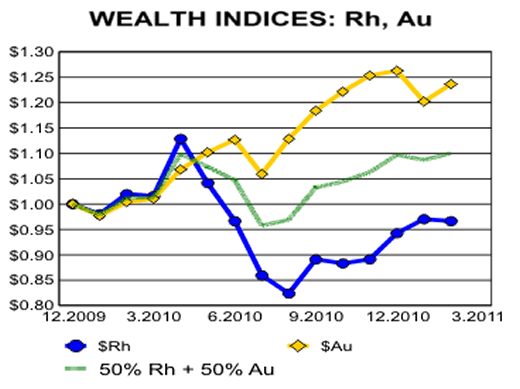 Rhodium does not move with the price of Gold, as shown in the top chart. Their returns, in the parlance of finance, are uncorrelated. That green line is a hypothetical portfolio of 50% Gold and 50% Rhodium. It should not have a lower level of variability than either, and over time provide superior return to risk results.
OPINION:
Rhodium appears under valued and is moving toward a timely point for buying. Precious metal investors should be diversifying their portfolios with Rhodium. In particular, those with high exposure to Silver should be moving out of Silver into Rhodium. Silver has been the speculative play of recent times, and may be approaching exhaustion. With Silver within 15-17% of a reasonable long-term sales target and facing massive over supply in the year ahead, a switch to Rhodium is highly advisable.
Investors should be diversifying their portfolio of precious metals through the addition of Rhodium.
$Rh Preliminary Price Valuation Range
Rh Current
Valuation
$Valuation
Potential % Change
$2,450
Over
$7,500
206%
$2,450
Fair
$6,000
145%
$2,450
Under
$4,500
84%
Your Eternal Optimist;
RHODIUM TRADING THOUGHTS is published presently on an irregular basis, and is available only on selected web sites and at our web site: www.valueviewgoldreport.com
By Ned W Schmidt CFA, CEBS
Copyright © 2011 Ned W. Schmidt - All Rights Reserved
GOLD THOUGHTS come from Ned W. Schmidt,CFA,CEBS, publisher of The Value View Gold Report , monthly, and Trading Thoughts , weekly. To receive copies of recent reports, go to www.valueviewgoldreport.com
© 2005-2019 http://www.MarketOracle.co.uk - The Market Oracle is a FREE Daily Financial Markets Analysis & Forecasting online publication.
Comments
john d
16 Feb 11, 16:12
Gold / silver


the gold suppressing cartel, Fed and all other related entities have only one path - destruct the dollar, since it is a fiat paper , there is invariably no other final point - all fiat currencies are destroyed eventually, despite heavy unprecedented manipulation.).

You argued that election of some local (America is very small and local to the world) bureaucrats may mean something important. Since they all bred and elected by the people who gave them money (not by the brainwashed population, but by banking cartel), all of them are corrupted even before election. There is no way they can take any action toward better economy or anyhow make the dollar stronger.

Another funny thing was when you showed a picture (where by somehow you said gold is going out of the mean range) and said that deviation is too big. It was really funny, since you showed not a cyclical, but secular market and argue that it may have some mean.

And now you are teaching that the Silver is in oversupply.

Where did you get that? besides numerous reports, that big funds can not get physical silver for months,

How do you explain persistent backwardation in silver on LBMA (which is fake from the beginning, but even the faked data show backwardtion)?



B.
19 Feb 11, 03:49
Rhodium


Why is Rhodium Undervalued and why will that change?




Only logged in users are allowed to post comments.
Register/ Log in