The Failure of Gold to Breakout Despite Compounding Crisis
Commodities
/
Gold and Silver 2011
Mar 20, 2011 - 11:27 AM GMT


So, why hasn't gold shot up through the roof with all that's been going on lately? It's a good thing I'm a technician and don't have to come up with a WHY, as I don't have a clue why. Let's just go ahead and see where we are and possibly which way the wind is blowing. But first, the Merv's Venture 30 Index.
S&P/TSX Venture 30 Index
Since the development of my Merv's Penny Arcade Index I have often been asked if there is an ETF based upon this Index that speculators can buy and take advantage of its spectacular performance. Unfortunately there is no such ETF available. Well, this week there was an announcement in the media that just might satisfy these speculators.
The news in this week's media (well, one of the news) was the introduction of the Global X S&P/TSX Venture 30 Canada ETF traded on the NYSE Acra (and hopefully soon on the TSX) with the symbol TSXV. This ETF is based upon the S&P/TSX Venture 30 Index, which is an Index composed of the 30 largest stocks (for want of a quick definition) traded on the TSX Venture Exchange (previously the Vancouver Exchange). As the media mentions, the component stocks seem to be split 54%/46% between materials and energy stocks. The materials, of course, include gold & silver stocks as appropriate.
Both the Index and the ETF seem to have started their trading history only this week so potential investors or speculators in the ETF have no historical data for technical or market analysis. I have taken the liberty of developing my own Index based upon the Venture 30 component stocks and back dated the development to the start of 2008 with a value of 100.00. This Index is a performance Index as it is based upon the average weekly price performance of each component stock without any weighting assigned. One must understand that because of the method of calculating the Index, the performance of the Merv's Index may not match exactly the performance of the S&P/TSX Index or the Global X ETF, but it should be a good indication of how these 30 stocks performed over the past 3 years and possibly a suggestion as to the possible on-going performance of the ETF.
Of course there is NO GUARANTEE that the past performance will continue or even ever come back again. You enjoy and act at your own risk.
Shown here is a chart of the Merv's Venture 30 Index and a technical information and ratings table for the Index component stocks. I will be keeping this info up to date for my own use and maybe, if there is an interest, post it here from time to time. Other than that I don't know if I will be using it otherwise. Always open for suggestions. Since this Index includes energy and many other material stocks, other than a few gold and silver stocks, I am debating if I should include it in my Precious Metals Indices Table for readers weekly review of its performance.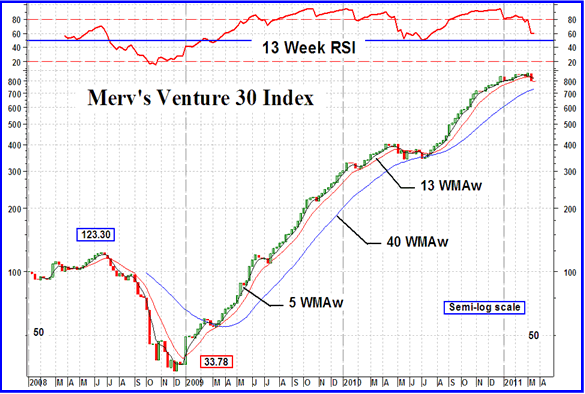 GOLD
LONG TERM
Long term we are still not in danger of a reversal of the long term bull. Gold remains above its long term moving average line and the line slope remains in an upward direction. The long term momentum indicator remains in its positive zone although it has been reacting somewhat and is below its negative sloping trigger line. It is showing a weakening in the strength of recent gold upside moves but at this time that is only a warning to be remembered but not yet acted upon. The volume indicator continues to move ever higher into new all time highs and above its positive trigger line. So, the long term rating remains BULLISH.
INTERMEDIATE TERM
Gold just touched the intermediate term moving average line this week and then bounced up, remaining above the line. The moving average line itself is still in a positive direction. The momentum indicator remains in its positive zone but acting pretty weak. It is just a very tiny bit below its negative sloping trigger line. The volume indicator remains positive and is above its positive intermediate term trigger line. On the intermediate term the rating remains BULLISH. This is confirmed by the short term moving average line remaining above the intermediate term line.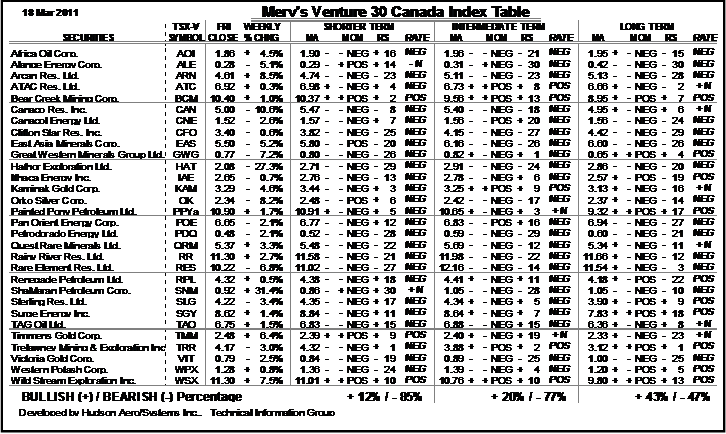 SHORT TERM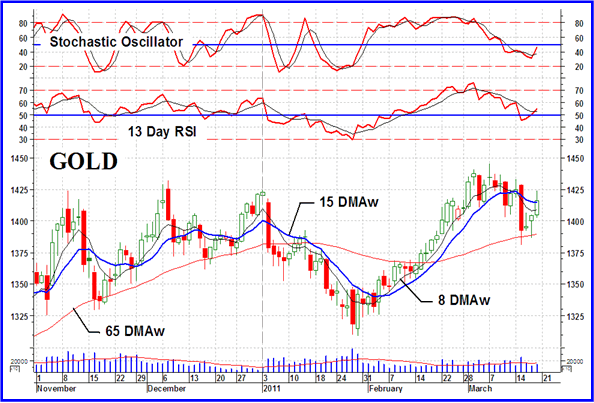 After a brief reaction and rally it looks like the short term is once more into a roller coaster motion. As of the Friday close gold has just moved slightly above its short term moving average line although the line slope is still to the down side. The short term momentum indicator crossed into its positive zone and above its trigger line although the trigger is still very slightly in a negative slope. The daily volume is giving us a different volume picture versus the intermediate or long term volume indicators. The daily volume action is quite low and the past three days of upside gold movement the daily volume remained below its average value over the past 15 days. Still, putting it all together we are at a rating of + NEUTRAL, one level below a full bull rating. A little more upside should get us back into the bullish camp. The very short term moving average line remains below the short term line suggesting that the action does not yet justify a bullish rating.
As for the immediate direction of least resistance, I'll go with the up side as that is the direction of both the gold price and the Stochastic Oscillator.
SILVER
Just a brief comment on silver this week. Although silver took a hit this past week, worse than gold, it is still performing quite well. The daily volume action seems to be somewhat better than that of gold and the momentum action is superior, although not exactly fully bullish. Unlike gold, silver short term momentum did not drop into its negative zone during the week and is bouncing upwards. Although silver did move below its short term moving average line it is once more slightly above the line on the Friday close. It looks like things are not all gloomy for silver, at least not at the Friday close. We'll have to see ho things develop during the coming week to see if the positive mood continues.
PRECIOUS METAL STOCKS
The Penny Arcade Index has turned bearish for all three investment/speculative time periods in the Table below. The Table information is computer generated with programs that may differ from what I may normally view directly on a chart. The Penny Arcade this week illustrates one such difference. The Table uses a 30 week weighted moving average for the long term. I usually use a 40 week weighted moving average which is not quite as aggressive as the 30 WMAw. This week the Penny Arcade just crossed below its 30 WMAw line while it is still some distance above its 40 WMAw line. In addition, a different momentum indicator is used in the computer model versus the RSI that I use for my normal analysis. This different momentum is also sometimes slightly different from the RSI and this week is just a very small amount more aggressive ending in its negative zone where the long term RSI is still very slightly in the positive zone. Put these together we get a NEG (BEARISH) rating in the TABLE where I would still give the long term rating a POS or BULLISH rating from my normal weekly indicators. In any case the normal rating is very precarious and could change to the bear with very little extra negative movement by the Index.
Although the Penny Arcade Index may turn around tomorrow, right now it is telling us that gambling on the penny stocks at this time is very precarious and should be avoided for most gamblers. Wait for the Index to turn back to the up side. You should have plenty of potential profits after that.
Merv's Precious Metals Indices Table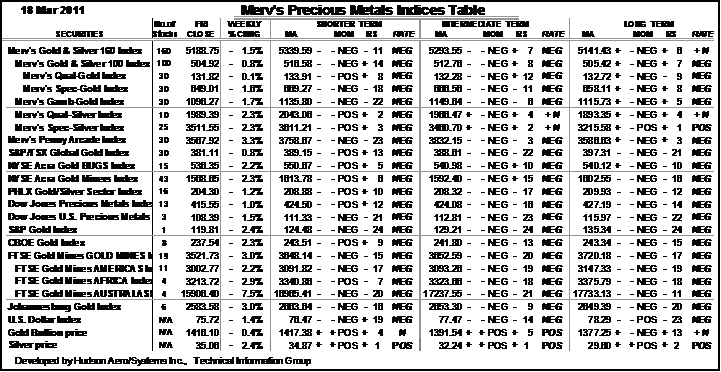 Well, that's it for this week. Comments are always welcome and should be addressed to mervburak@gmail.com.
By Merv Burak, CMT
Hudson Aero/Systems Inc.
Technical Information Group
for Merv's Precious Metals Central
For DAILY Uranium stock commentary and WEEKLY Uranium market update check out my new Technically Uranium with Merv blog at http://techuranium.blogspot.com .
During the day Merv practices his engineering profession as a Consulting Aerospace Engineer. Once the sun goes down and night descends upon the earth Merv dons his other hat as a Chartered Market Technician ( CMT ) and tries to decipher what's going on in the securities markets. As an underground surveyor in the gold mines of Canada 's Northwest Territories in his youth, Merv has a soft spot for the gold industry and has developed several Gold Indices reflecting different aspects of the industry. As a basically lazy individual Merv's driving focus is to KEEP IT SIMPLE .
To find out more about Merv's various Gold Indices and component stocks, please visit http://preciousmetalscentral.com . There you will find samples of the Indices and their component stocks plus other publications of interest to gold investors.
Before you invest, Always check your market timing with a Qualified Professional Market Technician
© 2005-2019 http://www.MarketOracle.co.uk - The Market Oracle is a FREE Daily Financial Markets Analysis & Forecasting online publication.

Only logged in users are allowed to post comments.
Register/ Log in