Gold Breaks into New High Ground
Commodities
/
Gold and Silver 2011
Apr 10, 2011 - 10:15 AM GMT


Into new high ground and no resistance ahead. The only two things to keep an eye on are the global upheavals and the U.S. $. The upheavals are unpredictable but the U.S. $ seems to have only one long term direction, lower. So, the worst long term scenario for gold is a 50/50 upside potential.
LONG TERM
Most of the time when I show a long term P&F chart it's a $15 unit by 2 unit reversal chart (that may be modified as the price continues higher). Even these "long term" charts could change their message on a monthly basis depending upon the gold price action. For a longer term point of view here we have my very long term P&F chart using $50 units with a 2 unit reversal. As you can see we have over 30 years of gold activity condensed into a very simple chart. I'm not sure who would benefit from a very long term P&F chart but here it is for your info.
The only thing of note that I would caution about is that the recent action has reached the upper resistance trend line and a reaction from around these levels (or slightly higher as we have seen a few years back) is highly possible.
As for the normal long term prognosis, well as one would imagine everything looks quite positive, maybe too positive. However, there are a couple of warning signs to keep track of. They are not yet of a serious nature but could turn so with some negative gold action. The price of gold continues to track well above its positive sloping long term moving average line. There is no sign of danger from this indicator, which is the more important indicator towards my rating system. The long term momentum indicator is in its positive zone and moving higher above its positive trigger line. However, here the indicator is still below its earlier October level but is now above its recent early March level. Underperforming but still moving in an upward direction. The volume indicator is also positive and above its long term positive trigger line. But here too the indicator has not yet breached above its level of a couple of weeks back. The bullish surge to new highs by the price has not yet been confirmed by this volume indicator. In any case putting all the indicators together we are still get a rating of BULLISH for the long term.
INTERMEDIATE TERM
The intermediate term view is not much different from the long term view. Gold continues to trade well above its positive sloping intermediate term moving average line. The momentum indicator continues to move higher in its positive zone and above its positive trigger line. It has just moved above its early March highs but remains below its previous highs reached in early October, similar to that of the long term momentum. As for the volume indicator, it has been oscillating above and below its trigger line recently. At the Friday close this indicator is once more above its trigger line with the trigger remaining in a slight upward slope. For the intermediate term the rating remains BULLISH.
SHORT TERM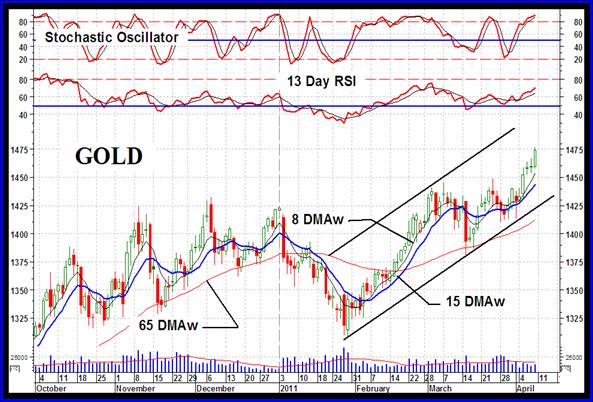 Well, it was up, up all week long for the price of gold but the volume seems to imply that speculators are not all that keen at this time. The daily volume during the climb has been below its 15 day average volume which is usually not all that encouraging for the move longevity. However, having provided that cautionary note everything is still looking roses at the Friday close.
The price of gold is in a rip roaring bull move. Well, so much for the rip roaring great news. The short term momentum indicator IS in its positive zone above its positive trigger line but unfortunately, under performing versus its performance just a month back. As already mentioned, the daily volume action is very low for an upward move in price and consistently remains below its 15 day average volume. Something's gotta give. Either the volume and momentum perk up or the price will have to react. For now, i.e. the Friday close, everything is still okay and the short term rating remains BULLISH.
As for the immediate direction of least resistance, well things from the price and Stochastic Oscillator point of view are just too good. Neither is expected to continue higher forever. The Stochastic Oscillator is suggesting that it might be in a turning process but is still in an upward slope. I expect that slope to change very shortly. However, I do not yet see in the indicators a major drop in price. Most likely the price, once topped out, will move lower slightly but end in some sort of lateral move. I'm going with a lateral trend for the next few days but it's anyone's guess based upon global events.
SILVER
To be consistent with gold I thought I'd show my very long term P&F chart for silver. I call it "my" chart as different technicians may use different unit and unit reversal criteria for their charts and one can visualize many different versions of the P&F chart that one might call very long term. The price trend here seems to be over extending itself so we will have to wait and see what next. There is no early problem of a very long term reversal ahead but looking at other charts we could be in for some volatility on the down side very soon.
Looking at a daily chart of silver we get a somewhat better picture of a bull move than we get from the gold charts. Here, silver is into new bull market highs with the volume indicator confirming the move by moving into its new all time highs. The intermediate term momentum indicator is just about to enter its overbought zone and is just a hair from exceeding its previous peak from the November period. One can say the strength behind this move is equal to the strength behind the move back in Nov, when silver was at the $25 level. So, one might assume that there is still much more room on the up side for silver although nothing goes up forever and we should expect some sort of rest or even a mild correction ahead. For now all indicators are positive for all time periods. The ratings are therefore all BULLISH at this time.
PRECIOUS METAL STOCKS
It's been a terrific week for the precious metal stocks, so much so that one is just worried that it can't last. Almost all of the gold and silver Indices have moved into new high ground with the one noticeable laggard, the Merv's Penny Arcade Index. Although up on the week it has under performed the other Indices and is still below its previous highs. One would not throw in the towel yet but one would be cautious about jumping in and gambling at this time. It just may be a better bet to go with the upper level speculative stocks. Unfortunately, once these penny stocks start to move they move fast and one could lose a lot of potential profits if one is not into them at the right time. With a weekly review a lot can happen here, % wise, before the next review. What should a speculator or gambler do at the present time?
My answer to that question is always, speculate. But what does one mean by speculating? There are different answers to that question depending upon one's mindset towards the markets. My personal view as to what speculation is could be emphasized as "intelligent speculation". This is going with the more speculative or even penny stocks but not blindly. Using the technical discipline one can speculate or gamble intelligently without incurring great risks or loss of capital. The technical discipline gets you into stocks as they are moving, thereby lowering the risk of making an error in judgment. However, nothing is perfect so the technical discipline also gets you out early at minimal loss should you have erred or should the move have ended. The pure speculator buys hoping for moves to happen while the gambler just throws darts at a wall of names and buys what comes up. Neither one has any concept of when an error of judgment has been made and to protect capital.
A quick additional note about gold and silver stocks. Although most Indices have moved into new all time high territory the long term momentum indicators for these Indices is not performing as well. They are, at the present time, still some distance from their previous peaks from late last year. This may result in a dangerous negative divergence if the Indices should turn lower without these indicators making new highs.
PRECIOUS METAL INDICES TABLE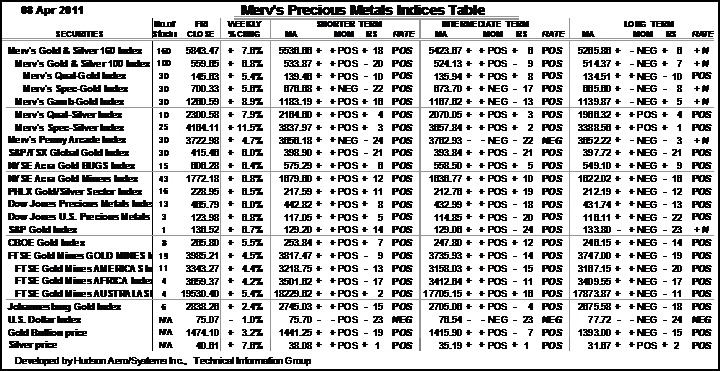 Well, that's it for this week. Comments are always welcome and should be addressed to mervburak@gmail.com.
By Merv Burak, CMT
Hudson Aero/Systems Inc.
Technical Information Group
for Merv's Precious Metals Central
For DAILY Uranium stock commentary and WEEKLY Uranium market update check out my new Technically Uranium with Merv blog at http://techuranium.blogspot.com .
During the day Merv practices his engineering profession as a Consulting Aerospace Engineer. Once the sun goes down and night descends upon the earth Merv dons his other hat as a Chartered Market Technician ( CMT ) and tries to decipher what's going on in the securities markets. As an underground surveyor in the gold mines of Canada 's Northwest Territories in his youth, Merv has a soft spot for the gold industry and has developed several Gold Indices reflecting different aspects of the industry. As a basically lazy individual Merv's driving focus is to KEEP IT SIMPLE .
To find out more about Merv's various Gold Indices and component stocks, please visit http://preciousmetalscentral.com . There you will find samples of the Indices and their component stocks plus other publications of interest to gold investors.
Before you invest, Always check your market timing with a Qualified Professional Market Technician
© 2005-2019 http://www.MarketOracle.co.uk - The Market Oracle is a FREE Daily Financial Markets Analysis & Forecasting online publication.

Only logged in users are allowed to post comments.
Register/ Log in