Silver Price Forecast to Trend to $83
Commodities
/
Gold and Silver 2011
May 05, 2011 - 12:50 PM GMT


Though Markets often Rhyme they rarely repeat:
With everyone and their grandmother calling a blow-off top in Silver we thought it prudent to present an alternate perspective.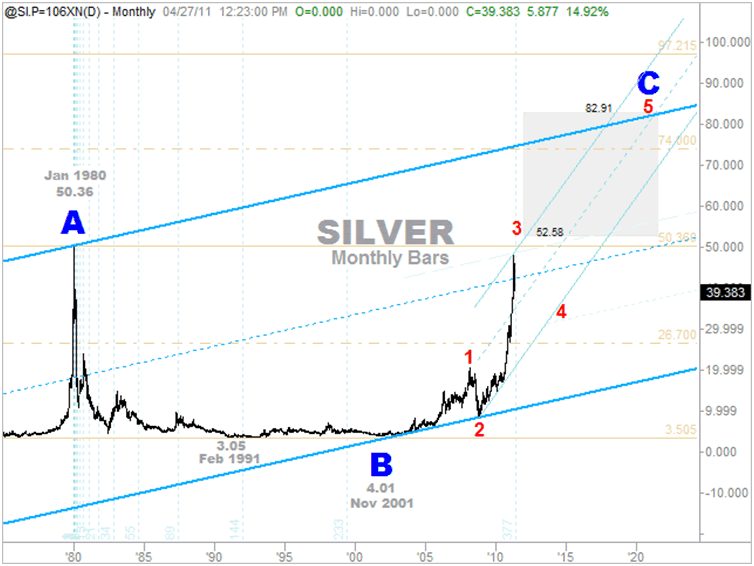 Above is a continuation chart of Silver dating back prior to the Hunt-Brother top at 50.36 in January of 1980. Though at first glance the parabolic rise into the 1980 high looks similar to our current advance in 2011, they are by no means the same.

The big bang from 1975-1980 was "J" shaped meaning that there was at first a slow unassuming rise then a more abrupt and persistent short-lived parabolic explosion, which came out of nowhere. The rally from 10.70 in September of 1979 to the 50.36 print high in January of 1980 took all of 5-months to blow its top.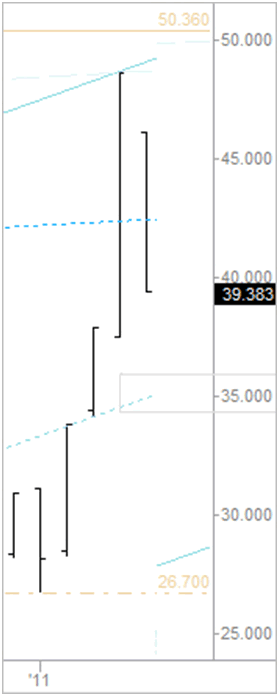 In contrast, the rally from the November 2001 low of $4.01 is defined by distinctive wave structure and consolidation periods. Rather than a short-lived five-month rocket launch without notice, the current move in Silver has lasted for ten years, and has telegraphed its intentions rather generously along the way.

The large uptrend channel drawn from the prospective cycle-degree [A] and [B] waves of 1980 and 2001 is divided by a dashed mid-channel.

The monthly bar segment presented above right shows the gap-down open and subsequent decline in May breaching this mid-channel line of would-be support. In light of its failure, there is another dashed mid-channel of support resting just below near the $35 level.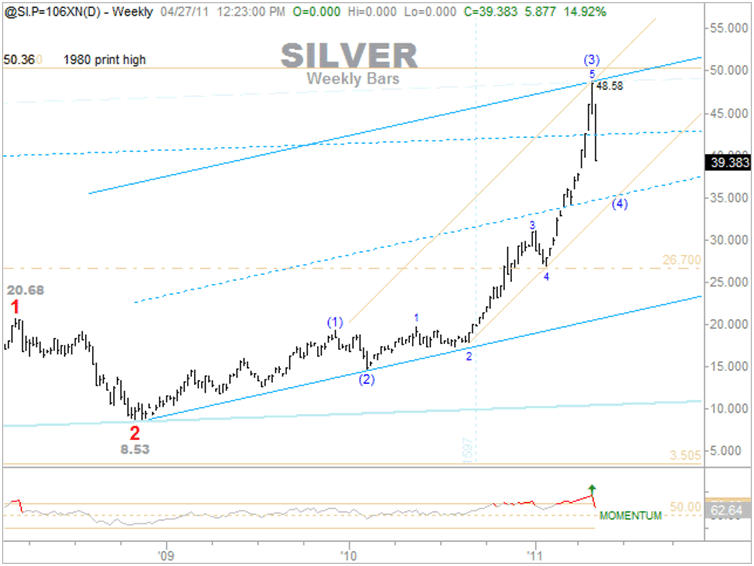 Above is the weekly continuation chart of Silver from its most recent $8.53 print low in 2008. Consolidating to the tune of 58% from its journey north of $20 in March of 2008, Silver resumed an otherwise orderly advance in October of that same year.
Two years later in November of 2010, Silver broke above 26.70, which is the halfway point between its $3.05 low and the historic Hunt-Brother high. After printing a high of $31.09 in early 2011, it pulled back nearly 14% and retested the milestone within the month and began what many now perceive as a three-month parabolic blow-off top just shy of the historic high.

As noted in the long-term monthly chart that began this article, Silver has at least two remaining upside targets that are quite viable going forward. In our contrary technical assessment, Silver maintains an upside price target window that opens at 52.58, and closes at 82.91. The general timeframe for that window spans from June 2011 through 2021.

If such targets are to be achieved, the wave count resident in our weekly bar chart above is the count most likely to be in force. Such a count suggests that the recent print high was that of an intermediate (3) wave, and the current move down will don the eventual (4) wave label.

Given that fifth waves tend to extend in the commodity arena, and that Silver may be approaching only that of an intermediate 4th wave decline, one must not ignore the possibility that Silver's primary 5th wave advance may jettison the poor man's gold to $82 dollars per ounce. At that stage, a blow-off rally might then witness Silver lunge for the $100 mark and possibly fail.

Whatever you do, don't bet the ranch on another 21-year bear market following Silver's April 2011 print high just south of $50.
Trade Better/Invest Smarter
By Joseph Russo
Chief Publisher and Technical Analyst
Elliott Wave Technology
Email Author
Copyright © 2011 Elliott Wave Technology. All Rights Reserved.
Joseph Russo, presently the Publisher and Chief Market analyst for Elliott Wave Technology, has been studying Elliott Wave Theory, and the Technical Analysis of Financial Markets since 1991 and currently maintains active member status in the "Market Technicians Association." Joe continues to expand his body of knowledge through the MTA's accredited CMT program.
© 2005-2019 http://www.MarketOracle.co.uk - The Market Oracle is a FREE Daily Financial Markets Analysis & Forecasting online publication.
Comments
mbcy
16 May 11, 11:51
"Herd of pigs" once again being driven to the dollar-slaughterhouse.


Any mark 3D - it's silver. Billions of 3D screens in the near future...

Any good or any long HDMI cable - it's silver.

Any power supply - its silver. Billions pieces...

Any PC or MAC - its silver.

Any Mobile Gadget - its silver.

Silver Solders used throughout: http://www.cupalloys.co.uk/

Any polymer - a necessary catalyst of silver.

More than 700 tons of silver, we lose every year for the production of polymers only. It is not refundable, it burns irrevocably.

But polymers with each year need more and more. Now polymers are also needed for military purposes.

Each square foot solar array - it is silver.

Any electric heater, toaster, coffee machine, kettle, vacuum cleaner, heater, air conditioner, refrigerator, washing machine or dishwasher - it is all silver.

In addition, each plant industry, each object or power will be restored in Japan - it's silver.

And even every house, which will be rebuilt in Japan - is also silver.

"Herd of pigs" once again being driven to the dollar-slaughterhouse.



William C Fields
22 Jun 11, 14:35
Silver


I have spent a 30 year career in finance and economics, studying and following, among other things, the price of silver and gold. Amazing the changes I have seen over that period and researching prior periods.

I take into account the strength of the US Dollar, the consolidation of the euro and pick apart the US economy in relation to the economy of major financial powerhouses.

Without details, silver will rise to $60.24 (give or take) by the end of this year. Beyond that, in part due to the time required for recovery from the 10 year downturn and threats to the country and its economy, silver will likely outperform gold in in the coming three years. I hold a fair bit of silver today with my average buy-in at less than $10 per ounce. Let's see if I missed my best (near term) opportunity near $50 or if I double where I am today at $36.50 or so.

Please feel free to tear me apart. The opinion is based upon fairly traditional thinking but admittedly, it's like trying to speculate on foreign exchange.... there are no hard and fast rules upon which to rely.

Great site, I enjoy it.

WCF




Only logged in users are allowed to post comments.
Register/ Log in