Gold Bullion Well Supported as Athens Faces Petrol Bombs
Commodities
/
Gold and Silver 2011
Jun 17, 2011 - 07:39 AM GMT


U.S. DOLLAR gold bullion prices bounced to $1528 per ounce Friday morning London time – just below where they started the week – as commodities fell and US Treasuries dipped. Stock markets rallied, but were still on course for a loss on the week.
German chancellor Merkel and French president Sarkozy meantime met to try and resolve the Eurozone's deadlock over Greek debt restructuring.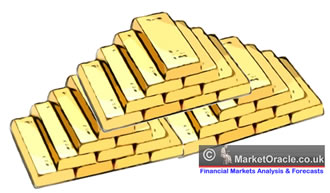 "The alternative to compromise would be outright default," says David Mackie, chief European economist at JP Morgan Chase in London.
"It would lead to a collapse in the Greek banking system and the economy, and would likely generate a significant financial crisis across the region."
"Lingering macroeconomic uncertainty is helping to keep flight-to-safety inflows into bullion well supported," says Swiss precious metals refiner MKS.
"The $1500 an ounce mark [for gold bullion] does not appear to be in any danger," adds the latest note from German precious metals dealer Heraeus.
The gold price in Euros, meantime, fell to €34,371 per kilo (€1069 per ounce) on Friday – 0.4% off last week's highest ever Friday close.
The Sterling gold bullion price was on course Friday lunchtime to set a new record weekly close, bouncing off a low of £944 per ounce, a shade above where it ended last week.
Silver prices also fell before rallying, hitting $35.50 per ounce by the end of Friday morning – 1.9% down for the week.
"With a decline in commodities and the Dollar creeping higher, gold lacked momentum this week to break its lull," said Hwang Il Doo, senior trader at KEB Futures in Seoul on Friday.
"Still, the dip may be a good buying opportunity," Bloomberg quotes Hwang, because the Greek debt crisis "shows no signs of ending."
Greece got a new finance minister Friday morning after a cabinet reshuffle following prime minister George Papandreou's failure on Thursday to form a cross-party national unity government in support of €78 billion of new austerity measures agreed as a condition of a fresh bailout.
Evangelos Venizelos – who stood against Papandreou for the party leadership – replaces George Papaconstantinou.
"Nobody wanted the job," the Wall Street Journal quotes an official source. "Finding someone to replace Papaconstantinou was very difficult."
Protesters in Athens on Thursday threw petrol bombs at the Greek finance ministry.
The austerity measures are "a joke" one protestor told CNN.
"If no one has money and we are just more in debt, who is going to drive the economy?"
The yield on Greek 2-year government bonds fell Friday after breaching 30% the previous day.
Merkel and Sarkozy meet in Berlin Friday in an effort to break the deadlock over a new Greek aid deal.
"The government should only back new aid for Greece with an adequate share from private creditors," says Klaus-Peter Flosbach, financial policy spokesman for Merkel's Christian Democrats.
Any deal would have to "observe a number of red lines" warns Jean-Claude Juncker, chairman of the Eurozone finance ministers, echoing the European Central Bank by calling for no default, no rating downgrades and only voluntary private sector losses.
"The chances of Greece not defaulting are very small," agrees former US Federal Reserve chairman Alan Greenspan, who worries the contagion resulting from a Greek default could leave some US banks "up against the wall".
Away from Greece, Italian prime minister Silvio Berlusconi has asked European Central Bank board member Lorenzo Bini Smaghi to resign, thus enabling the Bank of Italy's Mario Draghi to take the role of ECB president without upsetting the balance of different nationalities on the executive.
"In the last few weeks the situation of the international economic and financial markets got further skewed in favor of [gold bullion]," writes Wolfgang Wrzesniok-Rossbach in German refinery Heraeus's latest weekly note.
"For gold investors here in Germany this could well mean that the next buying spree is only a question of time."
By Ben Traynor
BullionVault.com
Gold price chart, no delay | Buy gold online at live prices
Editor of Gold News, the analysis and investment research site from world-leading gold ownership service BullionVault, Ben Traynor was formerly editor of the Fleet Street Letter, the UK's longest-running investment letter. A Cambridge economics graduate, he is a professional writer and editor with a specialist interest in monetary economics.
(c) BullionVault 2011
Please Note: This article is to inform your thinking, not lead it. Only you can decide the best place for your money, and any decision you make will put your money at risk. Information or data included here may have already been overtaken by events – and must be verified elsewhere – should you choose to act on it.
© 2005-2019 http://www.MarketOracle.co.uk - The Market Oracle is a FREE Daily Financial Markets Analysis & Forecasting online publication.

Only logged in users are allowed to post comments.
Register/ Log in