The Elite Know Something Big Is Coming, But What Exactly Is It?
Politics
/
Social Issues
Jun 18, 2011 - 06:41 AM GMT


Barracuda writes: There are so many theories on what the Earth and Humanity will or could be facing between now and through the next few years to 2025. Depending on who you talk with or what website you look at may say that we are about to experience some kind of cosmic shift of density and consciousness or they may lean towards the whole Doomsday theory based on such ancient predictions from civilizations like the Mayans, Egyptians and Sumerians as well as ancient text like the I Ching.
The hot topic these past few years has been mostly the discussion of the theory of a galactic body of various origins flying through space on a head on collision for our Solar System and Earth being the target. The popular names are Nibiru, Planet X and now Comet Elenin (which depending on what information you look at is either labeled as a Comet, Asteroid or Brown Dwarf Star). For the past two years I have off and on researched theories and research about Planet X and Nibiru and I have yet to see any proof that is valid enough to give me a solid platform to make a decision. I am certainly not ruling either theory but discretion with a Doomsday theory is important.
Recently I have been looking a lot at this Comet Elenin that NASA, JPL and other space agencies around the world have been monitoring and I must say this one has me watchful. Now unlike Planet X or Nibiru there is actual data of the monitoring of Comet Elenin. Oh yes I know that if Nibiru or Planet X does exist we aren't getting the truth about it but it does seem curious what has been recently going on around the world and with governments since Elenin came into the public's eye.
Now I am not here to tell you what to believe or not believe. I am simply as always give you my perspective on what I am witnessing currently with the planet and try to bring it together for you so that we can try and make sense of what may be coming that is being kept a secret from us. Strange things are taking place on a global scale which is leaving us all to ask why. Animal Pandemics, unusual Climate changes (Not the kind the Elite tell us), an increase and intensity of every kind of natural disaster, continental shifts and increasing activity in our solar system which is effecting every planet including the Sun which in turn has an effect on us. These increasing number of Lunar, Planetary and other cosmic alignments seem to be having quite the effect on people as well both bad and good. However cosmic alignments have happened forever. So why would these cosmic events be effecting our planet and Humans now? Why is this happening? These are the questions we all need to ask ourselves.
It is no secret that governments have been increasing the building of massive underground facilities, seed vaults and hording life sustaining essentials recently. Many of the Global Elite have either purchased huge amounts of property in the Southern Hemisphere, specifically South America, and some have already moved there. It would also seem that there is a massive increase in them stating publicly that everyone must make any preparations for disasters. Depending on what agency or government is expressing this concern also depends on the disaster. Some of the major disasters being advertised right now are Nuclear, Pandemic, Chemical-Biological, Natural (on global scale), Solar, Global Warming and even Cosmic to name a few. How interesting that none will touch the purposely Man-Made disaster issue. Recently I found a video that caused me to look deeper into this new Global Emergency Preparedness craze.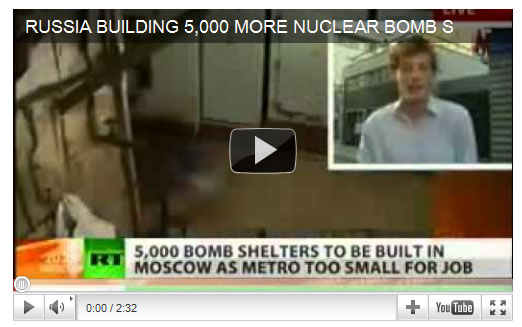 Are the Russians really building these underground shelters in the event of a nuclear disaster? The little neutral country of Switzerland already has enough underground facilities to provide shelter for every single Swiss citizen. Something the United States government would never do. Did you know that the United States government on average builds two to three deep underground facilities each year? That doesn't even include the ones already built that are constantly being added to. I am going to share a little story with you all but first I want you to look at some other information that sparked this report. Like I said I cannot confirm the existence of Planet X or Nibiru but I can confirm Elenin.
By Chris Kitze
A long career in digital media led to Before It's News, the People Powered News site that is quickly becoming a leading source for alternative news. We've got a great team of very bright and hardworking people with an incredible market opportunity that's been handed to us by a corrupt media and government. We're here to help you get your news out, that's why this site exists.

© 2011 Copyright Chris Kitze - Disclaimer: The above is a matter of opinion provided for general information purposes only and is not intended as investment advice. Information and analysis above are derived from sources and utilising methods believed to be reliable, but we cannot accept responsibility for any losses you may incur as a result of this analysis. Individuals should consult with their personal financial advisors.
© 2005-2019 http://www.MarketOracle.co.uk - The Market Oracle is a FREE Daily Financial Markets Analysis & Forecasting online publication.
Comments
Taken By The Greys
15 Jul 11, 00:15
underground facilities


There is a reality that most are unaware of..and we have been lied to about it for most of our existence.

The reality is ET is here and real..and there are events to come.

I know..I have been taken by the greys and I had knowledge of certain things "placed" inside of my mind by them. Through my life time of close encounters..I have come away..seeing far more than most ever likely will.

I know there are events coming..I also know that being underground will not save anyone as it has in the past.

The force that is to come..is so large that neither man nor ET can stop it.

The "elite" are aware..and they want to make sure that they have safe passage..before and above all others.

Google Taken By The Greys to get to my blog and ..learn truth..hard honest truth.




Only logged in users are allowed to post comments.
Register/ Log in