Gold and Silver Which Direction Next?
Commodities
/
Gold and Silver 2011
Oct 03, 2011 - 01:59 AM GMT


The bulls are saying gold is ready to turn and go into new highs, the bears are saying watch out below, I'm saying who knows? The best I can say is where we are and the direction gold (and silver) is headed. But for how long and how far, that's guess work or "predictions".
GOLD : LONG TERM
The long term position of the gold price has not changed BUT is very close to doing so. The price has now dropped to the point that it is sitting almost right on top of the long term moving average line and the long term FAN trend line shown here recently. A close below the $1600 level would take gold below its moving average line and set the stage for a serious down grading of the long term rating. Gold could move to the $1490 level or below, based upon different P&F charts. For now, let's see how it ended the week.
Trend: Gold close the week just above its still positive sloping long term moving average line. The line has been turning towards the horizontal and getting close to turning downward should gold close below $1600.
Strength: The strength of the recent long term gold price move has been steadily deteriorating. However, the long term momentum indicator (my measurement of the strength of the price move) is still in its positive zone but some distance below its negative sloping trigger line. The trigger line turned downward in the third week of August and has been steadily increasing its downward slope since.
Volume: The volume indicator has now started its downward spiral having moved below its long term trigger line. The trigger itself turned to the down side on Wednesday and remains in a downward slope.
At the Friday close the long term rating remains BULLISH but is very close to being downgraded should the price move lower.
INTERMEDIATE TERM
The intermediate term rating went bearish last week and nothing has happened this week to change that.
Trend: Gold remains below its negative sloping intermediate term moving average line. It is also below its intermediate term FAN trend line trapping the action between the intermediate and long term lines.
Strength: The intermediate term momentum indicator stayed in its negative zone throughout the week and closed there. It is also below its negative sloping trigger line.
Volume: The volume indicator remains below its intermediate term trigger line and the trigger is getting progressively weaker, i.e. turning more negative in its slope.
On the intermediate term the rating at the Friday close remains BEARISH. This bear is now confirmed by the short term moving average line having moved below the intermediate term line during the week.
SHORT TERM
The plunge in gold price seems to have stopped for now. It even looks like we might get a rally of some sort very soon. However, that's tomorrow. Let's look at today.
Trend: As the chart shows, gold has basically been moving sideways these past few days. However, it remains below its negative sloping short term moving average line.
Strength: The short term momentum indicator has remained in its negative zone throughout the week. It did break just a hair above its trigger line on the Friday close but the trigger remains sloping downward.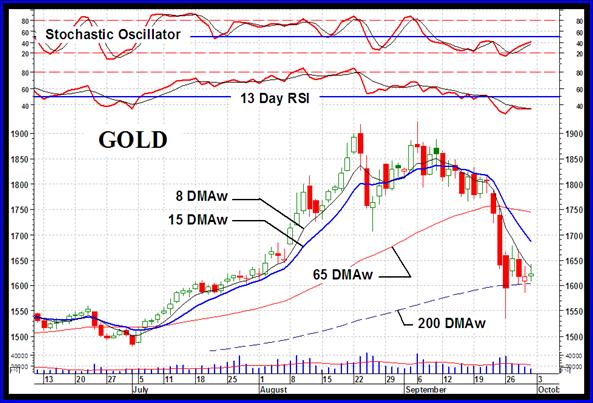 Volume: The daily volume action is about as one would expect during a negative moving price trend. The volume was high on the volatile down days but cooled of a lot during the sideways days. We are waiting to see the daily volume activity improve on positive days but that is not here yet.
On the short term the rating at the Friday close was still a BEARISH rating. This is confirmed by the very short term moving average line remaining below the short term line.
As for the immediate direction of least resistance, where is my coin to flip? With an improving Stochastic Oscillator (although still in its negative zone) and the price activity during the week remaining above its Monday low point I'll go with the up side for a rally but wouldn't put any money on it until it moves above the $1680 level.
SILVER
Although gold remains above its June/July levels silver has dropped below its previous June/July support level and now the $34 mark is a resistance to any rally. It did touch the $28 level mentioned last week leaving only the $13 as the next downside projection, at least from the P&F perspective. For now silver looks to have stabilized and may be ready for a rally but needs to breach that $34 level to get any move on.
My silver commentary is usually shorter than my gold commentary. I did go though the long, intermediate and short term indicators last week and nothing much has changed for this week. All three time periods remain BEARISH at the Friday close and I'll omit the individual indicator review this week.
Merv's Precious Metals Indices Table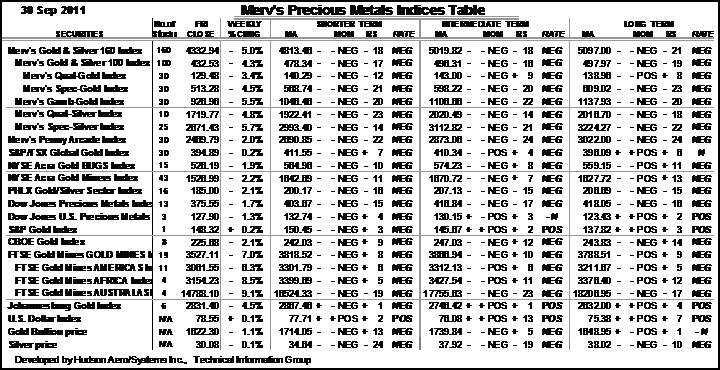 Well, that's it for this week. Comments are always welcome and should be addressed to mervburak@gmail.com.
By Merv Burak, CMT
Hudson Aero/Systems Inc.
Technical Information Group
for Merv's Precious Metals Central
For DAILY Uranium stock commentary and WEEKLY Uranium market update check out my new Technically Uranium with Merv blog at http://techuranium.blogspot.com .
During the day Merv practices his engineering profession as a Consulting Aerospace Engineer. Once the sun goes down and night descends upon the earth Merv dons his other hat as a Chartered Market Technician ( CMT ) and tries to decipher what's going on in the securities markets. As an underground surveyor in the gold mines of Canada 's Northwest Territories in his youth, Merv has a soft spot for the gold industry and has developed several Gold Indices reflecting different aspects of the industry. As a basically lazy individual Merv's driving focus is to KEEP IT SIMPLE .
To find out more about Merv's various Gold Indices and component stocks, please visit http://preciousmetalscentral.com . There you will find samples of the Indices and their component stocks plus other publications of interest to gold investors.
Before you invest, Always check your market timing with a Qualified Professional Market Technician
© 2005-2019 http://www.MarketOracle.co.uk - The Market Oracle is a FREE Daily Financial Markets Analysis & Forecasting online publication.

Only logged in users are allowed to post comments.
Register/ Log in