Perhaps the Universe will Never Blink
Politics
/
Resources & Reviews
Dec 24, 2007 - 02:16 PM GMT

Bill Bryson's 'A Short History of Nearly Everything' is a truly remarkable book. It is an ambitious attempt to decipher the mysteries of universe. Genuinely enthralling, it is a unique travelogue of science. Starting from the immensity of the universe, it beams us into the heart of sub-atomic particles and then some more. It is a captivating scientific journal and an extraordinary collection of information.


From the book, I came to know of the intricate assemblage and vacillating nature of the trillions of wandering atoms that form us human beings. And that these atoms are not really interested in doing that and, given a chance, are ready to drift off again to form up something entirely different. And that survival on our planet is a pretty tricky business any way, what with 99.99 % of the billions and billions of species that have existed since the dawn of time now being extinct. And that though our planet is very good at advancing life, it is even better at smothering it.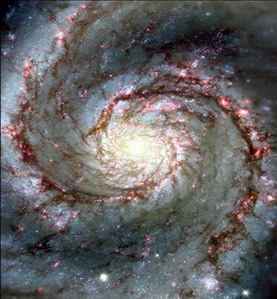 I came to know that as far as the scientists can presently tell, we may be all there is in the cosmos. And with the way we are exterminating each other and the life forms around us, we may be the living universe's supreme attainment and its worst horror simultaneously. It was estimated, according to the book, that by early 1990s, we were extinguishing some 600 life forms per week.
The book does give us hope though. It observes that behaviorally modern human beings, meaning us, have been around for no more than 0.0001 per cent of Earth's history and are, therefore, at the beginning of it all. It assures us that though less than the blink of an eye for the universe, with the average life span of a living species on planet earth being about four million years, we have a chance to be around for a long time yet.
It warns, however, that to survive as just a life form, we must be able to adapt and change everything about ourselves i.e. shape, size, color, physical attributes etc. And that we don't really know what exactly we will have to be doing to do that. Whether we will grow fins, or horns, or tails or wings or will be laying eggs or have forked tongues or be slithering on the ground or under ground or licking algae from a cave wall, all depends upon the next arrangement of atoms. An arrangement that too is likely to be as fickle as the present one.
In between, the book moves to the matchless grandeur of our universe and its unimaginable enormity. It informs that just the visible universe is a million, million, million, million miles across and the meta-universe, the invisible one, is vastly more spacious. According to scientists, the number of light years to the edge of this larger, unseen universe would not be written 'with ten zeros, not even with a hundred, but with millions'.
The average distance between stars out there, according to the book, is some 30 million million kilometers. Though nobody knows exactly how many, stars in the Milky Way are estimated to be any where between a hundred billion to four hundred billion. The Milky Way itself is just one of a hundred and forty billion or so other galaxies, many of them even larger than ours. Carl Sagan calculated the number of probable planets in the universe at as many as ten billion trillion. The universe is a frighteningly big place.
'A Short History of Nearly Everything' is a very informative book. It is also unnerving.
It is unnerving because it shows with sharp clarity the nothingness of planet earth in the indescribable immensity of space. It shows the pangs of its birth, the uncertainty of its being and the vagueness of its future. It shows the temporariness of the arrangement of atoms that is currently known as a human being.
The book is unsettling because it informs us that when compared to the billions of light years expanse of the universe, human life, at an average of about 650,000 hours, is not even a fleeting instant. It is disturbing because thus informed, the shenanigans of human beings with each other and the mischief they create on planet earth looks such a total waste of this fleeting moment. Above all, it is a disquieting book because despite a brave attempt, it fails to answer with a definite finality who are we, where did we come from and where are we going.
So what do we do? Bill Bryson's book throws more questions at us than answers. The cold logic of its science is not entirely conclusive. The lulling embrace of the priest, the alternative, is too blinding.
The answer perhaps lies in a series of 'perhapses' .
Perhaps , at this juncture, Bill Bryson's book could not have possibly answered all the questions to every one's complete satisfaction.
Perhaps nothing is what it seems.
Perhaps the human mind, because of its inability to decipher the universe, creates mirages as a replacement for that. Which, perhaps , become the existing realities when these work well for the hypothesis. Perhaps , let alone the universe, there is more information in one grain of matter than can be understood by a billion human brains. Perhaps the grain of matter is the universe and the universe is but a grain of matter.
Perhaps we delude ourselves too much by calling ourselves the most special of God's species and claiming the universe as having been created as our playground. Perhaps we are not the only ones endowed with the miraculous properties of souls and morality and free will and love, some other matter forms too may have these. Perhaps our omnipotent God, to whom we tend to grant our human qualities of observation and love and vengefulness and forgiveness, has no unique interest in our progress and activities and is as attentive, if not more, to rocks and trees and plants and animals too.
Perhaps a tree calls itself a human and calls us 'the trees'. Perhaps things will be clearer when a rock or a tree writes its own 'Short History of Nearly Everything'.
Perhaps it is too illogical to first characterize God as all-powerful who knows everything, can create anything, can destroy anything and then encumber him with our own bigoted view of our overriding importance. Perhaps to Him, nothing in the universe would be more remarkable, more valuable, more helpful, more menacing, or more essential than anything else.
And that is why, perhaps , the universe is what it is and the peculiar collection of molecules that makes us human beings will only stay in this arrangement for less time than it takes the universe to blink.
But who the hell cares? Perhaps the universe will never blink.
By Anwaar Hussain
http:/www./truthspring.info
Copyright © 2007 Anwaar Hussain
Anwaar Hussain is an ex-F-16 fighter pilot from Pakistan Air Force. A Masters in Defense and Strategic Studies from Quaid-e-Azam University Islamabad, he now resides in UAE. He started writing as a hobby not very far back and has, since then, published a series of articles in Defense Journal, South Asia Tribune and a host of other web portals. Other than international affairs, Anwaar Hussain has written extensively on religious and political issues that plague Pakistan.
© 2005-2019 http://www.MarketOracle.co.uk - The Market Oracle is a FREE Daily Financial Markets Analysis & Forecasting online publication.

Only logged in users are allowed to post comments.
Register/ Log in