The U.S. Government is Run by Liars, Like Their Drones Federal Employees Will Crash
Politics
/
US Politics
Dec 27, 2011 - 02:15 AM GMT

The U.S. government is run by liars. Every civil government is run by liars. This is the nature of civil government. We may hope for incompetent liars. We may hope for little white liars. But to hope for a civil government run by truth-tellers is utopian.
Second, the U.S. government routinely violates laws. It routinely violates decency. But it would be an exaggeration to say that it is run by fools. On the contrary, it is run by self-interested bureaucrats who fully understand that American voters are the fools, not the bureaucrats.
Let us not identify inaccurately the source of the foolishness.
If people who run the government learned that, every time they did what looks like an utterly foolish thing, their department's budget were cut by (say) 2%, and yet they kept doing similar things, then they could reasonably be classified as fools. But this is not what happens. Every agency always has its budget increased in the next fiscal year. Also, only rarely does a liar who is caught in a whopper get fired. I would say "never," but neither I nor anyone else can follow the number of official lies in Washington in one day, let alone an entire fiscal year. So, I will just say "rarely."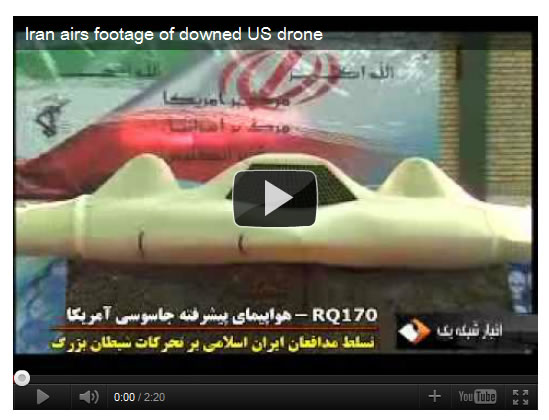 DRONES IN CHARGE
The drone incident is unquestionably a juicy example of incompetent lying. The guys in charge of the CIA's drone operation sat down and said, "What lie can we get away with? Let's run it up the flag pole and see if anyone salutes." So, they issued an obvious whopper. No one saluted. Then they issued another one. And another. Then, at the end, they told as little of the truth as they thought they could get away with.
These days, the mark of not successfully lying your way out of a problem is this: Jon Stewart does a segment on you on The Daily Show. This is what happened to the Liars in Charge of the Drone Fiasco. He really got them.
The CIA really does not care that the public figured out that the CIA lied about the drone. Why should it? The CIA's budget is a black operations budget. Congress never sees it. The CIA always gets its money. There has never been a Senator who has proposed that the CIA's budget – whatever it is – should be cut by 20% or more. This fact has less to do with life insurance mortality tables and opposition to the CIA's budget than it does with the fact that the national security state always grows, never contracts.
It grows at varying rates in different periods. These days, it is growing faster than ever. The 93 to 7 vote in the Senate on the 2012 update of the National Defense Appropriations Act is indicative. The section on incarcerating American citizens inside the USA without trial, if they are accused of being terrorists, is representative of where we are heading: over the falls.
The voters did not rise up in opposition. The Senate had accurately judged the public.
The voters are fools. The Senators are not.
Stewart put together a clever introductory segment for his show, and on December 7, no less – the 70th anniversary of Pearl Harbor. So, the day wasn't all bad. As long as we're going to lose the Constitution – and we obviously are – we might as well get a few chuckles out of it. I do not know how many people will read this essay. Not too many, I fear. This will not be forwarded in the way that a new Kicesie video would be. What's that? You say you have never heard of Kicesie. You know: the sex ed girl. Doesn't ring a bell? Well, where have you been? Her YouTube videos have had over 300 million views. This was a mere 225 million back when I wrote about her a year ago.
If you want to know why the Senate could vote 93 to 7 to incarcerate Americans without trial, and not get deluged in protests, visit her YouTube channel. Americans have other concerns besides the Constitution.
EISENHOWER'S WARNING IN 1961
But I digress. The problem we face now is the increasingly rapid loss of our freedoms. The lost drone incident is indicative. The CIA has for years been flying drones over Iran's air space. Now one of the drones has fallen into their hands. Over 50 years ago, the same thing happened to a U2 spy plane. The Soviets shot it down. They captured the pilot. There was no way for Eisenhower to lie his way out of this. He told the truth.
Eight months later, in his final days in office, he gave his famous speech on the military-industrial complex. There have only been four speeches by a sitting American President that have been widely quoted: Lincoln's second inaugural ("with malice toward none"), Roosevelt's first inaugural ("nothing to fear but fear itself"), Ike's speech, and Kennedy's "ask not" inaugural address three days later.
As Presidential speeches go, Ike's was arguably the greatest. It was not given at the beginning of a term in office. It was not a political speech, which made it unique. It was given at the end of his years in office. Unlike George Washington's Farewell address in 1796, which was in fact a newspaper article, Ike's was a real speech. It was televised. It was his parting shot. And what a shot it was! Here was a man who was the butt of jokes regarding his lack of eloquence, who finally came clean. He had the ability to see the larger picture.
He was like the sorcerer's apprentice. He had overseen the creation of a new American order. He was in fact its incarnation: first as a general and then as President. He did not know how to control this new order, yet he knew that it had to be controlled. But by whom? In terms of what negative sanctions? He did not know.
Our military organization today bears little relation to that known by any of my predecessors in peacetime, or, indeed, by the fighting men of World War II or Korea.
The war in Korea ended in his first year in office: a truce, not a peace treaty. Now it was his last week in office. He was saying that there had been a fundamental change during his administration. It could not be rolled back.
Until the latest of our world conflicts, the United States had no armaments industry. American makers of plowshares could, with time and as required, make swords as well. But now we can no longer risk emergency improvisation of national defense. We have been compelled to create a permanent armaments industry of vast proportions. Added to this, three and a half million men and women are directly engaged in the defense establishment. We annually spend on military security alone more than the net income of all United States corporations.
Now this conjunction of an immense military establishment and a large arms industry is new in the American experience. The total influence – economic, political, even spiritual – is felt in every city, every Statehouse, every office of the Federal government. We recognize the imperative need for this development. Yet we must not fail to comprehend its grave implications. Our toil, resources, and livelihood are all involved. So is the very structure of our society.
He then issued a warning. But he did not offer a solution. Any development for which there are no operational negative sanctions is in positive-feedback mode. It will grow. He saw this, but he offered no cure.
In the councils of government, we must guard against the acquisition of unwarranted influence, whether sought or unsought, by the military- industrial complex. The potential for the disastrous rise of misplaced power exists and will persist. We must never let the weight of this combination endanger our liberties or democratic processes. We should take nothing for granted. Only an alert and knowledgeable citizenry can compel the proper meshing of the huge industrial and military machinery of defense with our peaceful methods and goals, so that security and liberty may prosper together.
Where was this "alert and knowledgeable citizenry"? What influence did it have? None, either then or now.
Akin to, and largely responsible for the sweeping changes in our industrial-military posture, has been the technological revolution during recent decades. In this revolution, research has become central, it also becomes more formalized, complex, and costly. A steadily increasing share is conducted for, by, or at the direction of, the Federal government.
He understood that there was a need for peace, for disarmament.
During the long lane of the history yet to be written, America knows that this world of ours, ever growing smaller, must avoid becoming a community of dreadful fear and hate, and be, instead, a proud confederation of mutual trust and respect. Such a confederation must be one of equals. The weakest must come to the conference table with the same confidence as do we, protected as we are by our moral, economic, and military strength. That table, though scarred by many past frustrations, cannot be abandoned for the certain agony of the battlefield.
Disarmament, with mutual honor and confidence, is a continuing imperative. Together we must learn how to compose differences, not with arms, but with intellect and decent purpose. Because this need is so sharp and apparent, I confess that I lay down my official responsibilities in this field with a definite sense of disappointment. As one who has witnessed the horror and the lingering sadness of war, as one who knows that another war could utterly destroy this civilization which has been so slowly and painfully built over thousands of years, I wish I could say tonight that a lasting peace is in sight.
Ike's speech has had no effect. The Soviet Union collapsed 20 years ago this month, but still the military- industrial complex grows. Still, there is no peace. And now the forever war is going to be brought home. The vote was 93 to 7.
The military-industrial complex is stronger than ever. We have high-tech drones now, rather than manned U2s. The technology is better and cheaper; the spying is more extensive; and the Constitution is less honored. It has been more of the same: an extension that was implied in 1865, when Lincoln gave his speech. Lincoln had his Pinkertons. But they were limited to the geographical USA. The military is not – not any longer.
The extension of federal power is relentless. We know this, because the budgets never shrink. There is no roll- back of any federal agency's budget due to a scandal. The scandals are like tips of floating icebergs. The employees understand that there are never any agency-wide negative sanctions imposed by Congress. Congress knows that the voters do not care. The voters have other concerns. So, the expansion continues.
NEGATIVE SANCTIONS
There are none that voters are willing to impose. This is clear today as never before. There is no extension of federal power into our lives that the public will oppose.
Why not? There are many answers. The main one is this: there is no widespread opinion that the budget of the U.S. government must be cut. Every special-interest group says, as best, cut someone else's access to the gravy train.
Ron Paul campaigns on cutting the government's budget. Everyone who resents the federal government's intrusion into his life senses an ally in Ron Paul. This is why he gets a hearing on the Internet. But he faces this challenge: everyone also sees himself as benefitting from some federal program that Paul will cut, and who says he will cut. The pain of facing such a cut outweighs the commitment to cutting across the board.
Those who agree with Ike's call to cut the military find themselves with no other choice except Paul. He is the first nationally known candidate in 70 years to campaign on this platform: "national defense, not war." But the public does not agree. The media know this. So, they say he cannot be elected.
The gravy train feeds too many voters. They fear the overall cuts, because they think they are dependent on one or another flow of funds from Washington.
Then what can reverse the process? Only one thing: the bankruptcy of the federal government.
The media say: "A national government cannot go bankrupt." But the Soviet Union did.
The media say: "The government can always print money." So could the Confederacy (1861-65).
The media say: "The voters will not vote to shut down the government." But what if they refuse to accept worthless money?
The media say: "Bernanke says the Federal Reserve can supply money and still keep prices stable." He also said there was no housing bubble.
Negative sanctions will come. The problem is, they will come on just about everyone in the USA when they come. Like the Hebrews in Egypt, they had to get to the Promised Land by way of the wilderness. It took 40 years.
CONCLUSION
The drone incident reflects the world in which we live. A out-of-control government agency got caught with its drone down. It lied. It lied stupidly. It lied incompetently enough to make it onto The Daily Show. But this will change nothing.
The amazing thing is not that the CIA lied. It would have been amazing if it had told the truth from the beginning. The amazing thing is that President Obama asked Iran to give it back.
We should regard this as a transfer of Western technology to a developing nation. Our only hope now is that Iran will respect the patent rights of the company that sold the drones to the CIA.
I don't think the Iranian government is that foolish. As I said at the beginning, government officials are not fools. They are self-interested. They usually know what they can get away with.
When you think of federal employees, don't think "fools." Think "drones." They are going to crash.
Gary North [send him mail ] is the author of Mises on Money . Visit http://www.garynorth.com . He is also the author of a free 20-volume series, An Economic Commentary on the Bible .
© 2011 Copyright Gary North / LewRockwell.com - All Rights Reserved
Disclaimer: The above is a matter of opinion provided for general information purposes only and is not intended as investment advice. Information and analysis above are derived from sources and utilising methods believed to be reliable, but we cannot accept responsibility for any losses you may incur as a result of this analysis. Individuals should consult with their personal financial advisors.
© 2005-2019 http://www.MarketOracle.co.uk - The Market Oracle is a FREE Daily Financial Markets Analysis & Forecasting online publication.
Comments
MountainMan
28 Dec 11, 03:09
sheeple locked into deep denial


Great article. The sleeple and sheeple still locked into deep denial at the hands of the corporate-sponsored consensus reality will likely react negatively according to their pre-programmed instructions. Those who can stomach truth, however, should find it quite refreshing.



Nadeem_Walayat
28 Dec 11, 08:59
Sheeple


People are constantly being brainwashed to believe that debt is good, inflation is good and the polticians act on their behalf.

The biggest con job in the UK is the NHS, people actually believe that the NHS serves them instead its the other way around, forced to pay for over 1 million that ride the NHS gravy train for what amounts to a worthless health service!

Scrap the WHOLE public sector and let them compete ! That is the only solution, competition !

Yes, I know the bankrupt banks were bailedout, they should nto have been they were because the politicians are in the back pockets of the bankster elite.

Best

NW




Only logged in users are allowed to post comments.
Register/ Log in