Are US Treasury Bond Markets a Sell?
Stock-Markets
/
Financial Markets 2012
Feb 04, 2012 - 12:28 PM GMT


Impressive gains on stocks, it seems nothing can derail this trend atm.
Finally however we meet some awaited targets, although I will be the 1st to admit I am really pushing the boat here and allowing for the bears to come up with some magic before I potentially revert and relinquish and ideas of seeing a reversal.
Sometimes you got to know when to fold, we are at that point where if the bears don't come up with something, then the likely hood is that the markets are in something special and a test of the Oct 2007 highs are most probable.
I have been more interested in the NDX that any other US market, from a technical perspective if offers more clues that the other major markets.
However we have reached a point where the bears really do need to find some magic or a miracle to derail this beast of a trend from Dec 2011 lows, its exceeded my targets, and I am trying to give the benefit to a potential reversal up here, but if it don't come, then the bears are in trouble.
My original targets were 2400 on the NDX and SPX 1300-1320, but so far nothing to suggest a reversal.
What we do have is price structure, and a very giddy market that thinks that it can never reverse now.
Those same components were in place at the 2011 highs.
But we have yet to see any impulsive price structure to suggest a reversal.
Potentially the trend now from this area is a trend setting move and one that could last out for months potentially a year or so.

NDX
From the Dec 2011 lows, I have always maintained that direction from the NDX will likely decide the direction of the other major markets.
AAPL being a major component of the NDX, both markets are at a point where they either reverse or we are in the middle of something that is very special and those Oct highs from 2007 are likely going to be tested on the DOW and SPX.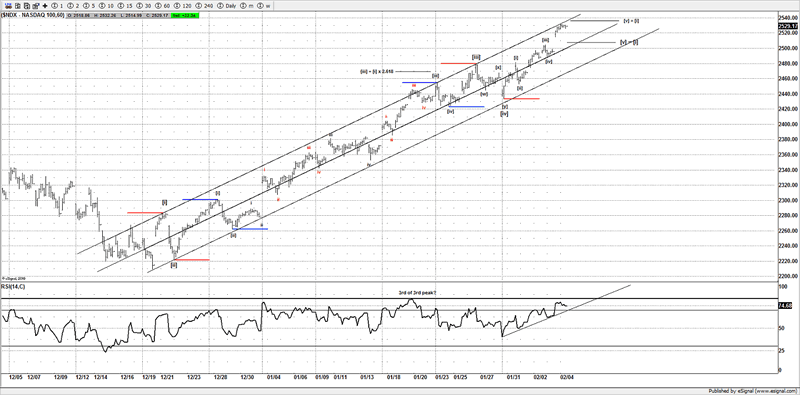 From my technical work that's as clean as you will see in Elliott Wave counting.
I am extremely impressed that its pushed above my 2400 target, and exceeded it by a margin, but now this needs to prove itself or the bears really are in trouble, and a potential blow off style move in stocks has started.
So early next week, sellers arrive or bears got some serious issues.
From a long term perspective this could also be the end to a move from 2008 and ended a 5 wave advance, so it's something that I am watching closely.
Although I don't put my faith in long term counts, I tend to focus on 60 min and 240 min counts. But the potential is there for this to have ended a large ABC from the 2002 lows.
Failing to see a swift reversal will suggest that the markets are involved in something extremely bullish and the NDX like the SPX and DOW will be pushing higher.
This really is a key and crucial time for the markets as the direction from this area should be a trend setting move.
The bears are running out of time, they need to step up to the stage and find some "mojo" fast.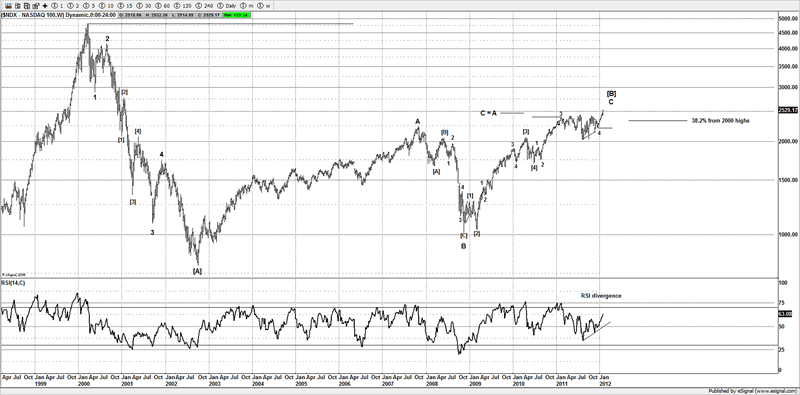 AAPL
Well this did eventually hit my $430 target, but like other markets it's exceeded it by a bit, although this has what I would call a clean text book Elliott Wave count.
It aligns well with the NDX, which it should, as the AAPL is the largest component of the NDX.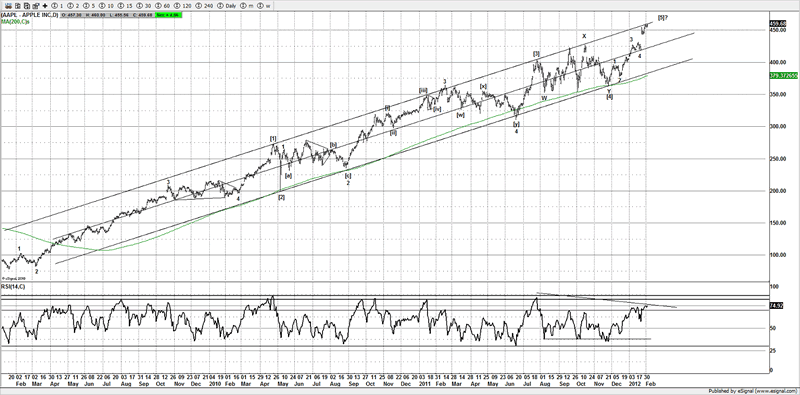 It's still showing the negative divergence I would expect for a 5th wave, however should this stock continue to push higher and the US markets just keep running over the bears, then it will leave me in no doubt that we are involved in something special since the Dec 2011 lows.
Whilst I was expecting higher, this area is a big choice area for both parties, direction from here should decide a trend setting move.

ZN (10Yr) & ZB (30 YR)
I have been watching this for a while and the usual alignment between stocks and US treasuries appears to have broken down, we have been seeing stocks rally with US treasuries, usually if stocks rally US treasuries get sold. However the FED has decided it wants to mess with the natural forces and suppress yields.
Recently this has really struggled to push higher; although I suspect we have a completed pattern now in place, and ended what I suspect is an Ending Diagonal (ED) on the ZN contract.
Logically seeing a reversal in the 10YR and 30yr paper should suggest money flows out from the safety of US treasuries, into stocks and traders feel comfortable buying risk again.
But the markets have disturbingly lost that link between US treasuries and US stocks.
It could be that money is flowing into US stocks and US treasures due to the European situation.
We now have a completed pattern in this market and potentially seeing an aggressive reversal.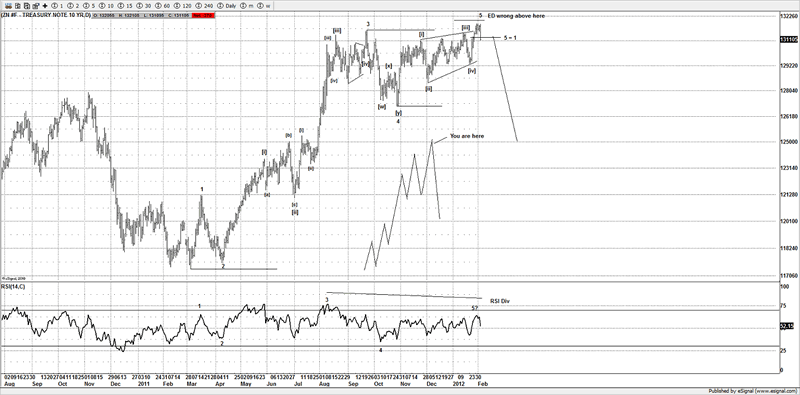 With a new high, this is finished and potentially could mark an aggressive reversal, so traders potentially have a great setup for a swift move lower.
One caveat is bonds appear to need one more wave as the long term count is virtually completed, although I am open to the suggestion that a failure has been seen.
I suspect the FED thinks it can control rates forever, and congress with the FED at its back thinks as well.
A free tap to turn on/off whenever it pleases even the president can't seem to stop spending.
We'll try as they might; the bond market will have the last laugh, as traders and investors won't buy US paper at suppressed rates forever.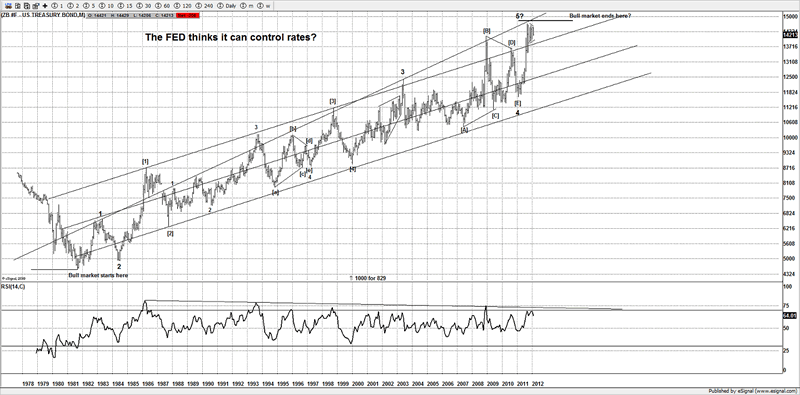 It seems to me the trend is virtually finished, although closer up reveals that we could have one more wave to finish the trend, but I am open to the fact that we could have put in a high if we see some major downside.
There was a divergence between the 10YR and 30YR paper, the ZN contract put in a new high yet the ZB contract failed to do so. I think that's an important clue.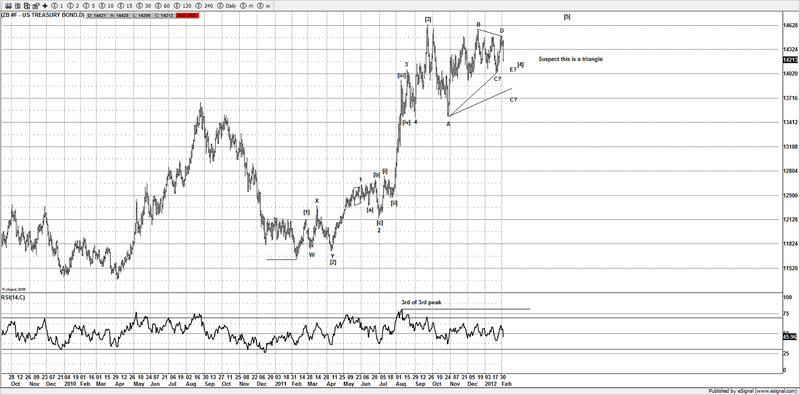 MUB
Back in Dec 2010 Meredith Whitney on CBS and made a call that municipal debt would likely collapse and some states and municipals will default.
Personally I actually do believe that will eventually happen, as if the tax base is dwindling from the people leaving the workforce, then the states are going to have less $$$ to spend, whist you can keep playing pass the "hot potato" and sell more bonds to cover interest payments, that in effect is a default, as if you actually have to go to the market to find $$ just to pay you interest payments, how is that any difference to the Greece situation?
The FED policy has forced traders and investors to look for yield, as long as the municipals and states are paying that interest then no one seems to care that a default is potentially setting up.
Why do I think the time has come to get out of Munis?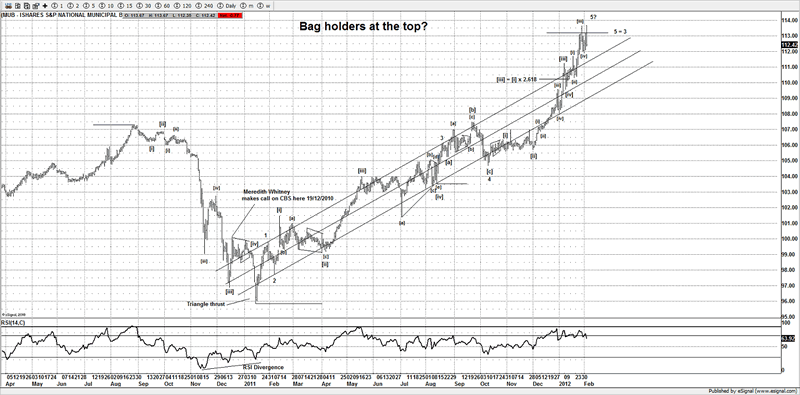 Back when Meredith made the call, the trend was already going lower, so it was on its way anyhow, if you look carefully the call was made near the bottom of a trend, which is where I would expect the worst news to come out.
Bad news is generally seen at the bottom of a trend.
Do many remember back in March 2009? The world was coming to an end, that to this date it has been the best buying opportunity we have seen.
The time to buy is when most are fearful; the time to sell is when no one has any thoughts of a reversal coming.
Now why do I think MUB could be reversing??
Well I can count a fully completed 5 wave advance, we have so much good news that most think this can continue forever.
Now look at the chart of ZN and MUB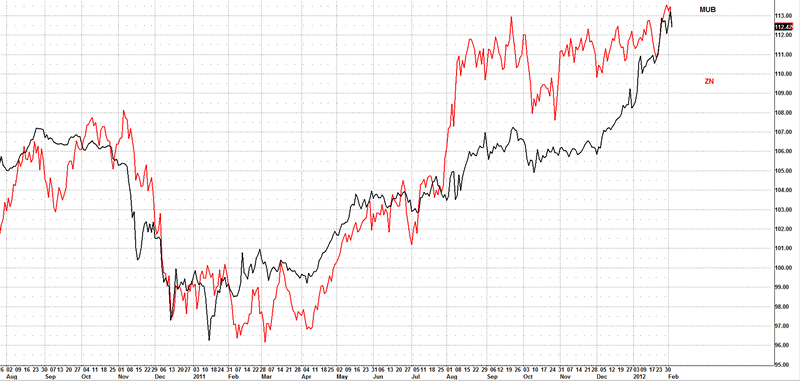 If we have what I suspect is a 5 wave count with good news being mentioned, at the highs, is that not the complete opposite to the lows?
Now that the markets in US treasures and Munis have rallied, people are now bullish.
That's a big warning sign, and if I owned MUB or municipal paper I would get out and scaling back to get into cash.
The actual move recently looks like the blow off in Gold last year; no one sees the move till it's too late.
Greed kills
The difference is, I suspect this is the right time to get out or at least pay close attention.

Conclusion
A key inflection point has arrived, and we should hopefully get some sort of confirmation to the direction of US stock markets.
Treasures and municipal debt might just be suggesting that now is time to get out or lock in the gains over the past year.
Can you get out of the burning building in time before the others ram the exits?

Until next time.
Have a profitable week ahead.
Click here to become a member

You can also follow us on twitter

What do we offer?

Short and long term analysis on US and European markets, various major FX pairs, commodities from Gold and silver to markets like natural gas.

Daily analysis on where I think the market is going with key support and resistance areas, we move and adjust as the market adjusts.

A chat room where members can discuss ideas with me or other members.

Members get to know who is moving the markets in the S&P pits*

*I have permission to post comments from the audio I hear from the S&P pits.

If you looking for quality analysis from someone that actually looks at multiple charts and works hard at providing members information to stay on the right side of the trends and making $$$, why not give the site a trial.

If any of the readers want to see this article in a PDF format.

Please send an e-mail to Enquires@wavepatterntraders.com

Please put in the header PDF, or make it known that you want to be added to the mailing list for any future articles.

Or if you have any questions about becoming a member, please use the email address above.

If you like what you see, or want to see more of my work, then please sign up for the 4 week trial.

This article is just a small portion of the markets I follow.

I cover many markets, from FX to US equities, right the way through to commodities.

If I have the data I am more than willing to offer requests to members.

Currently new members can sign up for a 4 week free trial to test drive the site, and see if my work can help in your trading and if it meets your requirements.

If you don't like what you see, then drop me an email within the 1st 4 weeks from when you join, and ask for a no questions refund.

You simply have nothing to lose.

By Jason Soni AKA Nouf
© 2012 Copyright Jason Soni AKA Nouf - All Rights Reserved

Disclaimer: The above is a matter of opinion provided for general information purposes only and is not intended as investment advice. Information and analysis above are derived from sources and utilising methods believed to be reliable, but we cannot accept responsibility for any losses you may incur as a result of this analysis. Individuals should consult with their personal financial advisors.
© 2005-2019 http://www.MarketOracle.co.uk - The Market Oracle is a FREE Daily Financial Markets Analysis & Forecasting online publication.

Only logged in users are allowed to post comments.
Register/ Log in