Consumption and Inflation Mega-trends, The Great Sharing
Commodities
/
Inflation
Mar 02, 2012 - 12:45 PM GMT


The most investable trend over the next 20 years is going to be the rising price of commodities, rising prices will be caused by two factors;
Increasing consumption
Inflation
Consumption
Two factors are involved in increasing consumption. One is the growth in population:
2011 7 billion
2020 7.6 billion
2027 8 billion
2030 8.2 billion
2040 8.8 billion
2046 9 billion
2050 9.2 billion
The second factor is the growth in wealth in the major developing countries - China, India, and Indonesia have enormous numbers of people who are already middle class and hundreds of millions still to become middle class.
Africans, on a per capita basis, are richer than Indians and a full dozen African states have higher gross national income per capita than China. Today Africa has 14% of the world's population and by 2050 one in every four people on the planet will be African. Development expert Vijay Majahan, author of Africa Rising, said the rapidly emerging African middle class could today number almost 300 million people - that's out of a total population of one billion.
The Organization for Economic Co-operation and Development says the global middle class numbers 1.8 billon, or 28% of the world's population.
According to the UN report RESILIENT PEOPLE RESILIENT PLANET A Future Worth Choosing, the number of middle-class consumers will increase by three billion people over the next 20 years.
The president of the Center for Global Development, Nancy Birdsall, calculates that India has no middle class. The McKinsey Global Institute projects that India's middle class of 50 million, less than 5% of the country's population, will explode to 583 million by 2030.
McKinsey Global puts China's middle class at 43% of its population today, on its way to 76% in 2025.
Chasing The American Dream
Middle class has come to mean having what Americans have: large houses or apartments, more than one car, all the latest appliances, flat screen TVs with cable or satellite, laptops and i-pads - "development" for these people has come to mean more than just the basics - electricity, telephones and running water. Indonesia is a good example.
Indonesia – the missing BRIC?
"Indonesia is one of the world's economic success stories." Nielsen, Consumer and media research company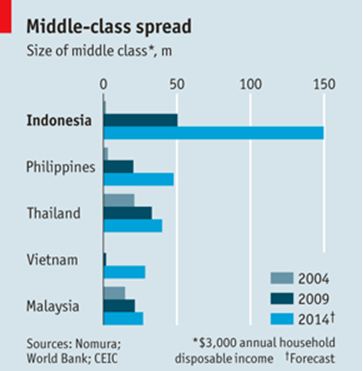 With a population of 238m (In 2015, Indonesia's Population is expected to be 250m) Indonesia is Southeast Asia's fastest-growing major economy clocking growth at six percent in 2011.
The country has a rapidly expanding middle class that accounts for 44 percent of all fast moving consumer goods (FMCG) spending in the country.
Indonesians love to watch TV and nearly 95% of middle class homes owns one.
Internet usage and mobile phone ownership is surging.
Consumption accounts for almost half of GDP growth.
The country's middle class, 1.6m in 2004, now numbers about 50m - more than India and bigger than elsewhere in the region. The number could reach 150m by 2014. It would seem newly affluent Indonesians are certainly…
Movin' on Up
Well we're movin on up, To the east side. To a deluxe apartment in the sky. Movin on up, To the east side. We finally got a piece of the pie. Fish don't fry in the kitchen; Beans don't burn on the grill. Took a whole lotta tryin', Just to get up that hill. Now we're up in the big leagues, Gettin' our turn at bat. As long as we live, it's you and me baby, There ain't nothin wrong with that. Well we're movin on up, To the east side. To a deluxe apartment in the sky. Movin on up, To the east side. We finally got a piece of the pie.
Theme from the TV show the Jeffersons
"Given high economic growth rates in many parts of the world, as well as the rapid spread of electronic media, advertising, and consumer goods, we must ask what kind of consuming future we can expect in areas that are now constrained by poverty and isolation. If everyone develops a desire for the Western high-consumption lifestyle, the relentless growth in consumption, energy use, waste, and emissions may be disastrous." National Academy of Sciences, Environmentally Significant Consumption (1997)
Inflation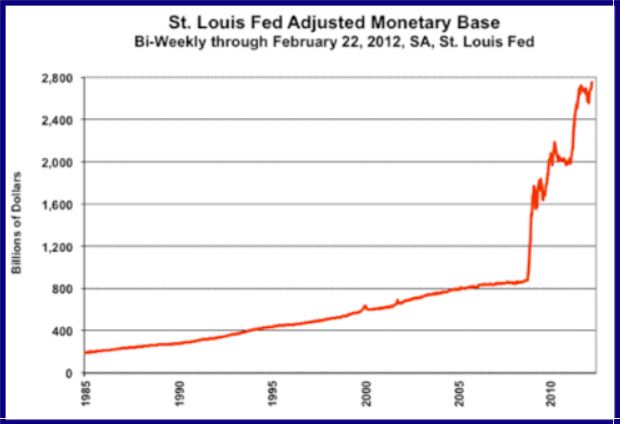 "The seasonally-adjusted St. Louis Fed Adjusted Monetary Base just jumped to an historic high level in the two-week period ended February 22nd, as shown in the (above graph)… Adding liquidity to the system usually is contrary to the action that would be taken if the Fed were trying to reduce inflation. Indeed, the Fed is not trying to reduce inflation - despite inflation running significantly above its 2.0% inflation target - instead, the U.S. central bank continues its efforts to provide liquidity to a still severely-impaired U.S. banking system." John Williams, ShadowStats.com Consumption Facts
The human enterprise now consumes nearly 60 billion metric tons of the world's four key resources - minerals, ores, fossil fuels and biomass (plant materials) - per year.
Developed countries citizens consume an average of 16 tons of those four key resources per capita (ranging up to 40 or more tons per person in some developed countries).
Projected Population Growth:
2020 7.6 billion
2027 8 billion
2030 8.2 billion
2040 8.8 billion
2046 9 billion
2050 9.2 billion
According to a report from the U.N., by 2050, humanity could devour an estimated 140 billion tons of minerals, ores, fossil fuels and biomass per year.
Total global resource use soared from six billion tonnes in 1900 (1.6 billion people) to 49 billion tonnes in 2000 (just over 6 billion people) and is now running at close to 60 billion tonnes (just over 7 billion people).
Consider:
The average person in India today consumes just four metric tons of the world's four key resources in a year
An average American uses 88 kilograms of stuff per day
The average American consumes about fifty-three times more goods and services than someone from China
A child born in the United States will drain as many resources as thirty-five natives of India
The UNEP-hosted International Resource Panel report entitled Decoupling: Natural Resource Use and Environmental Impacts from Economic Growth shows that on average the annual per capita consumption of natural resources - known as the 'metabolic rate' - in Europe is around 13 tons per person
How Long Will It Last?
Robert Gordon, Tom Graedel and colleagues at Yale University used data from the US Geological Survey's annual reports and UN statistics on global population to answer the following:
If every human on the planet consumed minerals at just half the rate of an average US resident how many years would the minerals last?
Their calculations do not take into account new technologies or new discoveries and assume current production equals consumption.
Q & A
Commodities expert Jim Rogers said there are three questions you need to ask (and answer) to determine if a commodity is headed higher in price.
Lets answer based from a metals perspective:
Q1 - How much production is there worldwide?
A – Not enough, most older existing mines, the foundation of our supply, have increasing costs with production rates stagnating or even declining because of lower grade ore
Q2 - Are there new sources of supply?
A – Yes, but the rate of depletion is much greater than the rate of discovery.
We also face complicated more expensive extraction of metals from increasingly harder to find, lower grade ore bodies in almost inaccessible and hostile parts of the world
Q3 - Are there new potential supplies?
A – Yes, if energy was cheap and unlimited then recoverable resources would be unlimited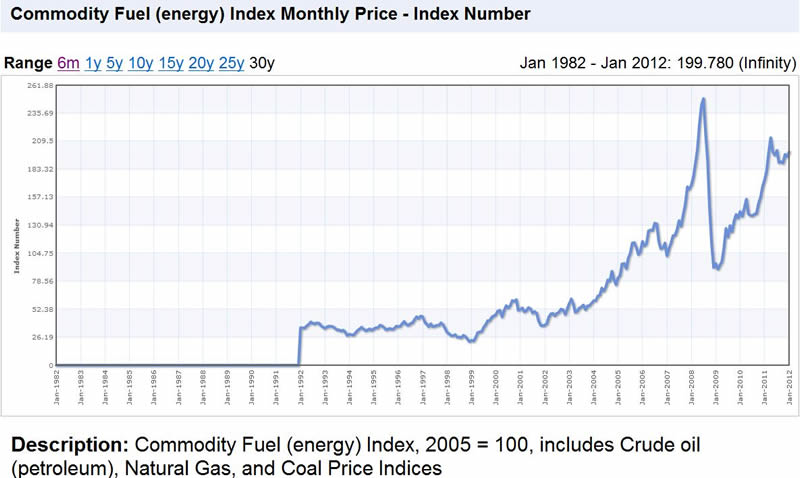 The U.S. Energy Information Administration (EIA) said that world oil consumption grew by an estimated one million barrels a day (bbl/d) in 2011 to 88.1 million bbl/d. The EIA also said world oil consumption is expected to grow by an average 1.3 million barrels per day (bbl/d) in 2012 and 1.5 million bbl/d in 2013.
Conclusion
People in the developed nations have had the luxury of taking a great many things for granted, one of them is our lifestyle involving unfettered consumerism. We need to stop taking things for granted.
When we were kids our parents taught us the value of sharing, a lesson that's going to come in very handy over the next few decades.
The Great Sharing should be on everyone's radar screen. Is it on yours?
If not, maybe it should be.
By Richard (Rick) Mills
If you're interested in learning more about specific lithium juniors and the junior resource market in general please come and visit us at www.aheadoftheherd.com. Membership is free, no credit card or personal information is asked for.
Copyright © 2012 Richard (Rick) Mills - All Rights Reserved
Legal Notice / Disclaimer: This document is not and should not be construed as an offer to sell or the solicitation of an offer to purchase or subscribe for any investment. Richard Mills has based this document on information obtained from sources he believes to be reliable but which has not been independently verified; Richard Mills makes no guarantee, representation or warranty and accepts no responsibility or liability as to its accuracy or completeness. Expressions of opinion are those of Richard Mills only and are subject to change without notice. Richard Mills assumes no warranty, liability or guarantee for the current relevance, correctness or completeness of any information provided within this Report and will not be held liable for the consequence of reliance upon any opinion or statement contained herein or any omission. Furthermore, I, Richard Mills, assume no liability for any direct or indirect loss or damage or, in particular, for lost profit, which you may incur as a result of the use and existence of the information provided within this Report.
© 2005-2019 http://www.MarketOracle.co.uk - The Market Oracle is a FREE Daily Financial Markets Analysis & Forecasting online publication.

Only logged in users are allowed to post comments.
Register/ Log in