Financial Market Forecasts Last Chance
Stock-Markets
/
Financial Markets 2012
May 31, 2012 - 05:08 PM GMT


With Europe in turmoil, U.S. stocks retreating and the mainstream financial press totally on the wrong side of the trend (as usual), EWI's big-picture forecast -- though dire -- is actually quite refreshing to read. In trademark fashion, EWI tackles the issues that everyone else ignores, and they explain the future using straight-talking language I appreciate.
Download this special issue for free, but fair warning: It's only available until Thursday, May 31.
Here's a quick summary of what you'll find inside:
Europe's debt crisis.
European political crisis.
Charts flashing danger signals.
What U.S. stock investors should know NOW.
Sentiment analysis.
Tech Stock signals for Apple, Google and Amazon
NYSE margin debt signal.
Facebook special.
And much more, including detailed Elliott wave charts and insights on gold,silver, bonds, the U.S. dollar, the economy, inflation vs. deflation and real estate
Learn More and DOWNLOAD EWI's NEW 10-page May 2012 Elliott Wave Financial Forecast here - It's FREE. (requires a valid email address).
Excerpts from the 10 page report: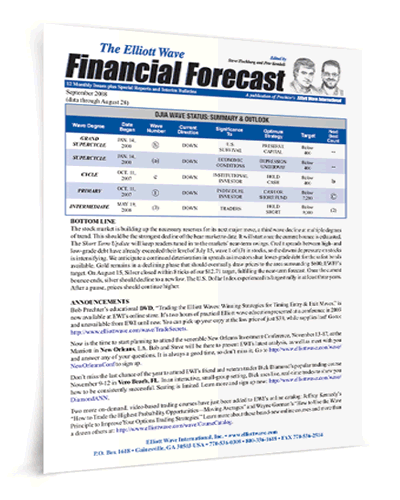 Stock Market a Better Bubble?
Like an elaborate musical score that repeats key notes from an earlier motif, the final stage of the long topping process is hitting many of the same chords played near the end of the Grand Super cycle bull market in January 2000. Last month, we mentioned the capitulation of long-term bears and the establishment of a stock market in Cambodia. This month, a major financial weekly called for many stodgy Dow stocks to be replaced by high flying technology stocks. This call takes us directly back to December 1999, when Fortune magazine lobbied to replace the Dow with an index composed entirely of Internet companies, and the business editor of the Washington Post railed at the under-performing Dow for making him too bearish: "If you find that you're too anxious, just take a look at what the Dow really is. It's 30 stocks of huge old-timely companies'" . The DJIA allows the financial community to ....
Gold Price Extreme Calls
Gold went mostly sideways in April and remains 15% beneath its September peak at $1921.50 basis spot.
Despite it's lacklustre performance over the past eight months, forecasts for ever-higher prices abound. The latest extreme call is for gold to "go parabolic" and touch "$7,000". Apparently, 11 consecutive yearly up closes, a new record for a commodity, is not straight up enough. Our stance remains that gold has completed a five-wave rally from August 1999 at last years high. This means that a multi-year decline is unfolding, one that will ....
"Crash is Over", U.S. Housing Market has Bottom Declared
"The crash is over", says an economist. "Housing can only go up," says another. "I think the market has bottomed out," says one builder. "It appears we have turned the proverbial corner," says a second.
After hitting a low with stocks in March 2009, U.S. single family building permits rallied in three waves into March 2012. The latest high is more than 65% below the September 2005 peak. A MarketWatch commentary insists, "Permits Push Signals U.S. Housing Boom." These assessments are flooding in even though many home buyers from 2010 and 2011 are already underwater! According to CoreLogic, more than one millions U.S. home buyers who have taken out low-money-down FHA mortgages over the last two years already owe more on their loan than their homes are worth. The FHA's policy of accepting almost no money down is deadly when
U.S. Muni Bond Market Debt Default Tsunami
The front edge of the coming bond default tsunami is clearly visible in our discussion of the burgeoning credit crisis in Europe. Less publicised, but every bit as important, is the debt burden that is smothering U.S. municipalities. CTC warned that muni bond tax-exemptions would "ultimately trap investors into a risky position," and EWFF has continually stated that defaults will rise as cushy municipal pensions and health benefits garden a bigger share of a decreasing tax base.
In December, EWFF identified the largest municipal bankruptcy in history - Jefferson County, Alabama - as an important harbinger. On Tuesday, administrators of Alabama's largest county said...
Learn more and download EWI's new 10-page May 2012 Elliott Wave Financial Forecast here -- it's free.
Regards,
About the Publisher, Elliott Wave International Founded in 1979 by Robert R. Prechter Jr., Elliott Wave International (EWI) is the world's largest market forecasting firm. Its staff of full-time analysts provides 24-hour-a-day market analysis to institutional and private around the world.
© 2005-2019 http://www.MarketOracle.co.uk - The Market Oracle is a FREE Daily Financial Markets Analysis & Forecasting online publication.

Only logged in users are allowed to post comments.
Register/ Log in