Uranium Stocks Attempting to Build a Base
Commodities
/
Uranium
Feb 15, 2008 - 08:58 AM GMT

The uranium stocks are continuing to look better and better, although not yet completely gung-ho. The Merv's Daily Uranium Index closed up once again, today with a gain of 0.071 points or 2.14%. Most of the largest five stocks did even better. Cameco gained 2.5%, Denison gained 2.1%, First Uranium was a loser again with a loss of 1.7%, Paladin gained 5.2% to close above that down trend line mentioned in the Paladin review today and Uranium One closed higher by 2.4%., One is again starting to see the wide difference between the best and the worst. The best performer was Energy Fuels with a gain of 27.4% while the worst performer was Bayswater Uranium with a loss of only 5.5%.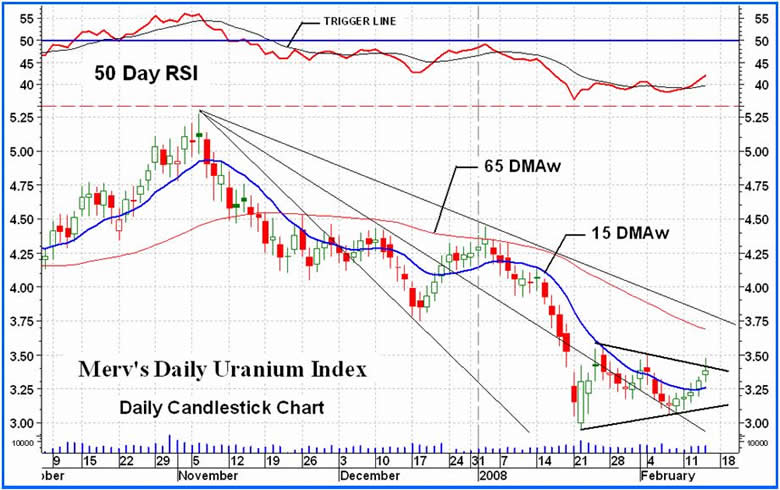 The intermediate term is getting closer and closer to a turn around but still has a little way to go. The Index is still below its negatively sloping moving average line but the two are closing in on each other rapidly. The momentum indicator remains below its neutral line but moving upwards towards the line. It is above its trigger line with the trigger pointing upwards. The volume indicator is above its positive sloping trigger line and moving higher. All in all the intermediate term is still rated as BEARISH.

I went bullish on the short term yesterday and that trend continues. The Index is above its positive moving average line, the momentum is still inside its negative zone but very close to breaking into the positive. It is moving upward above its positive trigger line. The volume is above its trigger line and moving higher. What more can I say. The short term rating remains BULLISH .

As mentioned yesterday, the Index is still trapped inside that megaphone pattern. It tried to break through today but didn't quite make it. Maybe tomorrow. I would be expecting the Index to be taking a rest just below the 3.50 level, at least for a little while. A solid break through that resistance level without a rest would be quite positive but the more expected action is a rest period and then a break through on the next move.

As mentioned yesterday, short term traders can act with a little more confidence while the intermediate term speculator might still want to wait for the turn to be confirmed. Any speculative trades for an expected intermediate term move should most definitely have close stop loss points to keep from having surprise reversals cut your capital drastically.
By Merv Burak, CMT
Hudson Aero/Systems Inc.
Technical Information Group
for Technically Uranium with Merv
Web: http://techuranium.blogspot.com/
e-mail: merv@themarkettraders.com
During the day Merv practices his engineering profession as a Consulting Aerospace Engineer. Once the sun goes down and night descends upon the earth Merv dons his other hat as a Chartered Market Technician ( CMT ) and tries to decipher what's going on in the securities markets. As an underground surveyor in the gold mines of Canada 's Northwest Territories in his youth, Merv has a soft spot for the gold industry and has developed several Gold Indices reflecting different aspects of the industry. As a basically lazy individual Merv's driving focus is to KEEP IT SIMPLE .
This Blog is - A periodic review of the daily or weekly market action in uranium stocks. The review is strictly from the technical perspective. Merv is a pure market technician. Weekly, one will find a table of technical information and ratings of the 50 component stocks of the Merv's Uranium Index as well as a weekly summary of the uranium stock activity. Daily (most days), one will find a daily review of the market action of the Merv's Daily Uranium Index as well as technical analysis of one or more uranium stocks of interest.
Disclaimer - Technical analysis is not perfect. Should you expect perfection this is not the site for you.
Technical analysis IS a very sound technique to assess the daily or weekly trading activities in securities and to assess appropriate timing of investment activities. This blog provides such technical analysis of the trading activity in uranium stocks for your information. Any use made of this information is strictly at the users risk. No guarantees are made for the accuracy or potential for the information provided herein. Use at your own risk. You are strongly advised to check with your broker or investment adviser before activating any investment desisions.
© 2005-2019 http://www.MarketOracle.co.uk - The Market Oracle is a FREE Daily Financial Markets Analysis & Forecasting online publication.
Comments
Roslyn
19 Feb 08, 19:35
Mega Uranium


Feb. 19, 2008: I know Mega Uranium has many properties and when I purchased it ($6.00) it was considered a good buy. Why is it still in the doldrums. With oil at $100.00 a barrel, I would imagine substitute fuels would be in great deamnd.




Only logged in users are allowed to post comments.
Register/ Log in