Gold Price Trend Remains Firm
Commodities
/
Gold & Silver
Feb 20, 2008 - 08:50 AM GMT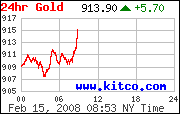 Gold continues to pass every stress and strength test that is thrown before it.
Well, the central banks are spreading the word that they are going to sell some of their gold. Should we be quaking in our boots and losing sleep? The International Monetary Fund has announced it will sell a small percentage of their gold in the coming months.
This should not cause any great concern as the fundamentals for gold remain strong. And their will be a lot of eager buyers ready to purchase this gold as soon as it comes on the market. It is important to remember that there is an over supply of paper dollars and many countries have already begun to diversify out of the US dollar. Would you like a better explanation of what the International Monetary Fund is planning? Ned Schmidt does a good job describing their plans.
"A group of economists at the IMF want to sell Gold to buy debt paper in order to earn interest income to pay the salaries of a bunch of economists asleep at their desks." Ned Schmidt, Kitco 2-13-2008
The race for president remains exciting and becomes more so every day. Obama seems to be taking the lead over Clinton . And Obama is collecting an impressive number of delegates. McCain and Huckabee are making for an interesting race also as Huckabee refuses to quietly go away. These times are always exciting as we observe the battle for the presidency slowly being whittled down to just two contenders. A lot of fun in the coming months before us.
The following is some excellent material from Julian D. W. Phillips. I think you should read it and pay attention to what he has to say. I like his final and overall conclusion as it really hits the nail on the head. First of all the age old question if the gold shares are going to ever catch up with the physical gold price.
Julian D. W. Phillips – "Many of you out there are frustrated at what seems to be the very poor performance of gold & silver mining shares over the last couple of years when compared to the performance of the gold & silver price, understandably so. Even the Junior's have not performed to their full potential. Why not?" "During the fall and once equity markets have seen the worst of their falls, good investors will be looking around for shares that will behave well during and after such falls. With gold & silver shares seeing an average gold & silver prices rising steadily [much faster than rising costs] and a long way still to go before today's gold & silver prices are reached, let alone expected prices, gold and silver shares are on a growth in income path. As the reality of the average gold & silver price turns into present income, so gold & silver shares will be attractive."
Another factor mentioned is the fact that the gold mining sector is still seen by many as a speculative market. As time progresses and gold is seen to be stable then confidence will rise and more money will follow. Read his entire article and you will understand more clearly the present direction of gold shares.
"Hi David, The junior and exploration shares of gold and silver stocks seem to be all the talk lately. I remember quite clearly being warned about phase 2, the institutional phase. That this phase was a long but steady grind higher to the eventual mania phase. I have changed hats from expecting huge gains in these sectors, phase 1, to the accumulation of quality stocks on abrupt dips, phase 2, as the institutions are doing, in anticipation of the mania stage. In other words, to turn a negative into a positive, I see history repeating itself right before my eyes." "We are just in a different phase of this bull market and we must adjust our expectations and strategies to the market, not the other way around. Cheers, Kevin"
It's real important to remember that the most successful investors are those who take a longer term approach to investing.
"The growing proportion of foreclosure sales is both a symptom and a cause of worsening conditions in the weakest housing markets. Homeowners who aren't on a deadline to sell are yanking their properties off the market." "…now defaults are surging. Discounted foreclosure sales can also make it harder for borrowers to refinance into affordable loans if their property value falls, which could lead to more foreclosures and prolong the housing crisis." USA Today, 2-13-2008
To fly in and out of a market hoping to make a quick buck…well, the success rate is not too high. But for those who wait 2 or 3 years they can eventually see real profits. It's good to keep an understanding of the fundamentals in play. The fundamentals are ultimately the driving force for every investment. Aren't you excited about the new 145 billion US dollars the US government is soon to distribute in every mailbox? Just another boost for inflation. Well, the Chinese have grown to the extent that they now have several hundred million new middle class consumers just beginning the process of buying and spending. Yes, millions of well to do Asians are working overtime to spend their wealth.
Think long term, always longer term. The price of gold in the short term will move in extremes in every direction but gold will be overall strong for the rest of this decade and beyond. It's not too late to invest in gold related equities to take advantage of their wealth generating attributes. We are living in the last days of cheap resources and cheap commodities. Gold Letter, Inc. reviews undervalued gold stocks poised to rise in this time of increasing demand.
Click here to order Gold Letter
Don't forget to email.
By David Vaughn
Gold Letter, Inc.
David4054@charter.net
© Copyright 2008, Gold Letter Inc.
"The Worldwatch Institute, an organization that focuses on environmental, social and economic trends, says the current rate of global demand for resources is unsustainable."
The publisher and its affiliates, officers, directors and owner may actively trade in investments discussed in this newsletter. They may have positions in the securities recommended and may increase or decrease such positions without notice. The publisher is not a registered investment advisor. Subscribers should not view this publication as offering personalized legal, tax, accounting or investment-related advice. The news and editorial viewpoints, and other information on the investments discussed herein are obtained from sources deemed reliable, but their accuracy is not guaranteed. © Copyright 2008, Gold Letter Inc.
© 2005-2019 http://www.MarketOracle.co.uk - The Market Oracle is a FREE Daily Financial Markets Analysis & Forecasting online publication.

Only logged in users are allowed to post comments.
Register/ Log in