Gold Surges Towards $1000 As World Stock Markets Plunge
Commodities
/
Gold & Silver
Mar 03, 2008 - 11:03 AM GMT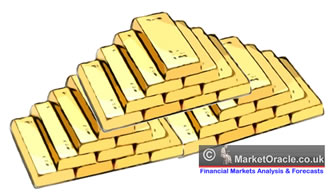 THE SPOT PRICE OF GOLD leapt in Asian trade Monday, starting the week in London at new record highs against all major currencies except the Swiss Franc and Japanese Yen as global stock markets fell yet again.

Briefly breaking above $985 for Dollar investors as European stock markets opened the day some 1.5% lower on average, physical Gold Bullion also touched £496.60 and €647.30 per ounce for British and European buyers.


The world's three leading reserve currencies meantime held in a tight range against each other on the forex markets, while crude oil slipped 0.9% to trade just below $101 per barrel.
"[Some investors] have lost faith in the financial system," said precious-metals trader Ron Schouten of Hollandsche Bank-Unie in Rotterdam to Bloomberg earlier. "Gold is seen as a safe haven in uncertain times.
"The Dollar is weak, there is concern about the credit crisis and the US economy, and raw material prices are sky high."
Closing last week at new record highs, the
Gold Price
has now risen against the Dollar, Euro and Pound Sterling for three months running.
The major Western stock markets, in contrast, have been falling since November.
Canadian and Australian investors wanting to
Buy Gold
today also saw the metal reach new all-time highs this morning, while the Indian Rupee price neared 13,000 per 10 grams.
But a sharp rally in the low-yielding Swiss and Japanese currencies – matched yet again by those sharp falls in world stock markets – capped the
Gold Price
in CHF and JPY at a two-session high.
Asian-Pacific stock markets meantime lost 3% for the day on the MSCI index, while Tokyo dropped 4% after Takefuji Corp. – a large consumer lender – warned of $290 million lost on structured credit investments.
With Japan 's financial year-end on March 31 now in sight, Japanese export stocks also sank as the Yen rose to better than ¥103 per Dollar for the first time since Jan. 2005.
Nippon Steel fell 6.8%, Honda lost 5.8%, and Canon dropped 5.2% for the day.
"Everybody talks about $1,000," says Ronald Leung of Lee Cheong Gold Dealers in Hong Kong . "There's Japanese buying today. It's cheaper for them to
Buy Gold
.
"
"We could see some selling but I don't think it will be aggressive. I don't know what the resistance level is but we can say $970 and $965 will be the support levels."
Bloomberg's latest survey of 22 professional
Gold Market
traders and analysts worldwide says 17 are bullish this week, while two said to sell gold, and three were neutral.
Newswire reports this morning say the latest run of record-high
Gold Prices
put a halt to inventory buying from Hong Kong jewelers today, while Indonesia and Thailand both saw a wave of selling.
There was a "surge" in demand for investment gold bars in Vietnam , however.
"While investors rushed to sell large metal bars [last month] and demand overall remained very subdued," says the latest Refining Monitor from Mitsui, "on the flip side one commentator noted that small bars and wafers across India and the Middle East were well in demand."
Japanese refining giant Tanaka reported a rise of 140% in its scrap bullion purchases for January compared with the same month in 2007. But "before we think that the physical
Gold Market
is completely dead in this region," Mitsui adds, "Tanaka followed up this statement by reporting that investor purchases increased 2.3 times in January.
"Importantly Tanaka confirmed that they were net sellers of the precious metal – purchasing three times more gold from their clients than they sold – in 2007 [as a whole]."
Elsewhere in the raw materials market today, soft commodities hit a new series of all-time records as soybeans, corn, palm oil and wheat rose for the third session running.
All the major base metals traded at the London Metal Exchange also rose, while crude oil dipped slightly ahead of this week's meeting of the Opec oil cartel.
Less than 24 hours after Russian voters backed Vladimir Putin's hand-picked successor –former Gazprom chief Dmitry Medvedev – to become president with a 77% landslide, Gazprom said today it cut gas supplies to Ukraine by one quarter in a dispute over $600 million in unpaid bills.
The last Ukraine-Russian dispute over gas supplies at the start of 2006 led to a shortage in supplies reaching Western Europe , which now relies on Russian imports for around 25% of its natural gas needs.
Consumer price inflation in the 14-nation Eurozone held at 3.2% annualized in February, the Eurostat agency said this morning – completing the strongest three-month run in living expenses since 1993.
European government bond prices rose, however, pushed higher by the flight out of equities and a separate report that showed slower manufacturing growth in February.
The yield on 10-year German Bunds slipped four basis points to 3.85%. Two-year yields fell to 3.15%.
The
Gold Price in Euros
has now risen by more than one-third over the last six months.
By Adrian Ash
BullionVault.com
Gold price chart, no delay | Free Report: 5 Myths of the Gold Market
City correspondent for The Daily Reckoning in London and a regular contributor to MoneyWeek magazine, Adrian Ash is the editor of Gold News and head of research at www.BullionVault.com , giving you direct access to investment gold, vaulted in Zurich , on $3 spreads and 0.8% dealing fees.
(c) BullionVault 2008
Please Note: This article is to inform your thinking, not lead it. Only you can decide the best place for your money, and any decision you make will put your money at risk. Information or data included here may have already been overtaken by events – and must be verified elsewhere – should you choose to act on it.
© 2005-2019 http://www.MarketOracle.co.uk - The Market Oracle is a FREE Daily Financial Markets Analysis & Forecasting online publication.

Only logged in users are allowed to post comments.
Register/ Log in