How to Profit from The Next Technological Revolutions
Companies
/
Technology
Mar 11, 2013 - 03:58 AM GMT

The quantum leap in technological development in computing, molecular biology and material sciences is converging towards sparking the next series of technological revolutions the name to which will only be given many decades from now with the benefit of hindsight but all things considered I suspect that we come to call it the Graphene Age, as this wonder material becomes the building blocks for everything we use today including computers, nano machines and ultimately even new life forms.
l like most investors ponder how to profit from the emerging technological revolutions and looking back at my own history of programming, analysis can clearly see the answer is always one of educating oneself, as that is the only mechanism for recognising difference between what will be the next Google and Boo.com. The situation is far more complex because even perceived successes are in reality investment failures such as youtube.com, which appears successful to most but in investment terms will take Google several decades to recoup the $1.65 billion price paid. So whilst youtube is great for users who get to upload and share videos for free (no bandwidth or server storage costs), for Google some 6 years on it is still not proving profitable. This also suggests that the team at Google responsible for buying youtube did not fully understand the business that they were buying. This is more often the case than most imagine as large corporations with an highly academic management team will tend to not understand the big picture which is critical to success or failure, large companies continuously repeat this error as they over pay for companies, such as RBS buying an about to go bankrupt ABN Ambro for £50 billion, because the management did not have a clue of what they were actually buying.
The bigger the institution the greater the mistakes they tend to make, and that ultimately means that the nation states make the biggest mistakes of all such as starting wars that cannot be won, or creating a benefits culture and public sector that like a cancer eats away at the productive capacity of a country such as Britain and the United States.
Therefore as investors we need to be individually fully in charge of understanding the technologies and business models of the companies we are seeking to invest in rather then deferring to management teams who will only ever really understand how to deduct their 2-3% annual fee.
The following is an excerpt from the NEW The Stocks Stealth Bull Market 2013 and Beyond Ebook that you can Download Now for FREE (PDF 2.7meg).
As your reading an investment orientated ebook you would assume that the place to look to profit from the next series of industrial revolutions is by investing in companies exposed to such technologies such as identifying companies that are going to SUPPLY the equipment for home labs and production infrastructure that could become the next mega-corporations in ten years time.
However, if you really want to truly profit from the next series of technological revolutions, including investing in companies then you need to immerse yourselves fully into these technologies for it is only then that you will truly understand what it is that your seeking to invest in and thus increase the probability for successful investing by having a better understanding of when to enter and when to exit, otherwise you will just be investing blind.
As an example virtually everyone knew that the 1990's dot com bubble was going to burst, but some knew better than others, i.e. those that actually understood that the technology of 2000 could never deliver what many of the companies were promising to deliver at that time.

Personally, the primary technologies that I am seeking to immerse myself in are for the industrialisation of the internet, bio-tech and artificial intelligence. We all have thoughts in mind of how if only we had certain small gadgets that we could make our lives far easier, more competitive in work and play, and as we meet our own needs, we can look towards the possibilities of problems solved having a wider commercial appeal.
If your thinking of setting up your own business in the future, then the time to educate yourself is NOW and get a several years head start on your future competitors.
Internet Industrialisation

The next 10 years is going to increasingly see consumer and more importantly business devices become hard wired to the internet which will result in quantum leaps in human productivity. It is up to you to learn the potential avenues that will soon start to become available from the rental of factory machines for production of goods, to existing professions such as doctors making use of intelligent machines such as diagnostic tools such as MRI machines. The scope for application for the industrialisation of the internet is literally endless as are the machines that businesses use each day.
Artificial Intelligence
Artificial intelligence goes hand in hand with programming, where it's most relevant manifestation is in neural network applications that can be applied to any task. In terms of personal application clearly I would apply such technology towards learning chart patterns.
AI will be a major home use industry as people will seek to augment their own intelligence with artificial intelligence that take up the burden of processing the increasingly vast amounts of data that the information age tends to produce. As an example of practical applications - we all have our PC's jam packed full of un-indexed photos and videos that we never get around to cataloging, instead a relatively simple AI application could automatically identify and catalog all of the videos and images we take.
Another useful AI function would be to act as augmented memories by logging and cataloging a whole host of our daily activities including voice and images and video so that we can refer to them at a later date again via an easily interpretable AI interface. We already have the precursor to this with our smartphone's that act as memories as they contain voice, video and images that we record each day, again it is a matter of intelligently automatically processing all of this data into an easily accessible system.
Another AI increase in productivity will in self drive cars which has already been in development for over a decade that will allow us to use our rush hour traffic queues productively.
The bottom line is that we will start to see generic AI applications emerge that we will be able to tailor to our own personal requirements starting with PC's and then moving onto smart phones. It also means those involved in jobs such as call centres will soon start to be replaced by far more efficient AI expert systems.
Robots
Going hand in hand with AI will be robots that will increasingly be able to do mundane tasks around our homes and our work places. Though this is still well over a decade away before capabilities and costs are at a level where we start having robot workers around the house.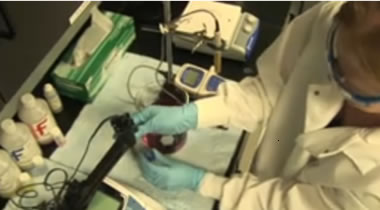 Your Own Bio-Tec Lab
This revolution is IMMINENT, many reading this ebook will over the the next few years set-up their own home bio-tech lab's.
The starting point is in producing our own variety of plants that are generically engineered to fulfill specific niches for our gardens. The point is that out of this soup of hundreds of thousands if not millions of small bio-tek labs will emerge many bio-tech giants.

Your garage will become the laboratory of today and the factory of the future.

Over the past 30 years many of today's internet and computer software / hardware giants started up form very humble beginnings in peoples garages and bedrooms such as Apple, Microsoft, Google etc.
This trend of home grown business taking over the world is about to take an exponential leap forward as laboratories and manufacturing factories will not be located thousand of miles away in China but right in peoples garages as the next phase of the West's multiple technological revolutions takes place over the coming decades.

So instead of asking me which tek stock to buy, its time to clear your garage of all that junk (sell it on ebay) and prepare yourselves to join in a series of technological advances, and who' knows one of you reading this may be the spark that lit the fuse on the next mega-corporation.


The Home Solar Energy Revolution
People in the UK and much of the rest of the western world have been busy during recent years installing solar panels on their roofs to benefit from free energy and feed back tariffs, unfortunately much of the technology that has been deployed is more than 30 years old.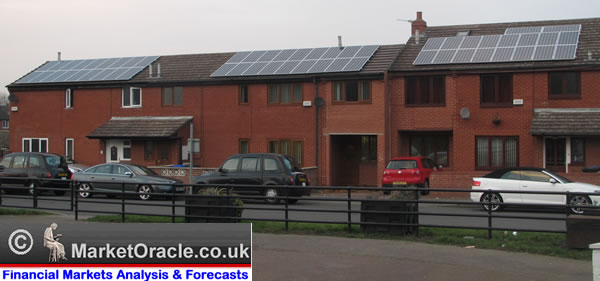 Instead emerging solar technologies relying on graphene and nano technology are likely to make much of today's installs quickly obsolete as we move from panels that are typically about 12% efficient in converting sunlight into energy to not only what will be more efficient but come as paints rather than fixed panels. I.e. you could paint whole sides of your home and roof to become a giant solar collector rather than fix heavy panels to suitable area's of your roof.
This would prove to be far cheaper to produce and install and generate many times more electricity thus making homes even in the sunless UK into mini power station's that export most of what they generate back to the national grid and solve the global energy crisis.
What's more these solar paints will appear no different to any of today's external paints in use to day, perhaps even transparent so we will have all of the gains without paying any price in terms of impact on the look of our properties.
So first prepare for energy self reliance from nano-tech solar paints for sides of houses to transparent films for windows, and then seek to set-up businesses to profit from marketing the products to to others in what will amount to a solar energy paint's gold rush as all of today's solar installations are ripped out and replaced with far more efficient nano-technology.

The bottom line is that in my strong opinion the likes of Niall Ferguson are wrong on China and the West, the consequences of which are that most people will completely miss the soon to unfold mega-trends until they sit up a decade form now and wonder " Why the hell didn't I invest in graphene 10 years ago!"
The answer is always that you are constantly being bombarded with mainstream media slush who's purpose is to keep you sedated all the way to the clash of civilisations, and I don't mean East vs West but rather Humanity vs Machine Intelligence.
Augmented Reality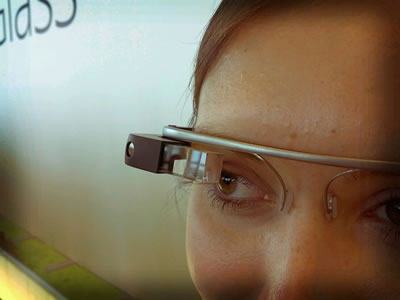 As covered earlier, the first mass market practical augmented reality product is due to arrive this year (2013). This offers the possibility for acting as a replacement for many of the functions of a smartphone whilst opening up infinitely more productivity increasing possibilities.
Google is a giant and where google goes soon its fellow giant competitors such as Samsung, Apple and Microsoft will also follow.
As is usually the case the first versions will be primitive and not live up to the media hype in terms of the heads up display, so perhaps it would be better to wait for Google Glass v2 that I expect to come out towards the end of 2014.
Any drawbacks to Google Glass? In one word - ADVERTISING - Take annoying web browser advertising pop ups and then have them pop up in front your eyes as you browse shops, walk down the street. Then there are the issues still to be resolved around distracting pedestrians AND drivers!
Graphene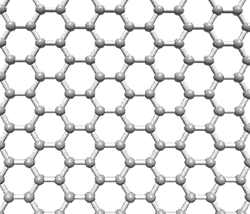 It's still early days to see how ordinary people will be able to make use this super strong and super conductive material especially given its current high price. However, we all already have easy access to graphene from our graphite pencils. We can draw out graphene sheets from graphite pencils by simply drawing with pencils then using sellotape to pull layers of graphene sheets away. And then continue to using strips of sellotape on the sellotaped sample to make the graphene layers thinner and thinner.
The Bottom Line
That you are only going to have a high probability of success of profiting from .....continued in the NEW 71 page The Stocks Stealth Bull Market 2013 and Beyond Ebook that you can Download Now for FREE (PDF 2.7meg), the only requirement is a valid email address.
CONTENTS
Introduction

1

Part 1: Why a Stocks Stealth Bull Market?

2

2009 - Birth of the Stocks Stealth Bull Market

3

2010 - Bull Market Consolidates and Targets 12,000

10

2011 - Setting a Target of Dow 14,200

14

2012 - Dow Still Targeting Dow 14,000

17

Part 2: Formulating a Stock Market Forecast
Fundamental Inflationary Background
20
Money Printing QE-4-EVER
22
How Can the Stock Markets Keep Going Higher .....?

23
Corporations Create Wealth,
Government's Consume Wealth
25
You Want to Know the Future of Innovation?
26
Have Central Bankers Saved the World?
27
The Self Fulfilling Prophecy
27
Existing Stock Market Trend Expectations to be Tested
28
Stock Market Broadening Top Pattern Meets the Inflation Mega-trend
28
Stocks Annual Percentage Change
31
Stock Market Elliott Wave Theory Analysis - Semper Terminus
32
Stock Market Psychology and Investor Sentiment

37

Stock Market Technical Analysis


37

Formulating a Stock Market Forecast

39

STOCK MARKET FORECAST FINAL CONCLUSION

40

Risk to the Forecast

40

Peering into the Mists of Time

40

Part 3: The Real Secrets of Successful Trading,
Multiple Technological Revolutions

Simple Stock Market Investing Strategy

41

Know Your Risk of Ruin

41

Central Banks and Governments Do not Understand the Risk of Ruin!

42

Trading and the Risk of Ruin

43

Debt and the Risk of Ruin

43

Debt is Slavery

44

Mortgages - Debt Till Death literally!

45

Why I Love Bear Markets

46

Is the West About to Accelerate Away From the Rest?

47

Western Unemployment

48

The Real Threats to the West

48

The Danger of a New Dark Age

50

Quantum Leap in Human Productivity

50

Exponential Technological Development

53

Multiple Technological Revolutions

54

How to Profit from The Next Technological Revolutions

58

Stock Market Crash Investing Lessons

61

The Real Secrets of Successful Trading

65

Chaos Theory - Trading Market Fractals

67

About the Author

71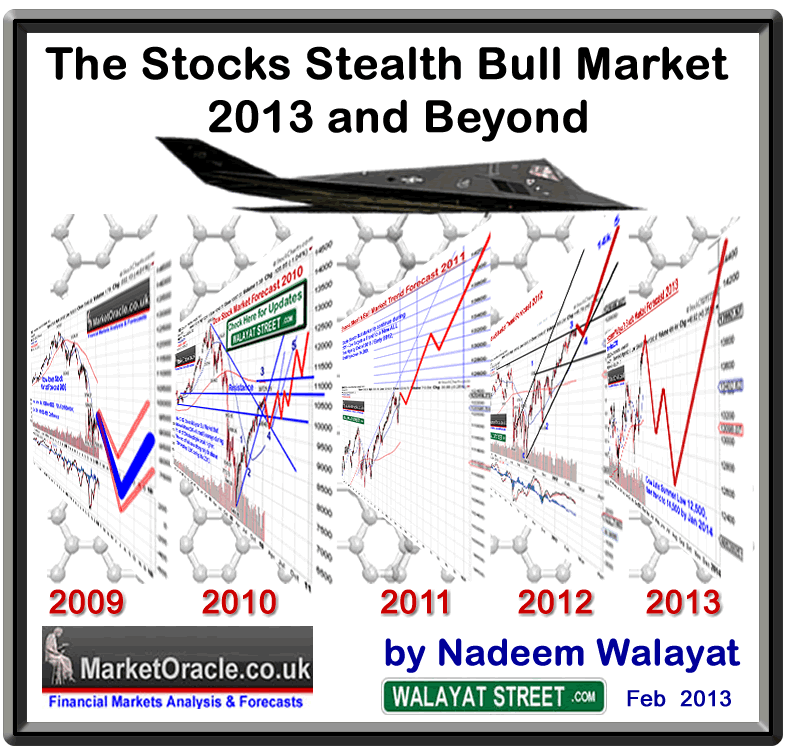 Source and Comments: http://www.marketoracle.co.uk/Article39419.html
Nadeem Walayat
Copyright © 2005-2013 Marketoracle.co.uk (Market Oracle Ltd). All rights reserved.
Nadeem Walayat has over 25 years experience of trading derivatives, portfolio management and analysing the financial markets, including one of few who both anticipated and Beat the 1987 Crash. Nadeem's forward looking analysis focuses on UK inflation, economy, interest rates and housing market. He is the author of four ebook's in the The Inflation Mega-Trend and Stocks Stealth Bull Market series.that can be downloaded for Free.

Nadeem is the Editor of The Market Oracle, a FREE Daily Financial Markets Analysis & Forecasting online publication that presents in-depth analysis from over 600 experienced analysts on a range of views of the probable direction of the financial markets, thus enabling our readers to arrive at an informed opinion on future market direction. http://www.marketoracle.co.uk
Disclaimer: The above is a matter of opinion provided for general information purposes only and is not intended as investment advice. Information and analysis above are derived from sources and utilising methods believed to be reliable, but we cannot accept responsibility for any trading losses you may incur as a result of this analysis. Individuals should consult with their personal financial advisors before engaging in any trading activities.
© 2005-2022 http://www.MarketOracle.co.uk - The Market Oracle is a FREE Daily Financial Markets Analysis & Forecasting online publication.

Only logged in users are allowed to post comments.
Register/ Log in