Stock Market Correction Reaches Temporary Support Level
Stock-Markets
/
Stock Markets 2013
Jun 24, 2013 - 10:20 AM GMT

SPX: Very Long-term trend - The very-long-term cycles are in their down phases, and if they make their lows when expected (after this bull market is over), there will be another steep decline into late 2014. However, the severe correction of 2007-2009 may have curtailed the full downward pressure potential of the 40-yr and 120-yr cycles.
Intermediate trend - SPX continues to progress according to its structure. An intermediate reversal is on the way.
Analysis of the short-term trend is done on a daily basis with the help of hourly charts. It is an important adjunct to the analysis of daily and weekly charts which discusses the course of longer market trends.
Daily market analysis of the short term trend is reserved for subscribers. If you would like to sign up for a FREE 4-week trial period of daily comments, please let me know at
ajg@cybertrails.com
.
CORRECTION REACHES SUPPORT LEVEL
Market Overview
Traders gave it their all last week, dropping the SPX down 40 points after a 24-point down day. You'd think that Armageddon had started! But it's nothing like that. Only a sample of the volatile period in which we find ourselves. By Friday, the index had reached a strong support level and began to stabilize in preparation for a counter-trend rally. In fact, a small inverse H&S pattern may have formed on Friday.
Structure: There can't be too much doubt about the corrective pattern anymore. After completing wave A at 1598, wave B made its high at 1654 and we are now in wave C (either waves "1" or "a" may have completed on Friday).
Cycles: Best guesstimate is that the 1-yr cycle is still pulling prices lower until sometime in July.
P&F- Fibonacci projection: After by-passing several phase projections, the SPX finally settled on 1578. This corresponded to a Fib. target taken from 1687 and another from 1654. It looks like a good place to start a counter-trend rally.
Support/resistance zones: The correction is now trading in a perfect channel created by a downtrend line drawn across the two tops, and a parallel line placed at the 1598 bottom. The low also corresponds to some important long-term internal trend lines. And let's not forget the 2007 SPX top of 1576!
Sentiment: The correction has dropped the sentiment readings from slightly elevated to perfectly neutral.
Chart Analysis
We'll start again with the daily chart of the SPX (courtesy QChart). It shows the path taken by the bullish phase which started at 1343 in early November and which came to an end at 1687 on 5/22. We are now correcting this entire advance. Until last week, there was some mild uncertainty about what SPX was doing, since it had not yet broken its trend line. There can be no question any longer that the corrective process has started and, in spite of the extreme volatility displayed by prices, it is also orderly. Look at where the correction stopped: precisely on the bottom trend line of a perfect channel drawn across the two tops. Note also the dashed trend lines (blue and red) which served as support for Friday's low. Combining that with the projections discussed above, it's no wonder that this is where the SPX found good support to arrest (temporarily) its precipitous decline from 1654. AND, don't forget that Friday's low came within less than 2 points from the 2007 high of 1576.09.
Here is something else! Let's start at the 1687 top. After finding support for 1 day on the pink 8-EDMA, the index dropped down to the dark blue 21-EDMA where it was supported for 5 days before dropping down to the light blue 55-EDMA. It rested on it for about 2 weeks before going through last week and finding support on the green 89-EDMA. It dropped slightly below on Friday but rallied to close above!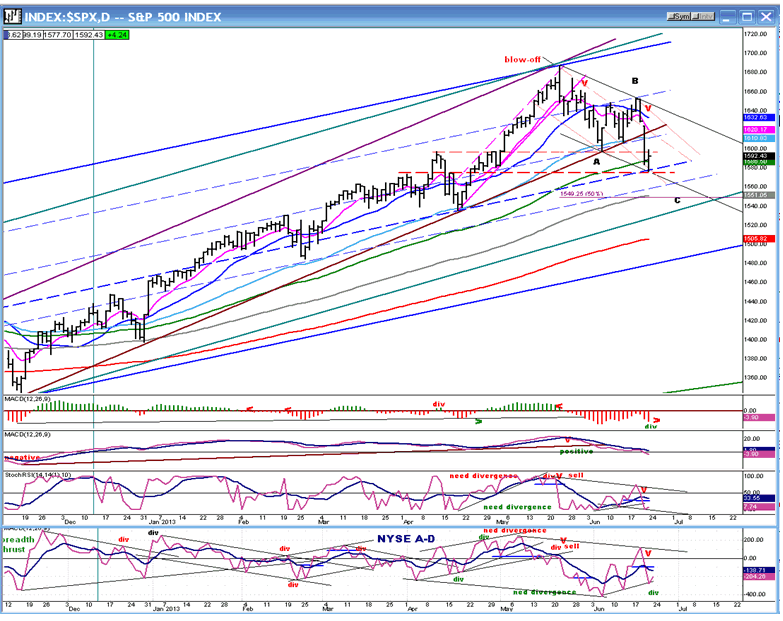 I draw many trend lines on my charts. They are all relevant, but I won't bore you with discussing them all. Just an observation: I have marked the A-B-C structure on the chart but the letter C is not an indication of where the correction will come to an end, but the Fib projection to about 1550 could be, especially since it corresponds to the grey 144-EDMA. What we do know is that the final low will be higher than the bottom channel line. This is normal and a sign of deceleration = diminishing selling intensity. The low of the correction should remain well above the red 233-EDMA.
Now, let's look at the indicators. They are all negative, including the MACD which just went negative last week. But two of these are showing positive divergence: The histogram at the top, and the A/Ds at the bottom. We know that these two indicators are the early birds, but I don't believe this means that we have an end to the correction. However, it could tell us we are about to have an interim rally. The MACD always brings up the rear. This is why it only went negative last week, much later than the other indicators.
Let's now switch to the hourly chart (also courtesy of QChart) which is much more descriptive of the short-term trend. Here, I am only showing the corrective pattern. The main correction channel has been drawn in heavy red lines and could not be more perfect. After touching the bottom channel line, the index had the best bounce in the decline. The low has the appearance of a small H&S pattern with a neckline formed at Friday's high. It will need to be surpassed for confirmation. The thin red parallels are potential resistance lines to the counter-trend rally. The first one has 4 contact points and the last of these contacts turned Friday's rally down, hopefully for the bulls, only temporarily.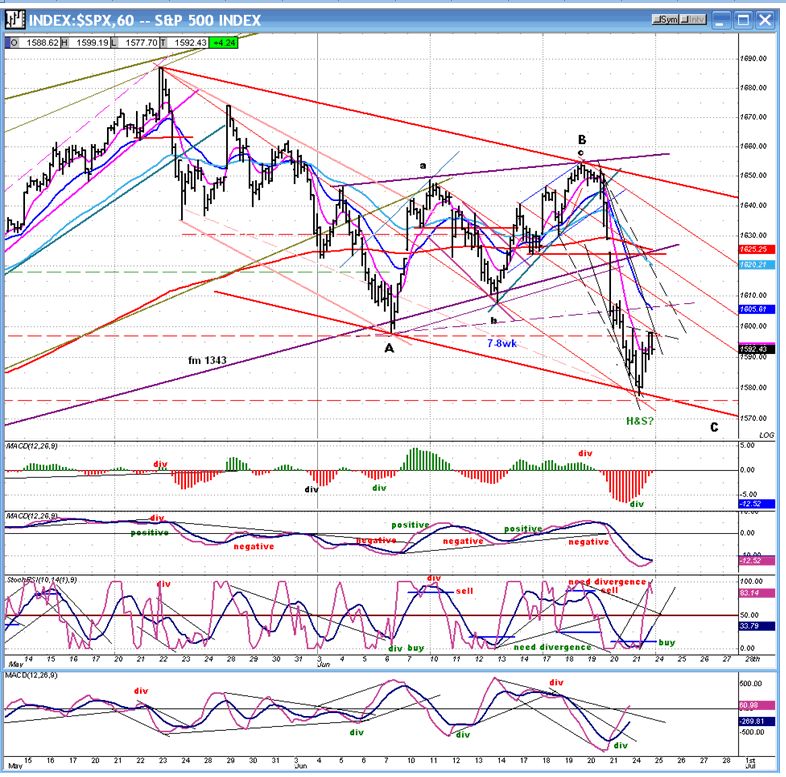 The indicators have given a buy signal, but the top and the bottom ones have reached the mid-point of their range which is often resistance. They need to keep going and become positive to confirm that a short-term low is in place. This would allow the index to continue rallying to about 1606-1608 before turning down again after completing what would probably be "a" of an a-b-c correction before the decline resumes.
Conclusion: The decline was arrested at a logical point for a counter-trend rally to start. This will be confirmed if Friday's bounce follows through on the upside.
Cycles
From last week and still pertinent:
"The action of the yearly cycle which tends to bring about a correction in June or July, every year has been thoroughly discussed. These corrections vary in depth depending on the total cyclic configuration of that time period. We know that the major Kress cycles are due to make their lows in late 2014 and they should be exerting more and more downward pressure as they get closer and closer to their bottoming time frames. In fact, it's remarkable that the market has managed to put on such a show of strength in the face of a declining 120-yr whose low is less than two years away. I am sure that the Universe has good reasons for this to which we are not privy"
Breadth
The McClellan Oscillator and Summation Index appear below (courtesy of StockCharts.com).
The McClellan Oscillator looks exactly like my daily A/D index. It has already started to make a series of higher highs and higher lows, but it will not be until it goes positive and turns the Summation index around that the bulls can claim that they have stemmed the decline, and it will take more than a couple of days to accomplish this.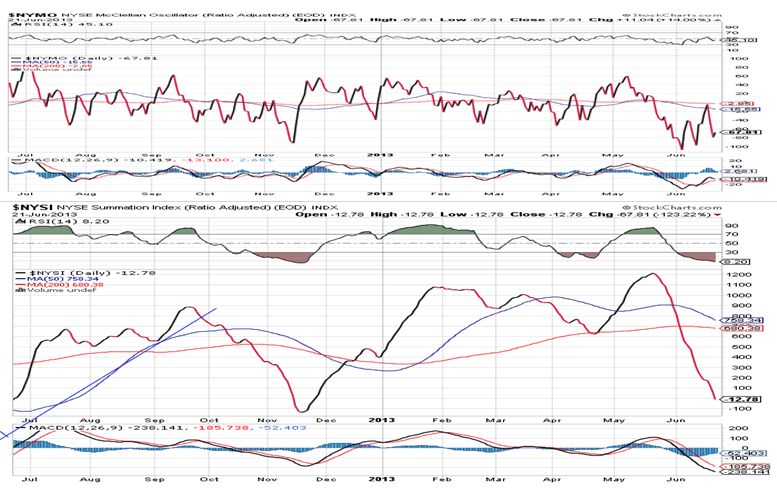 Sentiment Indicators
The SentimenTrader (following chart courtesy of same) has returned to neutral. This is probably not enough to indicate that the correction is over. A reading of 49 and perhaps even 48 in the long term indicator may be necessary.

VIX
VIX has moved up as the market moved down. It has reached its projection for the near-term and should consolidate as the market rallies. At this time, there no hint in its action that the market correction has come to an end.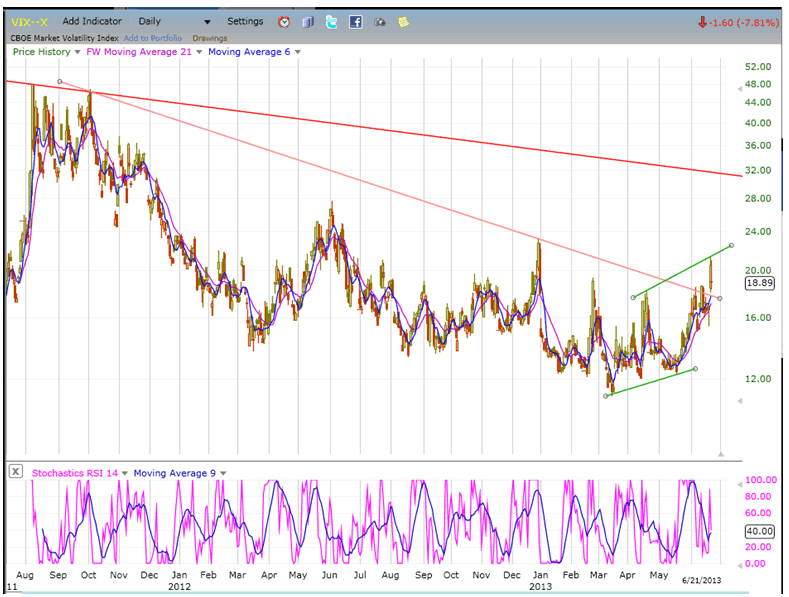 XLF(Financial SPDR)
Like SPX, XLF has broken out of its up trend line, but only reluctantly and its relative strength to the equity index is still manifest. This warns us not to expect a very deep correction.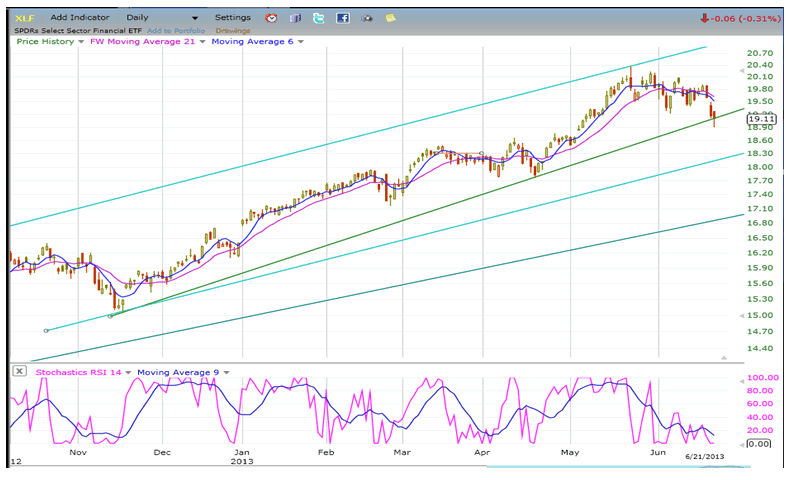 BONDS
Last week, bonds accelerated downward along with the stocks. They are no longer going against the market - at least for now. There is no sign of a bottom being put in and it looks more and more as if a long-term downtrend has started now that the Fed is "getting ready" to end its QE strategy.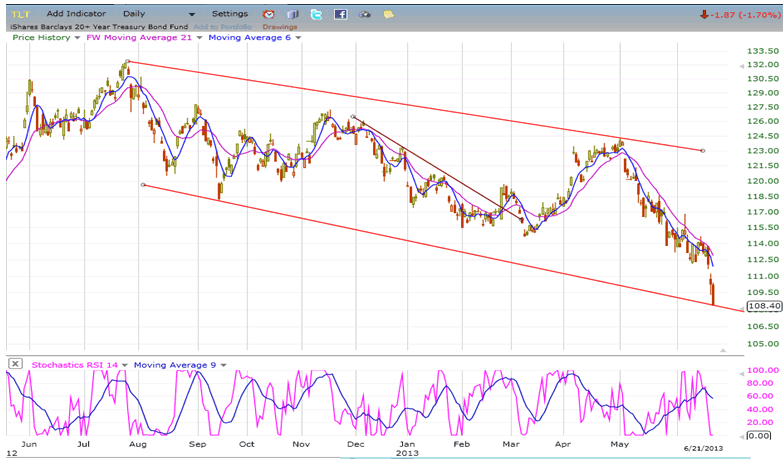 GLD (ETF for gold)
Gold does not like the prospect of higher interest rates any better than bonds, and it dropped sharply after the Fed report. It also goes counter-trend to the dollar which had a good bounce, last week.
GLD had a specific motivation to decline. It looks as if it is being pulled down by its 25-wk cycle which I had warned would be bottoming in this time frame. If that has occurred - which is probable - gold is now ready for a rally in a downtrend.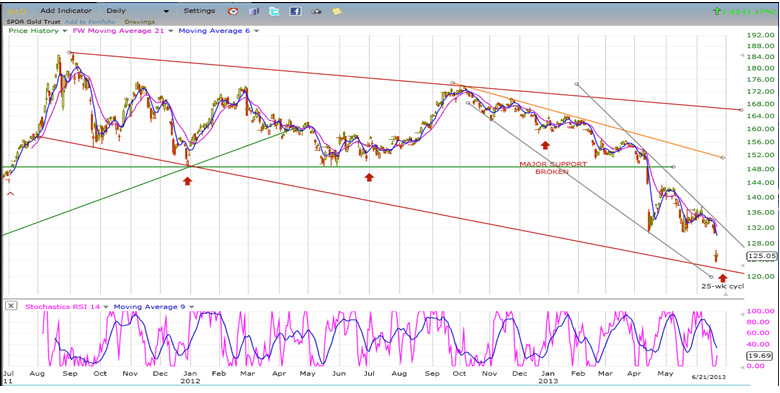 UUP(dollar ETF)
The dollar likes the prospect of higher interest rates and it rallied last week. I don't expect for it to "take off" right away, but it could be getting ready for a long-term uptrend, in preparation for which it is building a substantial base.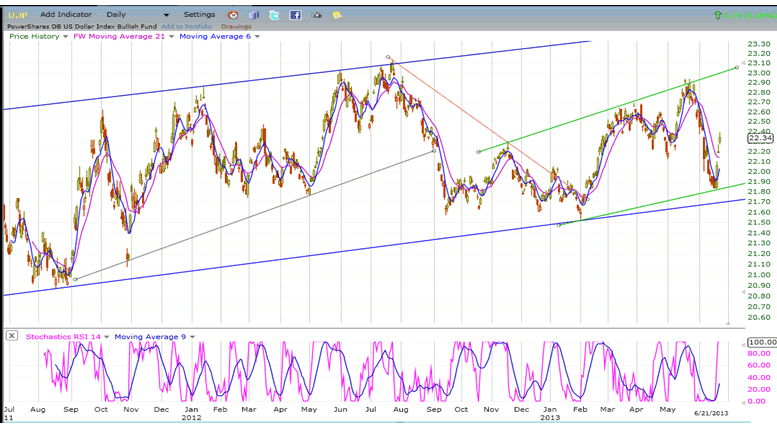 USO (United States Oil Fund)
USO's attempt at moving higher was arrested by the decline in equities. However, the pull-back was muted and it is likely that USO is now preparing for an upside break-out after the market has completed its intermediate correction. Too soon to make a projection.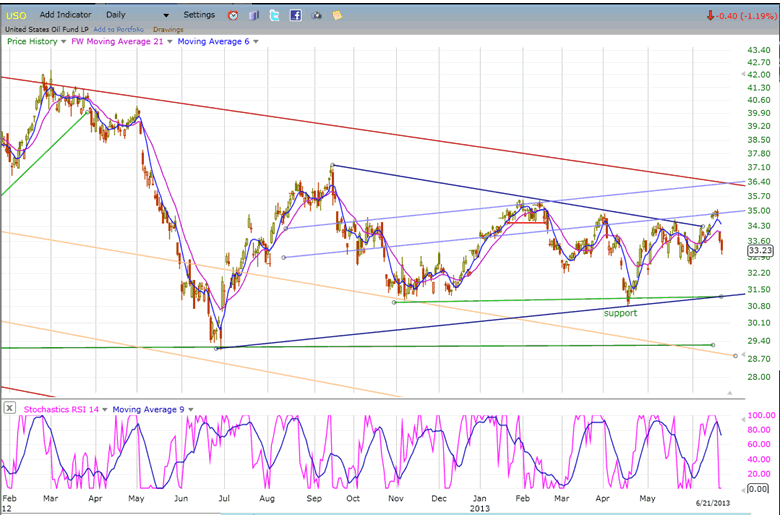 Summary
SPX has completed the B wave of its correction and is now working on the C wave. The latter has found temporary support and a rally in a downtrend has probably started. When it's over, the market should resume its decline and eventually complete wave C, probably in early July.
FREE TRIAL SUBSCRIPTON
If precision in market timing for all time framesis something that you find important, you should
Consider taking a trial subscription to my service. It is free, and you will have four weeks to evaluate its worth. It embodies many years of research with the eventual goal of understanding as perfectly as possible how the market functions. I believe that I have achieved this goal.
For a FREE 4-week trial, Send an email to: ajg@cybertrails.com
For further subscription options, payment plans, and for important general information, I encourage
you to visit my website at www.marketurningpoints.com. It contains summaries of my background, my
investment and trading strategies, and my unique method of intra-day communication with
subscribers. I have also started an archive of former newsletters so that you can not only evaluate past performance, but also be aware of the increasing accuracy of forecasts.
Disclaimer - The above comments about the financial markets are based purely on what I consider to be sound technical analysis principles uncompromised by fundamental considerations. They represent my own opinion and are not meant to be construed as trading or investment advice, but are offered as an analytical point of view which might be of interest to those who follow stock market cycles and technical analysis.
© 2005-2019 http://www.MarketOracle.co.uk - The Market Oracle is a FREE Daily Financial Markets Analysis & Forecasting online publication.

Only logged in users are allowed to post comments.
Register/ Log in