Gold - What If?
Commodities
/
Gold and Silver 2013
Jul 16, 2013 - 05:45 PM GMT


By Grant Williams: A few weeks ago, I put a chart with which I am acutely familiar up on my Bloomberg. It is a chart I have studied every single day for over a decade, so by now I know pretty much every dip, every rally, and every sideways channel that makes up this particular pattern.
I remember where I was when the big moves took place, and I recall with great clarity my varying degrees of comprehension and incredulity over every meaningful change in direction.
I have lived every Golden Cross and died every Death Cross, cheered every bottoming pattern, and despaired each time the chart patterns signaled a breakdown in an upward trend; but above all, I have continued to remorselessly reassess my view of the investment case for this particular instrument, looking for signs — not evident in the charts — that would suggest it had run its course.
As I stared at the chart again, almost absentmindedly, I put two vertical lines on it, one representing August 17, 2011, and one that marked January 14, 2013; and suddenly, a concept that had been gnawing away at me for a while crystallized in my mind as those two lines pulled in a whole bunch of known knowns, known unknowns, and even a couple of unknown unknowns. It was a truly Rumsfeldian moment.
By now, there is no doubt a distinct three-way split amongst those who have made it all the way to the third paragraph of this week's TTMYGH. There are some new readers who are wondering what asset the chart reflected, as well as many who are already rolling their eyes and muttering to themselves "Really? Gold? AGAIN?" — and finally there are the overwhelming majority who have already scrolled to the "...and finally" page, chuckled at the cartoon, and moved on to more edifying fare.
Yes, it's one of those weeks when I must ask your indulgence while I ramble on about a subject close to my heart that has recently been a source of great frustration. And yes, it's gold — particularly, the bizarre price action of the last six months, which has run counter to most logical assumptions, given the various macro factors bringing influence to bear on the yellow metal.
Cyprus should have been a hugely positive tailwind for gold. But it wasn't. The ongoing money printing should have provided support for gold. But it hasn't. The talk of tapering should have had a minor but noticeable effect on gold, given its healthy recent correction. But it didn't. Sustained data suggesting a voracious appetite for the physical metal not only in Asia but in Western countries, too, should have led to a bounce on the COMEX. But it hasn't.
The whole thing is as baffling as Kim Kardashian's fame.
But let's get back to that chart and those two lines — here it is and there they are.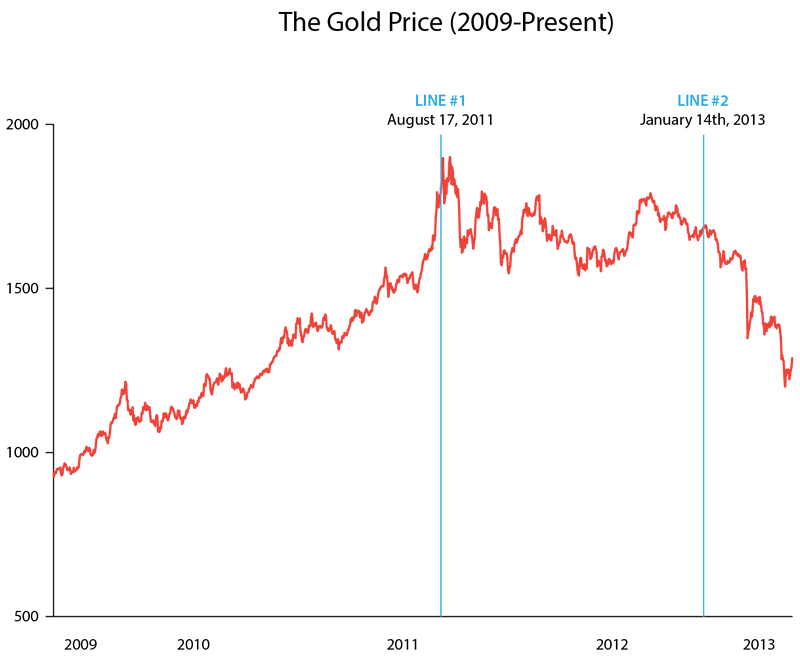 Source: Bloomberg
You're going to hear about this chart a few more times before we're done today, so take a good long look at it.
The first vertical line, labeled August 17, 2011, marks the day that Hugo Chavez, then president of Venezuela, demanded the repatriation of the 99 tons of gold (worth $13 billion at the time) that was being held at the Bank of England on behalf of his country. That was roughly half the gold held overseas by Venezuela and about 27% of its total holdings, which amounted to 365 tons….
If we now take a look at a close-up chart of the gold price around the time of Chavez's announcement, something very interesting emerges.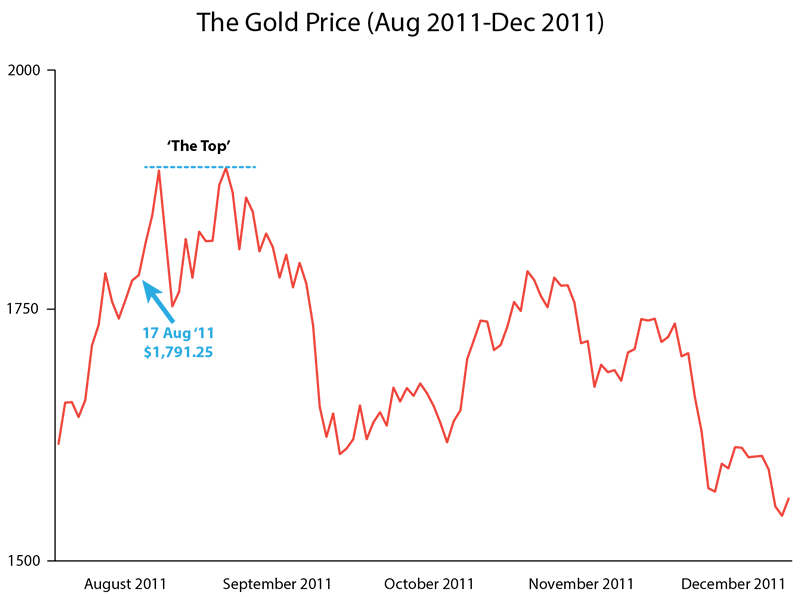 Source: Bloomberg
As you can see, the immediate reaction to the commencement of the global game of central bank musical chairs was perfectly understandable and completely explicable: the price soared (to a new all-time high, no less). After all, that's what generally happens when somebody says "I want a large amount of a reasonably scarce commodity and I want it now" — or at least that's what generally happens if said commodity needs to be bought in the open marketplace.
Except...
To continue reading this article from Things That Make You Go Hmmm… – a free weekly newsletter by Grant Williams, a highly respected financial expert and current portfolio and strategy advisor at Vulpes Investment Management in Singapore – please click here.
John Mauldin
subscribers@MauldinEconomics.com
Outside the Box is a free weekly economic e-letter by best-selling author and renowned financial expert, John Mauldin. You can learn more and get your free subscription by visiting www.JohnMauldin.com.
Please write to johnmauldin@2000wave.com to inform us of any reproductions, including when and where copy will be reproduced. You must keep the letter intact, from introduction to disclaimers. If you would like to quote brief portions only, please reference www.JohnMauldin.com.
John Mauldin, Best-Selling author and recognized financial expert, is also editor of the free Thoughts From the Frontline that goes to over 1 million readers each week. For more information on John or his FREE weekly economic letter go to: http://www.frontlinethoughts.com/
To subscribe to John Mauldin's E-Letter please click here:http://www.frontlinethoughts.com/subscribe.asp
Copyright 2013 John Mauldin. All Rights Reserved
Note: John Mauldin is the President of Millennium Wave Advisors, LLC (MWA), which is an investment advisory firm registered with multiple states. John Mauldin is a registered representative of Millennium Wave Securities, LLC, (MWS), an FINRA registered broker-dealer. MWS is also a Commodity Pool Operator (CPO) and a Commodity Trading Advisor (CTA) registered with the CFTC, as well as an Introducing Broker (IB). Millennium Wave Investments is a dba of MWA LLC and MWS LLC. Millennium Wave Investments cooperates in the consulting on and marketing of private investment offerings with other independent firms such as Altegris Investments; Absolute Return Partners, LLP; Plexus Asset Management; Fynn Capital; and Nicola Wealth Management. Funds recommended by Mauldin may pay a portion of their fees to these independent firms, who will share 1/3 of those fees with MWS and thus with Mauldin. Any views expressed herein are provided for information purposes only and should not be construed in any way as an offer, an endorsement, or inducement to invest with any CTA, fund, or program mentioned here or elsewhere. Before seeking any advisor's services or making an investment in a fund, investors must read and examine thoroughly the respective disclosure document or offering memorandum. Since these firms and Mauldin receive fees from the funds they recommend/market, they only recommend/market products with which they have been able to negotiate fee arrangements.
Opinions expressed in these reports may change without prior notice. John Mauldin and/or the staffs at Millennium Wave Advisors, LLC and InvestorsInsight Publishing, Inc. ("InvestorsInsight") may or may not have investments in any funds cited above.
Disclaimer PAST RESULTS ARE NOT INDICATIVE OF FUTURE RESULTS. THERE IS RISK OF LOSS AS WELL AS THE OPPORTUNITY FOR GAIN WHEN INVESTING IN MANAGED FUNDS. WHEN CONSIDERING ALTERNATIVE INVESTMENTS, INCLUDING HEDGE FUNDS, YOU SHOULD CONSIDER VARIOUS RISKS INCLUDING THE FACT THAT SOME PRODUCTS: OFTEN ENGAGE IN LEVERAGING AND OTHER SPECULATIVE INVESTMENT PRACTICES THAT MAY INCREASE THE RISK OF INVESTMENT LOSS, CAN BE ILLIQUID, ARE NOT REQUIRED TO PROVIDE PERIODIC PRICING OR VALUATION INFORMATION TO INVESTORS, MAY INVOLVE COMPLEX TAX STRUCTURES AND DELAYS IN DISTRIBUTING IMPORTANT TAX INFORMATION, ARE NOT SUBJECT TO THE SAME REGULATORY REQUIREMENTS AS MUTUAL FUNDS, OFTEN CHARGE HIGH FEES, AND IN MANY CASES THE UNDERLYING INVESTMENTS ARE NOT TRANSPARENT AND ARE KNOWN ONLY TO THE INVESTMENT MANAGER.
© 2005-2019 http://www.MarketOracle.co.uk - The Market Oracle is a FREE Daily Financial Markets Analysis & Forecasting online publication.

Only logged in users are allowed to post comments.
Register/ Log in