Democracy Hypocrisy And The Economic Growth Illusion
Politics
/
Social Issues
Sep 13, 2013 - 03:38 PM GMT


GROWTH BLIP, DEMOCRACY BLIP
Hypocrisy democracy is the rule in what are called the "consumer democracies" - consuming less and less as the economy slows or stagnates and unemployment mushrooms – but consuming more and more illusion and hypocrisy. Some ask if globalism and democracy has now reached its "event horizon", beyond which it gets sucked into its own black hole of political hype and economic myth.
The Syria crisis starkly shows public opinion in the "consumer democracies" wasn't automatically onboard and frothing at the mouth for "surgical strikes" against designer targets in Damascus. US and French political leaders and war planners believed this was the right stuff for evening TV news show screening, alongside the wall of advertising for "iconic" consumer products, but the Syria spectacle went into a black hole of public rejection. The populace has other things to worry about – like keeping their jobs and making ends meet.
The Surgical War Hero mode, for the me-too crop of democratic leaders, is already a failed genre compared with the letter-in-the-post instant kneejerk public support it got in the good times of the 1991 Kuwait war, 1995 Kosovo war, 2001 Afghan war, 2003 Iraq war or even the 2011 Libyan war. In those good times, getting the consumer public to whoop for an outright illegal war which killed 150 000 civilians in Iraq, in 2003, was child's play. The children loved it at the time, but they grew up.
The economy is a major reason for the late-but-impressive change of the consumer mass from war hungry to peacenik. The me-too herd of hypocrite-democrat leaders have whined and preached at the consumer mass a little too long. The economy is in a mess because its the consumers' fault. They don't buy enough, they don't borrow enough, they don't work enough but with economic reform things can change. The mass media chips in with the handy myth that the economy went wobbly, in 2008, signaled by the iconic "Lehman Bros moment", but our truly great leaders and their expert advisers have it all under control. Economic growth will come bouncing back almost anytime now, thanks to those economic reforms and the far out, in fact incredible amounts of public cash handed over to banksters, brokers, traders and corporate crony fraudsters since 2008. Believe us.
The myth is of course as fatuous as believing consumer democracy and surgical warfare can hold back global reality. The consumer democracies have been on a debt binge for decades – not just 5 years. Using Deutsche Bank data, the G7 countries (USA, Japan, Germany, France, UK, Italy, Canada) increased their sovereign debt and long-term debt exposure by about $80 000 billion ($80 trillion) from 2001 to 2013.
Paying that back was based on the fond illusion of growth not being possible – but sure and certain. This is not happening but even worse, can't happen. For the moment hypocrisy and illusion can be used as the only way to keep the stupid consumers happy – or at least stupid – but the best by date for this "communication strategy"is already years back in the past. Like those heroic surgical wars.
BELIEVE THE FACTS, INSTEAD
Veteran US economist Robert Gordon calls it "the blip". Our democratic leaders and TV anchors call it the growth economy. Gordon shows that national, regional and global economic growth has been trending down for a long time – for the G7 countries the process is at least 30 years old. He puts things the other way round, saying that previous long-term high rates of annual growth were basically a freak event. These were symbolized and concretized by the US economy through certain favoured phases within a long term period of about 1885-1980.
Since at latest 1980, the trend is down, to a long-term average for the US economy that Gordon sets at possibly 2% a year growth, but not more.
Yes there can be catch-up phases – in the decline process – meaning periods when the economy does not grow by anything like 2% a year. It can contract, and keep contracting as a swath of European PIIGS countries know to their distress. Paying back the growing debt pile, under those conditions, becomes Mission Impossible.
Employing people, especially young persons and people over 55 years age also becomes impossible. The state – at some stage or another – has to downsize and spend less, called austerity but sold as a short-term palliative, a grin-and-bear-it interval of adjustment until growth comes roaring back. To be sure, a lot of persons already know this is just another big dollop serving of Hypocrisy Democracy. They know austerity will be permanent and they know their leaders are liars.
The blip economy on the downside isn't the same thing as the upside. What happens is a huge "growth gap" opens up. When the slow growth process beds-in and becomes permanent, the long term impacts will be dramatic, as this chart (below) shows for any country that was counting on 2% a year, but only got 1% a year on average. Through a long period of 100 years there is 170% of growth missing!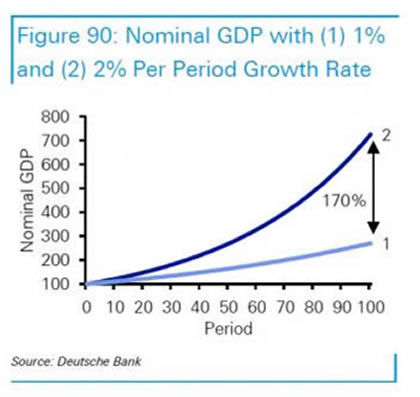 Making things more real, and worse, several G7 countries including Japan and France, and plenty of smaller EU countries can at best now hope for growth rates around 0.3% - 1.5% per year, but their debt growth, debt service and debt payback programs were based – you guessed it – on economic growth rates as high as 3% a year and more, on a year-in year-out long term basis. Making it certain the hypocrisy-democracy phase or interval will soon end, the figures for debt growth, only of the G7 since since 2001, of $80 trillion, show that it will be sooner and not later that we have no other choice but so-called "heroic adjustments".
WAR PRONE AND DANGEROUS
The financial press wheels out the supposed "non-heroic options" on a regular basis, but avoids to say what they are: war-prone. The blip economy has an inbuilt tendency to sparking wars, firstly economic, then trade wars, then currency wars, and then hot wars which start by proxy fighting - - as in Syria.
Deutsche Bank's Jim Reid points out what is taboo in the financial industry - the truth. "Looking back, real GDP growth in the US through the latter half of the 2000s and the 2010s has been at the lowest levels since the cyclically scarred decades of the Great Depression and the First World War." We have to go back to those eras to find a real gauge for what happens next.
Reid makes a quick calculation of what in theory would be needed, as annual economic growth of the US to "make everything right", especially debt servicing and repayment and drawing down the vast overhang of new unemployeds, and underemployeds since 2008. He says the US, in 2013, would have needed a growth rate of 18%. For the long-term, it could scrape by with a long term year average of 6.7%. For reasons including the always growing debt overhang and the dislocated, destructured and dysfunctional economy - shown by the insane growth of financial "engineering" or financialization - achieving much higher growth rates would, according to Reid, need ultra-massive additional debt for the G7 countries. They would need to make a decision to triple or quadruple their present sovereign debt (a 350% - 450% growth in debt). They would also have to go for annual rates of inflation of at least 5% on a permanent basis.
This is not theoretically impossible, but really impossible. Since it can't and wont happen we have to look elsewhere to find out what will happen – remembering that consumer democracy does not work when the consumers turn into mass unemployeds. After a certain amount of time they rebel, make street protests, attack the ruling elite and attack the rich – revolution and anarchy ensue.
Call it Arab Spring, western-style.
The run-up to the "cyclically scarred" 1914-18 war and the Great Depression which triggered from 1929 were powerfully aided, or pushed by the economy falling apart on a regular basis. The current Syrian and Middle East-North Africa crisis reminds us each day that never since the cold war has the world been so close to the edge of full-blown global military conflict, dragging in big and small powers. Whether or not the Syria "trigger" was designed and produced as just a way to divert the attention of consumer democrats from the stagnant economy – or as the catalyst that will spark growth – is not possible to say. But what we do know is that all major developed countries are lagging ever further behind their "trendline of growth", based on blip economy images of the Good Times. This alone is going shake society to its foundations.
By Andrew McKillop
Contact: xtran9@gmail.com
Former chief policy analyst, Division A Policy, DG XVII Energy, European Commission. Andrew McKillop Biographic Highlights
Co-author 'The Doomsday Machine', Palgrave Macmillan USA, 2012
Andrew McKillop has more than 30 years experience in the energy, economic and finance domains. Trained at London UK's University College, he has had specially long experience of energy policy, project administration and the development and financing of alternate energy. This included his role of in-house Expert on Policy and Programming at the DG XVII-Energy of the European Commission, Director of Information of the OAPEC technology transfer subsidiary, AREC and researcher for UN agencies including the ILO.
© 2013 Copyright Andrew McKillop - All Rights Reserved Disclaimer: The above is a matter of opinion provided for general information purposes only and is not intended as investment advice. Information and analysis above are derived from sources and utilising methods believed to be reliable, but we cannot accept responsibility for any losses you may incur as a result of this analysis. Individuals should consult with their personal financial advisor.
© 2005-2019 http://www.MarketOracle.co.uk - The Market Oracle is a FREE Daily Financial Markets Analysis & Forecasting online publication.

Only logged in users are allowed to post comments.
Register/ Log in