UK Housing Boom Prompts Landlords to Evict British Benefit Claiming Tenants in Favour of Eastern European Workers
Housing-Market
/
Immigration
Jan 07, 2014 - 05:29 AM GMT


Rising house prices meets housing benefits cuts benefits culture cap resulting in private Landlords increasingly making the financially commonsense decision to evict not just benefit claimants heavily in arrears but virtually all of their benefit claiming tenants in favour of far more reliable hard working eastern european workers.
This is the natural consequences of rising house prices as rental yields tend to track house price rises where the average annualised rise of 8.5% translates into average rents being raised by 8.5% which pushes benefits claimants increasingly into arrears and thus prompting Landlords to seek more reliable rent paying tenants as the Coalition government has desperately been attempting to cut what had become out control housing benefits payments to 4.5 million households under the Labour government that at its extreme had manifested itself in rental payments of over £100,000 per annum each to over 100 families that are now subject to the benefits cap.
Channel 4 News recently ran a story that illustrates what is taking place in Britain's property rentals market as one landlord explained why he has served eviction notices on 200 housing benefit claiming tenants thus forcing the tenants back onto already swamped public sector housing as a further example of what amounts to out of control immigration resulting in relentlessly building demand pressures right across sectors of economy.
The benefit cuts already brought in by the government are starting to have one unforeseen consequence some private landlords are refusing to house people on benefits at all, take the wealthy property owner Fergus Wilson and his wife Judith, two former maths teachers turned property tycoons have served eviction notices on 200 families who depend on welfare to cover their rent and he joins me now.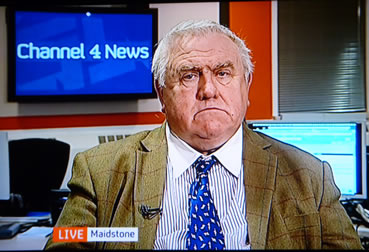 Fergus Wilson your not the only private landlord doing this so where are people on benefits supposed to live?
Well, that is a matter for the local authority, but the difficulty for the local authority is that they are full to capacity, so where do people go ? If they are single mums, they get some protection, but in reality it means bed and breakfast, if they are over 18 and have no children then the local council is under no obligation to house them.
But your kicking them out, government cuts have what have brought all this about and the impoverished tenants are taking the flack aren't they ?
Yes
So people say your a bit heartless, do you think your heartless?
Well if I am heartless then so all of the other landlords are heartless because were all doing the same.
But do you think your being unfair, your worth £240 million pounds, do you think you need to put rents up?
Yes I do, the situation is this if house prices go up then the rents go up in proportion, that's commonsense. All of our properties have to stand on their own two feet, its not a house of cards, if a property has a tenant who cannot afford the rent then the mortgage does not get paid and we would lose the house as well as the tenant, that's rather silly, if we have a person who is working who may be an eastern european, it is our experience you do not have defaults. I must tell you I have not had anyone in the last 2 years who was working fail to pay a penny, but as far as people on housing benefits we are now over 50% in arrears, so its a pretty simple choice.
However, it is not as black and white as the Channel 4 story implies for many immigrants of especially the more recent waves out of Romania and Bulgaria can be even worse tenants than British benefit claimants as for months many landlords have been informing me of their negative experiences where Roma and other eastern european tenants will say anything to gain a privately rented property by offering to pay higher rents and paying for several months up front, but then the experience is that no further payments are made where the Roma / Romanian tenants give the story that they have lost their jobs and then refuse to leave properties as Landlords are forced to go through the lengthy eviction process that usually results in the return of a stripped property with inability to gain recompense from the tenants who have moved on to their next target.
And where the welfare bill and immigration are concerned it should be noted that benefits such as housing and tax credits are available to all workers including low paid eastern european workers who will be in receipt of housing and other benefits that far out weigh taxes paid and hence demonstrates how where the property rental market is concerned immigrant demand is displacing British claimants rental opportunities whilst adding to the benefits bill.
At the end of the day the immigrant demand pressures are a wake up call for many benefits for life claimers to get of their lazy back sides and into work as the immigrants illustrate that there always is work to be done because the twin forces of the state being financially unable to provide them with a free lunch from cradle to grave is coupled with continuing out of control immigration that results in cost of living increases far beyond the rate that benefits are indexed to right upto the benefits cap that should increasingly force the 8 million non working benefit claimants to work as do the other 28 million hard working Brit's whom many claimants have been living off their whole adult lives despite no real reason other than a generational entitlement culture of laziness for the reason why they have made a life style choice not to work.
UK Population Growth Trend Trajectory
My long standing forecast is for the UK population to grow from 62.2 million as of Mid 2010 to at least 70.5 million by 2030 as illustrated by the graph below. However the actual trend trajectory as per the most recent population data into Mid 2012 suggests that the UK population could increase by an additional 4 million by 2030 as a consequence of what amounts to out of control immigration that translates into a population increase equivalent to 15 cities the size of Birmingham.
02 Aug 2010 - UK Population Growth and Immigration Trend Forecast 2010 to 2030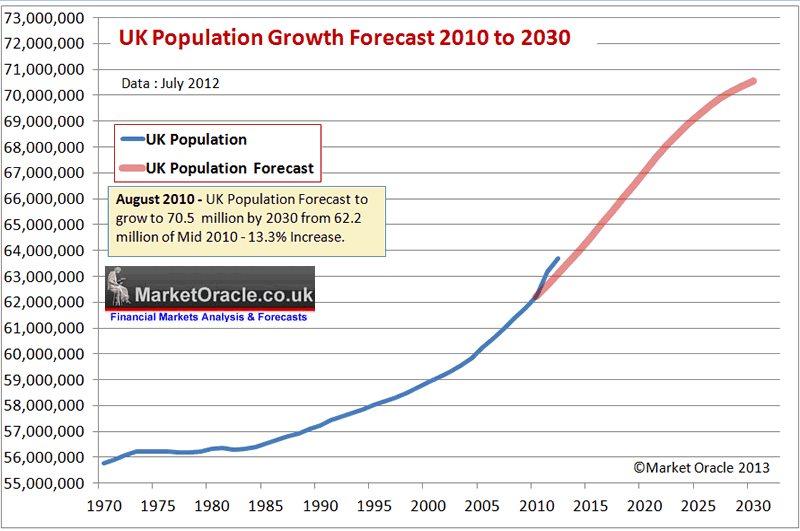 Continuing out of control immigration looks set to have a huge impact on the UK housing market in terms of availability and prices so ensure you subscribe to my FREE newsletter to be in receipt of detailed trend forecasts for UK house prices for the next 5 years as well as to download my NEW Ebook UK Housing Market Forecast 2014 - 2018 (available from Mid Jan 2014).
Both Major Political Parties Support Immigration
Leaders and representatives of both major parties have been busy making statements promising to control immigration in the future, however these amount to nothing more than bare faced lies when one considers the real fundamental drivers for immigration because if the politicians were really serious about controlling immigration than it would already have been done!
Labour Supports unlimited immigration because the vast majority of immigrants will tend to vote Labour i.e. be politically left of centre, therefore Labour sees immigration ultimately in terms of hundreds of thousands of new Labour voters who will ensure further election victories. Labour's strategy has therefore been highly successful as in a little over 10 years it has changed many constituencies in favour of voting Labour to the point where it has become near impossible for the Conservatives to win elections with significant majorities such as the landslides achieved by Margaret Thatcher achieved during the 1980's.
Conservatives support immigration because it is highly profitable for their pay masters - big business, as the influx of migrant workers will tend to drive down wages for all workers thus deliver higher profits for business. Academic economists may rightly argue that by doing so businesses will ultimately erode their own profits as workers who earn less also spend less. However what academics fail to appreciate is that the state steps in to fill the gap by subsidising workers through tax credits and paying some 8 million people who are economically inactive all of which is funded by money conjured out of thin air i.e. government debt that is not backed by any economic activity that acts to inflate the economy, and thus corporate profits which are leveraged to inflation.
The Conservative led Coalition boasts that it has cut net migration by a third, but what they forget to mention is that only immigration from OUTSIDE of the EU has been cut i.e. many of whom would be highly skilled workers, who instead of being reliant on the state would have paid taxes. Additionally the Conservatives conveniently tend to forget that the Borders Agency has been an abysmal failure that routinely allows in many tens of thousands of illegal migrants every year.
Therefore one should realise that high net immigration is in the interests of both major political parties both in terms of votes and for those that bankroll the parties, which means neither Labour or Conservatives will actually do anything significant in respect of controlling immigration, so everything you are hearing in the mainstream media from the politicians such as Cameron promising a referendum in 2017, some 2 years AFTER the next election is purely smoke and mirrors BS to mislead the population into thinking that something will eventually be done about Britain's immigration crisis.
Yes each party may announce plenty of policies and massage figures in the run upto the next General election, but they will break ALL of their immigration promises just as they have done before because it is not in either main parties interests to control immigration.
UK House Prices Forecast 2014-2018
Immigration pressures play an important factor in respect of my recent in-depth analysis for UK house prices that concluded in a detailed trend forecast for the next FIVE years from 2014 to 2018 that house prices target an average gain of 10% per year totaling 55% by the end of 2018 as illustrated below:
UK House Prices Forecast 2014 to 2018 - Conclusion
This forecast is based on the non seasonally adjusted Halifax House prices index that I have been tracking for over 25 years. The current house prices index for November 2013 is 174,671, with the starting point for the house prices forecast being my interim forecast as of July 2013 and its existing trend forecast into Mid 2014 of 187,000. Therefore this house prices forecast seeks to extend the existing forecast from Mid 2014 into the end of 2018 i.e. for 5 full years forward.
My concluding UK house prices forecast is for the Halifax NSA house prices index to target a trend to an average price of £270,600 by the end of 2018 which represents a 55% price rise on the most recent Halifax house prices data £174,671, that will make the the great bear market of 2008-2009 appear as a mere blip on the charts as the following forecast trend trajectory chart illustrates: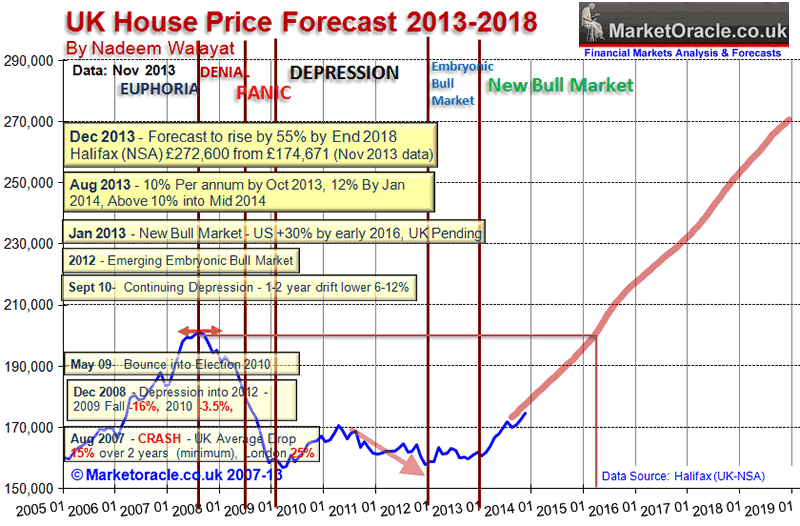 Additionally, a video version of excerpts of the forecast analysis is available -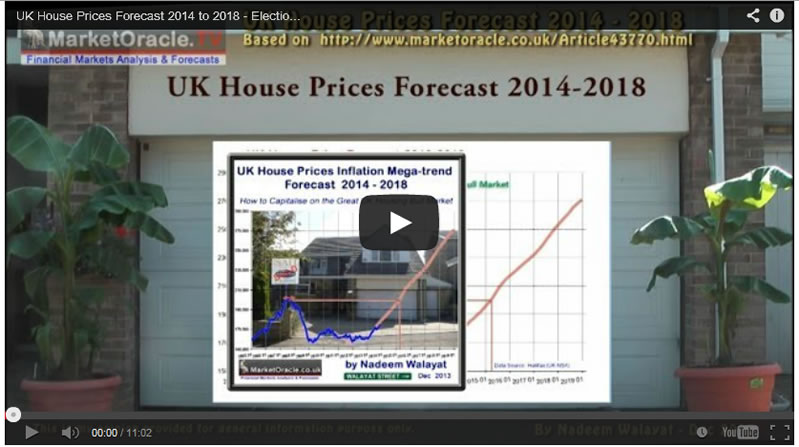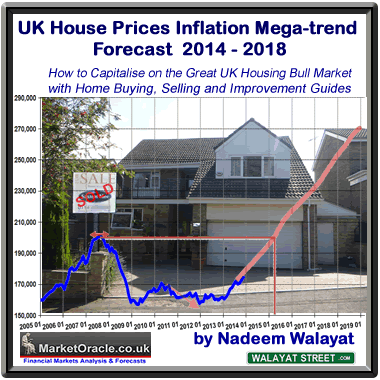 Also ensure to subscribe to my always free newsletter for regular housing market updates as well as FREE download of my New UK Housing Market ebook (available from mid January 2014) which includes the full analysis and many topics beyond forecast analysis such as -
A step by step guide of how to buy a house.
Analysis of buying vs renting
How to increase the value of your home
Managing your mortgage debt
Maintenance that can save you a lot of money long-term
Money saving low cost home improvements
Regional house prices analysis
Surveying properties - what to look for
Source and Comments: http://www.marketoracle.co.uk/Article43866.html
Nadeem Walayat
Copyright © 2005-2013 Marketoracle.co.uk (Market Oracle Ltd). All rights reserved.
Nadeem Walayat has over 25 years experience of trading derivatives, portfolio management and analysing the financial markets, including one of few who both anticipated and Beat the 1987 Crash. Nadeem's forward looking analysis focuses on UK inflation, economy, interest rates and housing market. He is the author of four ebook's in the The Inflation Mega-Trend and Stocks Stealth Bull Market series.that can be downloaded for Free.

Nadeem is the Editor of The Market Oracle, a FREE Daily Financial Markets Analysis & Forecasting online publication that presents in-depth analysis from over 600 experienced analysts on a range of views of the probable direction of the financial markets, thus enabling our readers to arrive at an informed opinion on future market direction. http://www.marketoracle.co.uk
Disclaimer: The above is a matter of opinion provided for general information purposes only and is not intended as investment advice. Information and analysis above are derived from sources and utilising methods believed to be reliable, but we cannot accept responsibility for any trading losses you may incur as a result of this analysis. Individuals should consult with their personal financial advisors before engaging in any trading activities.
© 2005-2022 http://www.MarketOracle.co.uk - The Market Oracle is a FREE Daily Financial Markets Analysis & Forecasting online publication.

Only logged in users are allowed to post comments.
Register/ Log in