Stock Market Plunge on Argentina Crisis
Stock-Markets
/
Stock Markets 2014
Jan 25, 2014 - 10:45 AM GMT


Goldman Sachs President and COO and AIG Non-Executive Chairman Steve Miller spoke with Bloomberg Television's Erik Schatzker and Stephanie Ruhle at the World Economic Forum in Davos, Switzerland today.

Cohn downplayed the market reaction on Argentina: "Markets going through some jitters trying to figure out exactly what's going on, emerging markets, we're seeing some repricing of assets. This is not extraordinary movements in the market. We have seen movements like this before...These are growth markets, they're not developed markets."
Miller also spoke about AIG's improved reputation: "We were the most disrespected brand name on the planet and now we have come back and fully paid back the U.S. government a year ago, as you know. We built a company with tremendous momentum. We are going back on offense."

Gary Cohn on market reaction to Argentina:
"We're getting calls. Markets have been going through some dislocation for the last two or three days. Markets going through some jitters trying to figure out exactly what's going on, emerging markets, we're seeing some repricing of assets. This is not extraordinary movements in the market. We have seen movements like this before. Remember back to what we saw when Ben started on the tapering speech middle of last year, we saw 100 basis point movement in 10-year. We have seen the 10-year move about 25 basis points in this move. We have seen flight-to-quality, we've seen normal reaction to things that go on in growth markets. These are growth markets, they're not developed markets."
Steve Miller on whether we are close to the point where a correction is due, given what we saw play out last year (financial conditions were benign, returns in equity markets were very strong):
"I've got to tell you that it is interesting to come to Davos each year. The mood changes, the focus changes. Two years ago, everybody was focused on is Europe going to implode. It is a different attitude every time. This time everyone is saying, the worst is behind us, happy days -- and at lunch today, the most terrifying statement I heard, 'it feels like 2007 again.'"
"[At home] people are concerned, I would say. My problem is that the current stability of the various developed country markets is against an environment where the fiscal situation is not sustainable. At some point, the bills are going to come due and the developed countries do not have the wherewithal to meet the obligations that are piling up. So, I am a near-term optimist, but long-term, deeply concerned."
Cohn on whether people are too bullish:
"I don't know if people are too bullish or not. But I'm gonna remind you of had a conversation we had last time I was on the air with you. I said, look, something that I was concerned about - one of my risks - is liquidity. I said one of the things that is coming out of the market as we continue to regulate markets, we continue to increase capital charges -- you've seen all of the banks withdraw balance sheet, withdraw risk-weighted assets from the market . We need to get used to seeing more and more moves like this. This is just a natural evolution of where markets are headed."
Cohn on what a 'consolidation' means:
"A consolidation is a typical charting pattern. When people talk about consolidation, are talking about charting forms. What you tend to see is you have big movements. Then you need to get used to that level of price. You need price activity around those levels, which is called a consolidation. We had a 30 plus percent move in some of the U.S. indices last year in equities. Then they to get used to those 30% higher prices and then decide does the world like those 30% higher prices? Do they establish those are the right prices? Are those prices too high? Are those prices too cheap? Then the market recalibrates itself based on the consolidation. That's normal."
Miller on his biggest takeaway from Davos and AIG's action steps:
"I would say the buoyant attitude for the people that is so different from what we saw over the last three or four years. You go back four years, Goldman Sachs probably wouldn't have even been sitting with me at AIG. We were in deep trouble then. We were the most disrespected brand name on the planet. Now we have come back and fully paid back the U.S. government a year ago, as you know. We built a company with tremendous momentum. We are going back on offense."
"I'm going to sit down and write a trip report on the plane on the way back, that's for sure. Because I've had so many interesting interchanges with individuals. I need to add them up. I still think this is a world of opportunity in front of us. Our business is accepting risk and charging for it. That is our business. To the extent people perceive risk and are willing to pay for our protection from it, it is going to be great for our industry around the world."
On whether they feel popular at Davos and how it feels today compared with a few years ago:
Miller: "Well, I told you I was sitting last night at dinner with Bono....Because of what AIG has done and the fact I'm chairman, I do get a lot of people coming to me for my views and my advice. Nobody would have asked that three or four years ago."
Cohn: "I always seek Steve's advice as well. He's a great work out expert. He's worked out some great companies in the United States, so he has great advice. You should seek his advice. We've got a huge client base here in Davos. So when I'm out and around seeing people, I am running into clients all day long whether their Central Bank clients, their CEO clients, whether they are asset management clients. They are all here. This is a large gathering of our client base, so I'm always out talking to people and running into people I know."
Cohn the theme of innovation and working in an industry that doesn't feel like it can innovate:
"We're in industry that's there to serve our clients. We're in the same industry that Steve's in to some extent. We're risk managers. We're here to take on risk, we're here to facilitate our clients' needs, we're here to take the other side of their transaction that allows them to grow their business, that allows them to deploy capital, that allows them to hire people."
Miller on participating in conversations at Davos:
"It's a two-way street, receiving information and putting it out. For example, right after this show, I'm going to a panel discussion with AB InBev and Pepsi and a few other great companies, talking about road safety. What can we do. Road safety. Why? Consider china that 40% of the drivers have less than three years' experience. There's 20 million new drivers going on the roads in China every year, and they haven't quite mastered how to drive safely."
"It goes to the design of the cars, the design of the roads, the training of the drivers and so on. We are going to see what we as the private sector can bring to this process because it is the underdeveloped countries of the world where traffic accidents are the number four leading cause of death around the world at all ages. For under 30's, it is the number one cause of death. We can do something about this."
Cohn on whether he is missing out on opportunities at Davos by spending all his time with clients:
"I think it would be fun to come back someday and just be a regular visitor at Davos and go to some of the panels and hear what's going on. But the clients that are here are so important to our franchise and spending time with them and getting to see them is really the best use of my time."
Cohn on people remaining bullish about Japan and whether the Kuroda Put is as solid as the Bernanke Put:
"The market is interpreting it that way. Abe was here, himself, talking about his commitment, his conviction, to create an inflationary Japan, to stop the decades of deflation, allow Japan to keep growing. The market is respectful of the devaluation that has taken place in the yen so far. That has been a trend that's been in place for the better part of a year here. It's something that you have to notice. If you look at what has happened over the last quarter, two quarters, three quarters, the trend is there. Until the market sees something that is not believable, they're gonna continue to believe it is there."
Miller on how the board of Blackberry or a similar company should advise the CEO to lead and inspire employees despite criticism:
"Well, I don't have an answer for Blackberry, but the most important thing that a leader can do is to be honest and open with the people of the company about, here's the problem we've got and then here is how we are going to solve it. Here is what we're going to do to get to where we've got to get to. You have to be an inspirational speaker, you have to be a great communicator to provide that leadership. In the worst of situations, just like Bob Benmosche did at AIG, you can get the people excited again. I think one of the things you're talking about, Japan, one of the things that Abe has done, he has the Japanese people excited about their future for the first time in two decades. That is an enormous achievement in leadership."
Cohn on how he keeps employees motivated:
"Our people have to enjoy what they're doing. They have to understand their part of a team, they have to understand the goal. They have to understand the objective. The goal is to serve our clients. If we serve our clients well, our clients will do well and we'll get compensated well, and they'll end up living a very good life and be compensated well for that."
Miller on what takes to get CEO and the support of their boards to start making capital investments:
"I think the biggest inhibitor to new investments, particularly in the United States, is that there is uncertainty as to what it is going to cost to hire people. You have people who said, I used to have 40-our workers. Those are fine, but any new hires are going to be part-timers at 20-hours so as to avoid all the regulatory and financial overload that comes with it. Until it is clarified, I don't want to add to the payroll."
"Steve has a better view on this than I do. He's a non-executive chair of a board of a major company and he would understand what the boardroom dynamic is. He is completely right. This is about confidence. You spend money and you make investments when you're confident you can get a return for your shareholders. CEOs and boards don't spend money when they are hoping that they get a return. They spend money when they are sure or they're highly confident they're gonna get a return. There are too many unknowns in the world right now today to spend a lot of money. You incrementally have to spend some money to keep your business going and to keep your opportunities out there, but you're not going to take a risk that you don't understand the return on."
On whether younger companies like Uber, Yelp, Twitter have great products but might lack senior management experience:
Miller: "They may not know perfectly how to manage, but the innovation and imagination they bring to it is terrific. My own son started up an internet company three years ago - it is going gangbusters. He is quitting his day job and going to spend full time on it. What a wonderful thing. I had every doubt that he would ever get anywhere with it, but it has been a fabulous success. I love the success stories of the young people who are in the high tech businesses."
Cohn: "The entrepreneurial spirit these gentlemen and women have and the creativity that they have - they're gonna make some mistakes. But very seasoned management teams have made mistakes before. They're willing to make mistakes. They're willing to admit they're wrong. And they're willing to move on. These companies have great products."
Cohn on whether an internet bubble is ahead of us:
"It's not an internet bubble driven by lack of management in these technology startups. That's not it at all. The ones that are thriving, are thriving because they've got great products that you and I need, want and use everyday."
This text has been automatically generated. It may not be 100% accurate.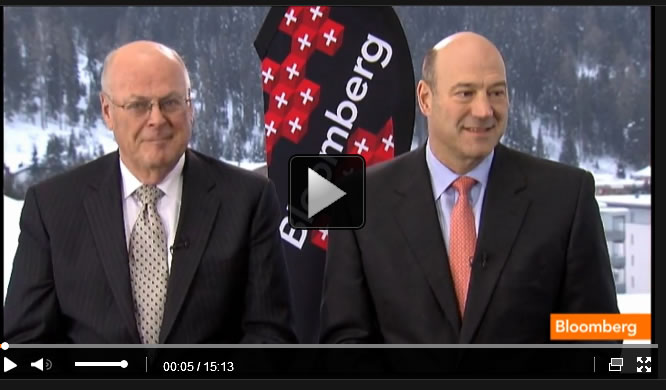 Copyright © 2013 Bloomberg - All Rights Reserved Disclaimer: The above is a matter of opinion provided for general information purposes only and is not intended as investment advice. Information and analysis above are derived from sources and utilising methods believed to be reliable, but we cannot accept responsibility for any losses you may incur as a result of this analysis. Individuals should consult with their personal financial advisors.
© 2005-2019 http://www.MarketOracle.co.uk - The Market Oracle is a FREE Daily Financial Markets Analysis & Forecasting online publication.

Only logged in users are allowed to post comments.
Register/ Log in