If Bitcoin Were Regulated and Mt. Gox Were A Bank
Politics
/
Bitcoin
Mar 07, 2014 - 05:50 PM GMT


Justin O'Connell writes: "Thus, the libertarian-minded bitcoin investors are forcefully recognizing what happens in crisis when a currency regime has no central bank as a backstop....Think of how much carnage occurred in 2008, did you lose any of your deposits? I would think bitcoin holders on mtgox are wishing the FDIC would step in and guarantee their funds." - Ben Rand
When beleaguered Mt. Gox CEO Mark Karpeles tried to concern troll his way into a bailout last week, he appeared somewhat like Hank Paulson trolling congress in 2008 into a bailout. Karpeles claimed he was very concerned that if he wasn't bailed-out to the tune of 250,000 bitcoins, bitcoin would collapse. After all, Karpeles possibly thought, Paulson tried this, and US Congress did what he wanted. Maybe bitcoiners would do the same... Here is what Mt. Gox wrote: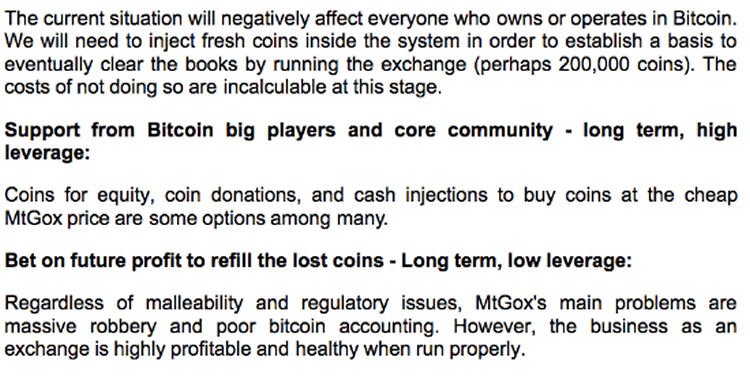 There is one problem for Karpeles: he isn't a bankster working on Wall Street.
If Bitcoin were regulated, and Mt. Gox a bank, headlines would not have lambasted the exchange and its CEO over recent weeks leading into the Mt. Gox bankruptcy. Instead, political will would be garnered by the press as political leaders announced a bailout of the exchange.
In this parallel non-reality, political leaders might declare that the bailout of Mt. Gox would "help prevent the crisis from becoming a crisis in communities across the world" or something to that measure. The bitcoin market might not be overly enthusiastic about the bailout, but Mt. Gox certainly would be.
Political leaders would say that lawmakers must act "in the best interests of the nation and bitcoiners." Nonetheless, we would be told by the likes of Mt. Gox, that "a long and difficult road to recovery" still lies ahead.
Signs of urgency surrounding the economic rescue efforts would abound. In light of a bailout, lawmakers would be praised for acting so quickly after Mt. Gox announced they needed economic assistance.
"We have shown the world that our country will stabilize our financial markets and maintain a leading role in the global economy," a president or prime minister might say.
Taxpayers would be guaranteed more regulation in the future as a thank you for providing liquidity to Mt. Gox. This legislation would mostly apply thereafter to Mt. Gox competitors and smaller bitcoin-related businesses.
"High-fliers in bitcoin will no longer be able to jeopardize that personal economic security of Americans," someone like Nancy Pelosi might say, "because of the bright light of scrutiny, accountability and the attention given under regulatory reform."
Bitcoiners of many stripes would call the bailout of Mt. Gox a costly "Band-Aid" that did not address the core problems of the Mt. Gox problem. Opponents would say the bailout was unnecessary and risked too much taxpayer money to help Mt. Gox tycoons. In other words, let them fail.
"Some things have changed in this bill but taxpayers for generations will still be picking up the tab for Mt. Gox's party," one politician might say after heated debates regarding the syntax of the bill. Another might echo this negative sentiment towards the bailout: "It is an outrage that it's even necessary...But we must stop the damage to our economy done by corrupt and incompetent practices at Mt. Gox and in Bitcoin." Supporters of the bill would say it was necessary to prevent economic collapse and necessary for bitcoin at this crucial stage.
"[A bailout] will be the best thing for bitcoin as we are in the transition stage between bitcoin being an innovative tech to a regulated and trusted mainstream innovative tech. In order to make this transition we need support from the community and the world. It is not the time to be cynical. It is not the time to say I told you so. This is the time to help," one bitcoiner, in reality, argued in favor of a bailout.
Officials would claim the final cost of the bailout of Mt. Gox would be far less than $500 million pledged, but in reality the cost would skyrocket due to government inefficiency and corruption.
If the Mt. Gox bailout were like other bailouts, don't expect Mt. Gox to divulge where the funds went. Maybe you remember, after receiving billions in aid from taxpayers, the USA's largest banks said they can't track exactly how they're spending it. Some wouldn't even talk about it. "We're choosing not to disclose that," said Kevin Heine at the time, spokesman for Bank of New York Mellon (BK), which received $3 billion.
What's likely, however, is Mt. Gox would announce that they might not re-open trading on their website for the foreseeable future, blaming problems with the coding, but one could be sure of raises all around to reward the Mt. Gox team for getting through "the crisis." You could also bet that the Mt. Gox planned "Bitcoin Cafe," located at their headquarters, would be opened for business shortly after receipt of the bailout funds.
No Bailout In Sight
One week after the bankruptcy of Mt. Gox, there is no bailout in sight. And this is a good thing. Many people lost money, but hopefully they've learned a lesson in decentralized personal finance: the responsibility is yours.
There has been no bitcoin crash, as countless people predicted, including Karpeles. In fact, the bitcoin chart looks good to me. Considering a run-up from $100 to over $1,000 in two months, a 50% retracement to $550 was quite healthy. I am not seeing any "crash" here. After the correction, a big run-up we've seen this week continues today.
Bailouts are only needed in a system where centralized financial institutions are needed so the whole system doesn't collapse. Bitcoin precipitates such an order. What applies to central banking can't always apply to decentralized crypto-currency. What's next - a collectivized bitcoin tax on all purchases? Mt. Gox can end and the organism that is bitcoin will thrive.
If you want to learn more about bitcoin, and also receive our Bitcoin Report first, click here, where you will find weekly analysis of all things TEOTMSAWKI, including many write-ups on bitcoin specific and p2p technologies.
Anarcho-Capitalist. Libertarian. Freedom fighter against mankind's two biggest enemies, the State and the Central Banks. Jeff Berwick is the founder of The Dollar Vigilante, CEO of TDV Media & Services and host of the popular video podcast, Anarchast. Jeff is a prominent speaker at many of the world's freedom, investment and gold conferences as well as regularly in the media.
© 2014 Copyright Jeff Berwick - All Rights Reserved Disclaimer: The above is a matter of opinion provided for general information purposes only and is not intended as investment advice. Information and analysis above are derived from sources and utilising methods believed to be reliable, but we cannot accept responsibility for any losses you may incur as a result of this analysis. Individuals should consult with their personal financial advisors.
© 2005-2019 http://www.MarketOracle.co.uk - The Market Oracle is a FREE Daily Financial Markets Analysis & Forecasting online publication.

Only logged in users are allowed to post comments.
Register/ Log in