Bank of England Lights A Fuse Under the Field of Economics
Interest-Rates
/
Quantitative Easing
Mar 19, 2014 - 04:52 PM GMT


There will be many people who don't care, there will be many more who don't understand, and there will be boatloads who refuse to believe it's true, but it still is. The Bank of England, in one single document, discredited, just at first count, 1) the majority of economics textbooks, 2) vast swaths of the entire field of economics, run as it is by economists educated by those same textbooks, 3) most governments' economic policies, designed by these economists, 4) much of its own work, also designed by the same economists, 5) Paul Krugman and 6) the "committee" that hands Krugman and his ilk their Not-So-Nobel Prizes.
Indeed, the message the Bank's people send is so devastating to economics as it is taught today that their document will most likely simply be ignored, even though that probably shouldn't really be possible with an official central bank report. As my friend Steve Keen, whose take on this I touched on yesterday, put it:
Now if I believed in the tooth fairy, I would hope this emphatic denunciation of the textbook model would cause macroeconomics lecturers to drastically revise their lectures for next week. But I'm too long in the tooth to have such a delusion. They'll ignore it instead.

Their dominant "tactic" — if I can call it that — will be ignorance itself: most economics lecturers won't even know that the bank's paper exists, and they will continue to teach from whatever textbook bible they've chosen to inflict upon their students. A secondary one will be to know of it, but ignore it, as they've ignored countless critiques of mainstream economics before. The third arrow in the quill, if they are challenged by students about it (hint hint!), will be to argue that the textbook story is a "useful parable" for beginning students, and a more realistic vision is introduced in more advanced courses.
Still, to see the Bank of England admit that the entire model most governments, including that of England, use to conduct policies, including austerity, should really be thrown out the window, is noteworthy.
Michael McLeay, Amar Radia and Ryland Thomas of the Bank's Monetary Analysis Directorate published in the Quarterly Bulletin 2014 Q1 a document entitled Money Creation in the Modern Economy, and introductory document, Money in the Modern Economy: An Introduction, and two videos that unfortunately seem shot with the express intent of losing the viewer's interest within 10 seconds, but are still worth watching.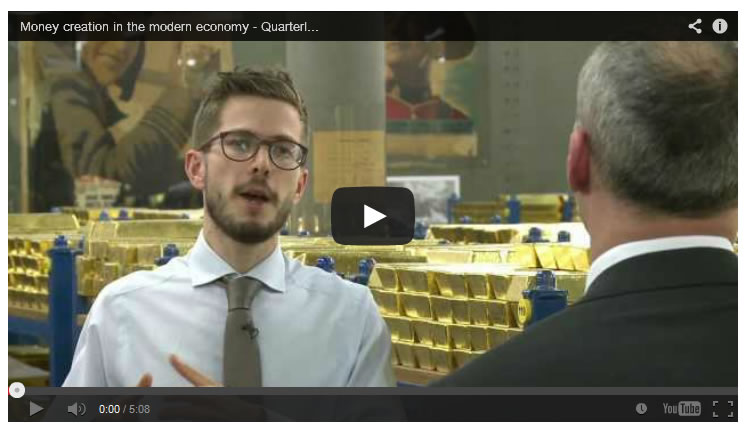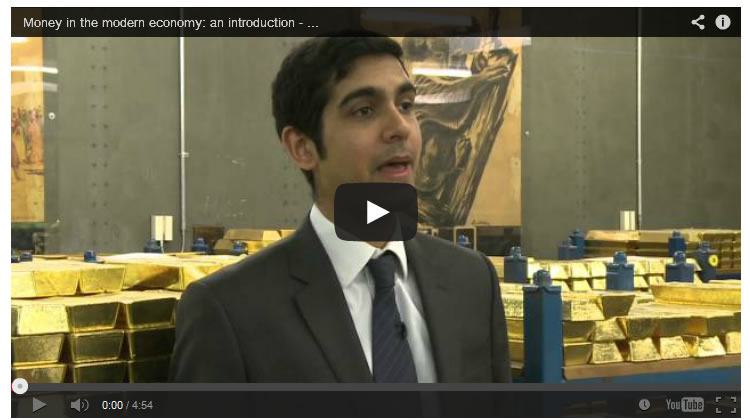 The authors' opening statements are:
• This article explains how the majority of money in the modern economy is created by commercial banks making loans.

• Money creation in practice differs from some popular misconceptions — banks do not act simply as intermediaries, lending out deposits that savers place with them, and nor do they 'multiply up' central bank money to create new loans and deposits.

• The amount of money created in the economy ultimately depends on the monetary policy of the central bank. In normal times, this is carried out by setting interest rates. The central bank can also affect the amount of money directly through purchasing assets or 'quantitative easing'.
Where they say "banks do not act simply as intermediaries", they do away in one fell swoop with Paul Krugman, who in his discussions with Steve Keen has always maintained just that: banks are mere intermediaries. Instead, Steve's argument that banks create money, an argument ridiculed by Krugman, is now confirmed by the BoE. We await Krugman's reaction.
Since I have two very good interpretations of the BoE document that I think you should read, and they're long enough as they are, I'm not going to try and add a third one myself. I suggest you first try and stomach and process Steve Keen, plus David Graeber's take as the Guardian published it. One thing: this confirms what most people already know, though most have never defined it as such. That makes it all the more peculiar that economists are not educated that way, and that economic policies are based on their recommendations.
By Raul Ilargi Meijer
Website: http://theautomaticearth.com (provides unique analysis of economics, finance, politics and social dynamics in the context of Complexity Theory)
© 2014 Copyright Raul I Meijer - All Rights Reserved Disclaimer: The above is a matter of opinion provided for general information purposes only and is not intended as investment advice. Information and analysis above are derived from sources and utilising methods believed to be reliable, but we cannot accept responsibility for any losses you may incur as a result of this analysis. Individuals should consult with their personal financial advisors.
© 2005-2019 http://www.MarketOracle.co.uk - The Market Oracle is a FREE Daily Financial Markets Analysis & Forecasting online publication.
Comments
R.E.B
20 Mar 14, 12:57
Impact assured?


Surely this important admission must have an impact? I also find the admission that QE money has been spent on Gilts interesting, as it is something they have also previously denied. I did smile though at the earnest way it was stated that it was their duty to maintain the currencies value. Of course they did not say at what value they must maintain it!




Only logged in users are allowed to post comments.
Register/ Log in