Stock Market in DANGER of Strangling the Bears to Death
Stock-Markets
/
Stock Markets 2014
Jul 20, 2014 - 07:46 AM GMT

The 5+ year stocks bull market continues to tighten its noose around the bears throats, though despite reddening faces and bulging eyes this has not halted the increasingly exasperated calls for the stocks bull markets always imminent end to definitely end this time.
The stocks bull market has confounded, ALL and I mean ALL, that following each economic data release, that following so called 'expert' stocks trend analysis, that following escalating wars in Ukraine and the Khazar Empires rampage on the defenseless population of Palestine such as on the Gaza concentration camp now killing over 400 of the closest descendants of the original Jews of the region of 2000 years ago, that following even the Russian Mafia blasting a large passenger plane out of the sky killing near 300 which is the primary focus of U.S. Media as it looks at past air liners shot down whilst convientely forgetting the Iranian Passenger plane that the U.S. Shot down in 1988 killing all 290 on board.
All of which must, mean with near religious End Times fervour that this time the stocks bull market MUST have ended, only to find that the few percentages drop in the stock indices once more reversed towards a trend to NEW ALL TIME HIGHs as illustrated by indices such as the Dow.
The Dow reversed Thursdays price drop on the back of the Putin's terror henchmen blasting Flight MH17 out of east Ukrainian sky that the perma fanatically stock armageddonists had convinced themselves had heralded an end to the stocks bull market that as usual was regurgitated at length by the mainstream financial media.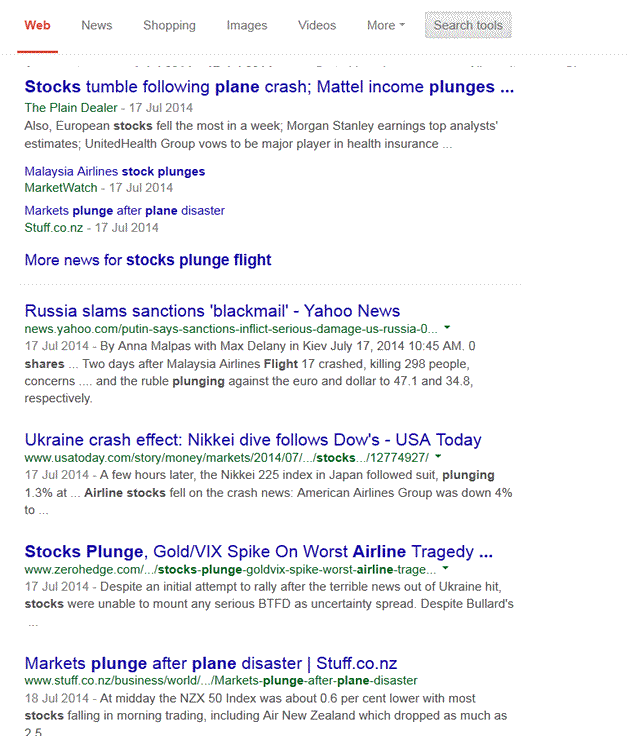 Dow Summer Correction Fails to Materialise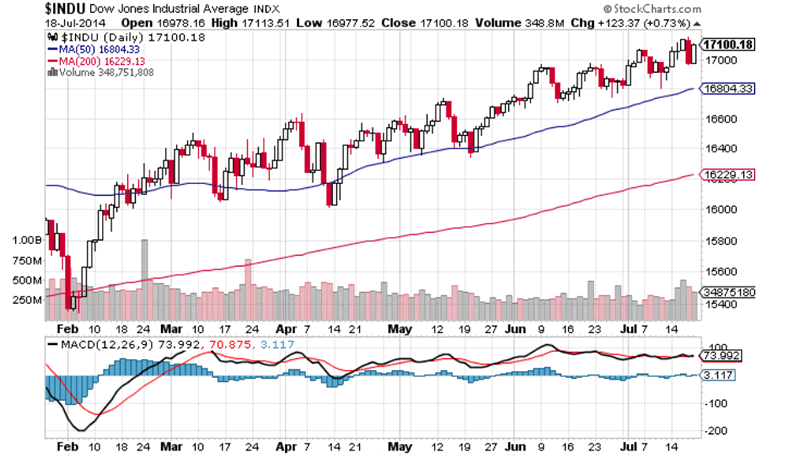 My last in-depth look at the stock market concluded in the following trend expectation for a significant correction into the end of June before the Dow marched to new all time highs by early August.
05 Jun 2014 - Stock Market Dow Trend Forecast Summer 2014
Stock Market Forecast Conclusion
The final conclusion for the Stock Market is for the Dow's rally to shortly terminate just before reaching 17k, probably at around Dow 16,950, then for the Dow to target a swift downtrend in to the range of 16,200 to 16,000 that may even bottom before the end of June. Which would set the scene for the stock market's next assault on Dow 17k into early August as illustrated by the below forecast graph, a failure of which I imagine would subsequently prompt many perma bears to start screaming DOUBLE TOP at the top of their lungs on the likes of CNBC and regurgitated at length by the blogosfear.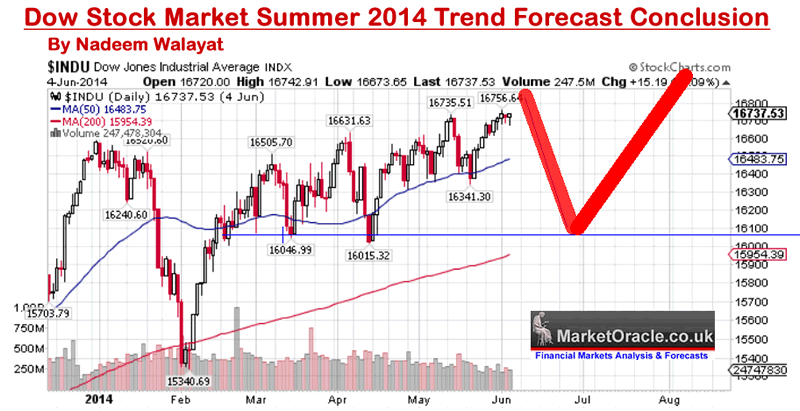 The Dangers of Stock Market Rallying Without Correcting
The stock market trend since my last analysis whilst volatile has nevertheless been bullish and thus failed to unwind bullish sentiment despite the occasional sharp 1 day drops that failed to trigger a meaningful correction which to me implies -
a. A stronger correction is now more probable
b. The probability for an ACTUAL 'THE TOP' materialising in the stock market has increased to what percent ? Best guess 25%.
Is the Stocks Bull Market Over?
To reiterate what I have periodically and unequivocally stated for the PAST FIVE YEARS and once more excerpted below, taken from an article when the Dow was significantly LOWER.
03 Oct 2013 - U.S. Government Shutdown Great for Stocks Bull Market, Bears Will be Crucified Again
The bottom line is this the US government shutdown is GREAT NEWS! because for bull markets to persist and continue they NEED BAD NEWS every few months, THEY NEED MOST PEOPLE TO BE SKEPTICAL, TOO AFRAID TO INVEST! And so it continues to be the case for the DURATION OF THIS BULL MARKET, where over 90%, NINTEY PERCENT OF Market commentators have been WRONG and continue to be WRONG, Everyone who has just proclaimed its END IS WRONG and Will BE CRUCIFIED, just as they have been crucified at every market turn for the past FIVE YEARS !
YOU WANT TO LOVE MARKETS THAT ARE HATED!
YOU WANT TO BE AFRAID OF MARKETS THAT ARE LOVED!
UNDERSTAND THIS - THIS stocks stealth bull market is one of the GREATEST bull markets in HISTORY!
Off course a real life crucifixion would mean the fools would would ceased and desisted in their demented ramblings, but that is one of the negatives of the passing of the Pagan Roman Empire. Instead the so called market commentators march on as if nothing happened despite spouting more garbage because clearly they NEVER put their own money on the line, which is the real secret for arriving at the most probable outcome. This is why virtually every time I write an article on the stocks bull market I get so many comments and reasons to explain why I this time I am wrong and it has ended.
Instead I have to reiterate what I have voiced for the duration of the stocks stealth bull market in over 200 articles (Stealth Bull Market Follows Stocks Bear Market Bottom at Dow 6,470 ), my strategy has been very, very simple, no black box voodoo to sell garbage to the unsuspecting masses but simply this - " The Greater the deviation from the stock market high then the Greater the Buying Opportunity Presented". And, you can't get any simpler than that !
Off course today the key point of difference is that the stock market has so far FAILED to correct there has been NO significant deviation from the Stock Market High so the right thing to do right now is to SELL - Distribute into the rally.
STOCK MARKET BLOW OFF DANGER
Whilst I DO NOT consider the stocks bull market to be over. However for me the most dangerous thing the stock market can do now would be to start rallying strongly and thus risk entering the BLOW OFF PHASE when investors lose all sense of of reality and send stock prices soaring by 20-30% into the stratosphere that probably COULD terminate this 5+ year stocks bull market.
What I Am Doing
I have to recognise the increasing risks and will be further reducing by exposure to the stock market by 1/3rd to approx 15% of assets in favour of UK housing.
The bottom line - The stocks bull market is NOT OVER, the danger is that it could enter a BLOW OFF STAGE which would risk its end. However failing that the stocks bull market has SEVERAL MORE YEARS TO RUN!
Its not rocket science its BUY SIGNIFICANT DEVIATIONS FROM THE HIGH and DISTRIBUTE At Sentiment EXTREMES.
Meanwhile what the Russians are doing in and over Ukraine and what the Israeli's are doing in and over Gaza put things into perspective giving a valuable window into the various levers of power that the Elite exert over the people of the West who delude themselves of being FREE, where Russia's murders of 300 innocent passengers is broadcast as a Tragedy whereas Israel's murders of 400 innocents and over 4000 injured IN THEIR HOMES is apparently acceptable with many apologists for fascists in the mainstream media justifying the unjustifiable on the basis of 2000 year old myths that NEVER HAPPEND!
Even children playing on a beach are not safe from self professed chosen people of a mythical god used as justification for blasting children into smithereens.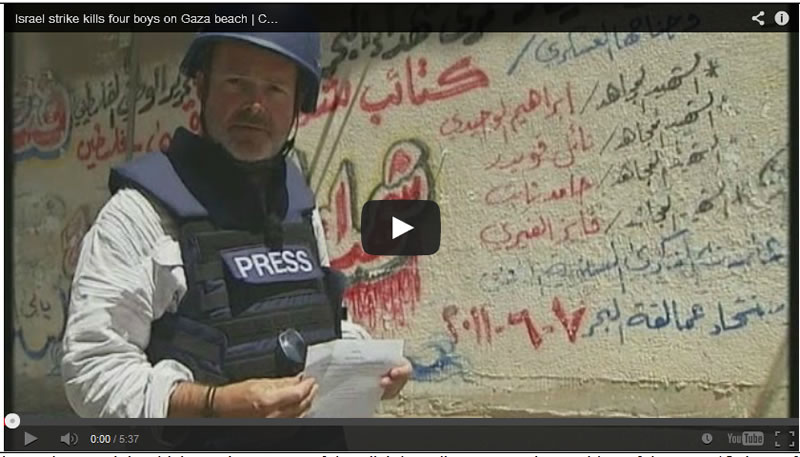 Just as RT (Russian Tyranny) News does in the East so does CNN, Fox, MSNBC, BBC... do in the West.
Israeli Prime Ministers spokesman happy to justify killing children playing on the beach (Channel 4 News).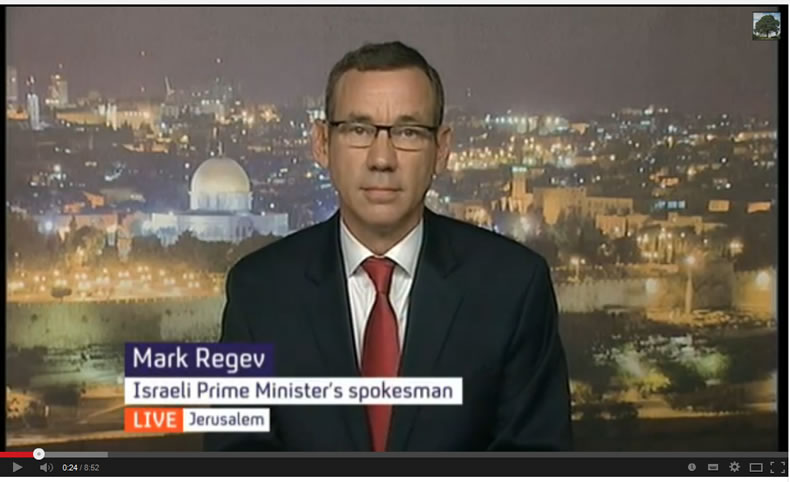 My next in-depth analysis will pull all of the threads together to reveal that the ISIS Islamic State is following the blueprints of the Israeli Zionist state and what its implications are for the future.
Fundamentalist ISIS Islamic State = Fundamentalist Jewish Zionist Israeli State = ?.... find out in my NEXT article.
Your analyst who has been net long of stocks since late Feb 2009.
Source and Comments: http://www.marketoracle.co.uk/Article46521.html
By Nadeem Walayat
Copyright © 2005-2014 Marketoracle.co.uk (Market Oracle Ltd). All rights reserved.
Nadeem Walayat has over 25 years experience of trading derivatives, portfolio management and analysing the financial markets, including one of few who both anticipated and Beat the 1987 Crash. Nadeem's forward looking analysis focuses on UK inflation, economy, interest rates and housing market. He is the author of five ebook's in the The Inflation Mega-Trend and Stocks Stealth Bull Market series that can be downloaded for Free.

Nadeem is the Editor of The Market Oracle, a FREE Daily Financial Markets Analysis & Forecasting online publication that presents in-depth analysis from over 1000 experienced analysts on a range of views of the probable direction of the financial markets, thus enabling our readers to arrive at an informed opinion on future market direction. http://www.marketoracle.co.uk
Disclaimer: The above is a matter of opinion provided for general information purposes only and is not intended as investment advice. Information and analysis above are derived from sources and utilising methods believed to be reliable, but we cannot accept responsibility for any trading losses you may incur as a result of this analysis. Individuals should consult with their personal financial advisors before engaging in any trading activities.
© 2005-2022 http://www.MarketOracle.co.uk - The Market Oracle is a FREE Daily Financial Markets Analysis & Forecasting online publication.
Comments
mydan
21 Jul 14, 04:44

I really surprised by your comments on the Gaza conflict...

Please consider the following known facts in your analysis:

1)Israel tells everybody in Gaza where is going to attack ahead of time simply to avoid civilian casualties. It allows civilians to avoid harm for the most part. Realize that it is Hamas that many times does not allow the civilians to leave the area, because they want them as human shields. While Israel is trying to minimize civilian loses, Hamas is trying to maximize their civilian loses.

Why? because they uses their death to rally support, create an emotional reaction on people to affect their judgment and manipulate them(http://www.frontpagemag.com/2014/dgreenfield/hamas-doubles-down-on-human-shields-uses-ambulances-wkids/

Of note, I consider that these warnings detrimental to the whole operation and somewhat naïve as it allows the terrorist that control the area to prepare for the attack, but they still do it out of concern for the civilians of Gaza. This is an extraordinary moral act.

2)Hamas reports as civilian "all" their combatant losses. Not everybody who dies in Gaza is a civilian. They never mention having any combatant losses.

3)Hamas is notorious for propagating false information and pictures of their conflicts with Israel. Their reports of casualties can not be trusted.

http://www.bbc.com/news/blogs-trending-28198622

4)You have to accept when there are fights in cities, urban warfare that they will be civilians loses. It is inevitable. The key is in trying to minimize them, and Israel is doing that.

4)Hamas wants the youth of Gaza to join the combat and die.

https://www.youtube.com/watch?v=l_UbLHNFAv4

https://www.youtube.com/watch?v=FT6iKFQDEP4

More food for thought:

5)Hamas purpose is the destruction of Israel.

How do you suggest Israel protects from the rockets, kidnapping, killings if not doing what they are now doing?

http://www.spectator.co.uk/features/9265051/not-enough-dead-jews/

6)FYI Jordan is Palestine, not Israel. About 70 percent of Jordan's population is of Palestinian origin.

The funny thing is, the King of Jordan does not want to loss his power and it does not want Palestine in his land.

7)Now to compare Fundamentalist ISIS Islamic State with a Zionist Israeli State? you want to compare a terrorist group that rapes, kills, destroy everything in its path to ultimate power with the most democratic and tolerant state in the middle east that fights for its survival surrounded by dictatorships and terrorist groups, the start-up country, the home of a number of Nobel laureates and breakthrough discoveries in all areas of science that have greatly improved the health and life of humanity?

Dan



Nadeem_Walayat
21 Jul 14, 12:31
Zionist Israel


Hi

Your ignoring the facts, as reported on NOT by Hamas propaganda but Channel 4 news on the ground IN Gaza.

Zionist Israel and ISIS Islamic state are the SAME.

Both claim that God gave them the land and everyone else is sub-human as per their actions.

What underlies Israel is a RACIST Ideology of the chosen people by God, once you bring God into the equation as you do recognise with ISIS then you lose all touch with reality and start believing the scraps of paper written when the world was understood to be FLAT! Start believing in master races and you know what that leads to.

Virtually NO other Western Nation would be doing what Israel is doing. When the IRA were bombing London, the British Government were not launching thousands of air strikes on Belfast and Dublin!

YOU JUST DO NOT GET IT! - YOUR CHILD IS OF EQUAL VALUE TO A PALESTINIAN CHILD!

The collective fools have a destiny with extincion as I explained in a video of November 2013 when all of the so called prophecies will be vaporised for eternity, NO mesiah, mahdi or the second coming, just a barren wasteland.

Best

NW



Parviz
21 Jul 14, 19:07
Israel is a disgrace to the civilized world


I fully agree with you, Nadeem, for calling a spade a spade. There is no difference between the propaganda spewed daily by "Goebbels"-Regev and the tactics practised by the origonal Nazis.

Gaza is a gigantic concentration camp where the inmates have NO HOPE of a better life as long as Israel pursues its expansionist and genocidal aims.

Israel is the world's most obnoxious Rogue State, far worse than Apartheid-South Africa where the indigenous population was at least able to roam free without suffocating check-points every few yards.

And Israel: Tear Down That Wall! Stop using U.N.-banned WMD on civilian populations! Stop razing their orchards! Stop destroying the Palestinians means of subsistence! Stop stealing their lands in defiance of both the U.N. and the U.S.! Stop stealing their water! Stop imprisoning thousands of passers-by on spurious grounds so you can swap "thousands" for captured Israeli soldiers!

If Israelis want peace? Do all of the above!



R.E.B
21 Jul 14, 20:21
Hamas


Hamas could stop firing rockets couldn't they?



Parviz
22 Jul 14, 12:29
Hamas 'Rockets'?


R.E.B., that's exactly the reaction I would expect from the Israeli Foreign Office Hasbara Propaganda Department.

You compare Hamas 'pinprick rockets', which have killed 3 people in 2 weeks, with thousands of tons of bombs that have killed and maimed 1000 Palestinians? You really do have a fair sense of relativity and justice. Has Hamas been using U.N.-banned Weapons of Mass Destruction including White Phosphorous, Cluster Bombs and Uranium Shells?

Tell me pray, what would you have done since 1947 if you had suffered the theft of your lands, in flagrant defiance of U.N. Resolutions, and the destruction of your means of livelihood? Peaceful protests? Letters to the U.N. and to the U.S. President?



Nadeem_Walayat
22 Jul 14, 13:39
Hamas


Hamas is to Israel what the IRA was to Britain, the different responses speaks volumes of just how facist and racist Israel truly is right from its very start. Those who blindly support the facist regime need to go and live in Gaza for just one day.



Parviz
23 Jul 14, 14:15
Zionism


The leading religious leader Rabbi Ovadia Yossef (Netanyahu's bosom-buddy pal) was quoted in none other than Haaretz as comparing non-Jews as donkeys destined to serve Jews:

"Goyim were born only to serve us. Without that, they have no place in the world -- only to serve the people of Israel."

http://www.haaretz.com/news/ahmadinejad-israel-is-a-germ-of-corruption-that-will-be-removed-1.252296

Thank God (figuratively speaking) that he died a few months ago and went to Hell. Israelis are sick, with very few principled exceptions such as Uri Avnery.



Admin
23 Jul 14, 19:08
...


This article is closed to comments.




Only logged in users are allowed to post comments.
Register/ Log in