David Cameron Election 2015 Debate Facts Check - Employment, Immigration, Debt & Deficit
ElectionOracle
/
UK General Election
Mar 29, 2015 - 05:44 PM GMT

David Cameron having chickened out of a head to head debate with Labour Leader, Ed Milliband, has left voters with a 20 minute interview with the out of retirement Jeremy Paxman. The Prime Minister faced a barrage of questions concerning the Con-Lib governments five year track record that put David Cameron on the defensive on employment, debt, deficit and immigration that this article and video fact checks.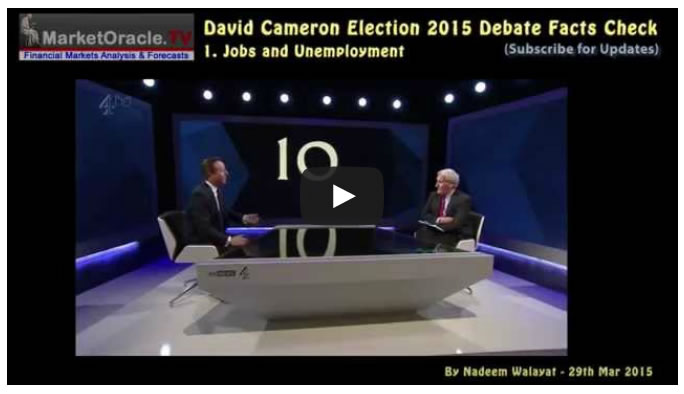 1. Creating 1.9 Million Jobs
The Prime Minister claimed much success in having created 1.9 million jobs over the parliament which is more than the whole of Europe put together. Whilst the facts translate into UK unemployment falling by 1 million from its 2012 peak of 2.7 million. Still where employment is concerned the ConLib government can claim a huge success when compared against the early trend trajectory that implied that UK unemployment could rise to 2.9 million by Mid 2013 as illustrated by my long standing forecast below:
01 Jul 2010 - UK Unemployment Forecast 2010 to 2015
Final conclusion - UK unemployment looks set to gradually rise to a peak of just over 2.9 million by mid 2013 before stabilising and starting to decline into a May 2015 General Election of just below 2.7 million against the governments forecast for UK unemployment to fall to 2 million by 2015 (OFBR - Peak at 8.1% this year before falling to 6.1%).
The benefit claimant count can also be expected to rise, though is much more difficult to forecast as it is far easier for the government to manage claimant numbers by moving recipients onto other benefits, OFBR forecast a claimant count of 1.17 million by May 2015.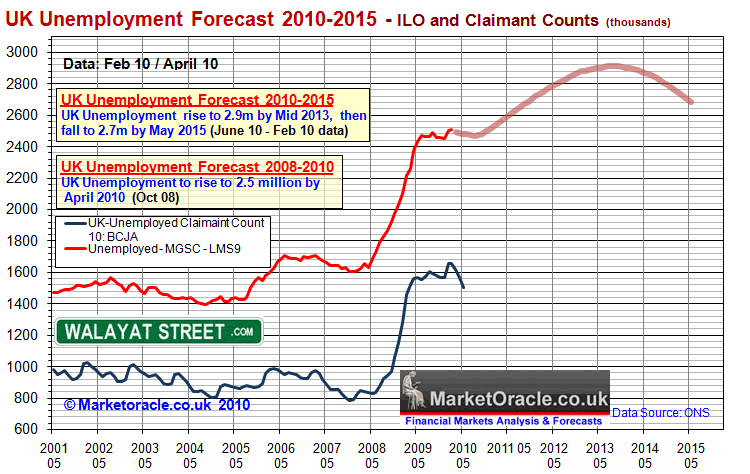 The following updated graph illustrates what has subsequently transpired in that UK unemployment did track my forecast for the first two years before starting to show significant divergence that on face value was a sign of relative economic strength but instead reflects the dual impact of the Coalition government stealthy abandoning the policies of economic austerity as evidenced by expansion of the budget deficit against forecast expectations. Something that both Labour and the Coalition government were happy to under play the significance of as both parties are invested in promoting the impacts of economic austerity. That and the trend for falling wages which encouraged employers to retain / employ workers on significantly less pay.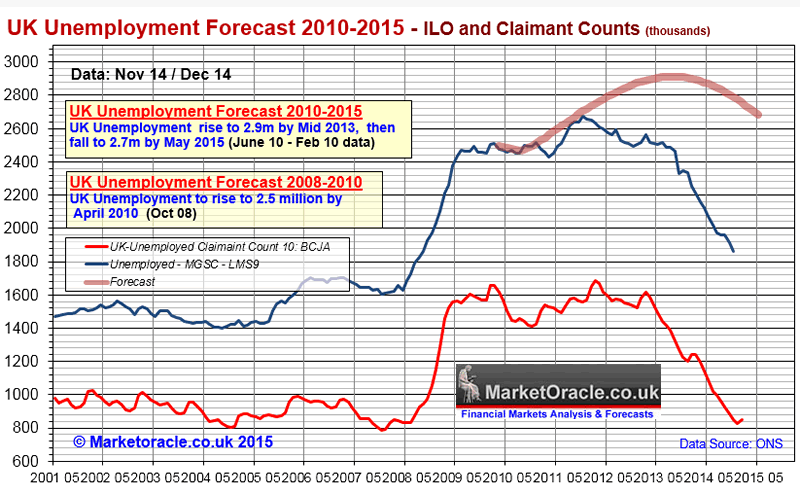 The positive UK unemployment trend has been further encouraged through a whole host of schemes such as the Bank of England's funding for lending scheme primarily for small businesses, full time workers converted to part time workers, and 1.1 million more self employed than there were in 2008, and that more than 1.2 million workers are now contracted under zero hours (up from 150,000 in 2010) that amount to a pools of virtual slave labour, workers who tend not to know if they will be working the following day until they receive a phone all or more usually the case a text message the evening before, and even then may find themselves rejected on arrival at work if the quota for workers has been fulfilled for that days shift work, or that their shift will end early on completion of the order, hence less pay as workers are only paid for hours actually worked.
Real Unemployment is 5.5 Million
Whilst the headline UK Unemployment rate peak of 2.7 million at 8.5% of the workforce is remarkably low when one compares it against past milder recessions had seen UK unemployment peak at much higher levels i.e. in the 1980's at 12% and in 1990 at 10.8%, therefore on face value the Labour government and then Coalition appeared to have achieved a minor miracle by UK unemployment peaking at only 8.5% amidst the worst recession since the Great Depression, which in reality was an 6 year economic depression.
However, I have long questioned the accuracy and validity of the official unemployment data which over several decades and much manipulation by successive governments has been tweaked many hundreds of times to under report true unemployment for political purposes. Current official unemployment stands at 1.86 million which is set against the total recorded as economically inactive of working age that stands at over 9 million which illustrates the true extent of failure of the last Labour government to manage the potential of the work force during the boom years as illustrated by the fact that 80% of the 2.1 million jobs created under Labour went to foreign workers and therefore did nothing to address the true level of UK unemployment that contained a hidden ticking social security financing time bomb that we have seen explode as an extra £40 billion annual budget deficit.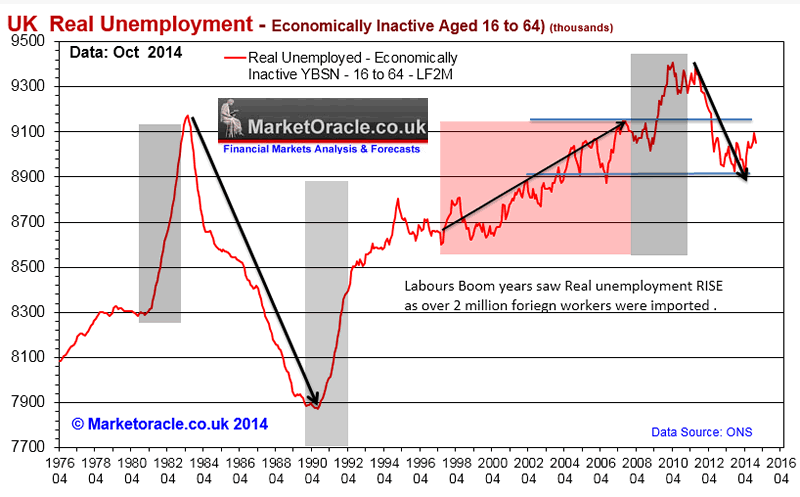 During the Conservative boom cycle, real unemployment fell from the 1983 crisis peak. However the same did not take place following the early 1990's recession where real unemployment failed to not only fall but steadily rose under Labours boom years as the benefits culture took hold as over 1 million foreign workers performed the jobs that unemployed Britain's were not prepared to do as they were far more comfortable living off tax payers as vested interests in Labours benefits for life culture, thus Labour engineered an extra 2 million positive voter balance i.e. 1 million more benefit claimants coupled with 1 million low paid immigrant workers that continued to increase long after the boom had ended.
Whilst not all of the 9 million economically inactive are capable of seeking work, however the figure does imply that at least 4 million of the 9 million form the core of the what we all knows as the benefits culture i.e. the could work but won't work.
Therefore the 4 million not counted in official unemployment numbers that choose not to work but instead prefer to rely on tax payer funded benefits added to the official 1.86 million unemployed results in a total UK unemployment count of 5.9 million. Which is more in line with the recession experience of other similarly in-debted and structured European countries.
The Conservative led coalition has only been marginally successful in dismantling Labours benefits for life culture, as clearly the fall in real unemployment is nowhere on the scale of that which occurred following the early 1980's recession, when real unemployment was reduced by 1.2 million against just 300,000 during the past few years, implying that the Coalition has so far only done half the job of unraveling Labours pool of vested interest benefit claimants.
2. Controlling the Deficit and Borrowing Less than Labour
David Cameron made several statements surrounding the debt and deficit, most notable of which he equated the deficit to being the nations over-draft which is a completely false analogy as the deficit is ADDITIONAL debt that the government borrows each year that is ADDED to Britains debt mountain. So the deficit is NOT in any way shape or form an overdraft, but rather akin to taking out an additional mortgage every year.
Jeremy Paxman pointed out that the ConLIb government has borrowed £500 billion, the actual number will be nearer to £550 billion by end of this financial year. Which David Cameron responded to as being a lot less than the previous government. However as the following graph illustrates it is actually more than Labour borrowed during its last 5 year disastrous term in office that left the country on the brink of bankruptcy.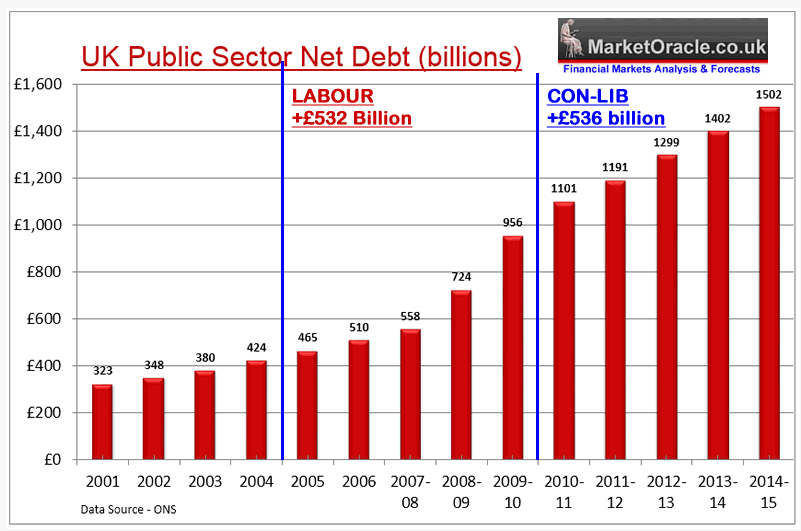 The key point is that the ConLib propaganda of cutting the debt has been just that propaganda with little difference to the amount a Labour government would have borrowed had they been re-elected in May 2010. Again this is a very important point that in terms of deficit and debt the Coalition government has made NO difference to that which a Labour government would have. Instead what we would have seen is more tax rises and spending increases under Labour whilst the Coalition has cut taxes and spending but both would have maintained the deficit.
David Cameron also stated that debt as a share of GDP has been falling. However this graph illustrates that there is no such trend on an annual basis with Debt to GDP at 75% for 2014-15 and still rising, which is some 7% above that which ConLib had forecast it would be in 2010.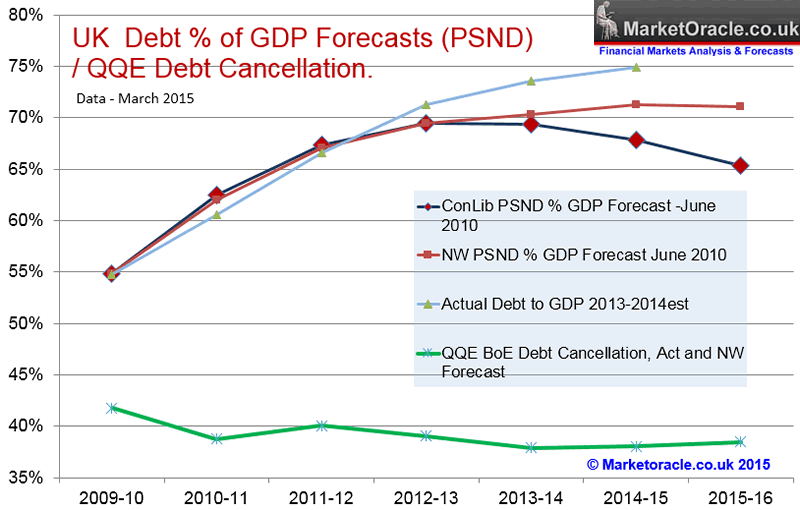 However, the graph also illustrates the effect of what I coined several years ago as the Quantum of Quantitative Easing which is basically the Bank of England printing money to buy 1/3rd of Government debt and then return most of the interest received on these bonds back to the Government which effectively lowers the debt interest burden to 38% of GDP which explains why Britain is not suffering under a 75% of GDP debt regime that without Bank of England money printing would have paralysed the government into inaction euro-zone style as it would have sent interest rates soaring instead the bond market is being heavily manipulated by the Bank of England.
20 Jul 2012 - The Quantum of Quantitative Easing Inflation is Coming!
The QQE Secret of How to Print Money Without Increasing Debt
The answer to the secret lies in the name, in that we are discussing the QUANTOM of Quantitative Easing.
This is taking place right now, completely out of the focus of the public and the mainstream press.
QQE is taking place by means of the interest earned on government debt bought by the Bank of England i.e. the Bank of England prints money to buy government debt from the banks, therefore the government pays the Bank of England interest on this debt most of which then gets recycled back to the Government so in effect the government has free money to spend that it should not have, and the more bonds the Bank of England buys the less net interest the Government has to pay. Imagine if all of the bonds were owned by the Bank of England, this would mean that the net interest paid by the government on all of its £1.1 trillion debt would be virtually ZERO! So effectively the government has NO DEBT TO SERVICE, because without any interest to pay it effectively ceases to exist! Yes this mechanism is QQE because it allows the government to spend money without increasing its NET debt burden, not only that but the government is actually REDUCING its debt burden as the debt is actually being cancelled out. So QQE is the quantum of QE as the net debt interest burden falls towards ZERO.
I am sure this is one secret that the Bank of England wants to keep hidden away for as long as possible for it implies that the ramping up of the Inflation Mega-trend is already underway with approx 1/3rd of Government debt having been effectively cancelled to date! As effectively 1/3rd of the interest the government pays on it's debts is going back to itself! And meantime about 12% of the value of the debt has been wiped out by inflation (£132 billion) over the past 3.5 years)
This is the magic of the electronic money printing presses and inflation, as one minute the government had £1.1 trillion of debt and then the next minute POOF, it is all gone! A bit like Verbal Kint turning into Kaiser Sozer!
It is economic magic that the coalition government politicians will pull out of their hat, resulting in no increase in debt and lots of free money to spend or give away in electioneering tax cuts!
This is just one mechanism, though probably the primary mechanism but there will be many other schemes that will cooked up between the Treasury and the Bank of England that will fall under the QQE banner.
However there is price for printing money in the form of QE and government bonds and that is to cause inflation as the exponential inflation trend illustrates, which makes me laugh when I see academics and journalists panicking over the threat of deflation when the consistent over riding trend is one of exponential inflation as I warned of in my Jan 2010 Inflation Mega-trend Ebook that you can download for free.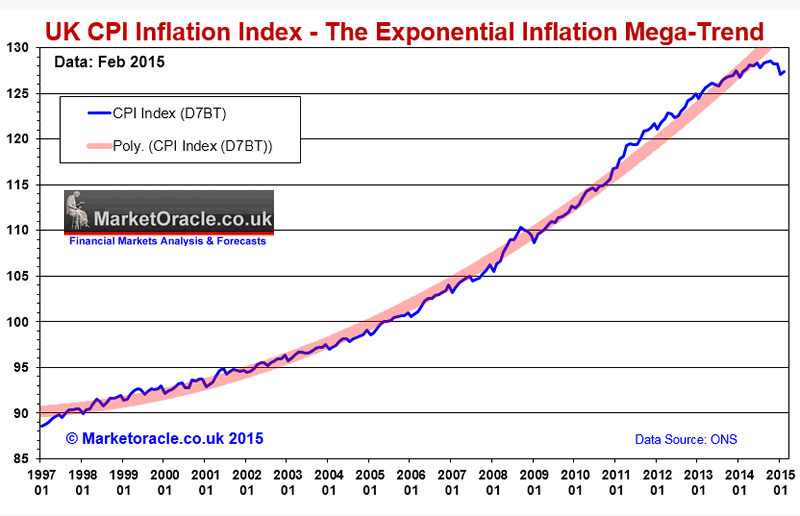 3. Failure to Control Immigration
David Cameron could not offer any defence against his failure to control immigration which has resolved to be just as out of control as it had been under Labour.
A study by the University of Oxford concludes that England's migrant population has increased by 565,000 over the past 3 years of which 2/3rds are from the EU. However, in my opinion Oxford University grossly under estimates the number of immigrants as illustrated by the most recent ONS statistics which show a near 300,000 net migration to the UK over just one year, where the total over the past 3 years is near 750,000. So in reality the probable actual increase in migrant population of England and Wales is likely to be about 1/3rd higher than the Oxford University guesstimate.
The study also reports that some 8 million foreign born people now reside in England, where the greatest concentration is in London (3.2 million), and immigration hotspots right across England including the South East 1.1 million, East 700k, North West 625k, West Midlands 500k, York's & Humb 515k, and the East Midlands 495k. Clearly London has the largest foreign born population concentration at 3.2 million, approaching 40% of the cities population and with the South East accounts for 50% of the increase in immigrant populations of the past 3 years
However, here the fatal flaw is NOT taking into account the ILLEGAL immigrant population of approx 800k and including ONS data is likely to be 1 million higher therefore totaling at least 9 million or at least 15.5% of England's population against just 13.4% 3 years ago (2011 census), an huge increase in just 3 years in what is an accelerating trend as the census data for England and Wales from the preceding years illustrates.
England and Waves Census and ONS Data, Market Oracle Forecast
Proportion of resident population born abroad, England and Wales; 1951-2011,

2014

Market Oracle

Market Oracle

1951
1961
1971
1981
1991
2001
2011
2014
2021
UK-born
95.7
95.0
93.6
93.3
92.7
91.1
86.6
84.5
82.5
Non-UK born
4.3
5.0
6.4
6.7
7.3
8.9
13.4
15.5
17.5
Total resident population
43,712,423
46,019,989
48,652,070
48,521,596
49,890,277
52,041,916
56,075,912
58,005,00
61,500,00
Source: Office for National Statistics
The bottom line is that Britain's immigration crisis is ACCELERATING and is EXPONENTIAL as my recent article covered the failure of first of the last Labour government that appears to have had an hidden mass immigration agenda of importing nearly 4 million low paid on tax credit benefits with dependants Labour voting vested interests into the country and then the failure of the Conservative Coalition to do anything to control what remains out of control immigration. And remember that the official statistics do not include illegal immigrants totaling at least 800,000, which the Market Oracle Forecasts Include.
26 Feb 2015 - Will Conservatives Out of Control Immigration Crisis Boost UKIP Election 2015 Prospects?
The latest immigration statistics out of the ONS once more illustrate the magnitude of the ConDem Coalition governments failure to control immigration where to all intents and purposes the past 5 years have just marked a continuation of the Labour catastrophe that set in motion a mega-trend for a 15 year long surge in net immigration of well over over 3 million people, where approx 90% of the adults were expected to vote Labour.
The facts to date illustrate that David Cameron just CANNOT be trusted on immigration, for his party in government has repeatedly FAILED in virtually EVERY IMMIGRATION PROMISE made as when David Cameron took power in 2010 he promised that he would cut net immigration towards the end of the parliament to the tens of thousands from the then disastrous annual figure of 205,000, instead the latest data from the ONS shows that net immigration has continued to SOAR to a level far higher level even than in 2010 to now stand at 298,000, near 1/3rd higher.
"Overall, net immigration would be kept in the tens of thousands, rather than the current rate of hundreds of thousands". - David Cameron 2010
Furthermore the net out of control immigration trend is ACCELERATING as 298,00 in the year to Sept 2014 is up from the 260,000 in the year to June 2014, and up near 50% on the year earlier of 182,000 (June 2013). As 624,000 people flooded into the UK in the year ending September 2014, compared to 530,000 in the previous year which is set against emigration of 327,000 in the year ending September 2014 compared to 320,000 in the previous year.
The following chart illustrates the magnitude of the Conservatives failure to control immigration which shows that the brief dip in immigration soon evaporated as the UK economy started to recover that now results in immigration at levels exceeding that of under the last Labour government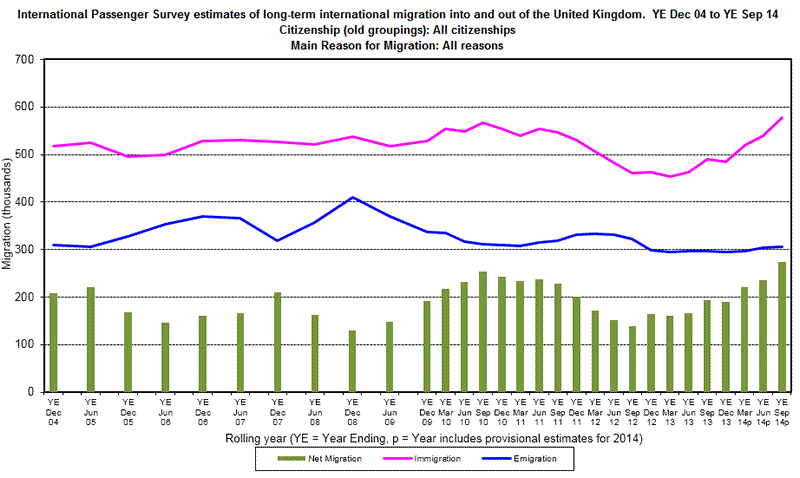 4. Deficit and Debt Cutting Fantasy
David Cameron iterated the deficit and debt cutting fantasy of George Osborne's March 2015 budget that as if by magic forecast the current £90 billion budget deficit would resolve into a £5.2 billion surplus for 2019 and £7 billion for 2020.
2014-15 : £90.2bn
2015-16 : £75.3bn
2016-17 : £39.4bn
2017-18 : £12.8bn
2018-19 : £5.2bn surplus
2019-20 : £7bn surplus
However here is a reminder of Osborne's 2010 forecast for the deficit to have virtually disappeared by now and ConLib government to borrow some £414 billion.
29th June 2010 - UK ConLib Government to Use INFLATION Stealth Tax to Erode Value of Public Debt
Therefore it is difficult to see how the government will be able to achieve its stated budget reduction target of getting the annual deficit down to just £20 billion by 2015-16. Whilst the government is expected to trend close to target for the next 3 years, however thereafter the governments (OFBR) and my deficit forecasts diverge as the coalition governments primary focus will be towards getting re-elected in May 2015. In all likelihood this means that total debt will be over £100 billion higher than that which the government is forecasting as illustrated by the annual budget deficits forecast graph below-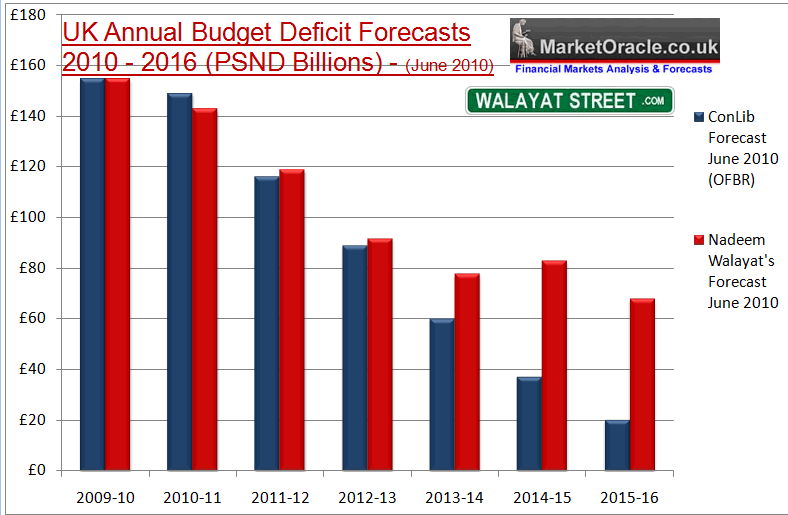 Whilst the ConLib's deficit reduction targets represent an improvement under the Labour governments target that would have resulted in extra borrowing of £478 billion over the next 4 years if the Labour government managed to stick to its targets. However the ConLib government will still expand total debt by £414 billion over the next 4 years, and £471 billion over the next 6 years to reach £1,242 billion, so hardly an earth shattering improvement.
The following updated graph for UK public sector net debt clearly shows that the Coalition government has hit a deficit cutting road block because instead of the deficit falling to around £37 billion for 2014-15, the government will be lucky if the deficit comes in at under £95 billion. Furthermore the trend for persistently high deficits is expected to continue beyond the May 2015 general election as the Coalition government has ramped up deficit spending to buy votes, the net effect of which would be for a total additional debt of £210 billion beyond the Coalition governments expectations to be added to Britain's debt mountain that looks set to pass £1.6 trillion this financial year.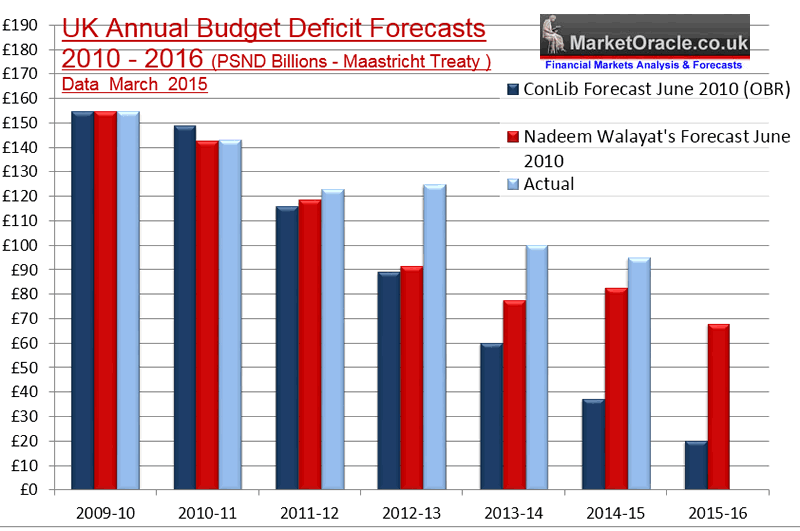 This illustrates that the only answer / solution that all governments have remains one of stealth default by means of high real inflation hence the Inflation Mega-trend. Inflation is a REQUIREMENT for the Debt Based Economy, this is how governments keep putting off the day of reckoning by attempting to inflate the debt away with printed money and then borrowing more money to service the debt interest which is why virtually all money in an economy is debt money that will NEVER be repaid.
Whenever George Osborne or David Cameron are stating that they are paying down Britain's debt, they are LYING! The same goes for Ed Milliband if he states that he will cut Britain's debt. NO GOVERNMENT DEBT IS BEING REPAID OR WILL EVER BE REPAID! Instead the truth is that the WHOLE of the economic growth (in real terms) since the May 2010 General Election and continuing into the May 2015 General Election will be wholly as a consequence of some £586 billion of additional DEBT. Again this is a very important point to note that virtually ALL of the economic growth of this parliament is DEBT based, ALL of it, including the current election boom, the debt accrued over the 5 year term will equate to total real terms increase in GDP - virtually pound for pound which is why there is a cost of living crisis because printing money (debt) does not increase productivity, all it does is inflate the money supply.
5. Leadership Successor Speculation
David Cameron tried to brush aside his earlier gaff of effectively announcing that he would resign after just 2 years into his second term which is best illustrated by this video.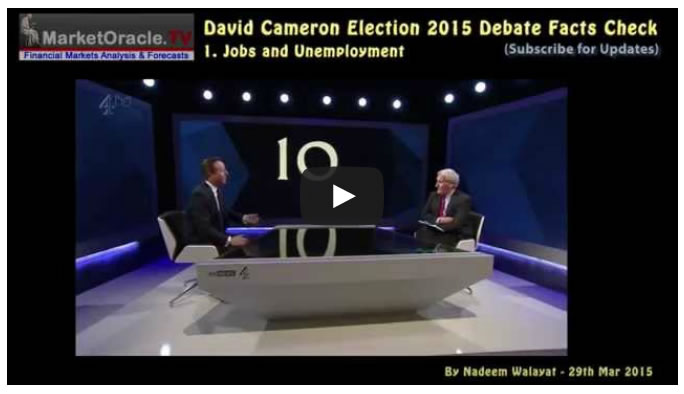 Election Forecast 2015
Post debate opinion polls have once more flip flopped to put Labour in the lead as illustrated by New Statesman's May2015.com.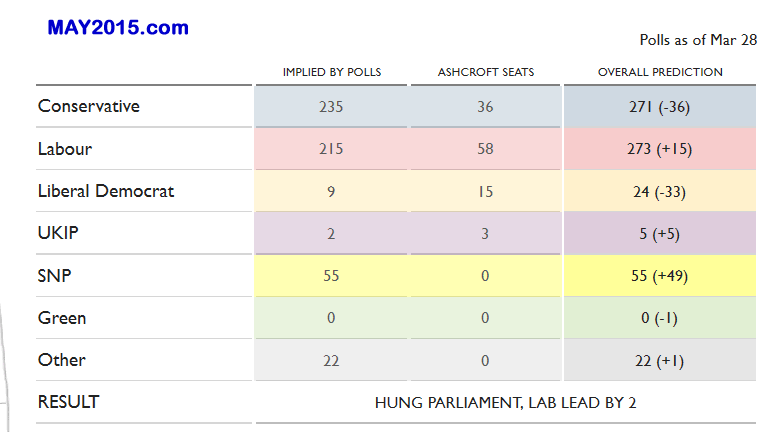 This compares against my long standing forecast that I still see as the most probable outcome:
UK General Election May 2015 Forecast Conclusion
My forecast conclusion is for the Conservatives to win 296 seats at the May 7th general election, Labour 2nd on 262 seats, with the full seats per political party breakdown as follows: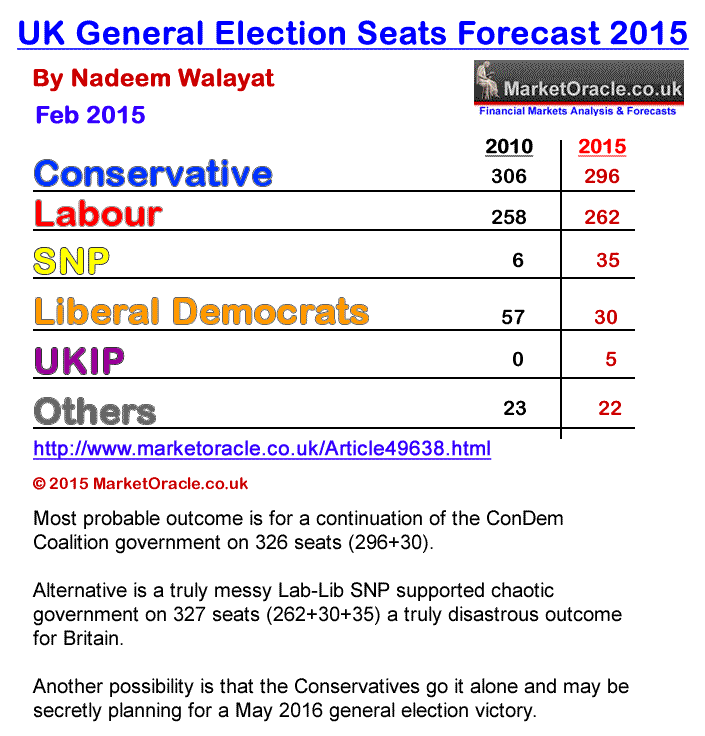 Therefore the most probable outcome is for a continuation of the ConDem Coalition government on 326 seats (296+30) where any shortfall would likely find support from the DUP's 8 seats.
The alternative is for a truly messy Lab-Lib SNP supported chaotic government on 327 seats (262+30+35) which in my opinion would be a truly disastrous outcome for Britain, nearly as bad as if Scotland had voted for independence last September.
Another possibility is that should the Conservatives do better than forecast i.e. secure over 300 seats but still fail to win an overall majority, then they may chose to go it alone with the plan to work towards winning a May 2016 general election.
The bottom line is that the opinion polls do not reflect how people will actually vote on May 7th when they are faced with a stark choice of steady as she goes ConDem government or take a huge gamble on Ed Milliband's Labour party. So in my opinion several millions of voters will chose to play it safe with ConDem which thus is the most probable outcome.
Also available a youtube video version of my forecast: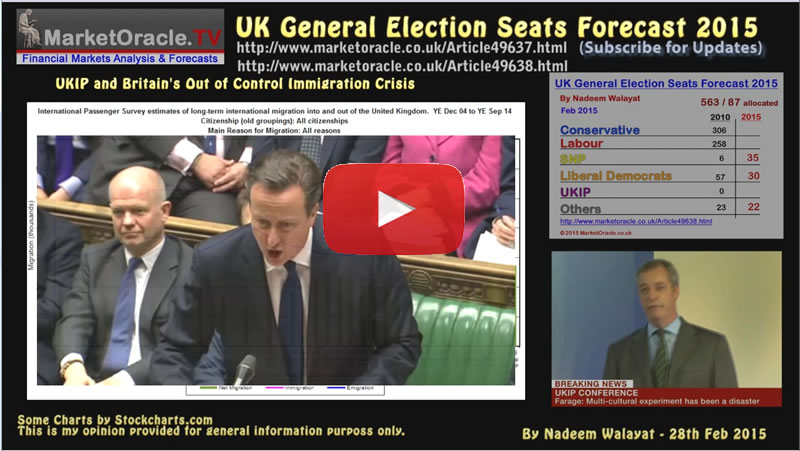 Source and Comments: http://www.marketoracle.co.uk/Article50049.html
Ensure you are subscribed to my always free newsletter for in-depth analysis and detailed trend forecast delivered to your email in box.
By Nadeem Walayat
Copyright © 2005-2015 Marketoracle.co.uk (Market Oracle Ltd). All rights reserved.
Nadeem Walayat has over 25 years experience of trading derivatives, portfolio management and analysing the financial markets, including one of few who both anticipated and Beat the 1987 Crash. Nadeem's forward looking analysis focuses on UK inflation, economy, interest rates and housing market. He is the author of five ebook's in the The Inflation Mega-Trend and Stocks Stealth Bull Market series that can be downloaded for Free.

Nadeem is the Editor of The Market Oracle, a FREE Daily Financial Markets Analysis & Forecasting online publication that presents in-depth analysis from over 1000 experienced analysts on a range of views of the probable direction of the financial markets, thus enabling our readers to arrive at an informed opinion on future market direction. http://www.marketoracle.co.uk
Disclaimer: The above is a matter of opinion provided for general information purposes only and is not intended as investment advice. Information and analysis above are derived from sources and utilising methods believed to be reliable, but we cannot accept responsibility for any trading losses you may incur as a result of this analysis. Individuals should consult with their personal financial advisors before engaging in any trading activities.
© 2005-2022 http://www.MarketOracle.co.uk - The Market Oracle is a FREE Daily Financial Markets Analysis & Forecasting online publication.

Only logged in users are allowed to post comments.
Register/ Log in