UK General Election 2015 - Forecasting Seats for SNP, LIb-Dems, UKIP and Others
ElectionOracle
/
UK General Election
Feb 28, 2015 - 06:29 PM GMT

Britain's political parties are all ramping their frenzy of activity in the run up to the May 7th General Election with a string of bribes being announced virtually every other day as the parties fire their free money missiles at targeted potential voters, such as the Tories bribing pensioners with a interest rate busting 4% NS&I £15k bond at a subsidised cost to the tax payer of at least £1.2 billion. Whilst the opposition Labour party firing back by aiming at student voters with the announcement of a £10 billion bribe to cut tuition fees for £9k to £6k per year AND to bung students an extra £400 annual allowance, a tuition fees promise that Labour will likely break just as they had broken their 1997 promise NOT to introduce tuition fees in the first place which Labour subsequently did.
Whilst the minor parties are more concerned with avoiding disintegrating under the focused glare of the mainstream press as a casual comment here or there can get blown up to make national votes losing headlines - queue the Greens and UKIP who apparently cannot avoid putting their foot in their mouth at least once a week.
Meanwhile where the pollsters are concerned the numbers just do not stack up for either Labour or Conservative to win an outright majority so a hung parliament is seen as a virtual certainty with the polls consistently putting the Labour party in the lead as illustrated below: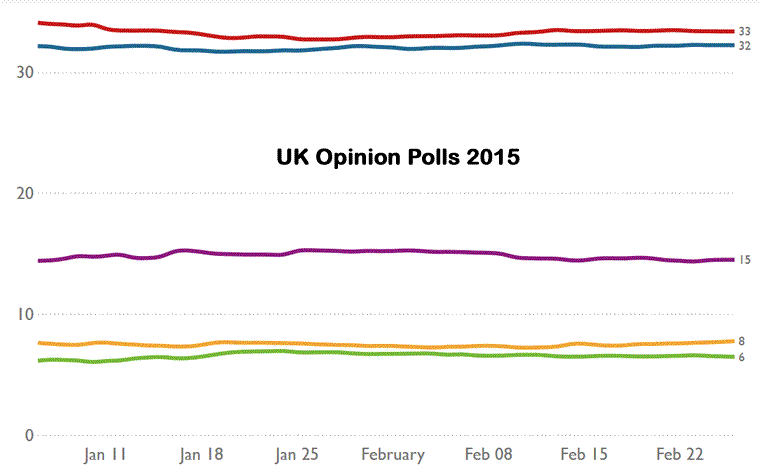 Which according to a whole host of parliamentary seat forecasting sites such as MAY2015.com converts into both Labour and the Conservatives virtually neck and neck on 271 seats apiece, tending to oscillate within a tight 10 seat band from day to day of 265 to 275.
This analysis seeks to update my longstanding UK general election forecast as of December 2013 that concluded in the following expectation for an outright Conservative election victory in May 2015:
16 Dec 2013 - UK General Election Forecast 2015, Who Will Win, Coalition, Conservative or Labour?
The following graph attempts to fine tune the outcome of the next general election by utilising the more conservative current house prices momentum of 8.5% which has many implications for strategies that political parties may be entertaining to skew the election results in their favour.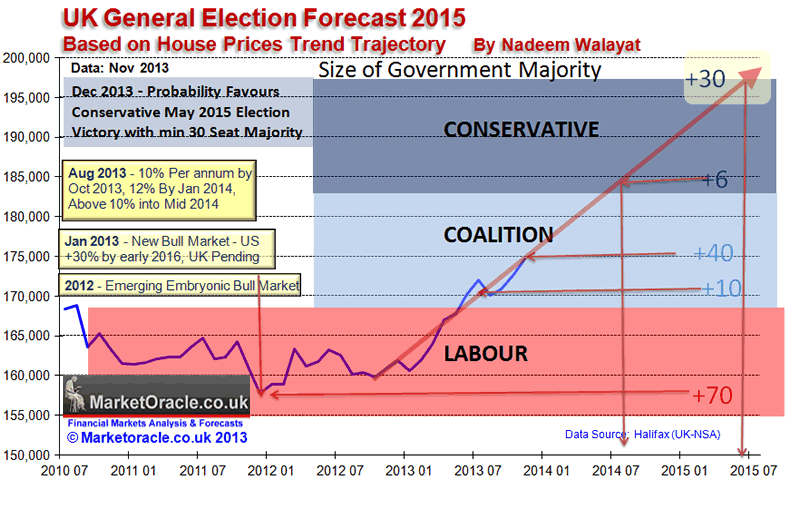 The the key implications of the above graph are -
The window for an outright labour election victory has ended as of July 2013.
As of writing an election today would result in a Coalition government with a majority of about 40 seats.
The window of opportunity for a Coalition government ends by mid 2014 after which there is an increasing probability for a Conservative outright majority.
A May 2015 general election at an average house price inflation rate of 8.5% would result in a Conservative overall majority of about 30 seats. Therefore this is my minimum expectation as I expect UK house prices to start to average 10% per annum from the beginning of 2014.
And also a video version of the analysis and forecast conclusion -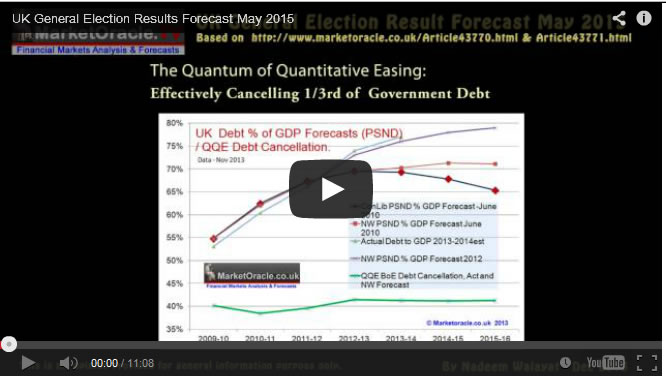 Revisiting General Election 2010
Before analysing the prospects for 2015, it would be useful to revisit my forecast for 2010 for any lessons to learn.
02 Jun 2009 - UK General Election Forecast 2010, Seats Per Political Party)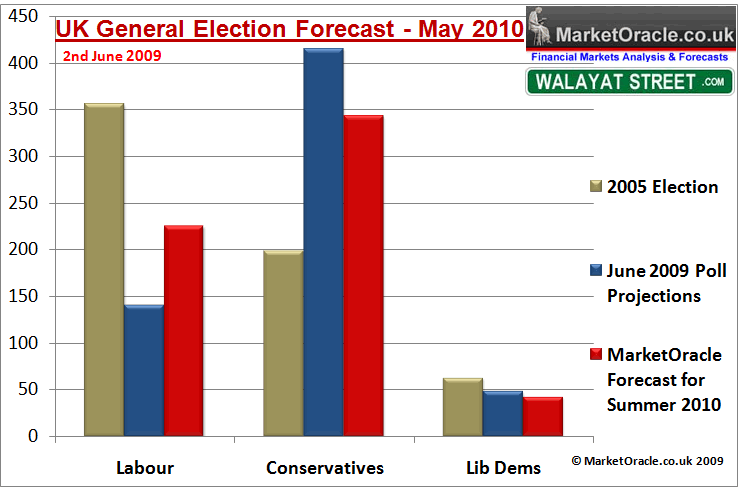 The general election forecast is for 225 seats for Labour and 343 seats for the Conservatives which implies a Tory government with a much smaller majority of 36 than the 192 being bandied about in the mainstream press this week, which would mean that the next Conservative government will not be able to implement many of the more radical reforms necessary to restructure the economy in terms of deep cuts in public spending and therefore suggests a weaker government that could by mid-term at the the mercy of rebel euro-skeptic MP's much as John Majors government of 1992 to 1997 experienced. This is potentially bad news for the economy as it confirms my expectations of continued stagnation for most of the term of the next government i.e. low average growth coupled with above average inflation as a consequence of not being able to mend countries finances which is likely to continue to see large year on year budget deficits and therefore achieves the Labour parties strategy of delivering a scorched earth economy to a Conservatives one term crippled government, that sows the seeds for a landslide Labour victory come the 2014-2015 election.
RESULT - The Conservatives did secure a majority government in coalition with the Liberal Democrats resulting in 306 Tories + 57 Lib-Dems to total 363 seats. Also it should be noted that NO ONE expected a hung parliament right upto voting day, as for the duration of the election campaign it was assumed by all that either Labour or the Conservatives would win an outright majority, where the assumption that was being taken for granted was that Lib Dem voters would tactically vote Labour to keep the Tories out, which proved to be erroneous. Never mind even contemplating that the left of centre party Liberal Democrats would go into coalition with the Conservatives.
Therefore the key lesson from 2010 is to expect the unexpected, and what today is most unexpected is either Labour or Conservatives winning an outright majority as the consensus view is for an over 90% probability for an hung parliament.
SEATS - Doing the Maths
In total there are 650 seats up for grabs and for a government to secure a majority would need to win at least 326 seats i.e. cannot be out voted. However, this does not necessarily mean a party with less than 326 seats cannot form a government either with or without the formal support of other smaller parties. Therefore the starting point for this analysis will be to first determine how many seats the smaller parties are likely to subtract from the 650 total left to be split between Labour and Conservative.
SEATS - The first allocation is straight forward in extracting Northern Ireland's seats which for historic reasons elect local party MP's: 650 - 18 = 632
SEATS - Next are the other small parties such as the Greens and Welsh Plaid Cymru totaling 4 MP's: 632 - 4 = 628
SNP-Syriza Labour Coalition Government Election Catastrophe
Last September the UK had a close call with catastrophe as the tunnel vision SNP failed in their efforts for UK disintegration that would have resulted in a catastrophic breakup of Britain and far worse for Scotland that would literally have started to unravel politically, economically and socially as Scotland itself would soon start to disintegrate as I warned in the run up to the referendum vote. Of course Scotland voted NO, for most Scots are not insane, though succeeded in having the fools in Westminister conned into making promises to increase the annual bribe to Scotland from mostly English tax payers.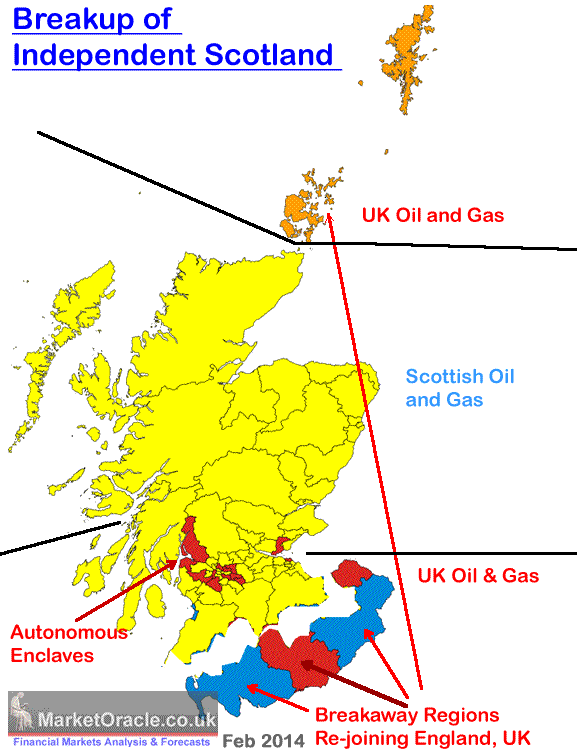 I wrote at length in the run up to the referendum that in reality the referendum was NEVER a close call as excerpted below -
18 Sep 2014 - Scottish Independence Referendum Result NO 55%, YES 45% - Vote Forecast
Today approx 9% of the British electorate will turn out to vote on whether the United Kingdom is to be dissolved, of which approx marginally more than half will decide the outcome of the Scottish Independence / Separation referendum. However, whilst the latest opinion polls continue to paint a picture of a too close to call outcome as they oscillate in a tight band of between 48% and 52% for either YES or NO depending on which individual poll one looks at, instead my consistent view has remained unchanged since the start of this year that Scotland will overwhelmingly vote NO, and that the probability for such an outcome remains at a high 70%.
Answering Why the Opinion Polls YES / NO Are So Close
So why such a huge difference between a highly probable NO vote and the opinion polls that are flittering between either outcome. For the answer we need to look at what started to change from late August that has resulted in such a tightening of the opinion polls.
The SNP not surprising state that the tightening in the polls is as a result of as many as 1 million new voters joining the electoral roll who predominantly back the YES cause tipping the polls in the SNP's favour.
However the truth is one of an increasingly threatening nationalist campaign of vandalism, bullying and intimidation of NO supporters who fearful of being shouted down have become subdued in expressing their opinions to others, the silent majority.
As an example a survey by YouGov found that 46% of NO supporters felt personally threatened by the YES campaign, and 49% of NO voters had not always felt able to speak about their views on the referendum.
Therefore the most probable outcome is inline with the polling ranges of before the YES campaigns intimidation and fear phase began to play a prominent role in the frenzy of campaigning of September that rather than a 50/50 tight race is more probably going to result in at least a 55% NO vote victory, and I would not be surprised if the NO vote even breaks above 60%!
SNP-Syriza Bankrupting Britain All the Way to Independence
However, Britain's SNP Syriza-esk party are not done with the UK for their latest baldrick-esk cunning plan is to go into an unofficial Coalition with a Labour government by means of Syriza style taking as many as 30 of Labour's Scottish seats bringing their total to about 35 out of 59 and and thus ensuring that Labour in May 2015 would have zero chance of securing an outright election victory and probably even failing to become the largest party.
The SNP following the script of their euro-zone Syriza brethren will take their scottish majority to hold a minority Labour government to ransom as SNP-Syriza sees the UK purely as a cash cow to milk to the fullest extent possible as illustrated by their publicised agenda to ramp up UK government borrowing by an EXTRA £180 billion as illustrated by demands being made by the SNP leader, Nicola Sturgeon.
"I would certainly hope if there was a Labour government and it was dependent on SNP support - which is the most popular preferred outcome of people in Scotland - then I would hope we could persuade and influence a Labour government to take a more moderate approach to deficit reduction."
"Debt and deficit would still be falling as a percentage of GDP over these years but we would free up something in the region of £180 billion over the UK to invest in growing the economy".
However, as my warnings in the run up to the last 2010 General election warned that politician promises of debt and borrowing can be taken with a huge lump of salt as the likely outcome would be for one of many times greater level of borrowing, probably exceeding an EXTRA £500 billion, much as the Tories promises of bringing down the deficit and debt never materialised, and so the SNP's real agenda will be to literally suck the financial blood out of the UK before it went bust, disintegrating under the weight of an unserviceable debt mountain and a currency in collapse, primed for a new DEBT FREE Scottish Currency to be released onto the public as the SNP will have ensured that little or no share of UK debt & liabilities would be honoured.
29th June 2010 - UK ConLib Government to Use INFLATION Stealth Tax to Erode Value of Public Debt
Therefore it is difficult to see how the government will be able to achieve its stated budget reduction target of getting the annual deficit down to just £20 billion by 2015-16. Whilst the government is expected to trend close to target for the next 3 years, however thereafter the governments (OFBR) and my deficit forecasts diverge as the coalition governments primary focus will be towards getting re-elected in May 2015. In all likelihood this means that total debt will be over £100 billion higher than that which the government is forecasting as illustrated by the annual budget deficits forecast graph below-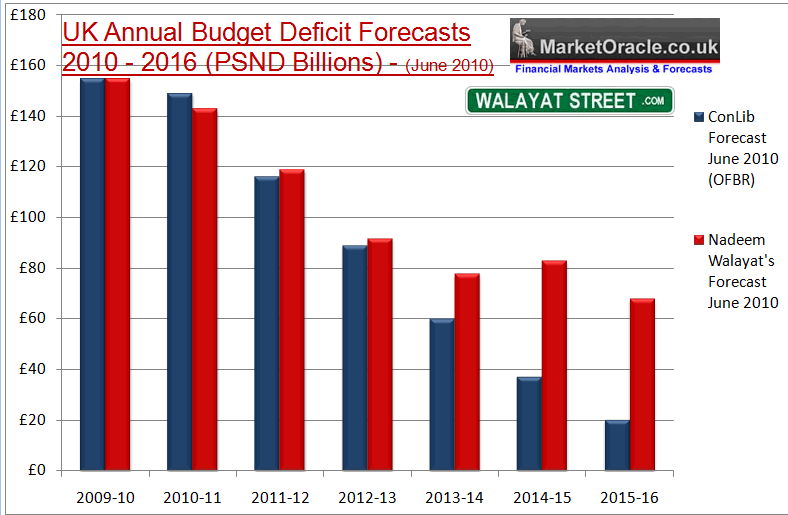 Whilst the ConLib's deficit reduction targets represent an improvement under the Labour governments target that would have resulted in extra borrowing of £478 billion over the next 4 years if the Labour government managed to stick to its targets. However the ConLib government will still expand total debt by £414 billion over the next 4 years, and £471 billion over the next 6 years to reach £1,242 billion, so hardly an earth shattering improvement.
The following updated graph for UK public sector net debt clearly shows that the Coalition government has hit a deficit cutting road block because instead of the deficit falling to around £38 billion for 2014-15, the government will be lucky if the deficit comes in at under £100 billion. Furthermore the trend for persistently high deficits is expected to continue beyond the May 2015 general election as the Coalition government has ramped up deficit spending to buy votes, the net effect of which would be for a total additional debt of over £130 billion beyond the Coalition governments expectations to be added to Britain's debt mountain.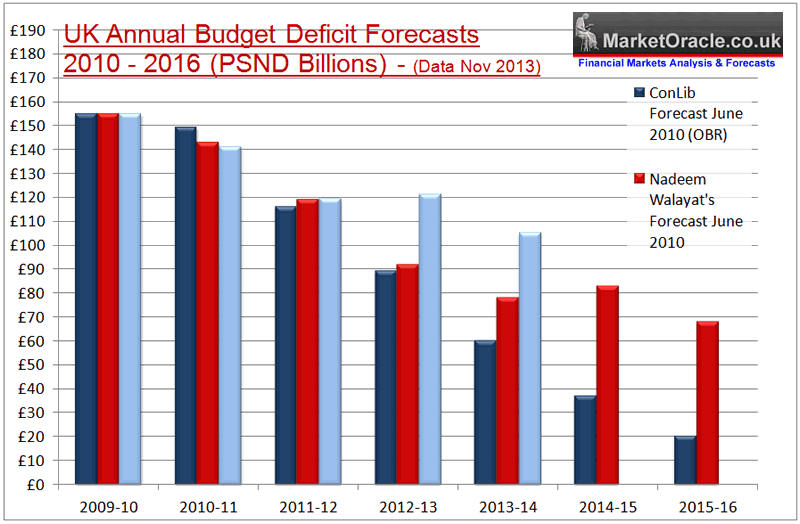 Therefore to imagine a Labour - SNP supported government is going to be able to stick to its debt promises is delusional because the often hyped of economic austerity Con-Dem Coalition are themselves looking set to borrow an extra £130 billion over that which they promised they would. Which means the £180 billion of extra SNP led borrowing could easily double to £360 billion of EXRA borrowing which implies that the current debt total of £1.5 trillion could easily soar to £2.5 trillion by the end of the next parliament, double the £500 billion of Coalition debt added to Britain's debt mountain that makes a mockery of politicians when they make claims that the deficit will be cut and debt repaid.
The only answer / solution that all governments have remains one of stealth default by means of high real inflation hence the Inflation Mega-trend. Inflation is a REQUIREMENT for the Debt Based Economy, this is how governments keep putting off the day of reckoning by attempting to inflate the debt away with printed money and then borrowing more money to service the debt interest which is why virtually all money in an economy is debt money that will NEVER be repaid.
When George Osbourne and David Cameron are stating that they are paying down Britain's debt, they are LYING! The same goes for Ed Milliband if he states that he will cut Britain's debt. NO GOVERNMENT DEBT IS BEING REPAID OR WILL EVER BE REPAID! Instead the truth is that the WHOLE of the economic growth (in real terms) since the May 2010 General Election and continuing into the May 2015 General Election will be wholly as a consequence of some £550 billion of additional DEBT. Again this is a very important point to note that ALL of the economic growth of this parliament is DEBT based, ALL of it, including the current election boom, the debt accrued over the 5 year term will equate to total real terms increase in GDP - virtually pound for pound which is why there is a cost of living crisis because printing money (debt) does not increase productivity, all it does is inflate the money supply.
You should realise by now that the constant drivel about the threats and risks of debt deflation are nothing more than propaganda so as to allow policies such as quantitative easing (money printing) to be more palatable to the general population so as to ensure that the Inflation Mega-trend continues, and all that an Labour-SNP pseudo coalition promises is an even greater magnitude to the cost of living crisis for Britains (England's) hard working tax payers as their productive capacity is funneled as election bribes towards Labour - SNP voting regions and the 8 million or so vested interests sat on their lard asses on benefits for life.
SNP and the Economics of the Oil Price Collapse
Those that may still delude themselves that under a socialist banner an SNP Labour government could be workable much as the Lib Dems and Conservatives have turned out to be, need to take into account not only the not so hidden agenda for the disintegration of the United Kingdom but that where economics are concerned the SNP are completely clueless as illustrated by Scotland's largest tax and revenue earning industry, North Sea Oil that is currently in a state of collapse.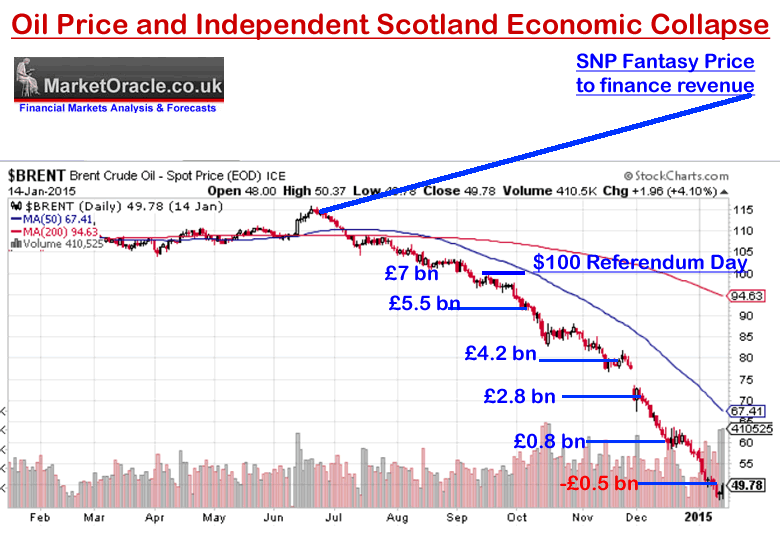 Just as spectacular as the collapse in the oil price has been the collapse in the SNP's Economic Baldrick-esk Master Plan for an Independent Scotland that was wholly based on reaping huge rewards from North Sea oil exports where SNP propaganda had convinced many Scots to Vote to effectively commit economic and social suicide by voting Yes in last Septembers referendum that came close to achieving the catastrophe on the basis of propaganda implying upwards of £7 billion in North Sea oil tax revenues that would be raised to finance Scotland's budgetary black hole, which in the fever pitch of the campaign had reached the heights of £11 billion so as to exaggerate the degree to which Scotland could prosper and fill the void left by the withdrawal of the English subsidy that currently amounts to £9 billion per year.
Even the Governor of the Bank of England did not mince his words by warning "the Scottish economy was heading for a "negative shock".
The problem with SNP economic propaganda is that it was based on a oil price being well NORTH of £100 per barrel, however a sub $50 oil price does not just mean that an Independent Scotland would have made half the forecast tax revenues i.e. £3.5 to £5 billion, instead the reality is that an Independant Scotland would have faced would be near ZERO TAX Revenues as the average break even price for crude oil is $60 a barrel. Additionally IS would have had to bear the costs of the collapse in the oil industry such as job losses and reduction in other indirect taxes.
North Sea oil companies making losses means many closures and job losses and the longer the oil price persists below $70 then not only will there be no future investment but also a literal collapse in Scotland's oil industry the signs for which were illustrated today with BP's announcing 10% Job losses in its North Sea operations. BP also stated that it expected the oil price to remain below $60 for the next THREE YEARS! Which means many small to medium sized oil companies will go out of business over the next year which illustrates the magnetite of the ineptitude of the SNP's campaign for Independence built upon the oil industry as Scotland Voting Yes would already be in a state of economic collapse, bankrupt much as I warned in a series of articles that would happen and worse during the referendum campaign and why Scotland voting Yes would be tantamount to Scotland committing suicide.
So be under no illusion that an inept Milliband government wagged by the SNP tail will be able to do anything other than to plunge from one worsening crisis to the next, probably even worse than Gordon Browns financial collapse, all the way to disintegration of the United Kingdom.
SNP Seats Forecast
Whilst virtually all of the opinion pollsters are suggesting a Labour blood bath in Scotland as Labour could lose as many as 40 seats to the SNP with suggested tally of between 30 and 57 SNP MP's. However, what most have missed is that the huge disparity in democracy that would be taking place i.e. the SNP could literally win with an total average vote of just 22,000 per seat (total votes divided by to MP's). Compare this to other small parties such as UKIP that are on an average vote of 1.5 million per seat, or the Greens on an average vote of 1 million per seat which makes a mockery of Britain's electoral system and once more illustrates the degree to which Westminster has appeased the the scottish nationalists at the expense of democracy.
In terms of a forecast for the number of SNP seats, I am leaning towards the lower end of the spectrum i.e. nearer to 30 seats than to 50 and conclude with an expectation of a total of 35 SNP Seats as the referendum illustrated that the opinion polls tend to under estimate the Labour vote in Scotland.
SNP Implications for Next Government
A tally of 35 MP's is at that marginal level where it is a case of could SNP-Labour form a government of sorts or not? In my opinion 35 SNP MP's will NOT be enough to form a Labour government for the primary reason that they would virtually all be former Labour MP's. Which implies for Labour to form the next government then they would need a third party involved which obviously suggests the Liberal Democrats with their remaining 20-30 MP's.
However, once more I have to emphasis that an SNP-Labour-Lib Dem government would be the most catastrophic election outcome imaginable. We will see chaotic government the likes of which the UK has not seen since the 1970's! As the SNP imposes a string of crackpot policies such as scrapping Trident, and ramping up public spending by as much as 1/3rd as the SNP seeks to suck the financial lifeblood out of the UK before declaring Independence from an economic disaster zone. I can imagine following the first year of a Labour-SNP government people will be looking back with nostalgia to the stability of the ConDem Coalition.
SEATS - 35 SNP MP's effectively kills any chance Labour has for winning an outright majority: 628 - 35 = 593
Liberal Democrats Election Blood Bath - Could Nick Clegg Lose Sheffield Hallam?
If the opinion polls are to believed then the Liberal Democrats are literally facing an election blood bath, a wipeout that could see the Lib-Dems lose more than half their MP's, falling from a major third party coalition forming tally of 56 ( already having lost 1 MP along the way) to as few as just 20 as according to Lord Ashcroft's detailed constituency level polling, and no more than 26 according to the current most favourable projections which would mean no more limousine rides for Nick Clegg & co!
Many liberal democrats facing electoral disaster have just stuck their head in the sand and completely lost the plot as illustrated by Danny Alexander's comments on the Andrew Marr Show, where he stated that he even expects the Liberal Democrats to GAIN seats at the May election.
"More generally I think we Liberal Democrats will be the comeback kids in this election campaign because I think when people look at the choice they have - clueless Labour, heartless Tories - and they want to continue the recovery in the way that it's going, you only get a strong economy and a fair society through the Lib Dems.
"I think that means a lot of our MP's, all of our MP's potentially, will hold their seats and we'll gain more seats too."
Whilst in the real world it is most probable that Danny Alexander will lose his own Highlands seat to the SNP insurgency.
According to the BBC Election poll tracker, the latest opinion polls put the Liberal Democrats on just 8% of the vote, where they have languished for several months now which translates into only retaining 22 seats that translates into a loss of 34 MP's, even more than their much larger coalition partner, the Tories who are managing to hold steady virtually neck and neck with the Labour party on 280 MP's (-22). Whilst at the upper end of the seats range of 26 would still result in a loss of 30 MP's.
Liberal Democrat Betrayals
For the reasons why the Liberal Democrats face an election blood bath one only needs to look at the long list of manifesto betrayals of what the Lib-Dems had said they had stood for and promised to do.
1. Going into Coalition with the Conservatives.
The left leaning Liberal Democrats went into coalition with the right wing Conservative party. This was the first shock to hit Lib-Dem voters for today it would be akin to the SNP going into coalition with the Tories. The natural party for the Liberal Democrats to be in coalition with is the Labour party something that could have been achieved in 2010 as part of a rainbow coalition of several left of centre parties. Another alternative would be have been to let a weak minority Conservative government die a slow death triggering another election within 12 months, instead the Lib-Dem MP's chose the route which their voters disliked, even hated the most.
2. Tuition Fees
For over a decade the Liberal Democrat MP's had been banging on and on about their opposition to Labour's University tuition fees, and in the run upto he 2010 election had even pledged to scrap it. Instead as soon as they got a whiff of power they abandoned this solemn pledge and in fact supported the vote to TRIPLE tuition fees from £3000 to £9000 per year resulting in much student outrage.
This one act of betrayal may have sealed the fate for Nick Clegg for his Hallam constituency is densely populated with STUDENTS, some 20% of the electorate and surrounded on all sides by angry socialists in the Labour strong hold of South Yorkshire.
3. NHS Spending, 4. Mansion Tax abandoned, 5. Lords reforms...
The list could go on and on as each act of betrayal will likely claim a handful of MP's. Against this all that the Lib-Dems can celebrate is the lifting of the starting allowance for tax to £10,000. Which most people give the credit to the Tories anyway as the tax cutting party.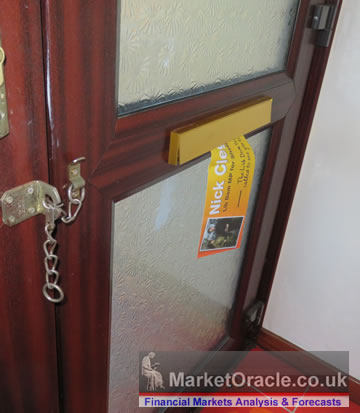 Could Nick Clegg Lose Sheffield Hallam?
Desperate door stepping Liberal Democrat activists have already been busy for some weeks stuffing letter boxes full of leaflets of Nick Clegg's Hallam constituency, and more recently ramping up the intensity by knocking on doors, asking people for their vote for their 'Dear Leader'. Whenever the Lib Dem / Tory coalition is brought up then assurances are made that such an outcome will never happen again, Its Labour that the Liberal Democrats seek to coalition with. In fact the impression the activists give is that they are not even in a coalition with the Tories, as if voters are that stupid.
At the last election Nick Clegg won the seat on a comfortable majority of 15,284, with more than 50% of the vote, thus making is inconceivable at the time that the seat could be lost no matter how disastrous subsequent Lib-Dem actions were.
Sheffield Hallam Constituency 2010 Election Result
Party
Candidate
Votes
%
Liberal Democrat
Nick Clegg

27,324

53.4

Conservative
Nicola Bates

12,040

23.5

Labour
Jack Scott

8,228

16.1

UKIP
Nigel James

1,195

2.3

Green
Steve Barnard

919

1.8

English Democrats
David Wildgoose

586

1.1
Still 5 years of betrayals on what was for many years seen as the unthinkable is now thinkable that the Liberal Democrats could now lose their party leader at the May 2015 election.
However given the 2010 voting structure that placed Labour on a distant third on just 8,200 votes means that even if the Liberal Democrats lost 1/3rd of their votes to Labour, then Labour would still be just short of winning the seat. Which implies that to unseat Nick Clegg then a significant amount of tactical voting is likely to take place of Conservative voters holding their noses and voting Labour so as to deny the Liberal Democrats a victory. Whilst it is unlikely that more than 10% of Hallam's Conservative voters would entertain such an action, still a 10% swing to Labour could just be enough to achieve such an outcome.
Though against this we have the fact that Sheffield Hallam has NEVER ever elected a Labour MP, not once and for most of the past 100 years the Hallam constituency has voted Conservative which begs the question could the Conservatives win the seat? However the Tories face two significant problems -
1. UKIP are likely to take 1,000 to 2,000 potential Conservative voters.
2. Any potential Liberal Democrat drift to the Conservatives is likely to be far less than drift to Labour as a consequence of a drop in the Conservatives national share of the vote on the 2010 election.
Therefore the Nick Clegg losing is not just dependant upon deserting voters and tactical voters but disgusted life-long Liberal Democrat core voters just not turning out to vote that could result in 15% fewer Lib Dem votes totaling approx 4,000.
Therefore Sheffield Hallam could result in a close three party race as illustrated by the following number crunching conclusion that lists Labour with the advantage and the Liberal Democrats trailing in third place which means that it is possible that Nick Clegg could lose the Sheffield Hallam seat.
| | |
| --- | --- |
| Party | Votes |
| Liberal Democrat | 13,500 |
| Labour | 15,200 |
| Conservative | 14,500 |
| UKIP | 4,000 |
| Green | 1,500 |
The one thing that could rescue Nick Clegg is if Conservative voters banking on another Con-Dem coalition government vote tactically for Nick Clegg and thus deny Labour an additional MP. In fact Nick Clegg and David Cameron may have already discussed such a tactical pre-election announcement that should the Liberal Democrats and the Conservatives collectively command an a majority then the coalition government would continue. Thus would trigger a huge amount of tactical voting of Lib Dem and Conservative voters that would in this instance save Nick Clegg so as to avoid the loss of a ConDem seat to Labour.
Liberal Democrats - So How Many MP's?
Whilst is is clear the Liberal Democrats are going to lose a lot of their seats. However the opinion polls in my opinion are exaggerating the loss due to three factors -
1. That the Liberal Democrat vote is more concentrated in constituencies and so requires a greater swing to lose a seat.
2. That the Liberal Democrat heartlands tend to have the opposition vote near evenly split between Labour and Conservative from both of whom the Lib-Dems draw votes thus making it much harder for either to win a Lib Dem seat.
3. That Parties in government usually tend to do much better on the actual polling day then the opinion polls tend to suggest, i.e. people are less inclined to inform pollsters that they will be voting for a government party then an opposition party. And that tactical voting for the continuation of the Coalition is not being factored into opinion polling.
4. That the Liberal Democrats facing potential electoral disaster are clearly battening down the hatches and concentrating virtually all of their resources towards retaining their existing MP's
5. That the Labour party are themselves fighting for survival in many seats such as in all of its Scottish seats so resources are spread thinly elsewhere, and probably wholly focused on the 100 or so marginal seats which Sheffield Hallam does not fall into the category of.
Therefore the more probable outcome is likely to be the Lib-Dems retaining 6-10 more MP's than the 22 disaster polls suggests. Therefore my conclusion is that the LIberal Democrats are targeting retaining at least 30 seats and possibly as many as 35 seats which would still mean a near 50% loss of 26 MP's and it remains to be seen if Nick Clegg will be one of those lucky additional MP's. The Sheffield Hallam result will likely to be a close call, probably resulting in a majority of less than 2000.
And where the formation of the next government is concerned those 8-10 extra MP's could make all the difference in the value of the Lib-Dems in the formation of the next majority government.
SEATS - 30 Liberal Democrat MP's : 593 - 30 = 563
UKIP and Britain's Out of Control Immigration Crisis
The latest immigration statistics out of the ONS once more illustrate the magnitude of the ConDem Coalition governments failure to control immigration where to all intents and purposes the past 5 years have just marked a continuation of the Labour catastrophe that set in motion a mega-trend for a 15 year long surge in net immigration of well over over 3 million people, where approx 90% of the adults were expected to vote Labour (low pay and on benefits).
The facts to date illustrate that David Cameron just CANNOT be trusted on immigration, for his party in government has repeatedly FAILED in virtually EVERY IMMIGRATION PROMISE made as when David Cameron took power in 2010 he promised that he would cut net immigration towards the end of the parliament to the tens of thousands from the then disastrous annual figure of 205,000, instead the latest data from the ONS shows that net immigration has continued to SOAR to a level far higher level even than in 2010 to now stand at 298,000, near 1/3rd higher.
"Overall, net immigration would be kept in the tens of thousands, rather than the current rate of hundreds of thousands". - David Cameron 2010
Furthermore the net out of control immigration trend is ACCELERATING as 298,00 in the year to Sept 2014 is up from the 260,000 in the year to June 2014, and up near 50% on the year earlier of 182,000 (June 2013). As 624,000 people flooded into the UK in the year ending September 2014, compared to 530,000 in the previous year which is set against emigration of 327,000 in the year ending September 2014 compared to 320,000 in the previous year.
The following chart illustrates the magnitude of the Conservatives failure to control immigration which shows that the brief dip in immigration soon evaporated as the UK economy started to recover that now results in immigration at levels exceeding that of under the last Labour government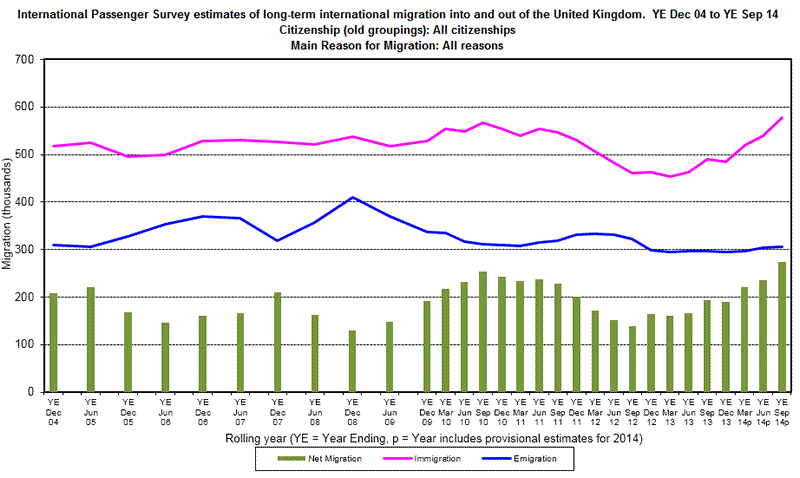 As expected the tories attempted to put a positive propaganda spin on the unfolding catastrophe by virtually in unison stating that it was a 'problem of success'.
"What we are seeing at the moment is the impact of this country having a dramatically stronger economy than in the rest of Europe... it is a problem of success" - William Hague
Instead what it really is, is a problem of being in the EU!
And as I repeatedly warned during much of 2013 to expect a surge in immigration from Romania which has materialised as whole villages have moved lock stock and barrel to places such as Sheffield resulting in huge social consequences for settled communities and public services such as in housing, health and school places.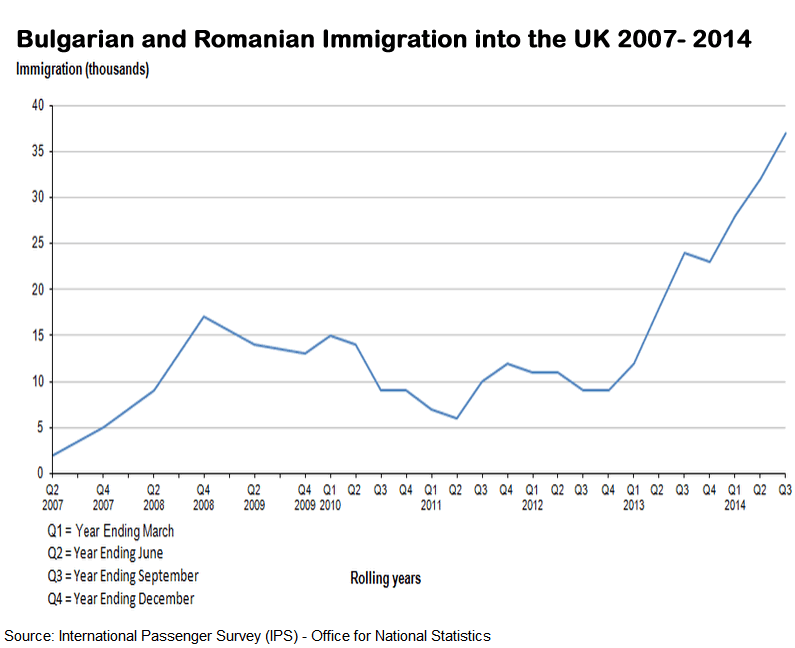 Whilst the primary reason given for migrating to the UK being work (250k) with study second (170k), that feeds into state propaganda (BBC) that most migrants come to the UK to work and not claim benefits, however as I illustrate next that the reality is the exact opposite.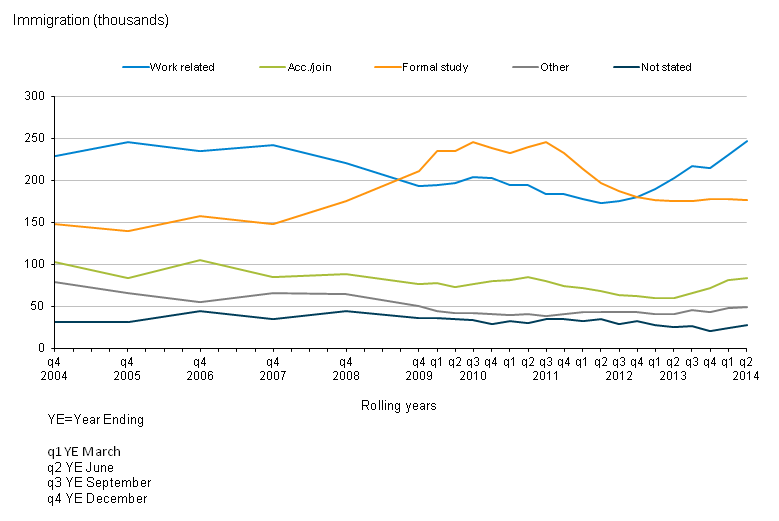 Tax Credits, In work Benefits
Repeatedly a politically correct BBC brings forth a stream of recent migrants on broadcast news to proclaim that they are in the UK to work and not to claim benefits. But what state propaganda repeatedly tends to ignore or brush over is the consequences of the IN WORK BENEFITS such as Tax credits, housing benefit and social housing which amounts to HUGE benefits payments for migrant workers and a subsidy to employers.
Analysis by the Open Europe think tank illustrates the effect of in work benefits on actual earnings and why contrary to state propaganda that it is BENEFITS as the PRIMARY reason why eastern europeans arrive to WORK in the UK at huge expense to British workers, both in terms of continuing high unemployment especially for british youth as 1 in every 3 jobs created goes to migrant workers (ONS) and in terms of depressing wages that contributes to the cost of living crisis.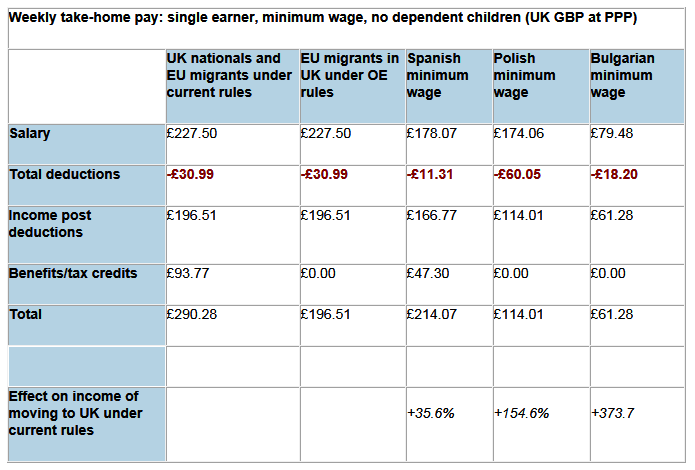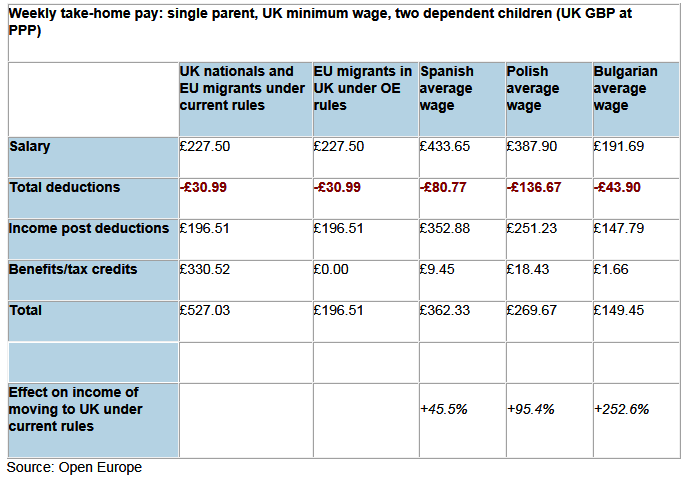 Source: Open Europe
This analysis shows that the effect of in work benefits results in 'single' Polish workers being typically 150% better of coming to the UK in terms of pay and a Bulgarian near 400% better off. Whilst a single parent polish worker would be near 100% better off and a Bulgarian typically 250%. Where it is the benefits that on several measures are many multiples of the actual pay rates in Poland and Bulgaria hence why migrant workers are contributing NOTHING in terms of net economic output because on average tend to consume far more in benefits than contribute in economic output let alone in terms of taxation which does not even amount to 1% of the amount taken in benefits.
Additionally other costs / benefits are not being factored into the equation such as the NHS, social services, education and child benefit.
The truth is that most migrant workers, at least 80% make NO NET positive contribution to the UK economy. However, neither do some 80% of british workers as Britain's political system through inflation and election bribes has been designed by successive governments to turn virtually everyone into a vested interest benefits claimant. 80% of the British people ARE benefits claimants, where the cost of which is financed by PRINTING MONEY (Government bonds and QE) which causes the inflation that the elite leveraged themselves to by means of oscillating asset prices around the exponential Inflation mega-trend as I have covered at length over the past 5 years in the Inflation mega-trend series of ebook's (FREE DOWNLOAD).
I further elaborated upon the consequences of Britains' immigration catastrophe at the start of 2014 -
02 Jan 2014 - One Million Romanian and Bulgarian's to Descend upon Elysium - Britain's Immigration Catastrophe
Breaking the Back of Public Services
Public services such as health, housing and schools were already stretched to breaking point as a consequence of a decade of mass immigration and ongoing health tourism are now likely to effectively seize under the weight of the latest wave of as much as 1 million over the next 2 years as many hundreds of thousands of poor families will dump themselves at the feet of Britain's local councils and welfare state to home, feed, cloth and school in perpetuity that will prompt many hard working taxpayers to question exactly what are they being forced to pay taxes for because when they attempt to gain access to services they will experience much inertia.
UK Population Growth Trend Trajectory
My long standing forecast is for the UK population to grow from 62.2 million as of Mid 2010 to at least 70.5 million by 2030 as illustrated by the graph below. However the actual trend trajectory as per the most recent population data into Mid 2012 suggests that the UK population could increase by an additional 4 million by 2030 as a consequence of what amounts to out of control immigration that translates into a population increase equivalent to 15 cities the size of Birmingham.
02 Aug 2010 - UK Population Growth and Immigration Trend Forecast 2010 to 2030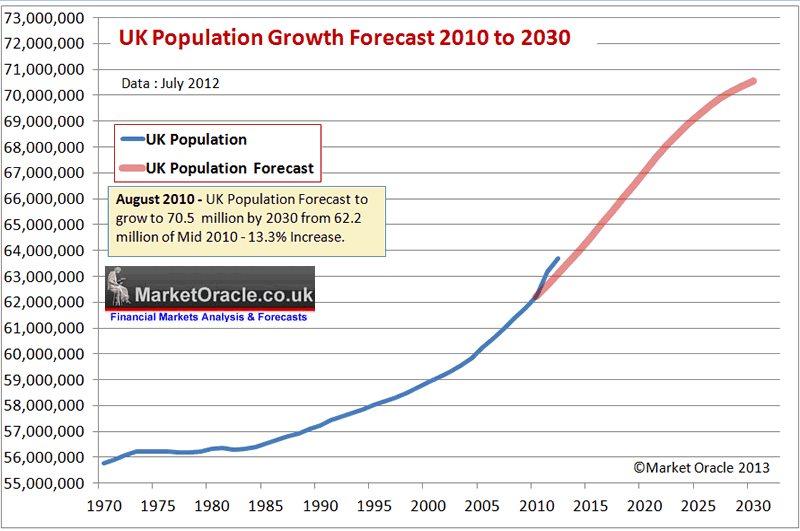 Continuing out of control immigration looks set to have a huge impact on the UK housing market in terms of availability and prices as covered in-depth in my forthcoming UK Housing Market ebook (FREE DOWNLOAD).
Both Major Political Parties Support Immigration
Leaders and representatives of both major parties have been busy making statements promising to control immigration in the future, however these amount to nothing more than bare faced lies when one considers the real fundamental drivers for immigration because if the politicians were really serious about controlling immigration than it would already have been done!
Labour Supports unlimited immigration because the vast majority of immigrants will tend to vote Labour i.e. be politically left of centre, therefore Labour sees immigration ultimately in terms of hundreds of thousands of new Labour voters who will ensure further election victories. Labour's strategy has therefore been highly successful as in a little over 10 years it has changed many constituencies in favour of voting Labour to the point where it has become near impossible for the Conservatives to win elections with significant majorities such as the landslides achieved by Margaret Thatcher achieved during the 1980's.
Conservatives support immigration because it is highly profitable for their pay masters - big business, as the influx of migrant workers will tend to drive down wages for all workers thus deliver higher profits for business. Academic economists may rightly argue that by doing so businesses will ultimately erode their own profits as workers who earn less also spend less. However what academics fail to appreciate is that the state steps in to fill the gap by subsidising workers through tax credits and paying some 8 million people who are economically inactive all of which is funded by money conjured out of thin air i.e. government debt that is not backed by any economic activity that acts to inflate the economy, and thus corporate profits which are leveraged to inflation.
The Conservative led Coalition boasts that it has cut net migration by a third, but what they forget to mention is that only immigration from OUTSIDE of the EU has been cut i.e. many of whom would be highly skilled workers, who instead of being reliant on the state would have paid taxes. Additionally the Conservatives conveniently tend to forget that the Borders Agency has been an abysmal failure that routinely allows in many tens of thousands of illegal migrants every year.
Therefore one should realise that high net immigration is in the interests of both major political parties both in terms of votes and for those that bankroll the parties, which means neither Labour or Conservatives will actually do anything significant in respect of controlling immigration, so everything you are hearing in the mainstream media from the politicians such as Cameron promising a referendum in 2017, some 2 years AFTER the next election is purely smoke and mirrors BS to mislead the population into thinking that something will eventually be done about Britain's immigration crisis.
Yes each party may announce plenty of policies and massage figures in the run upto the next General election, but they will break ALL of their immigration promises just as they have done before because it is not in either main parties interests to control immigration.
UKIP Keeps Clutching Defeat from the Jaws of Victory
Continuing out of control immigration crisis should amount to a huge boost for UKIP at the May General Election, However, unfortunately for UKIP they are remarkably good at one thing which is in clutching defeat from the jaws of victory as virtually every time the party is riding high in the polls, usually on the back of the latest disastrous immigration statistics then near immediately an event happens such as a derogatory 'sluts' comment and far worse that prompts voters to think again on whether they should vote for this far right of centre party. The latest hit to UKIP was Channel 4's docudrama that painted a dire picture of a UKIP government, one of storm troopers that was soon followed by racist comments by a UKIP councillor who declared that she 'had a problem with black people'.
According to the BBC poll of polls UKIP currently stand at 14% that compares to just 3% in 2010, and far ahead of the Liberal Democrats on just 8% that are expected to achieve between 20-30 seats. Therefore this has prompted UKIP to start to fantasise for a similar if not better outcome in May 2015. Off course it is not going to happen because the UKIP vote is too thinly spread unlike the far more concentrated Lib Dem vote.
Therefore the consensus view on how many seats UKIP will gain greatly differs from that of the UKIP high command by suggesting UKIP will be lucky to secure any additional seats to their existing tally of just 2 seats.
So if UKIP are unlikely to win many more seats then one could conclude they are an irrelevance for 2015 were it not for the fact that the UKIP share of the vote at a potential 14% means millions of potential voters lost to primarily to the Conservatives and to a lesser extent Labour. The consequences of which is to increase the number of marginal seats that could be lost from 100 in 2010 to as many as 300 today, that results in a difficult to call election as the UKIP share of the vote has the effect of greatly whittling down majorities converting former Labour and Tory strong holds into marginal's that other parties could target to win.
UKIP whilst drawing voters from both major parties nevertheless draws three times as many voters from the Conservatives than from Labour, therefore on face value this implies certain disaster for the Conservatives were it not for the fact of the SNP insurgency that seeks to wipeout Labour in Scotland. Therefore, luckily for the Conservatives the SNP catastrophe for Labour more than cancels out the UKIP nightmare erosion of Tory voters.
The fatal flaw at the heart of UKIP is also its greatest attraction in that it is seen as a one trick pony - immigration, which whilst an important voter issue, nevertheless ranks about fourth in importance for most voters. Which explains why UKIP will never actually be able to convert votes into many seats because unless UKIP is able to present credible policies on the NHS, Economy and Welfare state in just as vocal a manner as it does for immigration then UKIP will never be able to muster enough concentration of votes in any more than a handful of constituencies.
Where immigration is concerned, the truth is that Britain needs millions more young hard working tax payers to pay for the increasing economic burden of the ever more demanding ageing population (grey vote). To achieve this either Britain has a big baby boom that is then educated over the next 3 decades into becoming hard working tax payers, or imports ready made hard working immigrants that another nation has spent several decades educating that have not been brought up as vested interest benefits scroungers for life that the Labour party tends to favour as its default position for buying votes.
Therefore my UKIP conclusion is that given an expected 14% share of the vote, it is inconceivable that UKIP won't win any more seats, especially as they can focus all of their resources on just a handful of seats. So UKIP likely to win at least 2 additional seats and probably achieve 4 to bring their election night total to between 4 and 6 MP's therefore concluding with forecast of 5.
What the UKIP vote does is to reinforce the fact that a hung parliament is virtually certain, as UKIP votes from the Tories will hand a number of Conservative seats to Labour whilst the SNP blood bath will more than negate this number to Labour seats lost to the SNP. Which means that the Conservatives should still be on course to form the largest party.
SEATS - 5 UKIP MP's : 563 - 5 = 558

A 50/50 split of the remaining seats implies 279 MP's each for Labour and Conservatives. So now the hard work starts to determine the most probable distribution between these two parties which continues in Part 2 of this analysis here : UK General Election 2015 Seats Forecast - Who Will Win?.
Also ensure you are subscribed to my always FREE newsletter for in-depth analysis and detailed trend forecasts delivered direct to your email in box.
Source and Comments: http://www.marketoracle.co.uk/Article49637.html
Your postal ballot voting analyst.
By Nadeem Walayat
Copyright © 2005-2015 Marketoracle.co.uk (Market Oracle Ltd). All rights reserved.
Nadeem Walayat has over 25 years experience of trading derivatives, portfolio management and analysing the financial markets, including one of few who both anticipated and Beat the 1987 Crash. Nadeem's forward looking analysis focuses on UK inflation, economy, interest rates and housing market. He is the author of five ebook's in the The Inflation Mega-Trend and Stocks Stealth Bull Market series that can be downloaded for Free.

Nadeem is the Editor of The Market Oracle, a FREE Daily Financial Markets Analysis & Forecasting online publication that presents in-depth analysis from over 1000 experienced analysts on a range of views of the probable direction of the financial markets, thus enabling our readers to arrive at an informed opinion on future market direction. http://www.marketoracle.co.uk
Disclaimer: The above is a matter of opinion provided for general information purposes only and is not intended as investment advice. Information and analysis above are derived from sources and utilising methods believed to be reliable, but we cannot accept responsibility for any trading losses you may incur as a result of this analysis. Individuals should consult with their personal financial advisors before engaging in any trading activities.
© 2005-2022 http://www.MarketOracle.co.uk - The Market Oracle is a FREE Daily Financial Markets Analysis & Forecasting online publication.

Only logged in users are allowed to post comments.
Register/ Log in