Conservative Win 2015 UK General Election, BBC Forecast of 329 Seats
ElectionOracle
/
UK General Election
May 08, 2015 - 08:25 AM GMT


With 47 seats out of 650 seats still to declare the BBC for the past half hour or so has been forecasting that the Conservatives now look set to win an outright majority of 329 seats, against Labour on 233, whilst the Lib Dems face a catastrophic result of just 8 seats, the SNP wiping out Labour in Scotland on a landslide win of 56 seats and UKIP trailing on just 2 despite a huge swing in their favour from both Labour and Conservative.
UK Election 2015 Seats Forecasts
Here are the results of the BBC seats forecasts, Exit Poll, my forecast as of 28th Feb, and the last opinion pollsters seats forecasts.
| | | | | | | | | | |
| --- | --- | --- | --- | --- | --- | --- | --- | --- | --- |
| | Market Oracle | May2015 .com | Electoral calculus .co.uk | Election Forecast .co.uk | The Guardian | Exit Poll | BBC | BBC | BBC |
| | 28th Feb | 7th May | 6th May | 7th May | 7th May | 7th 10pm | 3.20am (102) | 5.15am (344) | 8am (603) |
| Conservative | 296 | 273 | 281 | 278 | 273 | 316 | 316 | 316 | 329 |
| Labour | 262 | 268 | 276 | 267 | 273 | 239 | 239 | 239 | 233 |
| SNP | 35 | 56 | 52 | 53 | 52 | 58 | 58 | 58 | 56 |
| Lib Dem | 30 | 28 | 18 | 27 | 27 | 10 | 10 | 10 | 8 |
| UKIP | 5 | 2 | 1 | 1 | 3 | 2 | 2 | 2 | 2 |
| Others | 22 | 23 | 22 | 23 | 22 | 24 | 24 | 24 | 24 |

Exit Poll / BBC Seats Forecast 8th May - 8am implies :
Conservatives = 329 - SUCCESS - Outright Election Victory, Coalition unnecessary.
My long-standing UK house prices to seats forecast correctly forecast an outright Conservative election win that on the latest house prices data conveted into a small single digits majority:
01 May 2015 - UK Election Forecast 2015 - Who Will Win?
Implications for Election 2015
Momentum has picked up from February's +6.6%, to +7.7% for March, though has missed the headline grabbing new all time high in average UK house prices just prior to election day, probably due to ongoing weakness in house prices in the South East.
Therefore the Conservatives mini election boom appears to have failed to spike to a +10% inflation rate for election day, where my expectations were that it could have ranged to as high as +12% for an outright majority 30 seats inducing result as my long-standing analysis of seats vs house prices trend trajectory forecast.
16 Dec 2013 - UK General Election Forecast 2015, Who Will Win, Coalition, Conservative or Labour?
The following graph attempts to fine tune the outcome of the next general election by utilising the more conservative current house prices momentum of 8.5% which has many implications for strategies that political parties may be entertaining to skew the election results in their favour.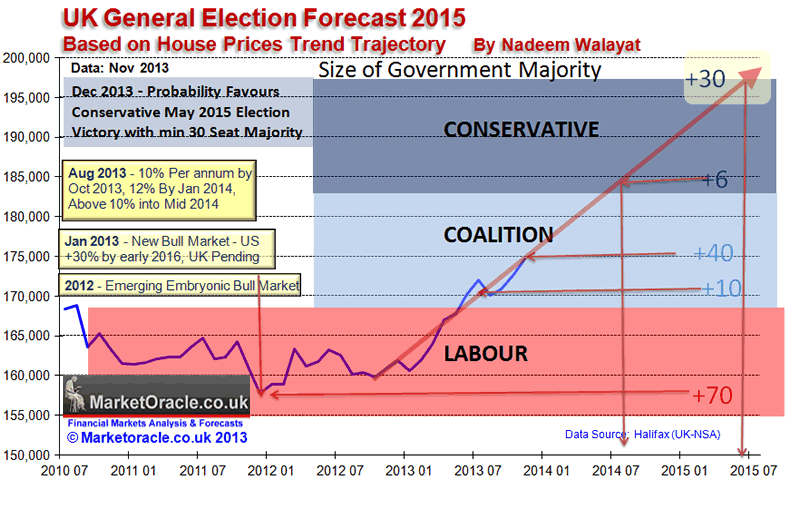 The updated election seats trend graph suggests that the Conservatives are on target towards achieving a single digits outright majority which is completely contrary to every opinion poll published this year. Which if it materialises then I am sure for Election 2020 everyone will be staring at the house prices indices rather than the opinion polls. Though as is usually the case that when the consensus becomes focused on an particular indicator then it usually stops working.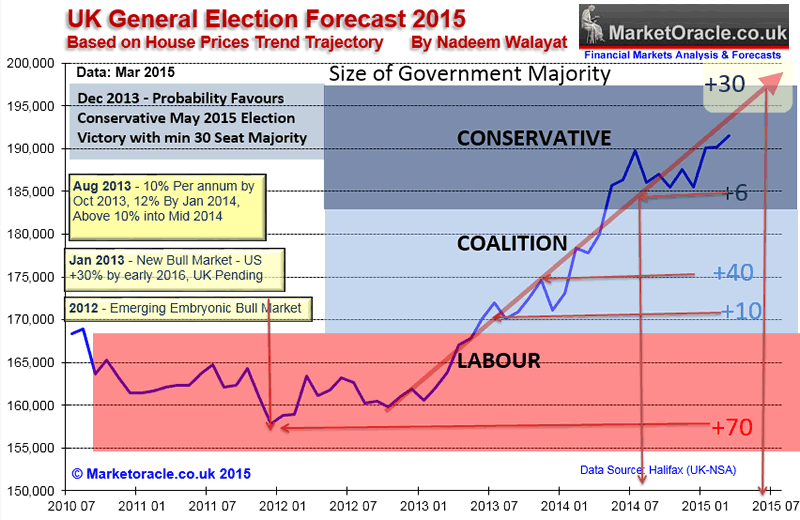 Whilst the opinion pollster's seats forecasts averaged to:
Conservatives : 276
Labour : 271
SNP : 53
Lib Dems : 25
DUP 8
Which were forecasting an extreme hung parliament -
Conservatives + Lib Dems = 301 - FAIL
Add DUP 8 seats = 309 - FAIL
Labour + Lib-Dems = 296 - FAIL
Labour + Lib-Dems + Plaid Cymru + Greens = 303 - FAIL
Thus according to the opinion polls the only workable majority would have been one of a minority Labour government supported by the SNP (53) to total 323. Which compares against my long standing forecast conclusion as of 28th Feb which is primarily based on economic and market analysis rather than opinion polls that also suggested that an outright Conservative election win was still possible:
UK General Election May 2015 Forecast Conclusion
My forecast conclusion is for the Conservatives to win 296 seats at the May 7th general election, Labour 2nd on 262 seats, with the full seats per political party breakdown as follows: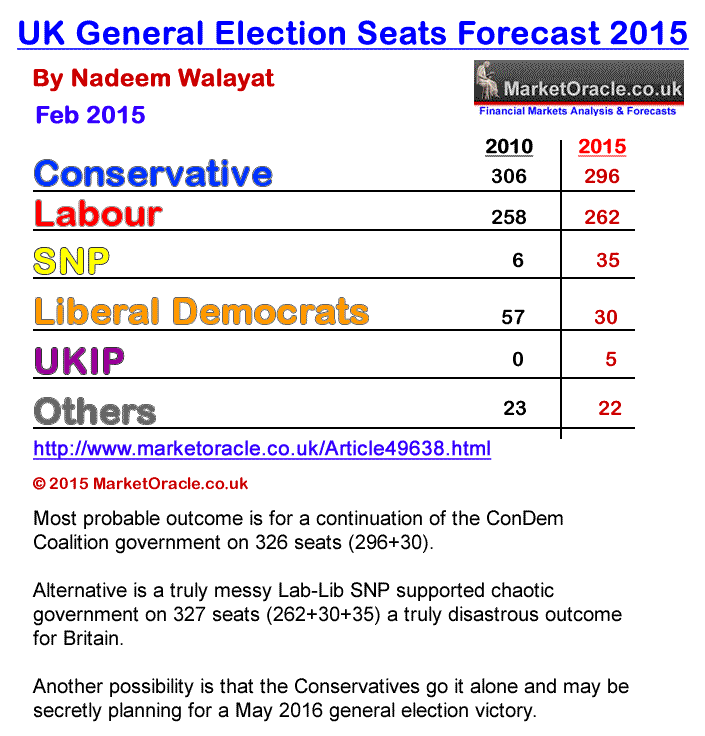 The bottom line is that the opinion polls do not reflect how people will actually vote on May 7th when they are faced with a stark choice of steady as she goes ConDem government or take a huge gamble on Ed Milliband's Labour party. So in my opinion several millions of voters will chose to play it safe with ConDem which thus is the most probable outcome.
Also available a youtube video version of my forecast: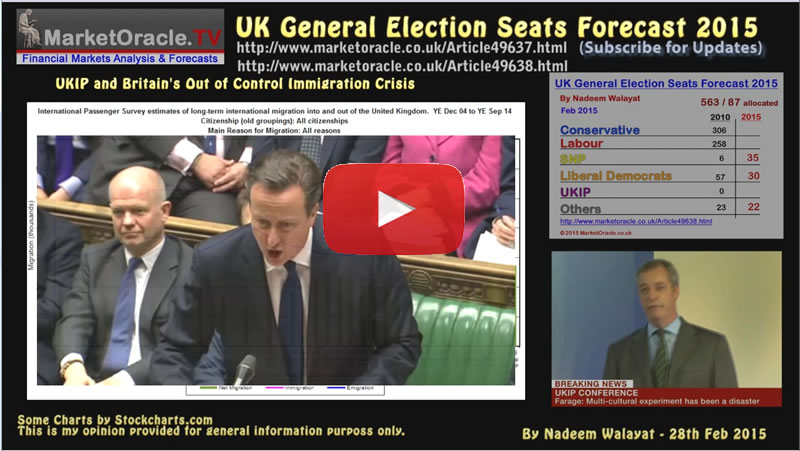 And the most recent iteration in this video analysis: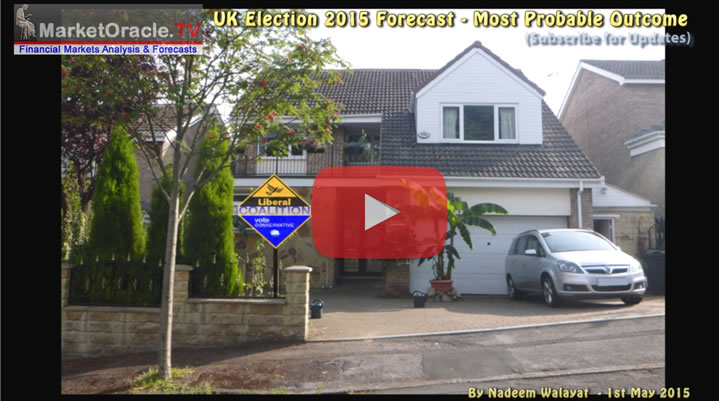 Apart from the Conservative election win the other big story of the night is one of virtually every opinion pollster getting the election badly wrong who now have have eggs on their faces as the mainstream media has flushed untold millions down the drain on commissioning opinion polls that turned out to be WRONG just as the polls were wrong in the run up to the Scottish referendum that was never a 50/50 proposition which at the time I concluded was mainly so as to allow pollsters to sell opinion polls and the mainstream press to sell copy and so it has been for the 2015 election campaign.
UK Saved From I.S. Threat But Scottish Independence Nightmare is Not Over!
There is another reason as well for why the polls were so close and that is one of SALES, the polling industry SELLING a tight election so that the gullible mainstream press would buy their polling services. Therefore painting a picture of a tight race by manipulating the data will have turned out to be a huge money spinner for the polling agencies.
My article concluded in the most probable forecast for the outcome of the result would be for at least show a 10% gap between NO and YES, and definitely not reflective of the mass hysteria.
Therefore the most probable outcome is inline with the polling ranges of before the YES campaigns intimidation and fear phase began to play a prominent role in the frenzy of campaigning of September that rather than a 50/50 tight race is more probably going to result in at least a 55% NO vote victory, and I would not be surprised if the NO vote even breaks above 60%!
Ensure you are subscribed to my always free newsletter for continuing in-depth analysis and concluding trend forecasts.
Source and Comments: http://www.marketoracle.co.uk/Article50584.html
By Nadeem Walayat
Copyright © 2005-2015 Marketoracle.co.uk (Market Oracle Ltd). All rights reserved.
Nadeem Walayat has over 25 years experience of trading derivatives, portfolio management and analysing the financial markets, including one of few who both anticipated and Beat the 1987 Crash. Nadeem's forward looking analysis focuses on UK inflation, economy, interest rates and housing market. He is the author of five ebook's in the The Inflation Mega-Trend and Stocks Stealth Bull Market series that can be downloaded for Free.

Nadeem is the Editor of The Market Oracle, a FREE Daily Financial Markets Analysis & Forecasting online publication that presents in-depth analysis from over 1000 experienced analysts on a range of views of the probable direction of the financial markets, thus enabling our readers to arrive at an informed opinion on future market direction. http://www.marketoracle.co.uk
Disclaimer: The above is a matter of opinion provided for general information purposes only and is not intended as investment advice. Information and analysis above are derived from sources and utilising methods believed to be reliable, but we cannot accept responsibility for any trading losses you may incur as a result of this analysis. Individuals should consult with their personal financial advisors before engaging in any trading activities.
© 2005-2022 http://www.MarketOracle.co.uk - The Market Oracle is a FREE Daily Financial Markets Analysis & Forecasting online publication.
Comments
sixpack
08 May 15, 11:30
the SNP factor


With the SNP set to hold the balance of power it seems the fear of the SNP tail wagging the labour dog has hit home and made people vote Tory.

The irony is that labour didn't need to suck up to the SNP because for snp to walk through the Tory lobbies would be the immediate end of their political career.

The public however weren't told that so they cited in fear.



sixpack
08 May 15, 14:04
small but significant labour losses in england


A small but critical loss in English seats for labour the size of which can be explained by the suggested fear of a SNP power bloc on Westminster forcing a labour government further to the left than England is comfortable with.

Each seat/day of growth for the SNP seems to have led English voters away from labour in England which Nicola Sturgeon and Alec Salmond are in total denial of. They are in denial that it is the SNP that have put Cameron back into Downing Street.

"Free" Schools (ie owned by private businesses), privatised NHS service provision and deep welfare cuts including in-work benefits will thunder forwards from here as an unstoppable force.

The tories ran a "steady as you go / do no damage by making too much noise" campaign with some carefully staged "be afraid" comments, but when the SNP-labour bloc came up they pounced on it to frighten English voters with leftist interpretations/warnings which strikes a significant chord with the English plenty of whom are small 'c' conservative.

Not many had to be convinced to ensure there was no swing to labour and infact a small swing away. At 329 seats, the tories have only gained 22 seats from 2010. Not big but very achievable. QED.



sixpack
08 May 15, 15:04
2 major factors - did the tories luck out?


Accident or design from Osbourne/Tories?

1. QE - £200bn ex gratia from the BofE, kick starting the housing boom when the economy had tanked while Osbourne's plans were for "pasty taxes" and caravan taxes. Fiddling while Rome burns!

2. The rise of the SNP frightening English voters of a prospect of Labour being pushed much further left if in govt.

That is not a winning position in England who want a very centre brand of govt (The question is will Cameron now shift heavily to the right given he has a majority).

This was well exploited at the 11th hour by the tory campaign train. Only a couple of dozen English seats needed to be "frightened" into voting tory given the Scottish losses endured by labour. Successfully done - QED.

Point 1 - QE:

-------------

The removal of stimulus after 2010 led predictably to economic stagnation in the UK economy which came within a rounding error of a triple dip recession.

However the result of this was a massive QE injection by the Bank of England - accidental or by design from Osbourne?

QE bails out bond holding institutions by stopping bonds tanking in value and actually increase - and helps banks balance away losses through bond profiteering (selling them to the BofE at profit and buying new bonds at face value, rinse and repeat).

This then allows them to lend again though through nervousness only to the better off /asset rich which materialises as rising house and stock prices which increases the cost of living - felt most painfully by the bottom half of the population who have little slack in their disposable income.

More housing activity, tens of thousands more estate agents plus the legal, accountancy and trade/home improvement work. Crucially little business investment from this activity. More sustainable than people think with artificially cheap interest rates.

Point 2 - SNP fear message from the Tories:

-------------------------------------------

The tories didn't press any one issue too strongly in the campaign until the SNP fear factor of an unstable / SNP tail wagging the labour dog element appeared with the forecasted rise of the SNP.

This fear pushed English voters away from this "nationalist" agenda to vote tory. It didn't need a lot, but it was enough to shift a couple of dozen seats to the Tories and provide a majority.

But where did this rise of the SNP come from? Labour naively fought the Scottish referendum campaign hand-in-hand with the coalition and branded themselves as part of the Westminster Elite, not as Scottish! This allowed the SNP to position themselves as the "natural" Scottish party together with some [anti-austerity] bribes of course.

The lie spread by Sturgeon and Salmond and swallowed by the Scots is that they will have a loud voice in Westminster. Well the conservative majority means that the SNP will be COMPLETELY IGNORED and the Scots will have less voice than ever before. Yet talk to the Scots and they think they have won a great victory. The Scots are deluded and have been deceived and betrayed - by the power hungry SNP.

Did the tories see this rise of the SNP/making labour unpopular in Scotland by joining in a single NO referendum campaign - ultimately pressuring labour at the G.E., or was it a coincidental side effect? Accident or design by the tories?

-----------

These 2 factors saved the tories skin. Were they planned or were they accidental?

Of course the massive money printing around the world has been the foundation of the status quo and that has stopped any resetting of stupidly inflated asset prices.

The result, especially here, will be policies that help those with access to credit (the better off) while the lower half of society has to simply endure the rising cost of living with no rise in income in their future.

Housing will be used to enforce this in a "high rent / low wage / zero hours contract" type of existence. So long as someone is making money the right wing see this as a good thing, a status quo to be protected.

Either succeed and pass on the benefits to your children or face a future of poverty with nothing for your children. A disgraceful way of determining the haves and have nots especially in the next generation. Yet the cry for less inheritance tax will increase.

Incentive is good and necessary but the extreme pressure on such basic needs as housing really does destroy lives.




Only logged in users are allowed to post comments.
Register/ Log in