Investing is About Identifying Gifted and Talented Camps
InvestorEducation
/
Learning to Invest
May 22, 2015 - 12:14 PM GMT


Jared Dillan writes: I was a "smart kid" growing up. I got used to being the smartest in the class, every year; I also got used to being left out socially and being bullied a bit. It wasn't bad, though. In 9th grade, I transformed from a little pork chop into a tall, decent-looking kid. I had lots of friends in high school, and life was good.
Before that, though, it was tough. I put up with my share of indignities. One summer, in 7th grade, I was sent to gifted and talented camp or, more specifically, the Johns Hopkins Center for Talented Youth (CTY), where I could be around other geeks like me.
Funny how things work out: I was used to being the smartest kid in my zip code, and suddenly I was around other kids who were the smartest in their zip code—and most of them were smarter than me! There was a girl who worked at NASA (at age 14). There was my friend who published computer science papers at 14 (and would eventually be #3 at both Google and Facebook). There was the 9-year-old kid in my college-level math class. And countless other geniuses. Crazy stuff.
So why am I writing newsletters instead of running Facebook? Hey, don't knock it, this is a great gig.
One of the things I learned at CTY was that there was this whole other world out there—that there were other people like me. And so my life basically consisted of going to CTY in the summer, and then waiting eleven months to go back to CTY, where I would experience the magic all over again. Also, I met my wife there, at age 15, which is a pretty astounding piece of social engineering if you think about it.
The thing about smart people is that they like working and living and getting married to and having children with other smart people. They have gifted and talented camps for adults too, you know. They're called "Silicon Valley" and "New York."
Intellectual Potential
At CTY, I didn't really have to do anything, just go to class. But if you can get a whole bunch of gifted and talented people moving in the same direction toward a common goal, it is a sight to behold.
Quick story. Remember when the Facebook IPO flopped, and the stock got down near $15, and the big bear case was that they wouldn't be able to put ads on mobile phones? Remember? More people were using Facebook on their phones instead of their computers, and the prevailing thought was that it was impossible to put ads on cell phones.
I said, "Guys, Facebook just went and hired about 3,000 of the smartest people in the entire world—I think they are going to be able to pull it off."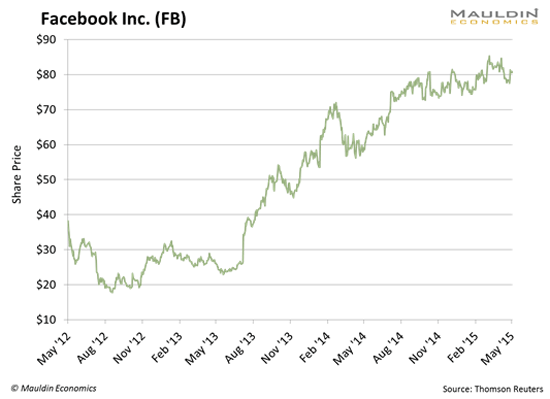 You've heard the stories about Google and their research arm, Google X. They just hire the smartest people imaginable and turn them loose to work on whatever they want to work on. Most of those things are not commercially viable, but some of them are. One of those ideas will save the company—maybe even the world. Right now, they are working on eliminating death.
Bloomberg just published a book excerpt about Elon Musk and his private spaceship company, SpaceX. It's incredible.
The one thing I've learned in my career is that you do not short gifted and talented camps. Ever. Does Elon Musk often overpromise and underdeliver? Yes. You still don't short him. Is Google struggling with the shift to native advertising? Yes. You still don't short it.
You don't short the smartest people in the world. If you do, you will regret it.
Clustering
As I said before, smart people like hanging out with each other. New York City is always described as a place with a lot of energy. Well, yeah, that's what happens when you have a bunch of smart people piled on top of each other, each one of them trying to have it all.
Silicon Valley: same thing.
Not coincidentally, these two places have the most ridiculous real estate markets in the country, maybe even the world.
In my new hometown, Myrtle Beach, I know a nice young woman who works at my gym's front desk. She just moved here from Connecticut and keeps complaining to me (privately) that she thinks people around here are dumb and slow. She's half right. It's not that people here in South Carolina are genetically dumber—it's just that the smart people move to places like New York and Silicon Valley, leaving everyone else behind.
Come on, don't get all bent out of shape, it's true! This phenomenon is repeated over and over again throughout small-town America. Those small towns where nothing is going on? Well, chances are the high school valedictorians don't live there anymore. They moved to the "big city."
Look… Sergey Brin, Mark Zuckerberg, even Lady Gaga all went to the same gifted and talented camp as I. These are not people who were going to mold away in small towns, shooting pool at the local bar.
It is very hard to short anything to do with smart people, especially real estate. People have been saying for years that New York real estate is in a bubble, but it keeps going. The supply of smart people who want to live there is endless.
Not Me
That sort of thing can be exhausting after a while.
But I think about this a lot. When I consider buying (or shorting) a stock, I think about the intellectual capital in that company. For example, I don't think McDonald's has the best people working for it. Or a lot of utility companies. And I happen to think that Tesla has better people working for it than Ford or GM.
This matters. Sometimes companies succeed by accident, by virtue of being in the right place at the right time, but that's getting pretty rare.
Microsoft has lost all of its talent over the years. It shows. In fact, probably the biggest sell signal of all was back 10 years ago when they were losing talent to Google.
Investing isn't about numbers or ratios or charts or putting stuff in spreadsheets. At the end of the day, it's about people. You can bet on them or against them. That's the game.
* * * *
I want to take a second to say a few words about my colleague Jawad Mian, editor of Stray Reflections here at Mauldin Economics, who definitely is a G&T kind of guy.
But seriously—in my entire career doing this, I have never seen an analyst as fearless as Jawad. He is not afraid to say out-of-consensus things. And trust me, you need somebody like that on your side.
If you're a reader of John Mauldin's free e-letter Thoughts From the Frontline, by the way, you'll find a big contribution by Jawad in one of the next issues.
Jared Dillian
© 2005-2019 http://www.MarketOracle.co.uk - The Market Oracle is a FREE Daily Financial Markets Analysis & Forecasting online publication.

Only logged in users are allowed to post comments.
Register/ Log in