UK Immigration Crisis Hits New Record, Trending Towards Becoming a Catastrophe
Politics
/
Immigration
Aug 28, 2015 - 02:44 AM GMT

Britain's Immigration crisis is fast trending towards becoming a catastrophe as the latest immigration statistics once more bring home the stark reality that the UK has no control over its borders as 5 years of Conservative government rhetoric of controlling immigration have yet again been revealed to be a case of "the emperor has no clothes", where rather than annual net immigration of in the tens of thousands as David Cameron promised at the start of his Premiership in 2010, instead net immigration has once more soared above the previous record high of 318,000 announced in May, to now 330,000.
The Conservative / Coalition governments failures to control immigration for the past 5 years have just marked a continuation of the Labour immigration catastrophe that set in motion a 15 year long immigration mega-trend for importation of over 8 million people (total immigration) where approx 90% of the adults were expected to vote Labour (90% on benefits such as tax credits).
When David Cameron took power in 2010 he promised that he would cut net immigration by 2015 to the tens of thousands from the then disastrous annual figure of 205,000, instead the latest data from the ONS shows that net immigration has continued to SOAR to a level far higher level than in 2010 to now stand at 330,000 for the year ending March 2015, a rise of 50% on the previous year.
"Overall, net immigration would be kept in the tens of thousands, rather than the current rate of hundreds of thousands". - David Cameron 2010
The bottom line is that the UK government has no control over Britain's immigration crisis which is ACCELERATING and is EXPONENTIAL where the Conservative Government has failed to do anything to control what remains out of control immigration. And remember that the official statistics do not include illegal immigration totaling at least 1 million.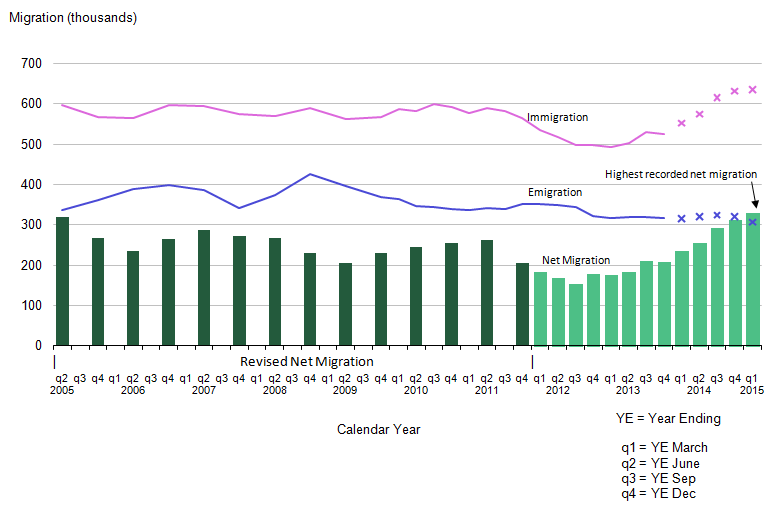 The immigration statistics break down into the following facts:
| | |
| --- | --- |
| Total immigration Year to March 2015 | 636k |
| Total emigration Year to March 2015 | 307k |
| Net immigration Year to March 2015 | 330k |
| | |
| Total Immigration since 2004 | 6.3 million |
| Total Emigration since 2004 | 3.8 million |
| Net Immigration since 2004 | 2.5 million |
| | |
Key points that stand out from the ONS release is the doubling in Romanian and Bulgarian immigrants over the preceding year, something that is being felt hard in cities right across the UK such as Sheffield that is facing a huge crisis in School places.
Why People are Migrating to the UK
Contrary to press stories of civil wars, most of the migration (90%) into the UK is economic, including to study, many of whom will be bogus students who are instead here to work and settle permanently.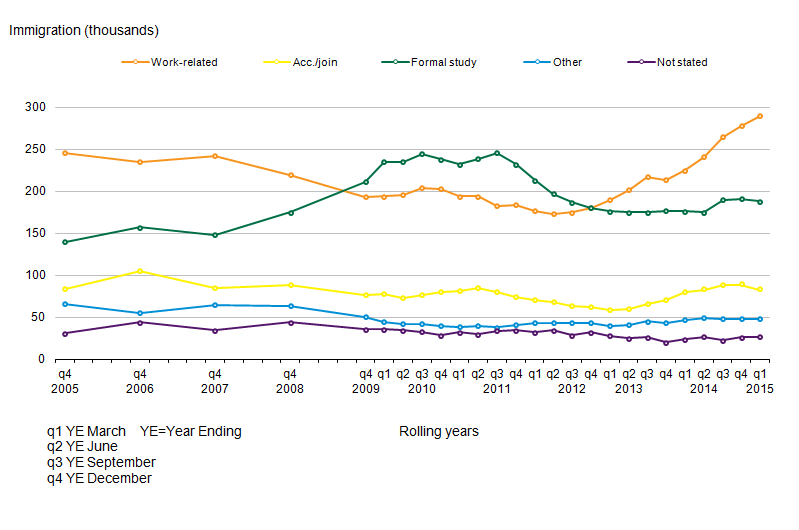 Immigration Crisis Set to Become a Catastrophe
As the above table illustrates that the rate of immigration is ACCELERATING with the latest annual figures 50% higher than the average of the past 11 years. Therefore the trend implies total additional immigration over the next 10 years could near 10 million, with net new immigration of near 5 million that will have huge social, economic and cultural consequences that today's politicians remain largely blind to until the SHTF when the number of foreign born people once more doubles from 9 million today to 19 million 10 years from now.
Britain, Europe are not just dealing with the likes of the Syrian civil war that has produced over 4 million refugees, most of whom are determined to find their way to the likes of Germany and Britain, but also the fact Africa continues to undergo a population explosion, where the continents population looks set to DOUBLE once more over the next 30 years from 1.1 billion to 2.2 billion that will result in a migration exodus that will be exponentially greater than that which is taking place today, which implies an trend for ever increasing number of economic migrants from Africa alone, let alone the continuing increasing flows from a more preposterous Asia (China) and elsewhere who can afford to pay people smugglers for transportation to a new life in the UK.
Therefore, whilst today the mainstream broadcast press crisis coverage of immigration is focused on the camps of tens of thousands of migrants on Europe's southern borders and even some 5,000 near the port of Calais. However Britain should prepare itself for what the trend implies looks inevitable that within the next 10 years as the state services buckle and break under the weight of numbers in response to which the government will be forced to introduce unprecedented measures such as cordoning off pockets of Southern England into self contained migrant camps of first in the tens of thousands and ultimately numbering in the hundreds of thousands in an attempt to contain the consequences of the immigration catastrophe that is the implied as a consequence of 10 million immigrants entering the UK (net 5 million) over the next 10 years that will be in addition to natural population growth of at approx 4 million.
In fact 10 years from now the UK will likely have whole villages and even towns cordoned off as permanent migrant camps in an attempt to contain the catastrophe.
The UK Housing Market and Out of Control Immigration
Nothing illustrates the consequences of continuing out of control immigration more than its impact on the UK housing market, where Conservative election promises to build 200,000 homes per year will prove totally worthless in wake of the immigration Tsunami against which housing building cannot even keep pace with existing demand let alone deal with new demand, especially when one considers that the UK population is already growing naturally by about 300,000 per year which means that even if the promised 200,000 homes were built, then it will not be enough to keep pace with population increasing by 600,000 per year, let alone that far fewer homes will probably be built at the rate of approx 140,000 per year.
The following graph from my UK Housing Market ebook (FREE DOWNLOAD) further illustrates that successive governments instead of doubling house building during the immigration crisis instead the exact opposite has taken place as far fewer houses were built each year during the noughties. The ratio of average household size is still trending lower which means that even if the UK population suddenly stopped increasing then the falling household size ratio towards 2.15 by 2030 would still imply EXTRA demand for 1.25 million properties to be built just to stand still.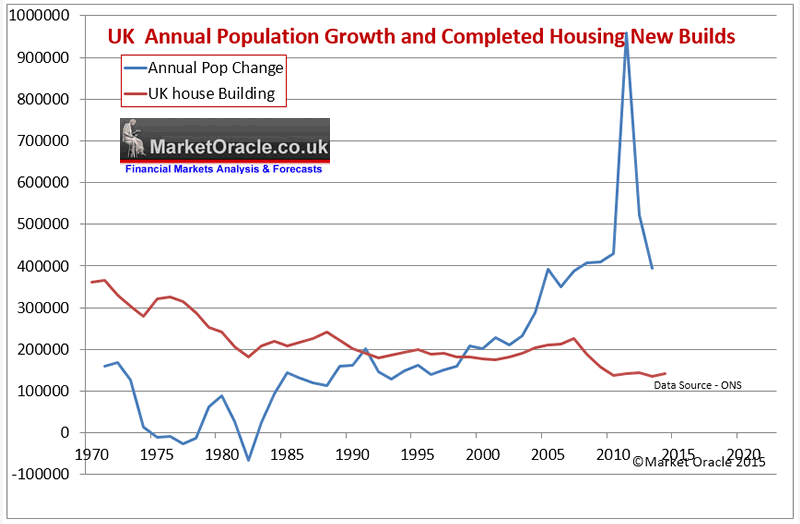 The below graph further illustrates the ratio between the accumulative change in population since 1970 against the accumulative number of new housing builds also since 1970 as an over crowding ratio over layered with UK house prices that illustrates the worsening trend in the level of over crowding due to inability of new supply to meet new demand that just keeps accumulating each year.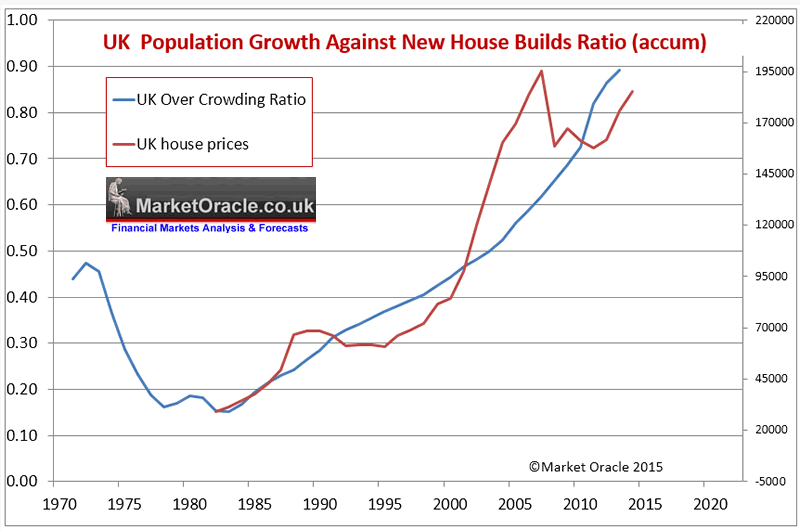 This illustrates the change in trend that started to take place during the mid 1980's that coincided with the Thatcher governments reversal of the policy for the construction of social housing and implementation of the right to buy scheme that to date has resulted in the sale of over 2 million socially owned local council housing that fueled the property boom of the nineties AND noughties, the trend that was set in motion was for the inability of supply to keep pace with population growth which ensured continuously persistent upward pressure on house prices that despite the great recession of 2008-2009 still showed an accelerating trend as new build supply that currently stands at an estimated 140k per year is set against government estimates for a requirement of at least 250k properties per year, with 300k a more realistic estimate when the trend for a falling household size is taken into account, which thus ensures that the UK's over crowding situation is expected to continue to worsen year on year going forward, especially if the size of average households continues to shrink which would require about 70,000 new builds per year even if the population stopped increasing.
And this analysis does not even consider the fact that each year the total number of properties remaining empty continues to rise either as a consequence of being for sale, let, legal issues or falling derelict. This totals now more than 1 million empty properties at any one time, a number which despite demand looks set to continue to rise as many of the derelict buildings will only come back on the market when they have been demolished and rebuilt, so erroneously counted as new builds when they should be classed as rebuilds.
So it should come as no surprise that despite a plethora of academic reasons why house prices cannot rise from the ivory tower academics or the pseudo economists (journalists) that UK house prices have continued their inexorable climb higher as illustrated by my forecast below:
UK House Prices Forecast 2014 to 2018 - Conclusion
This forecast is based on the non seasonally adjusted Halifax House prices index that I have been tracking for over 25 years. The current house prices index for November 2013 is 174,671, with the starting point for the house prices forecast being my interim forecast as of July 2013 and its existing trend forecast into Mid 2014 of 187,000. Therefore this house prices forecast seeks to extend the existing forecast from Mid 2014 into the end of 2018 i.e. for 5 full years forward.
My concluding UK house prices forecast is for the Halifax NSA house prices index to target a trend to an average price of £270,600 by the end of 2018 which represents a 55% price rise on the most recent Halifax house prices data £174,671, that will make the the great bear market of 2008-2009 appear as a mere blip on the charts as the following forecast trend trajectory chart illustrates: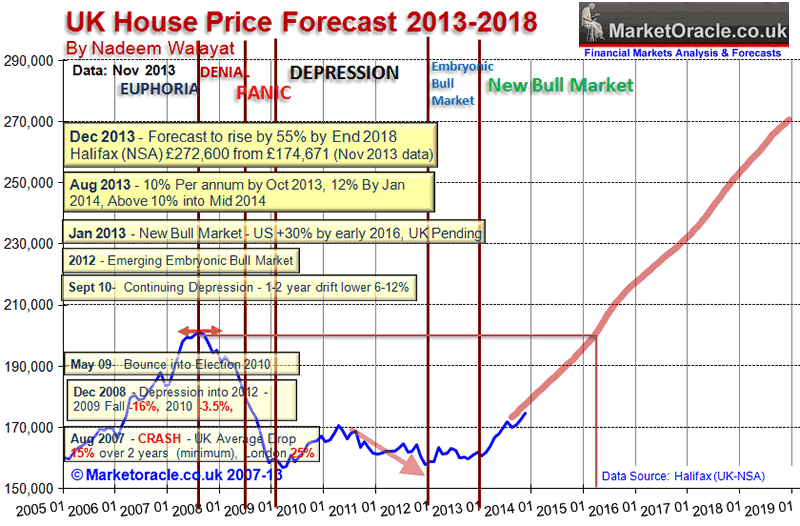 In terms of the current state of the UK housing bull market, the Halifax average house prices (NSA) data for July 2015 of £203,020 is currently showing a 2.8% deviation against the forecast trend trajectory, which if it continued to persist then in terms of the long-term trend forecast for a 55% rise in average UK house prices by the end of 2018 would translate into an 10% reduction in the forecast outcome to approx a 45% rise by the end of 2018.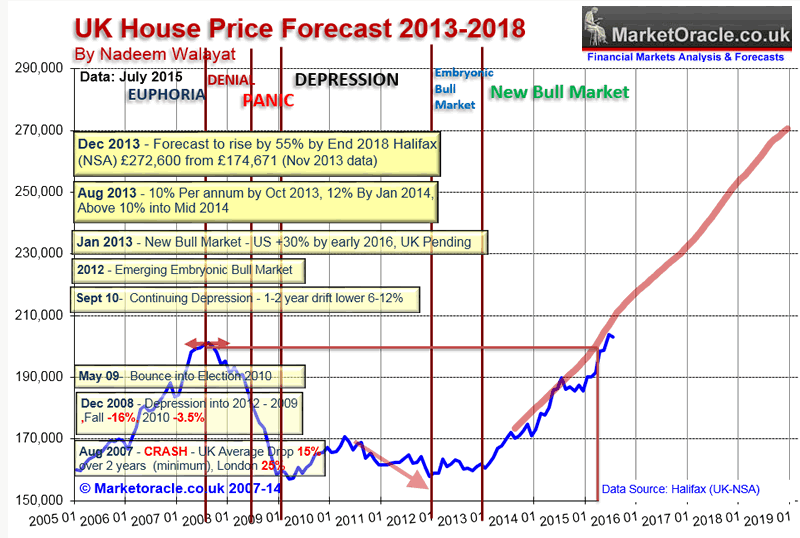 The bottom line is that the immigration induced UK housing crisis is being primed to explode! Britain is literally being sleep walked towards having to painfully deal with its extreme consequences due to the failure of successive governments to take pre-emptive action before the crisis explodes, which it will probably do in the lead up to the 2020 General Election, forcing politicians to think the unthinkable in an attempt to bribe voters and contain the immigration crisis.
Immigration Crisis Could Prompt Britain to Leave the European Union
Britain's housing crisis represents just one example of the consequences of the ongoing out of control immigration crisis that impacts on ALL areas of life in the UK, from jobs where over 60% of new jobs go to immigrants hence why unemployment is rising whilst the number of those in work has hit new record highs. To wages as migrant workers depress wages, to access to public services such as the NHS and welfare with ever extending waiting lists for treatment, to schools that are full to bursting point due to over 1 million imported children, all of which feeds into severe consequences for the outcome of the forthcoming EU referendum.
However, the truth is that no matter how loudly the UKIPers and Tory right shout about wanting to get out of a corrupt and undemocratic EU that costs Britain a net £13 billion per year to remain a member of, a British exit was never seen as being even remotely probable, and it is not just as a consequence of the establishment from big business, to a myriad of institutions, and not least that 610 of 650 MP's who are against a UK exit.
The primary reason why most of the people of Britain were expected to vote NO to a BREXIT that no one discusses in the mainstream press is the GERMAN FACTOR. For it appears to have been forgotten that the primary reason for the creation of the European Union is to CONTROL GERMANY, to lock Germany in socially, politically and economically so that it does not start another european war because everyone understands that Europe would not survive another such war.
Therefore on face value, I would expect a referendum to at least conclude in a 70% YES vote to stay within the European Union However, a continuous 15 year long failure of UK politicians of ALL parties to deal with out of control immigration has literally been wearing the British public down each year where net immigration figures such as that we continue to witness could be the straw that breaks the camels back as the British public say 'enough is enough' and despite the undeniable logic of keeping a tight noose around Germany's neck, could vote to EXIT the European Union the consequences of which could be that it would destabilise the European Union so that each of the member states nooses around Germany would also slacken if not break that many decades from now could be once more free to embark on another run at creating Lebensraum for the master race as Germans once more re-write history of what Germany is and where it is coming from.
Whilst it is too early to say if the consequences of the immigration crisis would prompt an improbable BREXIT, but I would no longer rate the UK remaining within the European Union as a 70% voting certainty, rather the YES vote has now drifted down towards 60%, and so give it another 2 years until May 2017 (often mentioned date for the referendum) then coupled with ongoing out of control immigration we could yet be standing at the precipice of a 50/50 decision where in my opinion an British Exit would unleash forces that could eventually consume Europe and much of the world with it which truly would be catastrophic!
For more on Britians' immigration crisis see:
15 Apr 2015 - UK House Prices, Immigration, Population Growth and Election Forecast 2015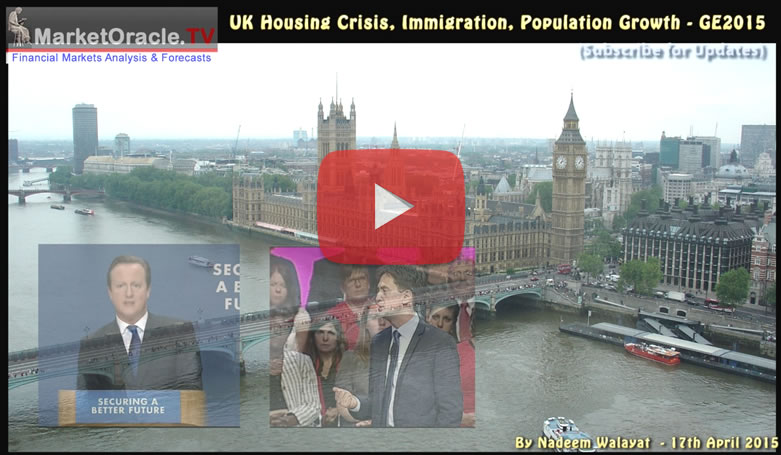 Ensure you are
subscribed to my always free newsletter
for my next in-depth analysis and concluding detailed trend forecasts that include the following planned newsletters -
Stocks Bull Market Over?
US Dollar Trend Forecast Update 2015
Islam 3.0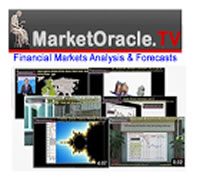 Also subscribe to our Youtube channel for notification of video releases and for our new series on the 'The Illusion of Democracy and Freedom', that seeks to answer questions such as 'Did God Create the Universe?' and how to 'Attain Freedom' as well as a stream of mega long term 'Future Trend Forecasts'.
By Nadeem Walayat
Copyright © 2005-2015 Marketoracle.co.uk (Market Oracle Ltd). All rights reserved.
Nadeem Walayat has over 25 years experience of trading derivatives, portfolio management and analysing the financial markets, including one of few who both anticipated and Beat the 1987 Crash. Nadeem's forward looking analysis focuses on UK inflation, economy, interest rates and housing market. He is the author of five ebook's in the The Inflation Mega-Trend and Stocks Stealth Bull Market series that can be downloaded for Free.

Nadeem is the Editor of The Market Oracle, a FREE Daily Financial Markets Analysis & Forecasting online publication that presents in-depth analysis from over 1000 experienced analysts on a range of views of the probable direction of the financial markets, thus enabling our readers to arrive at an informed opinion on future market direction. http://www.marketoracle.co.uk
Disclaimer: The above is a matter of opinion provided for general information purposes only and is not intended as investment advice. Information and analysis above are derived from sources and utilising methods believed to be reliable, but we cannot accept responsibility for any trading losses you may incur as a result of this analysis. Individuals should consult with their personal financial advisors before engaging in any trading activities.
© 2005-2022 http://www.MarketOracle.co.uk - The Market Oracle is a FREE Daily Financial Markets Analysis & Forecasting online publication.

Only logged in users are allowed to post comments.
Register/ Log in