Gold Holdings in GLD ETF Continue to Climb
Commodities
/
Gold and Silver 2015
Oct 16, 2015 - 12:34 PM GMT


A quick update on GLD for the readers and by request…
GLD reported another nice build in reported gold holdings today – about 5 tons. That comes on the heels of a nice increase the previous day of some 7+ tons.
Since October 1, gold holdings have climbed from 689.2 tons to 700 tons. While not a huge build, nonetheless, this is what one wants to see if the gold price is moving higher as it shows investment demand from Western-based investors.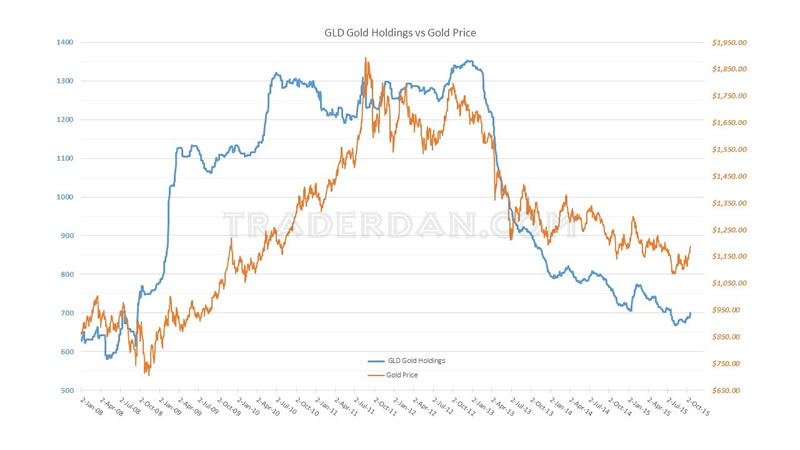 That is a far cry from just a few months ago when gold holdings dropped over 41 tons in July and August alone!
Since the middle of September, there does seem to be more consistency in the buying by these Western players. Year to date, gold holdings are down about 9 tons since the start of the year but at least they are headed in the right direction if one is a gold bull.
This has all come on the heels of the Fed's reluctance/refusal to hike interst rates. In my view, their dovish attitude is due specifically to their targeting of the US Dollar and their wish to avoid doing anything that might be interpreted by the markets as favoring further Dollar strength.
I have said it before and will say it again – recent gold strength is due to this fact and this fact alone. It has nothing to do with economic collapse and resets, and whatever more madness the cult of gold can come up with to terrify the minds of the impressionable.
This FED WANTS A HIGHER GOLD PRICE at this time. As a side note – this is the reason why the gold cult and their priests and prophets and gurus and watchers, who scream about "evil manipulators, flash crashes, cartel raids, etc." are completely clueless and have no idea what they are yapping about.
The Fed wants higher commodity prices in general as they are desperate to avoid anything that smells of deflation. As previously noted – falling commodity prices are generally regarded ( and generally desired ) by the Fed as it benefits the consumer; however, collapsing commodity prices pose the very real risk of producing large layoffs in those industries that deal with these products.
If you have any doubt about this, just consider what has happened to the Oil Patch as crude oil prices have collapsed.
That downward spiral in prices has led to lower gasoline prices ( which consumers and transportation companies welcome ) but they also have led to large job cuts as well; so much so that many of the small towns in the regions where Shale Oil has been the former success story are now hurting big time.
The Fed therefore understands that at a certain price level, the law of diminishing returns begins to apply. Thus the reason they want a weaker Dollar so that the pressure on commodities can be lifted. They are very concerned and very focused on the jobs picture in this nation and thus keenly aware of what additional Dollar strength can do to harm that.
My biggest point of interest at this time is how Mario Draghi and the ECB are going to react to this recent weakening of the Dollar. Will they employ a round of verbal intervention to try talking the Euro back down or have they reached some sort of settlement with the Fed to leave the Euro in the general vicinity of where it is currently trading just as long as it does not strengthen significantly from current levels. Remember, the Euro is some 9% higher than it was at its depths this year when the ECB first announced their intent to employ their own version of Quantitative Easing.

Dan Norcini
Dan Norcini is a professional off-the-floor commodities trader bringing more than 25 years experience in the markets to provide a trader's insight and commentary on the day's price action. His editorial contributions and supporting technical analysis charts cover a broad range of tradable entities including the precious metals and foreign exchange markets as well as the broader commodity world including the grain and livestock markets. He is a frequent contributor to both Reuters and Dow Jones as a market analyst for the livestock sector and can be on occasion be found as a source in the Wall Street Journal's commodities section. Trader Dan has also been a regular contributor in the past at Jim Sinclair's JS Mineset and King News World as well as may other Precious Metals oriented websites.
Copyright © 2015 Dan Norcini - All Rights Reserved
All ideas, opinions, and/or forecasts, expressed or implied herein, are for informational purposes only and should not be construed as a recommendation to invest, trade, and/or speculate in the markets. Any investments, trades, and/or speculations made in light of the ideas, opinions, and/or forecasts, expressed or implied herein, are committed at your own risk, financial or otherwise. The information on this site has been prepared without regard to any particular investor's investment objectives, financial situation, and needs. Accordingly, investors should not act on any information on this site without obtaining specific advice from their financial advisor. Past performance is no guarantee of future results.
© 2005-2019 http://www.MarketOracle.co.uk - The Market Oracle is a FREE Daily Financial Markets Analysis & Forecasting online publication.

Only logged in users are allowed to post comments.
Register/ Log in